At present, Zupapa and Skywalker are two striking trampoline brands. They share many features so it is quite difficult to choose the right one between Zupapa vs Skywalker trampolines.
Zupapa trampolines have higher weight capacity and superior quality, whereas Skywalker trampolines are cheaper options and have lots of accessories. And there are several other distinctive features between Skywalker and Zupapa trampolines that you may want to know.
This blog will discuss the key differences between Zupapa trampolines and Skywalker trampolines so you can choose the right trampoline between them.
Background of Zupapa and Skywalker Trampolines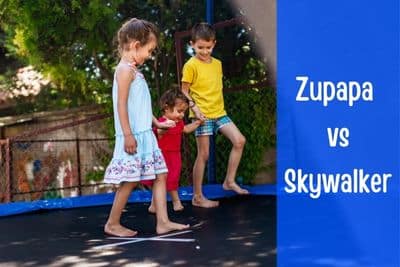 Zupapa Trampoline
Zupapa is one of the top-performing trampoline brands in the United States. It is manufactured and tested in Germany. Zupapa trampolines have a long history to serve high-quality trampolines to over 300000 families for more than 10 years.
The vision of Zupapa trampolines is to strengthen the family bond through playing and spending time together with family members. They manufacture both indoor and outdoor trampolines for kids to adults for fun and exercise
Besides trampolines, Zupapa also manufactures paddle boards, swings, hammocks & stands, gymnastics bars, dome climbers, and baseballs & nets.
See Also: Zupapa vs ORCC trampoline
Skywalker Trampoline
Skywalker Trampolines has a long history to provide safe and quality trampolines for all classes of people. The vision of the company is to ignite the love for playing youngsters by setting a good foundation for an active life.
In 2004, the founders decided to stop selling trampolines without a safety net. Now, every Skywalker trampoline includes an enclosure net in the package for safety.
The company has two patents such as buttonhole enclosure and trampoline accessories. Skywalker trampolines also support ASD children by donating trampolines in the month of April.
Difference Between Skywalker and Zupapa Trampolines
Now, I'll break down several distinctive features of Skywalker and Zupapa trampolines that make them different from each other.
Quality
The metal parts like the frame and springs of the Zupapa trampolines are made from the hot-dip galvanization process, whereas Skywalker trampolines use galvanized frame and spring. The frame tube thickness of the Zupapa trampoline is also thicker than the Skywalker trampoline.
Mats of the Zupapa trampolines have heavy stitching and are UV-resistant, which makes them high performing compared to the Skywalker model. All these make Zupapa trampolines superior to the Skywalker trampolines.
See Also: Skywalker and Propel trampoline comparison
Weight Limit
Most Skywalker trampolines come with 200 lbs weight capacity, whereas Zupapa trampolines' weight limit varies between 375 lbs to 425 lbs. So, Zupapa is a better option in terms of weight capacity.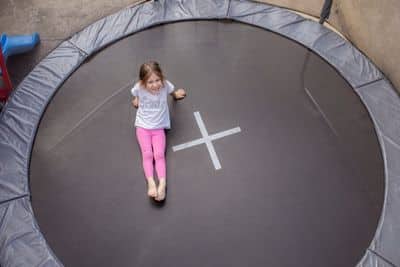 Sizes
Skywalker brings different sizes of trampolines from mini-models to 17 ft large sizes. Several popular Skywalker trampolines sizes are 10 ft, 12 ft, and 15 ft round trampolines. The mini trampolines for children come in 36, 40, 48, 55, and 60 inches.
On the other hand, Zupapa trampoline is available from 8 ft to 16 ft trampolines. It has also several sizes of kids' indoor trampolines and fitness rebounders.
Shapes
Skywalker trampoline comes in lots of variations. It is available in round, rectangle, square, oval, and other shapes. But Zupapa trampolines come in mostly round shapes.
So, Zupapa trampolines are designed for recreation purposes, whereas Skywalker models can be used for fun and gymnastic purposes.
See Also: Trampoline vs rebounder
Safety
Some models of Skywalker and Zupapa trampolines use patented no-gap design jump beds which means the mats are interlocked with the nets for safety. Also, they come with enclosure nets to prevent falling off the ground.
All the Zupapa trampolines are ASTM and TUV certified. On the other hand, Skywalker trampolines meet the ASTM safety standard.
See Also: Trampoline net inside or outside differences
Accessories
Skywalker trampoline has abundant replacement parts and accessories such as mat, spring pad, ladder, net, basketball hoop, rain cover, net poles, trampoline game accessories, and more. You can purchase them separately according to your need.
On the other hand, the Zupapa trampoline has a limited accessories like a ladder, net, mat, rain cover, etc. So, Skywalker wins over the Zupapa trampoline in terms of safety and fun trampoline accessories.
Price
Skywalker trampoline is a more affordable option compared to the Zupapa model. If you need a cheap and decent trampoline Skywalker will be an ideal option.
Having a Skywalker trampoline, you can save more than $100 to $200 on average compared to the Zupapa trampoline. For example, the price of a 15 ft Skywalker trampoline is approximately 400 bucks, whereas a 15 ft Zupapa is available for 650 bucks.
Although the Zupapa trampoline is a little pricier than the Skywalker trampoline, still it is worth the money due to the quality and lots of accessories including wind stakes in the package.
Warranty
Zupapa trampoline provides a satisfactory warranty compared to the Skywalker model. The frame of the Zupapa trampolines has 10 years warranty and the other major parts like the mat, net, springs, and safety pad provide 2 years warranty.
On the other hand, Skywalker has 3 years warranty for the frame and 1 year for other parts. So, if need a superior warranty, go for the Zupapa trampolines.
Zupapa Vs Skywalker Trampoline Comparison Table
| | | |
| --- | --- | --- |
| Comparison Topic | Zupapa Trampoline | Skywalker Trampoline |
| Technology | Hot-dip galvanization | Galvanization |
| Springs | More springs than Skywalker | Fewer than Zupapa |
| Weight limit | 375+ lbs | 200 lbs |
| Shapes | Mainly round | Round, rectangle, oval, square |
| Parts and accessories | Ladder, net, mat | Mat, spring pad, ladder, net basketball hoop, rain cover, net poles, trampoline game accessories, and more |
| Price | More expensive than Skywalker | Cheaper than Zupapa |
| Meets Safety Standards | ASTM, TUV | ASTM |
| Warranty | 10 years for the frame and 2 years for the mat, springs, net, and safety pad | 3 years for frame and 1 year for parts |
See Also:  12 or 14 or 15 ft trampoline – which is perfect for you?
Final Words
From the aforementioned head-to-head Skywalker and Zupapa trampoline comparison, you might understand Zupapa is absolutely better than Skywalker trampolines in overall considerations.
But I don't force you to purchase Zupapa trampolines as Skywalker trampoline has some dominating features too. If you need a budget-friendly trampoline, Skywalker will be the right choice and its quality isn't too bad.
So, the ultimate choice is up to you. Consider the features and get the right trampoline between Zupapa vs Skywalker tramp.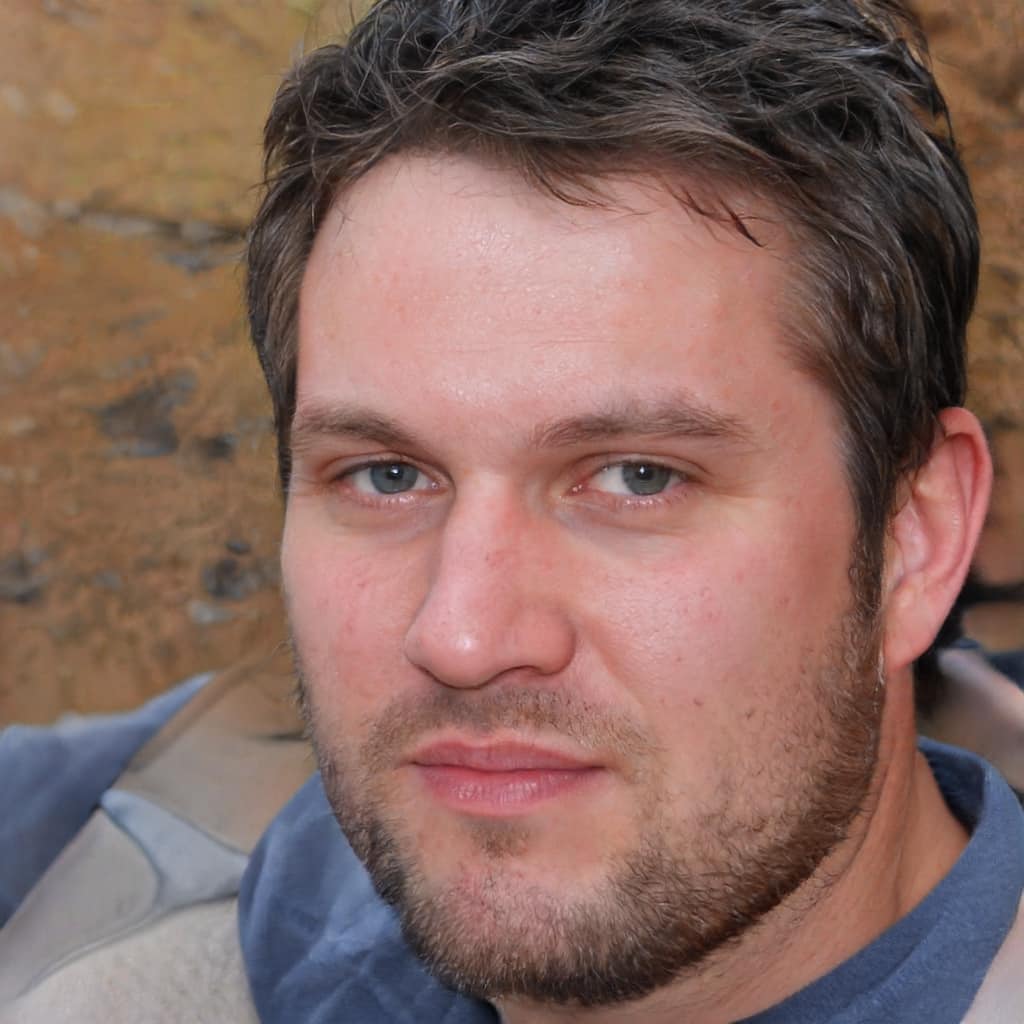 Robert is a trampoline and rebounder trainer with a passion for blogging. He discovered his love for trampolining at a young age, when his father gifted him his first trampoline at the age of 9. Over the years, Robert has honed his skills and knowledge in the field, and now uses his expertise to train others.
Besides, helping fitness enthusiasts in the gym, Robert is very eager to share his knowledge and experience regarding trampolines and rebounder exercises with the readers of picktrampoline.com. He will share all you need to know about trampolines and rebounders in this blog. Get his tips on trampoline and rebounder!