JumpKing and Skywalker are two prominent trampoline brands. Both of them are available in outdoor and indoor models that share many features. So, choosing between these two brands is a tough nut to crack. Thus, you may wonder what are the differences between JumpKing vs Skywalker trampoline.
Skywalker is a budget-friendly choice compared to the JumpKing trampoline. If you need a stylish trampoline for the backyard, JumpKing will be the better option. Considering accessories, Skywalker wins again. In terms of easy installation, JumpKing is the better to go. And there are several other dissimilarities too.
I'm going to explain here to clear your dilemma to help you to choose the best option between Skywalker and JumpKing trampolines.
Let's Talk About the Brands First
Skywalker Trampoline
Skywalker is a popular brand of trampoline for its safety measures. From the day Skywalker started operating in the trampoline niche in 2005, it never sold a single trampoline without an enclosure net.
This perfect balance of fun and safety has made Skywalker the first choice of parents. From a local company in Bringham City, UT, Skywalker now has 27 retail business partners nationwide. Plus, they operate internationally, by launching a Canadian website.
Adding to that, they now have different products expanding to sports, and fitness zone, including, Skywalker Sports, SkyFitness, and ActivPlay.
See Also: Skywalker vs Propel trampoline
JumpKing Trampoline
On the contrary, JumpKing is the older brand of trampoline history, operating for more than 70 years. It was founded in 1948 in Dallas, Texas, and now is working as one of the world's biggest tramp brands.
With highly specified and robust trampolines, JumpKing comes with excellent value, which makes it the most wanted brand for trampoline lovers. Though it was bought by YJ corp in 2004, it doesn't compromise the built quality and popularity at all.
Skywalker Vs JumpKing Trampoline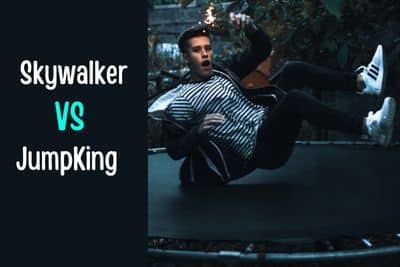 So, coming to the battle between Skywalker and JumpKing. Both are amazing brands and have so many fun things to offer. Honestly, saying those brands have very little spikes upside in some parts.
But most of the qualities are quite the same as each other, so it is going to be a tough decision for you. Let's face it.
Quality Matters
Trampolines are a lovely jumping equipment and need the best quality in hand so you can ensure the most fun of it. Talking about quality, both brands of trampolines come in almost the same quality.
Skywalker is a sturdy, strong trampoline with the best customer reviews in the market right now. On the contrary, JumpKing does not have such a good reputation in the quality part. However, there are a few products like 15 ft JumpKing has high-quality and safest operations.
Durability is the Key
In the durability factor, Skywalkers have the most durability to offer with their UV resistance on the jump mat. To level up the durability, Skywalker also has galvanized coating springs, heavy gauge mats, and also some tight enclosure weaving.
On the other hand, the JumpKing trampoline doesn't have the same level of springs and heavy-stitching mat, but they still provide good quality durable trampolines that you can have.
Shapes and Sizes
In these terms, Skywalker and JumpKing also have a lot to offer. Skywalker has 7 different full-sized trampolines in round shapes. Though there are 4 shapes: round, oval, square, and rectangular, in Skywalker, only the round one provides numerous sizes.
Whereas JumpKing has a lot more size options to offer. It has 12 different sizes starting from 5 ft to 17 ft. In shape parts, it has less to offer than Skywalker. JumpKing has mainly 3 different shapes, rectangular, oval, and round.
Weight Limit Needs to Check
JumpKing trampoline has different sizes to offer, whereas the largest 17ft trampoline has the highest weight limit of 200 lbs or 90 kg.
Whereas the Skywalker trampoline, you will get a maximum limit of 200 lbs weight limit in its 16ft trampoline.  So, they tie in terms of the trampoline weight limit.
Safety is Most Important Afterall
In safety measures, Skywalkers are best in all shots. The biggest priority of the Skywalker trampoline from day one is selling trampoline with the highest safety measures. They always include safety enclosure nets with the trampoline package.
On another side, JumpKing has a bit questionable reputation in safety. Though JumpKing zippers and safety nets add next-level safety. And still, they are finding more innovative ways to provide more safety to their customers.
See Also: Is Zupapa better than Skywalker trampoline?
Which One is Easy to install?
Somehow, this part, JumpKing, is able to top with its easy installation and assembly directions. Whereas, Skywalker is not so easy to install as people often make mistakes in its assembly or installation.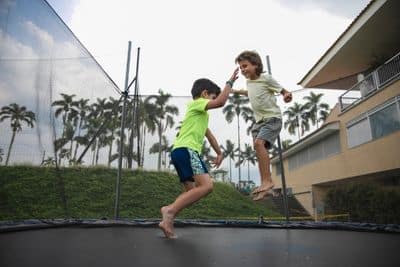 Do They Come with Accessories?
Skywalker has an amazing range of accessories to offer with its different-shaped trampolines. Including the basketball hoop, ladder, weather cover, wind stakes, and so on.
However, JumpKing doesn't have such a wide range of accessories to offer. Just a few cover ranges, with trampoline ladders and safety nets.
Which Needs Lower Budget?
In terms of price, Skywalker also wins the bet. It provides low price trampolines with great value products. If you want the best features on a budget, then Skywalker is your go-to option.
Though JumpKing has a slightly expensive range of products, they still manage to have products that fit everyone's pocket.
See Also: How much is a trampoline?
Which Will Give a Long Warranty?
The Skywalker trampoline frame comes with 3 years warranty, whereas the other parts on the trampoline have only a 1-year warranty. Compared to that, the whole JumpKing trampoline has only a 1-year warranty for the frame with 6 months warranty for other parts.
See Also: How long do tramps last?
JumpKing Vs Skywalker Trampoline Comparison Table
So, Skywalker trampoline vs JumpKing trampoline, which one should you get? From my findings, I would say Skywalker is the best choice you can have. Extreme durability checks safety measures, and also comes within budget.
Though JumpKing also has good quality products to offer with reliable and unique products. But your pockets have to be deep to get JumpKing in the backyard, and you will get lots of options to choose from too.
Although keep in mind, JumpKing trampolines are not 100% perfect and won't provide a lot of safety still they are also seen in the backyard too.
For better understanding, I have made the following table to tick which brand wins match the following features.
| | | |
| --- | --- | --- |
| Comparison Topic | Skywalker Trampoline | JumpKing Trampoline |
| Founded in | 2005 | 1948 |
| Shapes and Sizes | More options | Fewer options |
| Average Weight Limit (lbs) | 200 | 200 |
| Accessories | Lots of options | Limited options |
| Price | Cheaper | Little expensive |
| Warranty | 3 years for the frame and 1 year for other parts | 1 year for frame and 6 months for other parts |
See Also: In-ground vs above-ground tramps
Conclusion
Choosing the best one between Skywalker and JumpKing trampoline is a daunting task as both of them have some strengths and weaknesses. But I narrow down their key difference here for your easy findings. Let's recap it.
If you want a budget-friendly trampoline with the highest safety measures, go for the Skywalker trampoline. Where else, if you want a unique and classy trampoline, JumpKing is your shot.
So hopefully, you have got your answer about JumpKing vs Skywalker trampoline. And it's your time to hop on to purchase your trampoline.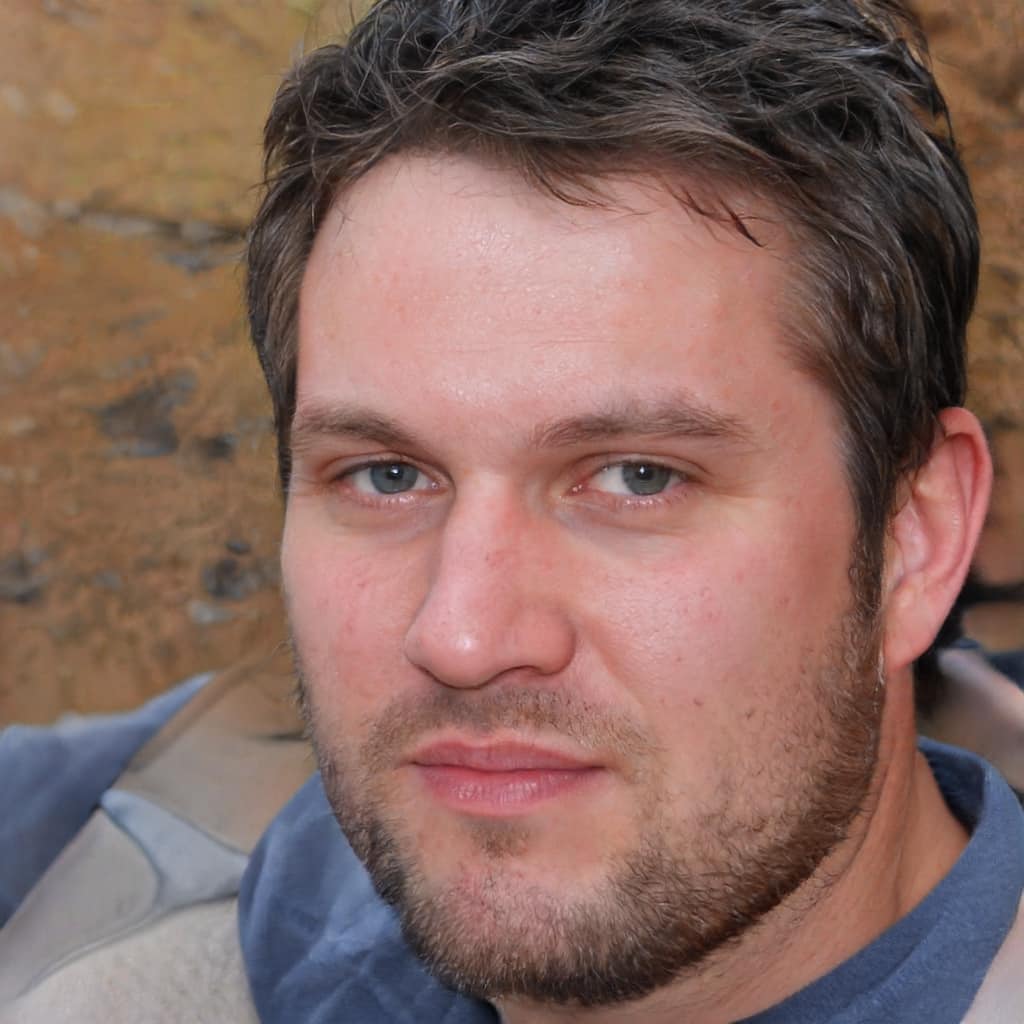 Robert is a trampoline and rebounder trainer with a passion for blogging. He discovered his love for trampolining at a young age, when his father gifted him his first trampoline at the age of 9. Over the years, Robert has honed his skills and knowledge in the field, and now uses his expertise to train others.
Besides, helping fitness enthusiasts in the gym, Robert is very eager to share his knowledge and experience regarding trampolines and rebounder exercises with the readers of picktrampoline.com. He will share all you need to know about trampolines and rebounders in this blog. Get his tips on trampoline and rebounder!