Ruston, Louisiana, is a small city in the United States, but has lots of center of attractions for fun-loving people of the Eastern Ark-La-Tex region. For family reunions and vacation spots, there are several world-class trampoline parks for spending leisure time.
Have you been looking for the best trampoline park in Ruston LA? Well, some of the most popular and nearest trampoline parks in Ruston LA are 2High Trampoline Park Ruston LA, Altitude Trampoline Park, Air U trampoline park, and so on.
These Ruston LA trampoline parks offer a blissful experience for everyone at affordable costs. Let's disclose their attractions, opening and closing hours, price, and other details in a hurry.
Top 3 Trampoline Parks Ruston LA
Here we'll discuss the 3 best trampoline parks near LA Ruston that you can visit summer holidays as well as year-round fun.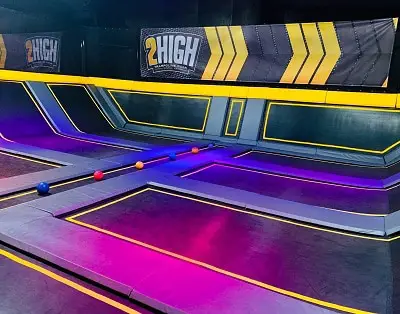 01. 2High Trampoline Park Ruston LA
If you live in Ruston Louisiana, 2High trampoline park Ruston LA will be an ideal place for amazing trampoline fun. There are great amenities for all classes of people. But currently, it's temporarily closed. Let's see this cool trampoline park in LA Ruston in detail.
Location
1460 Frazier Road Ruston, LA, 71270, US.
Contact
Attractions
Some of the main attractions of 2High trampoline park are-
Main Court
Dodgeball Court
Trampoline Basketball
Indoor Playground
Airbag Pit
Read Also: Trampoline park business plan and cost estimation
Hours
Friday: 12 am to 8 pm
Saturday: 10 am to 8 pm
Sunday: 10 am to 8 pm
Monday to Thursday: Closed
Price
Price may vary with hours, attractions, number of jumpers, etc. 2High trampoline park is a very affordable trampoline park in the United States. Below are some key costs of this park.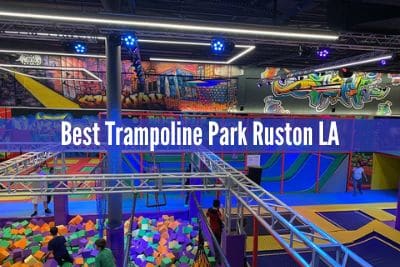 Basic Jump:
Toddlers ages 3 to 5 years: $5 per hour
Ages 6 and up: $10 per hour
Jump Socks:
Unlimited Jump:
Aged 3 to 5: $7 per day
Ages 6 and up: $15 per day
If you purchase day long jump ticket, you'll get free jump socks.
Read Also: Trampoline parks cost explained
02. Altitude Trampoline Park LA
Altitude trampoline park is one of the best trampoline parks in the world with versatile amenities. Now, it has almost 90 locations worldwide including 8 internationals. The trampoline park is very popular for its versatile location and cost.
If you live in Ruston LA, you can visit with children in Monroe, Louisiana Altitude trampoline park. Let's know what you will get in the Altitude trampoline park in LA.
Location
Contact
Attractions
Some of the main attractions available in Ruston LA Altitude trampoline parks are-
Main Court
Wipe Out
Rock Wall
Extreme Dodgeball
Trampoline Basketball
Ninja Course
There are also options for parties and group events.
See Also: How profitable are trampoline parks?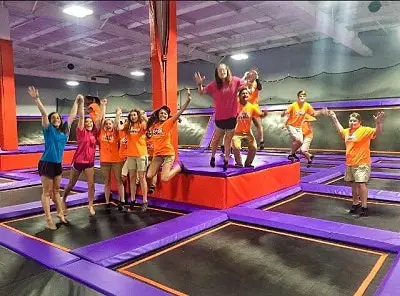 Hours
Tuesday to Thursday: 11 am to 7 pm
Friday: 11 am to 10 pm
Saturday: 9 am to 10 pm
Sunday: 12 am to 7 pm
Monday: Open during the months of summer (opening and ending hours are as usual Tuesday to Thursday). Closed during the school days (Open on Monday off-days during the school days).
N.B. Hours will be adjusted in the summer.
Read Also: Biggest trampoline park in the world
Price
Before you purchase tickets or jump, you must complete a waiver. Altitude safety socks are available at $2.50 per pair, and all jumpers must wear socks.
Per person jump cost of Altitude trampoline park LA:
1 hour jump cost: $13.95
1.5 hour jump cost: $18.95
2 hour jump cost: $22.95
3 hour jump cost: $28.95
90 minute jump Tuesday: $10
Toddler Time:
4 and under toddlers jump: $8.99 per hour
Adult $3.00 (as overseer)
Read Also: When to rebound with socks or shoes
Family Pack:
Party Prices:
You can reserve jump time or book for parties in advance either online or in the park. But the group must have 10 or more people. Note that, you can't get a refund of the online purchased tickets.
Here are prices for parties and events.
10 jumpers weekday: $159
10 jumpers weekend: $209
15 jumpers weekday: $219
15 jumpers weekend: $289
20 jumpers weekday: $269
20 jumpers weekend: $359
25 jumpers weekday: $309
25 jumpers weekend: $409
From Sunday to Thursday you can enjoy group discounts. But group discounts aren't available on Friday and Saturday.
Read Also: Trampoline park attire guide
03. Air U Trampoline Park LA
Another trampoline park near Ruston LA is Air U trampoline park. On the weekend, you can visit there with your family for great pleasure.
Location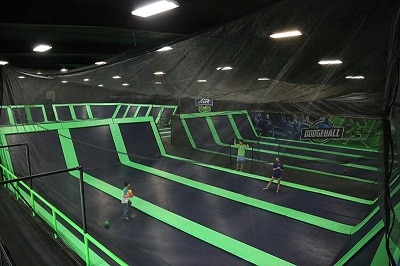 424 Ashley Ridge Blvd, Shreveport, LA 71106, United States.
Contact
Attractions
Dodgeball
Foam Pit
Basketball
Café
You can book space for parties and group events.
Read Also: Trampoline parks safety explained
Hours
Regular (Non-Summer) Hours:
Sunday: 1 pm to 8 pm
Monday to Thursday: 4 pm to 8 pm
Friday:  4 pm to 9 pm
Saturday: 10 am to 9 pm
Friday Night Open Air:
Toddler Time:
Special Date(s):
Memorial Day (May 30): Closed
Father's Day (June 19): Closed
Independence Day (July 4): Closed
Price
Ages 5 and Up:
1 hour jump: $12
1/2 hour jump: $8
Each additional half-hour: $4
Each additional hour: $8
Ages 4 and Under + Parent:
Parent and Child both can jump for the price of one
Trampoline socks:
Conclusion
If you look for ideas about what kids can do in Ruston LA, visiting and jumping these aforementioned trampoline parks will be an amazing idea. Kids to adults everyone will undoubtedly enjoy themselves there.
These trampoline parks Ruston LA will fill the heart of children with happiness. So, don't miss this fun and visit your nearest trampoline park soon.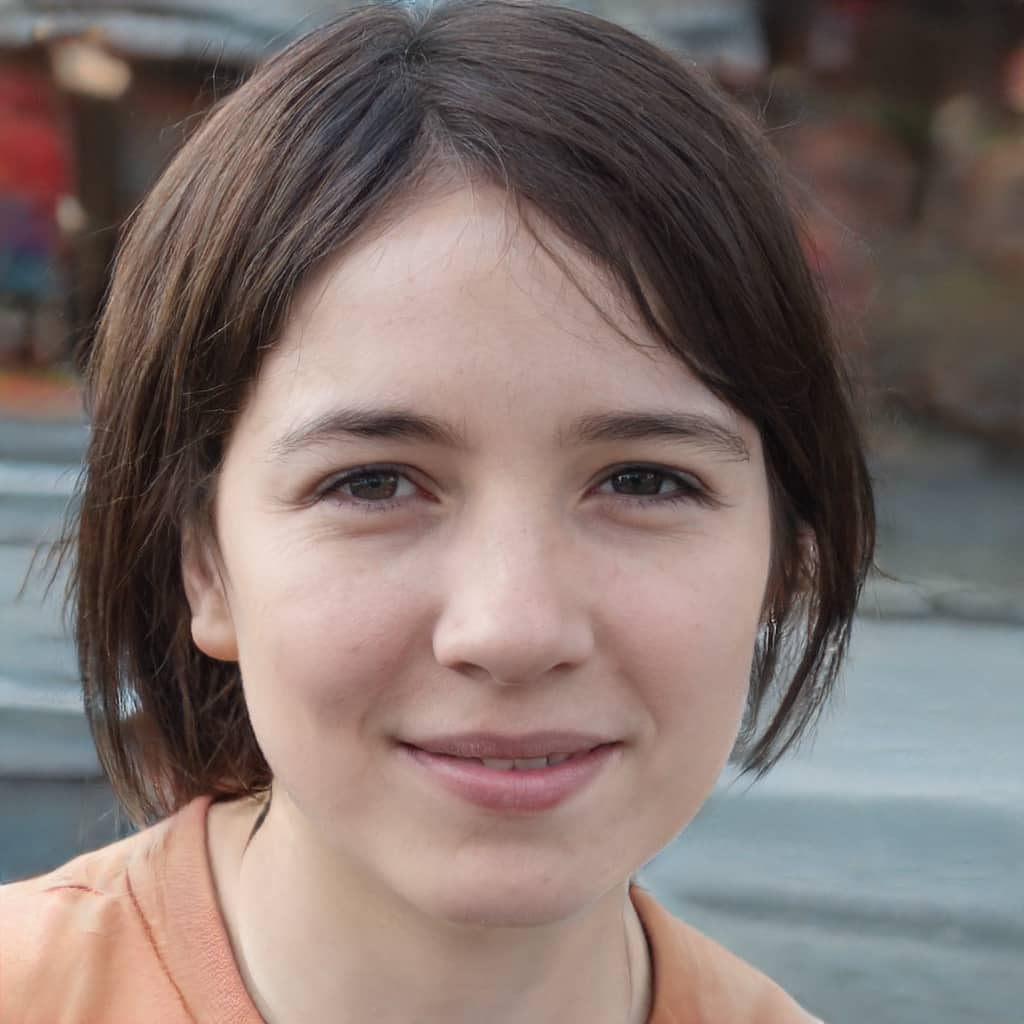 Rebecca is a fitness nerd and mother. She was inspired to get into the world of trampolining and rebounding by her husband Robert, who is a well-respected trainer and expert in the field. Now she instructs children, mothers, and teens the basic trampolining and rebounding tricks.
Rebecca is also a passionate blogger, sharing her knowledge and experiences with others in the hope of encouraging them to give trampolining and rebounding a try.