Different types of trampolines have been evolved over times for exercise and fun. You should know these trampolines, so you can get the right one easily.
Some of the common types of trampolines are round trampolines, rectangular trampolines, oval trampolines, square trampolines, fitness trampolines, recreational trampolines, indoor trampolines, outdoor trampolines, water trampolines, sunken trampolines, etc. Each of them has their special uses and appeal to the users.
So, I'm going to discuss all kinds of trampolines with their pros, cons, and uses. Let's read the article and have a better understanding of different styles of trampolines.
What are the Different Types of Trampolines?
Trampolines can be classified into different types according to their shapes, sizes, purposes, and so on. Furthermore, each of these has numerous types. In the latter section, we'll explain different kinds of trampolines.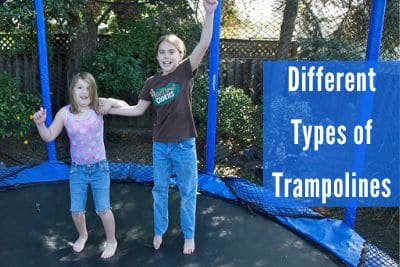 Shape Wise Trampolines
Some of the basic trampolines types according to their shapes are round, rectangular, oval, and square trampolines. Below, I'll discuss about these trampolines.
01. Round Trampoline
A round or circular trampoline is the most basic kind of trampoline. It is designed for a center-focused bounce. Thus, this provides a safe bounce for kids.
For family fun, round trampolines are widely used. They are also more affordable than any other shape of trampoline.
Pros:
Cons:
Not ideal for a higher jump
See Also: Tips to put together a trampoline
02. Rectangle Trampoline
Rectangular trampolines are another fundamentally shaped trampoline. They provide even bounce throughout the jumping bed. These trampolines are quite costly compared to the round models.
Rectangle trampolines are the right choice for gymnasts and adults as they have higher weight capacity as well as provide a higher bounce.
Pros:
Too bouncy
Ideal for gymnasts
Cons:
03. Square Trampoline
Square trampolines are more likely rectangle trampolines with affordable cost. If you want higher bounce like rectangle models, but need budget choice one like the circular model, in this case, square model will be the best option.
Pros:
Cons:
04. Oval Trampoline
Oval trampolines seem almost the same as round trampolines but provide some more bounce than the circular ones. So, you can use oval models for family fun and exercise.
Pros:
Safe bounce
Good for family fun
Cons:
Read Also: 8 ft or 10 ft trampoline
05. Complex Shape Trampoline
Hexagonal and octagonal trampolines are two complex shapes of trampolines. Usually, they come with a hefty weight limit, hence more price. The world's largest trampoline, Vikan Goliath 16×24 ft trampoline is octagonal.
Pros:
Cons: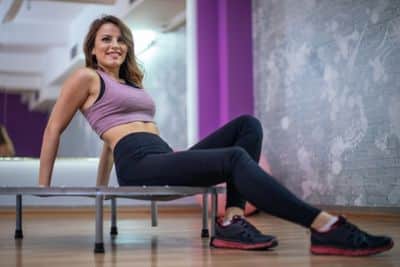 Size Wise Trampolines
Depending upon trampoline size, we can categorize trampolines as small, medium, and large trampolines.
06. Mini Trampoline and Rebounder
The trampolines with 3 to 5 or 6 ft diameter are called the mini or small trampolines. They are mainly designed for indoor uses, but you can use them outdoor too. Some of them are foldable for easy carrying and storing.
Kids' mini trampolines, as well as adults' and seniors' models, are available. The adults mini–trampolines are called rebounders that are sturdier than the kids' model.
Rebounders are great for exercise that's why they are widely used for health benefits as well as they are used to fight against deadly diseases. People will lymphedema may get good results from rebounding.
Pros:
Space friendly model
Indoor model
Cons:
Not ideal to do versatile tricks
See Also: What are the differences between trampoline and rebounder?
07. Medium Trampoline
Trampoline sizes between 6 to 12 ft are called the medium size trampolines. They are the perfect choice for a small backyard for little to older children. Some of them allow use both indoors and outdoors.
Pros:
Ideal for medium backyard
Good for teenagers and small families
Cons:
Don't allow heavy persons
08. Large Trampoline
Trampolines above 12 ft are considered large trampolines. Several big trampolines are 14, 15, 16, 17, 18, 20, 23, and 24 ft trampolines.
These trampolines are made durably for high performance and last longer. Usually, they are very much expensive and an ideal choice for gymnasts.
Pros:
Ideal for doing versatile activities
High weight capacity
Cons:
Costly
Require larger space
Read Also: 12 or 14 or 15 ft trampoline explained
Place Wise Trampoline
Depending upon the place where you can set up the trampoline, we can classify trampolines into several categories like above-ground, in-ground, underground, and water trampolines.
09. Above-Ground Trampoline
They are the widely held usual trampolines that allow being set up above the ground. They are available as indoor and outdoor models.
Pros:
Easy to install
Available at a low price
Cons:
See Also: What you can put under a trampoline?
10. In-Ground Trampoline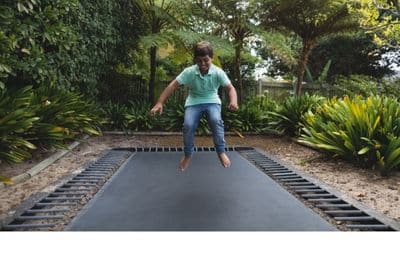 In-ground trampoline is a special kind of trampoline that is partially buried or sunken in the ground. They provide great aesthetics to the ground. These trampolines are quite expensive than traditional trampolines.
Some people may think to bury a normal trampoline to reduce cost, but this is not a good idea. If you want to get the best performance, sink it in the ground rightly.
Pros:
Good aesthetics
Safe and sound
Cons:
Expensive
Time-consuming assembly
See Also: In-ground vs above ground trampoline
11. Underground Trampoline
Underground trampolines are seen in the underground trampoline parks. They provide a unique experience of jumping in the underground.
Pros:
Cons:
See Also: Risks and safety of trampoline parks
12. Water Trampoline
Swimming, and splashing, are fun. Moreover, jumping on a water trampoline adds an amazing way to be cool on hot days. They are a great way of fun during the summer.
Pros:
Cons:
Spring Wise Trampolines
Spring is a vital part of a trampoline used to generate bounce. Nowadays, some models come with a springless design for safe jumping. So, springless and spring trampolines are another two styles of trampolines.
13. Spring Based Trampoline
Most traditional trampolines use springs to create bounce. The spring force pushes you higher when you hit the trampoline bed. Skywalker, Zupapa, and Merax are some of the spring-based trampolines brands.
Pros:
Cons:
Spring may squeak sometimes
See Also: Get solution of trampoline spring squeaking?
14. Springless Trampoline
This is a new addition to the trampoline family. Springless trampolines are safer, silent, and cushion bounce trampolines. Vuly and Springfree trampolines are two springless designs.
For safety, mini trampolines also introduce springless bungee cords instead of springs. They provide silent and low-impact workouts.
Pros:
Cons:
Application Wise Trampolines
Trampoline is basically used for two reasons- fitness and fun. Thus, fitness trampolines and fun trampolines come into the discussion.
15. Fitness Trampoline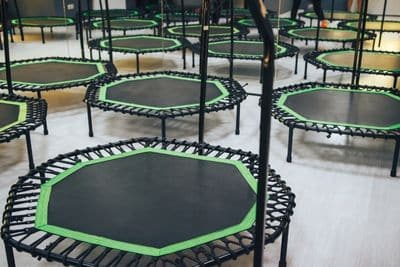 Fitness or exercise trampolines are usually small that are designed for indoor exercise. These models often called rebounders. They are great for home cardio exercise, weight loss, shaping body, lymphatic drainage, etc.
Pros:
Provide great cardio workouts
Cons:
Larger ones are expensive
16. Fun Trampoline
Fun trampolines are either designed for kids or family uses. Most of them are round and provide a safe and center-focused bounce. These big trampolines are installed in the yard and these models allow to do jumping and tumbling.
Pros:
Cons:
Not ideal for pro athletes
See Also: Fun trampoline accessories
17. Trampoline Park
Nowadays trampoline parks are very popular. They allow doing different acrobatic moves as well as fun. Both expensive and cheap trampoline parks are available.
Most cities in the United States have trampoline parks. Besides, trampoline parks trampolines are also seen in numerous festivals on different occasions.
If you plan to start trampoline park business, consult with the experts and start it as soon you can.
Pros:
Lots of fun and exercise items
Cons:
Some attractions are costly
See Also: Cost of trampoline park
Age Wise Trampolines
According to various ages, trampolines can be divided into numerous classes.
18. Kids Toddlers Trampoline
Children's trampolines are small in size usually 3 to 10 ft. They provide a safe bounce. The outdoor models have a safety net whereas indoor toddlers' trampolines come with a handle for improving balance, coordination, and motor skills.
Pros:
Cons:
See Also: Is trampoline safe for young children?
19. Teenagers' Trampoline
Teenagers need some extra space on the trampoline than the children's models. Usually, a 10 ft to 15 ft trampoline is a good choice for teenagers.
Pros:
Cons:
Not ideal for heavy adults
20. Adults Trampoline
Gymnasts and adults need larger trampolines as they need vigorous jumping. Trampolines over 14 ft are a good choice for adults. If you need an indoor model, go for adult rebounders.
Large exercise trampolines are used for high-bouncing like Olympic events.
Pros:
Cons:
Larger ones are expensive
21. Seniors' Trampoline
Elderly people need a low-impact, joint-friendly, safe jumping platform. For them, bungee rebounders are great choices. Seniors' trampolines improve the immune system, thus, your body can fight against numerous diseases strongly.
Pros:
Cons:
Be careful while exercising
See Also: Numerous benefits of trampoline jumping
Weight Limit Wise Trampolines
If you want to categorize trampolines according to their weight capacity, then you will find three types of trampolines such as low weight, mid-weight, and high-weight limit trampolines.
22. Low Weight Limit Trampoline
Usually, kids' trampolines come with low weight capacity due to their structural inferiority. Low weight limit trampolines can hold a weight of fewer than 100 lbs.
23. Medium Weight Capacity Trampoline
When the weight limit trampoline varies between 100 to 300 lbs, you can consider this as a mid-weight limit trampoline. They are ideal for children, teenagers, and small families.
24. High Weight Capacity Trampoline
If the trampoline's weight capacity reaches over 300 pounds, they are considered a high-weight limit trampoline.
Price Wise Trampolines
Depending upon the cost of the trampoline, you can categorize trampolines as low-price, mid-range, and expensive trampolines.
25. Low Priced Trampoline
Trampolines for children and some adult rebounders are available for under 100 dollars. They are not very durable like the outdoor models, but provide good exercise.
26. Mid-Priced Trampoline
The medium ranged trampolines cost below 300 dollars. They are a little stronger than the low-cost models.
27. High Priced Trampoline
The durable and high-quality trampolines are very expensive than the cheap trampolines. They can withstand more weight than the cheaply made ones.
See Also: How much is a trampoline costs?
Some Other Kinds of Trampolines
28. Accessories Wise Trampolines
According to trampoline accessories, you can label trampolines in numerous types such as trampolines with nets, trampolines with basketball hoops, trampolines with ladders, trampolines with tents, trampolines with lights, and so on.
29. Color-Wise Trampolines
You can classify trampolines depending on their colors such as black, blue, green, pink, orange, etc.
30. Brand Wise Trampolines
Trampolines are available in several brands. Each trampoline brand has its own specialty. Some of the prominent trampoline brands are Skywalker, Zupapa, Merax, ORCC, Springfree, Vuly Play, Acon, Capital Play, Little Tikes, Sportspower, JumpSport, JumpKing, and many more.
See More: What are Springfree trampoline common problems?
31. Poles Design Wise Trampolines
Depending upon the poles design, trampoline can be categorized into numerous types like straight poles trampolines, curved poles trampolines, top-ring enclosures, and so on.
32. Condition Wise Trampolines
You can categorize trampolines according to their condition in several types like new trampolines, second hand trampolines, and old trampolines.
Final Words
Trampolines can be divided into various styles and types. Here we've covered only the most basic types of trampolines for trampoline enthusiasts.
Hopefully, after reading the article you got a clear idea of the different styles of trampolines. Now, decide which trampoline suit you best and pick that one for family fun and exercise. Happy trampolining!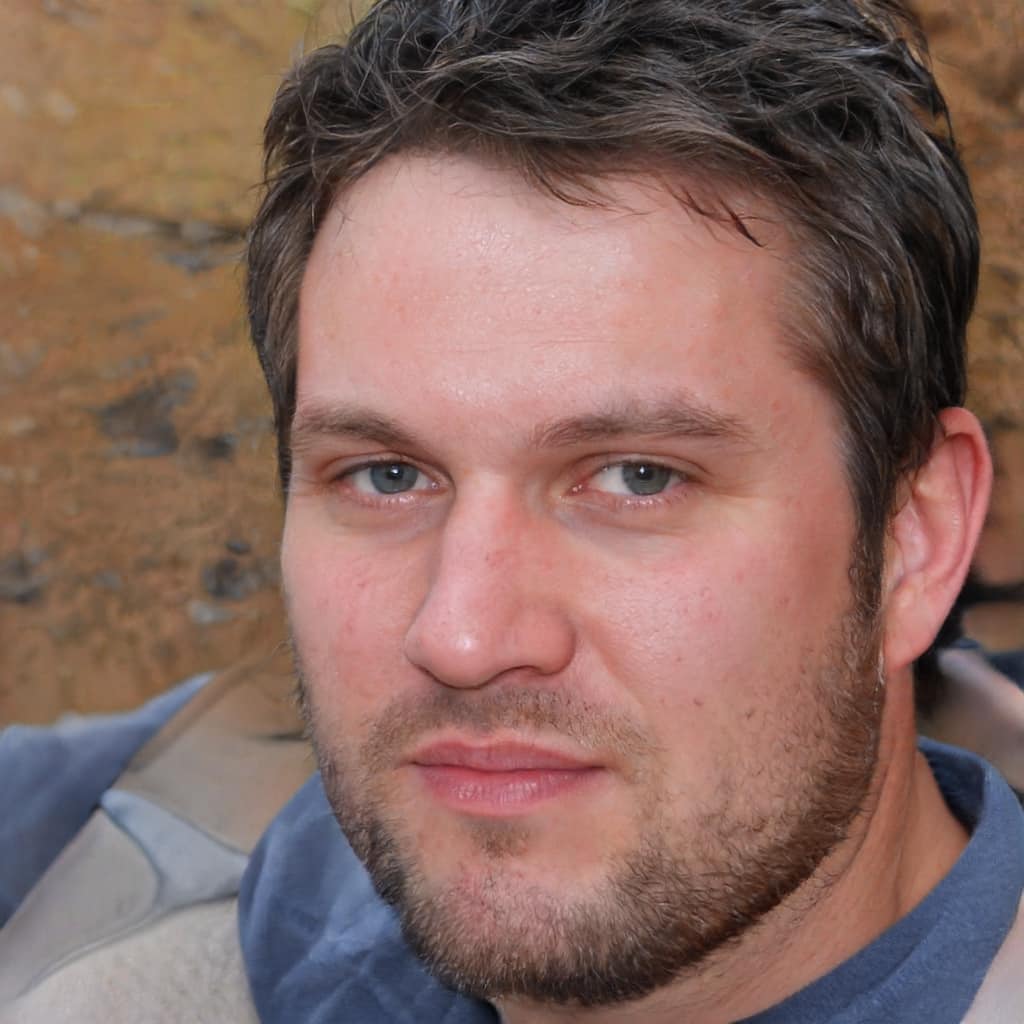 Robert is a trampoline and rebounder trainer with a passion for blogging. He discovered his love for trampolining at a young age, when his father gifted him his first trampoline at the age of 9. Over the years, Robert has honed his skills and knowledge in the field, and now uses his expertise to train others.
Besides, helping fitness enthusiasts in the gym, Robert is very eager to share his knowledge and experience regarding trampolines and rebounder exercises with the readers of picktrampoline.com. He will share all you need to know about trampolines and rebounders in this blog. Get his tips on trampoline and rebounder!