The indoor trampoline is an outstanding activity to burn off energy and fun. To keep children active on the mini-trampoline, you should teach them fun indoor trampoline games and tricks so they find it challenging.
Some of the cool mini trampoline games that every kid love include Count and Bounce, Stop and Jump, Alphabet Jumping, Challenge Siblings, Basketball Playing, Red Light and Green Light Jumping, etc. And there are actually lots of games that you can corporate into your children's trampoline to make them entertained and active for a longer period.
Today, I will share some of the exciting games for mini trampolines that you can try for your children. So, let's get started.
10 Exciting Mini Trampoline Games and Activities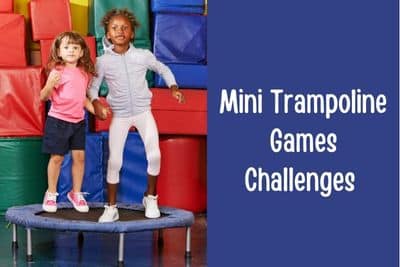 Some of the fun games on a mini trampoline are-
Count and Bounce
Alphabet Jumping
Catch the Ball 
Red Light and Green Light Jumping
Jump on One Leg
Front and Back Jumping
Up Down Jumping 
Basketball Play
Turn on Music and Dance During Jumping
Longest Jump
Now, have a brief discussion on these.
1. Count and Bounce
Jumping and Counting on the mini trampoline is a wonderful play for kids who are just learning to count numbers. With each jumping, children have to count numbers (1, 2, 3, 4, 5…) as much as they can.
You can add some rules there to make it more interesting like- when kids say any wrong number or fail to count further another player will get the turn to jump. The participant who can count more numbers will be the winner.
It is an Exer-Learning process that includes children's physical exercise and learning simultaneously. This fun indoor trampoline game will encourage kids to learn to count higher numbers to jump for a longer time.
See Also: Accessories for fun trampoline games
2. Alphabet Jumping
Like Count and Bounce, you can incorporate singing the alphabet while children jump on the trampoline. Kids can jump until they utter the letters correctly. You can add more challenges here by instructing them to say two or three words for each letter (Like A for Apple, Axe; B for Ball, Brush…).
3. Catch the Ball
When your child is jumping on the small indoor trampoline, throw a soft foam ball at him/her. He/she should throw it back to you very fast. If the kid fails to catch and throw the ball he/she will be disqualified and another participant will get the chance to play.
It will improve the hand and eye coordination of your children. This mini trampoline ball game will also be beneficial for kids with special needs.
See Also: Trampoline for autism and special needs
4. Red Light and Green Light Jumping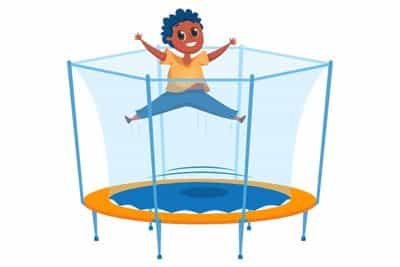 Red Light and Green Light jumping is another fantastic fun mini trampoline game for kids. While kids jump on the trampoline another player or instructor standing outside will instruct the player on the trampoline to jump or bounce.
When the green light is on the jumper has to bounce and for red light signals the bouncer must stop. If the jumper fails to follow the instruction, he/she will be gone. This game is also named Stop and Jump.
5. Jump on One Leg
This is another attractive mini trampoline challenge for kiddos. Adults or another player will instruct the jumper to jump either on the left or right leg. When the instructor will pronounce left or right the player must follow this, otherwise, he/she will be out of the game.
See Also: Benefits of jumping on the trampoline
6. Front and Back Jumping 
To add challenges in the mini trampoline for kids, you can instruct them to do Front and Back Jumping. They have to jump on the front and then jump back. A balance bar may be helpful here.
7. Up Down Jumping 
It is almost like natural jumping, but it needs to incorporate the knees or bottom. Kids have to stand and jump on their knees or bottom. You can create a pattern for that like up, down, up, down, or up, up, down, down, etc.
The following video shows kids are jumping on mini trampoline and having fun.
8. Basketball Play
If you attach a basketball hoop to the trampoline net on a mini trampoline, kids can play basketball games there. In this case, a basketball hoop and a ball will do the job done. Give challenges to kids to put the ball on the basketball goal for a certain number within a limited time.
9. Turn on Music and Dance During Jumping
While children jump on the indoor trampoline, turn on music and allow them to dance on the trampoline. Girls will enjoy this lavish game very much.
10. Longest Jump
Challenge your siblings or friends to see who can jump for the longest time. Take a clock and count down the jumping time. The player with the farthest time bouncing will be the winner.
See Also: Does trampoline good to gain height?
Wrap Up
Hopefully, these indoor trampoline challenges will make kids dynamic. But before allowing kids to play these games, be sure they have basic jumping skills and can cope with that.
As a parent, you can arrange competitions or parties for children to play these mini trampoline games, and even you can join with them. If your kids are grown enough, instruct them to do these mini trampoline exercises.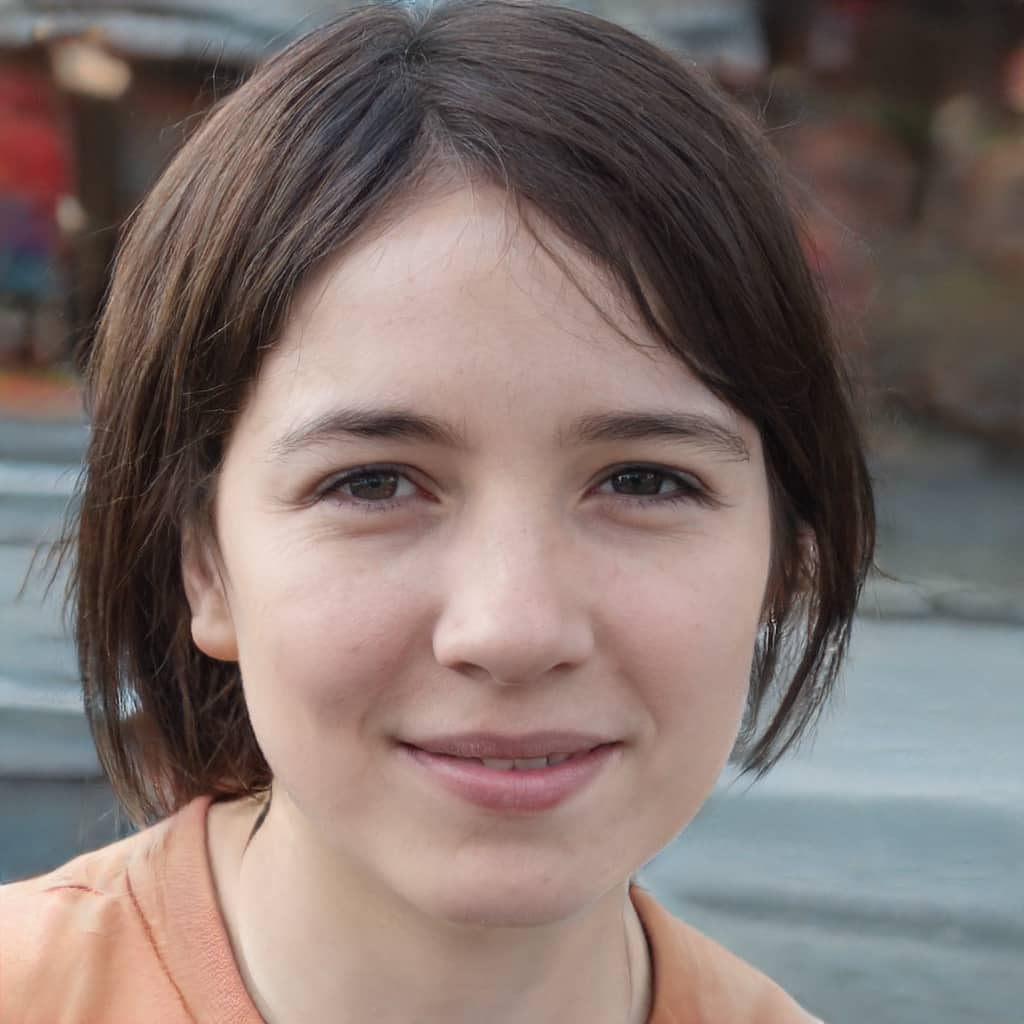 Rebecca is a fitness nerd and mother. She was inspired to get into the world of trampolining and rebounding by her husband Robert, who is a well-respected trainer and expert in the field. Now she instructs children, mothers, and teens the basic trampolining and rebounding tricks.
Rebecca is also a passionate blogger, sharing her knowledge and experiences with others in the hope of encouraging them to give trampolining and rebounding a try.