Have you been looking for effective ideas to improve your condition for your special needs or ADHD children? Well, trampoline therapy is a stunning way for the development of children with autism.
Therapy and sensory trampolines are made for a safe bounce that provides physical and mental growth as well as extreme fun. Autism and special needs trampolines foster balance, postural control, coordination, motor planning, endurance, aerobic fitness, jumping skills, sensory input, muscle strengthening, and so on.
In this article, I'll share the benefits of rebound therapy for sensory children in detail. Also, you'll get some reviews of the best trampolines for autism, sensory needs, and ADHD. Let's get started!
What is Rebound Therapy?
Rebounding therapy is one kind of therapeutic exercise where trampolines or rebounders are used as rehabilitation for a wide variety of disabilities and special needs. Whether adults or children who suffer from anxiety or sensory problems, physical trampoline therapy provides great advantages to them.
Read Also: Best time to rebound
Now, I'll discuss the benefits of trampoline therapy for autism.
Benefits of a Trampoline to Autism, ADHD, and Sensory Needs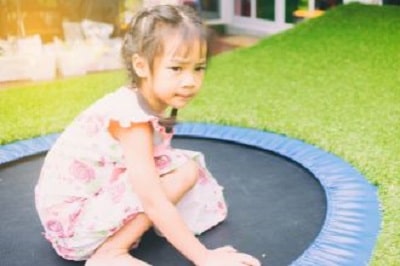 Have you wondered what are the trampoline benefits for ASD (autism spectrum disorder), sensory needs, ADHD (attention deficit hyperactivity disorder), special needs, and other children with disorders? Trampoline or rebounder therapy has many positive outcomes for them actually.
Ashleigh Willis is a Neuroscience Ph.D. candidate who proves that trampoline therapy benefits ADHD and children with Autism. Due to the rhythmic and repetitive movement of the therapy trampoline, special needs children get great sensory support.
Not only that, but also trampoline provides fun to children with ASD. Thus, special education programs are launched, currently with rebound therapy trampolines for the betterment of sensory and special needs children.
Below I'll cover some of the important therapy trampoline benefits for ADHD kids.
1. Develop Balance, Coordination, & Motor Skills
Children with autism often experience difficulties with motor skills, either the ability to move specific body parts or overall movements. Repetitive bounce on an occupational therapy trampoline is helpful to activate the body to react fast, thus improving posture, balance, coordination, and motor skills.
Read Also: Health benefits of trampoline for versatile people
2. Strengthen Cardiovascular System
Trampolining is a full-body exercise that proved to be a great way of fighting against such problems and achieving overall good fitness such as cardiovascular system and muscle strength.
When one jumps on the trampoline, the entire body gets energized due to heart pumping and oxygen circulation that strengthens bone density, muscles, hips, ankles, knees, and other parts of the body.
Read Also: Can trampoline grow your height?
3. Stress Reliever
Mental health is as important as physical health for children with autism and special needs because their condition is often characterized by behavioral disorders caused by excessive stress and anxiety.
Physical activities can help reduce anxiety and stress, leading to better mental health and help regulate moods, as well as tackle self-injurious or aggressive behavior in the process.
Due to repetitive rebounding, lymph flow increases, which means toxins from the body are released, thus making jumpers happy and relaxed. It also helps preventing cancer.
4. Improve Sleeping Disorders
Almost 80 percent of kids with autism and ADHD may experience sleeping disorders, which elevates behavioral issues. However, exercising takes up a lot of energy and also leads to the production of melatonin, which helps combat these sleeping disorders.
5. Sensory Improvements
Sensory disorder and ADD (attention deficit disorder), children often portray abnormal reactions to their senses. Almost 30 to 90 percent of them are either under or over-sensitive to sights, sounds, smells, or other sensations. Exercises can help stimulate the nervous system and lead to better sensory reactions.
See Also: Mini trampoline games for children
6. Boosting Confidence
Kids who're suffering from ADHD may encounter slow thinking and confidence inferiority. But trampoline therapy helps boost confidence and thinking power.
7. Better Communication Skills
Children with autism may frequently struggle with social interactions. But trampoline exercise improves concentration and feelings. Physical trampoline therapy rebounding helps to gain social and communication skills, thus, they get social.
For example, when children with speech needs to jump on the trampoline, they try to count jump numbers or sing or follow adults' instructions that help to improve their speech and language development.
Best Trampoline for Autistic Child & Special Needs Suggestions
1. SkyBound 'Eos' Mini Indoor Trampoline with Dual Handle for Sensory Needs
Specs:
Jumping area: 39.88×21.88 inch
Weight capacity: 150 lbs
Safety pad: Thick PVC
Number of handles: 2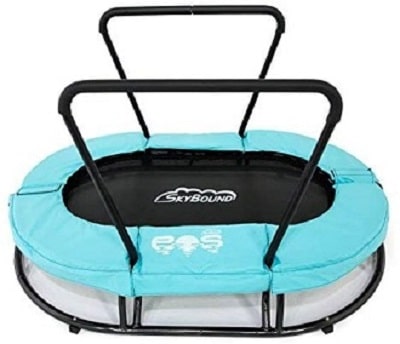 The first and foremost physical therapy trampoline that I bring for your children is the  53×35 Inch Oval SkyBound Indoor Sensory Trampoline. It's one of the best trampolines for rebound therapy as this one is designed particularly for kids with autism, sensory needs, ADHD, and other developmental disorders.
SkyBound sensory trampoline adopts dual-welded frames that make it durable and safe for children. Also, the galvanized robust springs provide a cushion and a safe bouncing experience. The recommended weight limit of this ADHD trampoline is 150 pounds.
In this mini trampoline for autism, there are two removable padded handlebars for proper balance and hand support. The mat is patent-pending for maximum cushion bounce and safety. Besides these, the thick PVC spring pad adds safety to your kids from spring and frame impact.
The trampoline uses unique water-resistant rubber-capped, removable feet that provide great stability to the equipment as well as won't damage your floors. Thus, you can use this special needs sensory mini-trampoline either indoors or outdoor.
This therapy trampoline is very effective to develop motor skills, balance, and coordination for your kids. So, if you are looking for the best indoor trampoline for sensory needs, autism, and ADHD, I highly recommend the SkyBound 'Eos' mini trampoline as it's fully safe and functional for your toddlers.
Pros:
Durable dual frame structure
Removable dual foam-padded handle
Thick spring cover for ultimate safety
Scratch-resistant unique feet
Cons:
Quite hard to detach handlebars
2. Little Tikes 3 Ft Small Trampoline with Handle for Autism
Specs:
Weight capacity: 55 lbs
Material: Metal, plastic
Handle height from the ground: 34 inch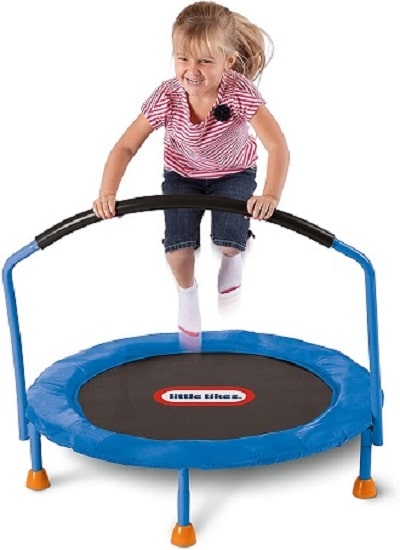 If you need the best trampoline for autistic kids, then 3 Ft Little Tikes Indoor Mini Trampoline will be just an amazing pick for you. It's compact and lightweight thus, you can move and store it easily
This popular and best indoor trampoline for autism is designed durably from metals and plastic. It can withstand up to 55 lbs of toddlers' weight. The trampoline uses elastic straps instead of springs that provide a safe and silent jumping experience.
Legs end have rubber feet so they won't skid while bouncing. The jumping bed is cushioned well for safe play. The safety pad covers the frame and bungees for further safety. Besides these, the handlebar provides hand support for balancing.
The therapy trampoline is pocket-friendly so if your kids have any signs of a disorder, you can gift this trampoline to them for good therapeutic exercise.
Pros:
Lightweight and compact
Hand support handle
No spring design
Cheaply priced
Cons:
3. Skywalker 40 Inch Mini Trampoline with Enclosure Net for ADHD
Specs:
Weight rating: 100 lbs
Net height: 56.7 inches
Mat print: spaceship, moon & stars, astronauts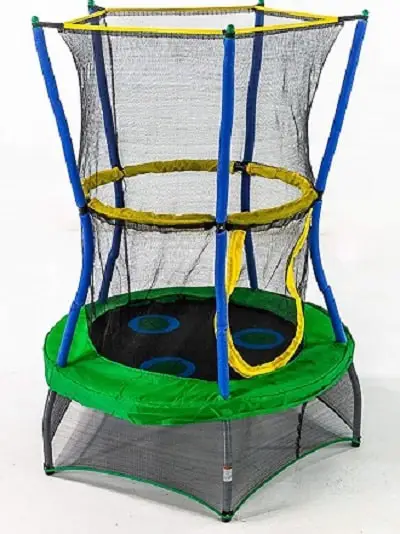 Skywalker ADHD Mini Trampoline comes with the utmost safety features for the kids, especially ideal for ADHD and sensory needs.
The metal-constructed trampoline is sturdy enough to support up to 100 pounds weight. Unique arched legs provide massive stability to the trampoline. Rubber feet are used to make the bouncer slip-resistant.
This trampoline is fully safe for kids and toddlers. It uses bungees instead of springs for joint-friendly jumping. A high mesh enclosure net surrounds the trampoline for safety.
Every pinch point is eliminated as bungees are covered by a safety pad and the mat is sewn directly with the net. There is also a bottom net under the trampoline to prevent toddlers and pets from getting beneath the jumping bed.
The trampoline is ASTM certified and covers a handsome warranty. It has a grip bar for toddlers and special needs children. The printed mat will be great to develop sensory needs conditions. So, don't miss this best trampoline for kids with autism and ADHD small trampoline.
Pros:
Attractive printed mat
Handlebar with padding
No gaps between mat and net
A high enclosure net prevents falling
The bottom net adds safety
Meets ASTM safety standards
Cons:
Foam padding should be improved
4. The Original Toy Company Trampoline Fold & Go 3 Ft Trampoline for Special Needs
Specs:
Weight limit: 150 pounds
Handle height from the ground: 35 inches
Weight: 18 pounds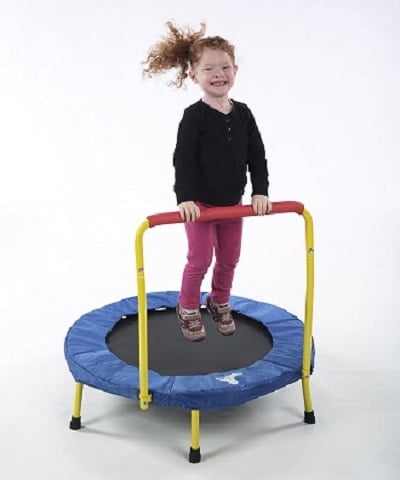 The Original Toy Company 36 Inch Trampoline comprises special features for autistic and sensory kids. It is actually a pre-assembled that is ready to install. Kids will love the colorful, compact trampoline.
The maximum weight capacity of the trampoline is 150 pounds. This autism indoor/outdoor trampoline is made from a robust structure along with six legs having rubber feet. Also, the legs are angled, which provides better stability.
This trampoline is foldable that helps in transportation and storage. The included foam-padded handlebar is 35 inches high from the ground. It helps easy grip, hence keeping balance while jumping.
Jumping on this Fold & Go Trampoline boosts the immune system, motor coordination, and neuron development. It's very effective as self-physiotherapy for autism and sensory kids.
The small trampoline uses safety features for special needs children and ADHD. It also meets the ASTM standard, thus making this safe for 3 years and up children. It also provides a 1-year limited warranty. So, if you are looking for a good gift for children with special needs, I highly recommend this one.
Pros:
Foldable design
ASTM Certified
Angled legs for better stability
Padded handle for gripping
Cons:
No safety enclosure net
Handle not adjustable
5. Asee'm 5 Ft Indoor Outdoor Rebound Therapy Trampoline
Specs:
Weight rating: 220 pounds
Total springs: 30
Legs: 3 U with 6 suction cups
Mat material: Polypropylene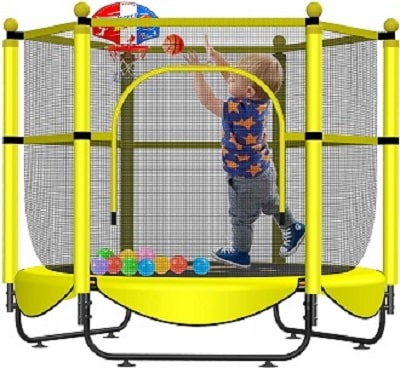 Asee'm 5 Ft Therapy Trampoline brings the best features for children with special needs. The built-in enclosure net provides great safety to toddlers with autism and sensory integration disorders.
This therapeutic trampoline includes a basketball hoop and ten pieces of pit ball that are great for special needs children. So, besides bouncing, children can play basketball or a pit ball to improve their sensory skills.
The 60 inches trampoline can be set either indoors or outdoors. It uses alloy steel in the frame,  polypropylene in the mat, 30 galvanized springs, PE and PVC pads, and so on. All these make this trampoline very durable, and it can hold 220 lbs of jumper's weight.
This model has 3 U-shaped legs with two durable suction cups on each leg, which extend the stability and provide noiseless bouncing. An easy assembly T-hook is included in the package.
So, by having the best trampolines for trampoline therapy, children with autism, ADHD, and sensory needs will get great improvement within a short time.
Pros:
Indoor and outdoor use
Silent and noise-free bounce
Basketball hoop and pit ball included
T-hook for quick assembly
Cons:
Instructions manual should be improved
6. CLORIS 38 Inch Folding Trampoline With Handle For Sensory Needs & ADHD
Specs:
Weight capacity: 220 pounds
Handle height: 32.6 to 40.5 inches
Mat material: Polypropylene
Total elastic straps: 24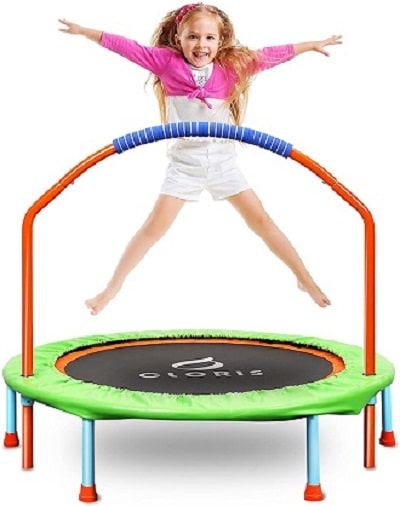 If you want to gift a wonderful trampoline for ADHD or sensory deficit toddlers, CLORIS 38 Inch Mini Trampoline will be the right one. The multi-color tone attracts your children easily and helps to develop their sensory problems.
The trampoline is foldable. Thus, you can easily carry and hide it in any place. This is also a lightweight and tight-space model; hence, you can handle it easily.
CLORIS toddlers trampoline is made durably to hold up to 220 pounds of jumper's weight. The elastic cords make this soft and reduce noise while bouncing.
With legs, there are rubber footbeds that reduce slipping and provide great stability. The frame cover also adds extra protection to the small jumpers.
This trampoline also features a sturdy padding handlebar for gripping that also prevents accidental falling. Furthermore, the height of the handrails can be adjusted from 32.6 to 40.5 inches.
Having this trampoline, autistic and sensory kids may strengthen their motor skills and neuron development through self-physiotherapy and easily develop their balance. So, don't miss this lovely indoor autistic kids' trampoline.
Pros:
Adjustable handle for balance
Foldable design for easy carry and storage
Elastic straps provide a silent jumping
Lucrative color for kids
Cons:
Instructions should be improved
7. LANGXUN 5 Ft Trampoline With Net, Basketball Hoop, & Dart Board
Specs:
Weight rating: 220 lbs
Height: 47.2 inches
Mat material: Polypropylene
LANGXUN 5 Ft Kids Trampoline is an ideal model to use indoors and outdoors. The autism-friendly trampoline package includes all the necessary kits to install the trampoline.
The frame and legs of the trampoline are made from durable alloy steel. It supports a maximum weight of 220 lbs, but it can hold a 330 lbs load, actually. This trampoline uses heavy gauged 3.5-inch springs to provide good bounce
LANGXUN trampoline has a UV-protected polypropylene mat and PE safety net. To eliminate injury, the mat and pad are stitched together. The upgraded zipper net ensures entry and exit safety for the kids.
There is a basketball hoop and double side dartboard for extra fun to keep kids active for a longer period. The trampoline maintains higher than TUV safety standards.
Pros:
Mat and pad direct sewn extends safety
Basketball hoop and dartboard for more fun
Indoor and outdoor use
Exceeds TUV safety standard
Cons:
Springs mightn't last longer
Buying Guide of the Best Sensory Trampolines for Rebound Therapy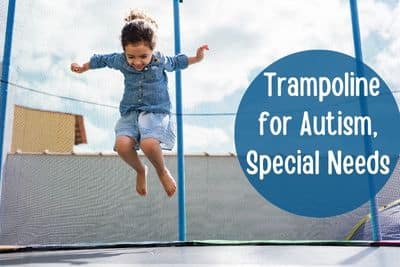 Durable & Safe Design
The therapeutic trampoline for autistic kids should be sturdy enough to withstand children's weight properly. Usually, the weight capacity should be more than 100 pounds. But, several toddler-friendly models may come with lower limits.
Most kids' trampolines use rubber feet to prevent moving and scratching the floors while jumping. If the legs are curved, that will make the special needs trampoline stable and safe.
Handle
The handle is an important part of an indoor trampoline, especially, when you want to ensure safety for children with autism and sensory needs. This will give a good hand grip, hence better balancing while bouncing.
Enclosure Net
If you allow kids with ADHD or other disorders to play in the outdoor trampolines, they should be fully surrounded by enclosure nets for safety reasons. Some experts also recommend using enclosure nets even for indoor models.
As outdoor models are quite larger and their frames are higher than indoor trampolines, thus it's wise to install a safety net to prevent unwanted falling into the ground.
Safety Pad
Sensory needs trampoline should be padded well by a spring safety cover. The pad has to be thick and well-padded to provide proper safety against springs and frame impact. Don't allow children with autism and special needs without much foam padding.
Other Accessories
Some autism trampolines come with printed mats, basketball hoops, trampoline lights, music, and many other features. These will play a great role in improving the condition of special needs children. You can add these fun accessories separately for more fun for your kids.
Frequently Asked Questions
1. How to ensure safe trampolining for special needs children?
Ans: Don't allow more than one jumper once. When special needs toddlers under 6 years old play on a trampoline, adult supervision is necessary. Indoor trampolines for autism should be of low height, and outdoor models must be surrounded by nets.
Read Also: Are ground-level trampolines safe?
2. When do signs of autism appear first?
Ans: The signs of autism appear first within 12 months. In some cases, it may extend up to 18 to 24 months of life or even more.
3. Is trampoline parks safe for special needs children?
Ans: Not all attractions of trampoline parks are safe for children. But, some trampoline parks have dedicated zone for special needs that are quite safer.
4. Where will I get sensory needs adults rebounder trampoline?
Ans: Bungee rebounders are great for sensory adults and the elderly. These therapy trampolines provide low-impact workouts.
5. Is there any trampoline manufacturer who donates trampoline for autistic kids?
Ans: Yes, there are some companies that have taken trampoline programs to improve autistic kids. Skywalker trampolines is one of the top leading ones in this field. Vuly Trampoline and Springfree Trampolines also donate trampolines for ASD children.
6. How to start trampoline rebound therapy?
Ans: It's recommended to consult with your doctor about trampoline therapy before you allow kids with autism and special needs.
The following video will help you get some basic ideas on autism-friendly mini-trampoline exercise.
Final Words
Now, rebounding therapy is very effective for special needs and ADHD children. Doctors recommend a trampoline for kids with autism and sensory needs as it makes kids social and interactive. You can choose the best trampoline for autistic children and other disorders from our list for safe and effective exercise.
Hopefully, the therapy trampoline will be great to improve the physical and mental conditions of your children with autism. Happy and healthy childhood!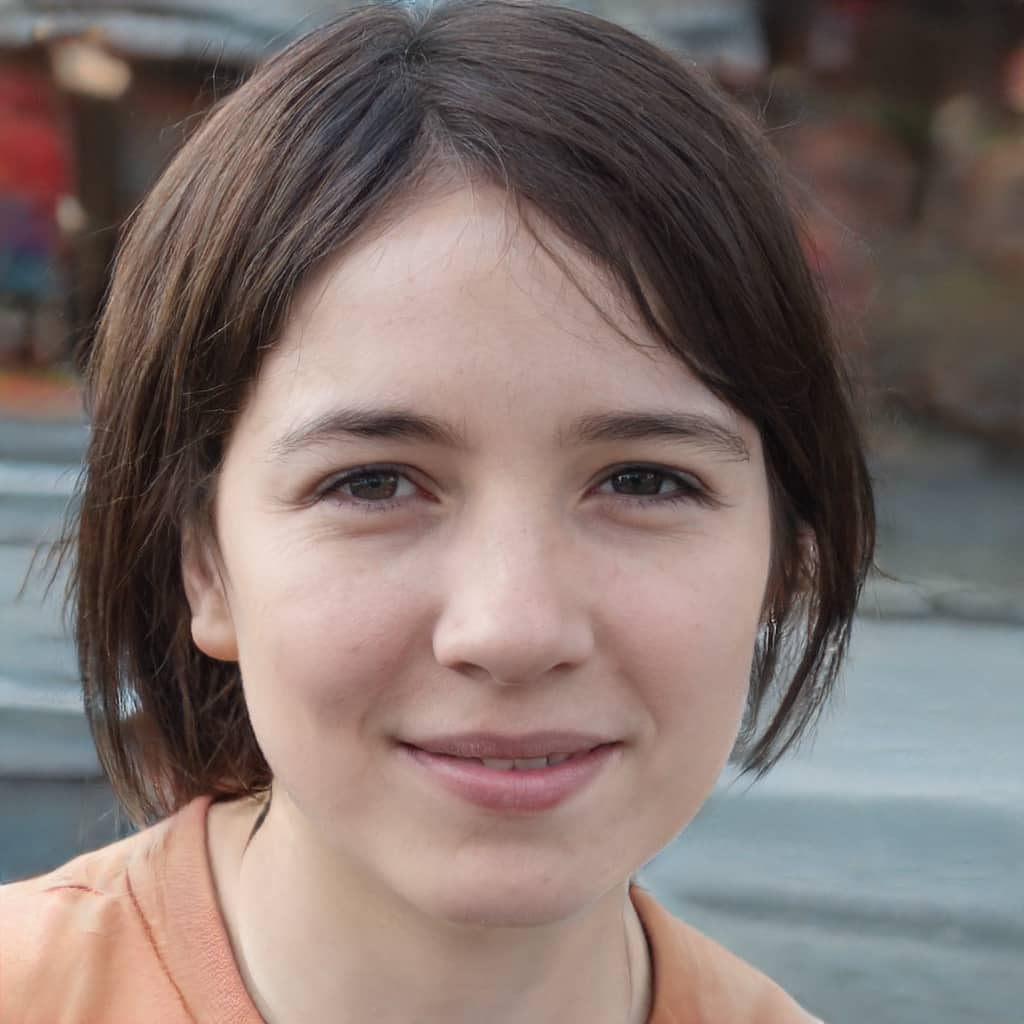 Rebecca is a fitness nerd and mother. She was inspired to get into the world of trampolining and rebounding by her husband Robert, who is a well-respected trainer and expert in the field. Now she instructs children, mothers, and teens the basic trampolining and rebounding tricks.
Rebecca is also a passionate blogger, sharing her knowledge and experiences with others in the hope of encouraging them to give trampolining and rebounding a try.