If you want to ensure dreamy childhood for your kids, a trampoline will be an ideal option. It provides fun as well as develops acrobatic skills for your little kiddos. This will also help to limit screen time for your children.
Kids and toddlers need the safest trampolines. These trampolines come with safety features like enclosure net, spring cover, handle, etc. But it's quite challenging to find out the best trampolines for children as there are lots of availability. Don't worry, I make things easier by shortlisting several top-products for you.
In this article, I'll take you through all the important ideas to purchase children's trampolines that will keep them safe. So, let's find the trampoline that kids will love!
The Safest Trampoline for Children Suggestions
1. Little Tikes 3 Ft Mini Trampoline with Handle for Toddlers
Specs:
Material: Metal, plastic
Weight capacity: 55 lbs
Handle height from jump bed: 26.25 inch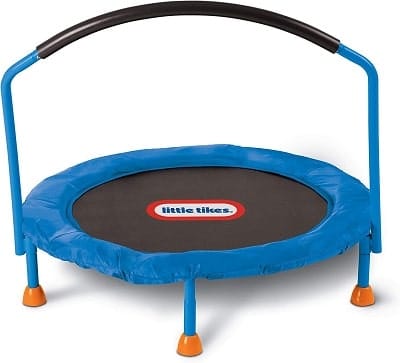 The first pick on the list is the Little Tikes 3 Ft Toddlers Indoor Trampoline, the best-quality trampoline for toddlers for safe play. This mini trampoline is designed for 3 to 6 years old children.
This indoor kid's trampoline looks pretty and its features are also awesome. The legs' height is very low so kids won't get hurt if they fall on the ground. And rubber feet prevent skidding the trampoline while kids bounce.
The toddler trampoline uses elastic straps instead of springs which adds safety to your children. It prevents little feet from getting stuck in the springs. The jumping bed is cushioned well for an even and safe bounce.
The durability of the Little Tikes trampoline is outstanding. Metal-constructed frame, legs provide great stability and can withstand up to 55 lbs of weight.
For enhancing protection 360 degrees safety pad covers the frame and bungee straps. There is also a handlebar to support children while they jump therein.
This lightweight and easy-to-move small trampoline will be the right fit for your kid's bounce. It's pocket friendly too compared to its quality. I highly recommend 3 ft Little Tikes for making kids active and happy.
Pros:
No spring design ensures safety
Affordable toddlers' trampoline
Ideal for compact space
Lightweight design
Handle gives hand support
Cons:
Not for older kids
Not foldable
See Also: Kids trampoline for autism, ADHD, and special needs
2. Skywalker 40 Inch Mini Trampoline with Enclosure Net for Little Kids
Specs:
Frame material: Powder-coated steel
Weight rating: 100 lbs
Mat prints: spaceship, moon & stars, astronauts
If you look for the safest trampoline for children, 40 Inch Skywalker Mini Trampoline will be one of the best options. It is perfect for children ages between 3 to 7 years of age. 
The kids-friendly trampoline is designed durably to hold up to 100 pounds weight. This kid's trampoline comes with a painted mat with spaceship, moon & stars, and astronauts themes that children will love. There is also a padded handle for hand support.
This Skywalker small trampoline is safe for your kids and meets ASTM standards. The arched legs and rubber feet make the toddler trampoline stable, and slip-resistant. It uses bungees rather than springs for joint-friendly safe jumping.
All possible pinch points are eliminated by a safety pad. Moreover, the enclosure net is sewn with the mat directly for further safety. There is also a bottom net to resist toddlers and pets from getting beneath the jumping bed.
By closing your eyes, the Skywalker kids mini-trampoline is one of the best solutions to ensure a safe play zone for little athletes. This will ensure both physical and mental development for them with lots of fun.
Pros:
Wonderful printed mat
Available in different colors
The springless design extends safety
No gaps between mat and net
The enclosure net restricts falling outside
Bottom net for additional safety
ASTM safety certified
Cons:
The foam of the handle should be developed
See Also: Mini-trampoline games for kids
Video: Best Kids Trampoline
3. Zupapa 8 Ft Trampoline for Children with Enclosure Net
Specs:
Weight rating: 375 lbs
Number of springs: 48
Material: Galvanized steel frame and spring, polypropylene mat, net, and foam pad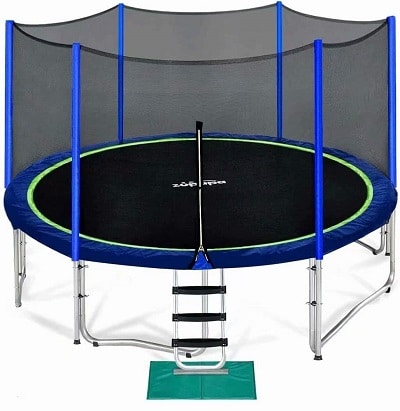 Your children may be interested in outdoor trampolines, right? For them, Zupapa Kids Outdoor Trampoline will be the right choice.

Zupapa trampoline uses the latest hot-dip galvanizing technology to deal with rust problems. This latest galvanizing technology coats the frame with Zinc and protects it from any type of rust formation. The trampoline can hold up to 375 lbs weight of the jumper.
This children's outdoor trampoline uses heavy-duty galvanized springs and a UV-resistant polypropylene jumping mat to provide kids with the best jumping experience. For extending safety, the mat and spring pad are stitched together.
Like other Zupapa trampolines, this 8 ft trampoline ensures maximum safety and durability.This model is ASTM and TUV certified. It also comes with versatile accessories like wind stakes, a ladder, etc. So, you can rely on this product without any worries.
Pros:
Ideal for older kids
Durable and long-lasting frame
Heavy-duty springs and jumping mat
No-gap design promotes safety
All accessories come with the package
Cons:
New zipper net is a little tight for kids
See Also: Zupapa vs Skywalker trampoline
4. Wamkos 36 Inch Dinosaur Foldable Kids Mini Trampoline with Handle
Specs:
Weight capacity: 220 lbs
Mat material: Nylon
Frame material: Alloy steel
Number of bungee loops: 30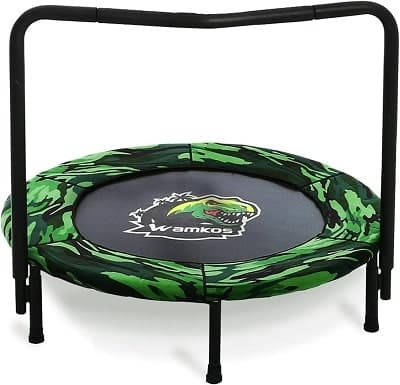 Another durable and kids' mini trampoline is the 3 Ft Dinosaur Small Trampoline. This is an upgraded model and features all the good things your kids need.
Wamkos camo children's trampoline offers unbeatable durability. It can support up to 220 lbs of jumper weight. The frame is made from alloy steel and the mat uses bouncy nylon. It also has 30 shock-absorbing bungee bands for safe bouncing.
Dinosaur children's trampoline uses a soft PVC padding cover as well as a handrail for easy grip. It has low-height legs that prevent getting hurt it kids fall accidentally. And all 6 legs have rubber-tipped that provide anti-skidding.
This toddler trampoline is foldable and allows convenient carrying. Whether you set this up in the backyard or indoors, it will be okay. Every kid will love the dinosaur theme.
Wamkos mini trampoline is easy to assemble and you don't need any additional tools to do that. This also maintains US safety standards and comes with all necessities in the package. So, grab this top-quality kid's trampoline for day-long fun for your children.
Pros:
Anti-slip feet
Noiseless jumping
Foldable model
Children love dinosaur mat
Cons:
Handlebar should be improved
See Also: Trampoline benefits explained
5. Galt America Nursery Baby Trampoline
Specs:
Frame: Alloy steel
Weight limit: 44 lbs
Style: Turtle or unicorn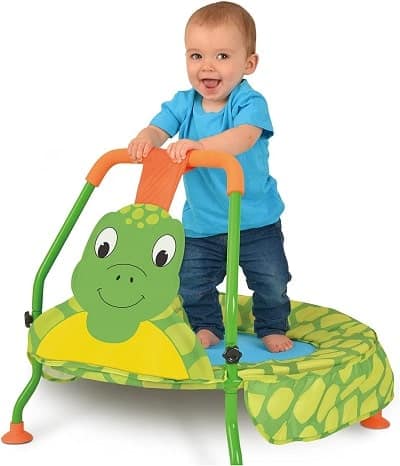 Do you want to gift your baby a small trampoline, Galt Toys, Nursery Trampoline will be an ideal choice. It's available in turtle or unicorn style that will be imaginative for small children.
This is one of the best baby trampolines for 1 to 2 years children. The maximum weight capacity of the model is 44 lbs. It's a springless design that ensures toddlers safety greatly.
The diameter of the trampoline is 27.5 inches that are spacious enough for children. For extending safety there is a handlebar and rubber feet. The handle is 23 inch high from the ground.
Pros:
Ideal for baby
Kids-friendly design
Included handle for safety
Easy to assemble and move
Cons:
6. Langxun 60 Inch Kids Trampoline with Basketball Hoop & Dart Board
Specs:
Weight rating: 220 lbs
Material of mat: Polypropylene
Frame material: Alloy steel
Color: Black and yellow
Langxun 5 Ft Small Children's Trampoline is a good kid's trampoline for indoor or outdoor use. The frame is alloy steel made that provides maximum robustness of the structure. This model supports a maximum of 220 lbs weight.
Langxun trampoline features a UV-protected polypropylene mat and safety net. For eliminating injury, the mat is stitched with the spring pad. It uses 3.5-inch heavy gauged springs for a decent bounce.
Installation of this kid's trampoline is like a walk in the park because it is super easy to place. All necessary tools are included in the packaging. So, you do not need anything extra.
The upgraded zipper provides safety to prevent falling and eases entry and exit. There is an adjustable-height basketball hoop and dartboard for extra fun. Thus, kids will be active more time with trampolining.
With the Langxun 5 ft trampoline, whether it's cold, rainy, or summer heat and blazing sun, your child can always have fun. And it meets TUV and German safety standards.
Pros:
Mat and spring pad is stitching eliminates injury
Additional adjustable basketball hoop and dartboard
Can be used indoors and outdoors
Safe net and zipper design
Meets TUV safety standard
Cons:
Springs might deteriorate soon
The safety pad should be improved
7. Springfree Trampoline 8×11 Ft Kids Oval Trampoline with Safety Net
Specs:
Frame: Alloy steel
Weight capacity: 220 lbs
Springfree trampoline is considered one of the safest trampoline brands for kids. The springless design makes it safer than the usual trampolines. The 8×11 Ft Springfree Children Trampoline will be a cool one for the backyard.
This is a durable design and provides maximum safety to young athletes. The weight limit of the trampoline is 220 lbs.
The Springfree trampoline ensures maximum safety and warranty. There is 3-layer protection in the frame. You can gift this to your older kids for their even growth and fun.
Pros:
No hard-edges
Spacious for older kids
10 years warranty
Cons:
Best Trampoline for Kids & Toddlers for Safe Jumping
Hopefully, you have already gotten the right trampoline for your children. However, if you want to purchase the trampoline after reading the important features, the following section might be helpful for you.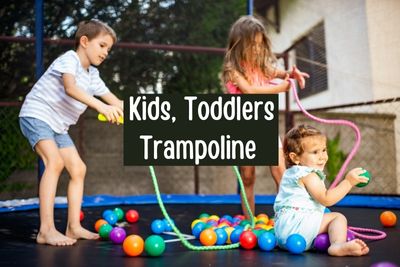 Types
Kids' trampolines are available in indoor and outdoor types. Typically, the outdoor trampolines are larger than the indoor mini-trampolines.
Indoor models are toddlers friendly, but some of them allow older kids. Outdoor types need assembly, whereas most indoor kids' trampolines don't need significant assembly.
These trampolines come in mainly round shapes. But, oval, square, rectangle, hexagonal, and other shapes of children's trampolines are also available.
Size
The small size trampolines are good enough for children. If you want to purchase a trampoline for older kids consider an 8 or 10 ft trampoline. On the other hand, a 3 to 5 ft or a maximum of 7 ft trampoline will be okay for toddlers.
Weight Capacity
The trampoline weight limit is an important consideration for trampolines. Toddlers' trampolines should be at least 20 kg or 44 lbs weight capacity. But older children's trampolines should be at least 100 lbs jumper's weight rating.
Frame Quality
The structural superiority of the trampoline depends largely on the frame construction. The good quality frame is rust-resistant, long-lasting, and made from galvanized steel. The heavy-duty trampolines make it great to hold lots of jumper's weight.
Springs/Bungee Ropes
Springs or bungees are important things for trampolines. Bungee ropes are noiseless and have safer bouncing mechanisms than springs.
If you choose the spring model, make sure springs are made from rustproof and galvanized material. Trampoline's bouncing intensity largely relies on the spring's number.
See Also: Easy ways to install trampoline springs
Mat & Spring Cover
Kids need cushioned jump surfaces. The trampoline mat is the place where the small feet hit directly. And spring cover protects kids and toddlers from spring's impact.
Widely held quality mat and spring pad materials are polyethylene (PE), polypropylene (PP), and polyvinyl chloride (PVC). The good ones are UV resistant as they won't fade away from their color over time.
Colorful spring covers and mats are preferable for kids due to their good appeal. Several mats feature creative and educational themes, these are awesome for children learning alongside fun.
See Also: How to put mat on trampoline?
Handlebar
Most indoor trampolines for toddlers come with a handrail to balance while jumping. This also protects from sudden falling.
Kids' indoor trampoline with handle undoubtedly ensures safety for your little ones. Also, check the padding quality and height adjustability of the handle.
Durable Legs
Legs are the base support of the trampoline, just like other structures. They should be durable and galvanized.
Low-height trampoline legs are good for kids and toddlers for safety purposes. Usually, the legs are detachable or foldable.
Good small trampolines for kids feature rubber feet at the bottom to prevent slipping while bouncing on the trampoline.
See Also: What is the trampoline age limit?
Enclosure Net & Poles
Outdoor children's trampolines need to be surrounded to avoid falling to the ground. It should be made of mesh web for good air passing and easy supervision.
Some enclosure nets are extended up to the ground to prevent kids or pets from entering beneath the trampoline. And a zipper door is a must for easy entry and exit.
Poles support the enclosure net to stay upright. Several good children's outdoor trampolines feature basketball hoops to make your kids active.
See Also: Tips to attach trampoline net
Ladder
If the trampoline is large and high enough, kids need a ladder to climb up the trampoline bed. Typically, the 3 or 4-step ladders are widely held and used for the trampoline.
Final Verdict
Trampoline is an amazing play platform for children. It makes kids active and keeps them happy. For making a wondrous childhood kid's trampoline is the perfect play equipment.
I hope you got the answer, what is the best and the safest trampoline for kids and toddlers? Now, gift your youngster the trampoline you love most from the aforementioned list to play safely in their own world. Happy trampoline!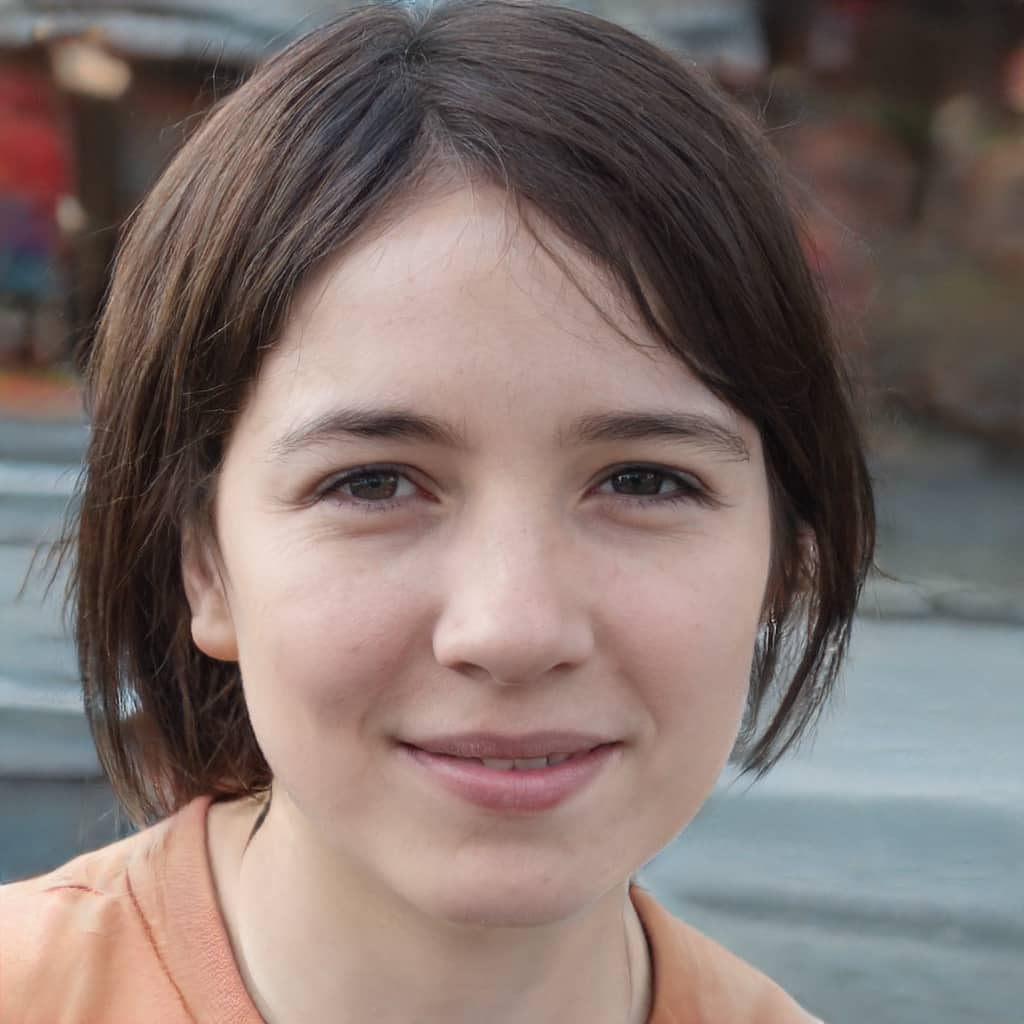 Rebecca is a fitness nerd and mother. She was inspired to get into the world of trampolining and rebounding by her husband Robert, who is a well-respected trainer and expert in the field. Now she instructs children, mothers, and teens the basic trampolining and rebounding tricks.
Rebecca is also a passionate blogger, sharing her knowledge and experiences with others in the hope of encouraging them to give trampolining and rebounding a try.