Bouncing on the unenclosed trampoline might cause injuries as there is a chance of falling off the ground. So, you shouldn't jump on a trampoline without a safety enclosure net.
Are trampolines with nets safe? Yes, enclosed trampolines are safer than trampolines with no nets. That's why now most trampoline manufacturers deliver trampolines with enclosure nets. Safety nets surround the trampolines and reduce the chance of falling off the ground hence lessening injuries.
Here I'll discuss how much safer trampoline safety nets are with some of the best trampoline enclosure nets recommendations and DIY trampoline nets. So, let's know it in detail.
What is Trampoline Enclosure Net?
A trampoline enclosure net is an important accessory to any trampoline that is mainly used for safety reasons. It reduces the risks of falling to the ground, hence lessening injury rates.
Trampoline net is usually made from polyester, nylon, PVC, or polyethylene mesh material. It's also UV-resistant. It surrounds the trampoline and creates a safe jumping platform for children. There is a pull zipper on the net door to make trampoline entry and exit convenient.
Enclosure net is easy to put on and take it off. It is attached to the trampoline frame and poles. For further safety, some nets are directly sewn with mats to eliminate getting caught on children's fingers and toes.
Types of Trampoline Enclosure Safety Nets
Trampoline safety net enclosures come in several types. Here're some of the most important ones.
a) Standard trampoline safety net
This type of net is tied to the frame of the mat. But there is a small gap between the jumping mat and the net.
b) Safety net directly attached to the mat
Some trampoline enclosure nets and mats are sewn together for better safety. These safety nets eliminate the risk of getting caught off the toes and fingers of the children.
See Also: How to install and remove trampoline mat?
c) Net inner or outer springs
It is another important type of safety net on the trampoline. When the trampoline net is placed inside the springs, it lowers the space but provides better safety. On the other hand, the trampoline net outside the springs provides more space. Inside and outside trampoline nets have dissimilar pros and cons.
d) Enclosure net depending upon pole types
Trampoline enclosure bets can also be classified according to the pole types like straight poles, arch poles, straight and curved poles, top ring poles, and many more.
See Also: Trampoline for ASD, ADHD
Why Do You Need a Safety Net on Trampoline?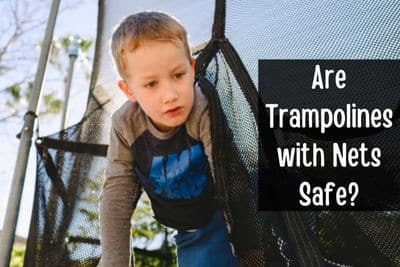 You may wonder, do I need a safety net for my trampoline? I always recommend jumping on the properly enclosed netting trampoline. Here are some reasons why enclosure nets are necessary for trampolines.
Increases safety by stopping falling off the ground.
Allows adults supervision from outside.
Prevents jumpers from burns and bruises.
Allows kids to use the periphery of the trampoline.
Prevents unauthorized visits to wild animals, pets, and kids.
You can also surround the bottom of the trampoline with a net for extra safety to prevent kids and pets from entering there.
See Also: How to fix ripped trampoline net?
Are Trampolines with Enclosures Safer?
When you jump on the trampoline, you can fall to the ground. And if you jump too high and fall on the ground or mat directly, that could be dangerous. So, trampoline nets are developed to get rid of this problem.
Although trampoline injury rates are quite lower than other popular athletic activities like soccer, football, baseball, etc, still it's quite alarming. Every year, more than 100,000 children visit Emergency Rooms (ER) due to trampoline injuries, most of which are kids below 16 years old.
According to the Mayo Clinic and the Journal of Pediatric Orthopaedics,
"…trampoline-related injuries sent more than 1 million people — most of them children under age 16 — to U.S. emergency departments between 2002 and 2011, according to a 2014 study in the Journal of Pediatric Orthopaedics. Nearly one-third had long bone fractures in the lower and upper extremities."
Trampoline accidents occur due to several reasons; unenclosed trampoline is one of the major causes of them. A trampoline net is a proven way to reduce the injury rate by almost 50%. So, by installing a safety net outside the trampoline, you can prevent accidental falling on the ground hence the risks of injury rates.
So, is a trampoline safer with a net? Of course, the enclosed trampoline is safer than an unenclosed model, but it's not 100% safe. Thus, if you allow your kids to jump on the trampoline, it's recommended to install a safety net beforehand.
Do Trampolines Come with Safety Enclosure Nets?
Nowadays, most outdoor trampolines come with nets for safe jumping. But, if there is no, you can purchase it separately. And replacement trampoline nets are also available.
On the other hand, most indoor trampolines come without a net as they are small in size. But, if you want to add a net to kids' models, you can do that by purchasing or making nets.
Here is a recommended model of the best trampoline with an enclosure safety net.
Best Trampoline Enclosure Net Suggestions
Have you been looking for a quality trampoline safety net replacement? Well, I review here several of the best trampoline net enclosures that will be a great choice for you.
1. SkyBound 12, 14, 15 Ft Replacement Trampoline Safety Net Enclosure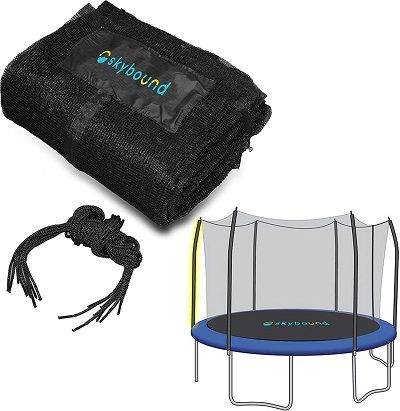 The first recommended trampoline safety net is the SkyBound USA Trampoline Enclosure Net. If you want a replacement trampoline net that fits with different brands of trampolines, this will be ideal as it's compatible with SkyBound, Skywalker, Bounce Pro, AirZone, and several other trampolines.
It also fits with various poles shape such as straight-curved poles, top ring enclosures, arched poles, etc. So, you can easily choose the right one that matches your, size, pole style, and v-rings. The net is attached directly to the mat which reduces gaps hence eliminating pinching hazards.
This enclosure net is constructed from UV-protected woven polyethylene material. The net comes with heavy-duty stitching and a zipper door. It is available for 12, 14, and 15 ft trampoline sizes. So, don't miss this top-performing trampoline replacement net.
2. Skywalker 12, 15 Ft Round Trampoline Enclosure Net Replacement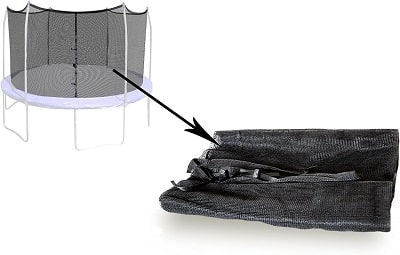 Another top-quality trampoline enclosure is the 12, 15 Ft Trampoline Enclosure Net Kit by Skywalker. This is compatible with different Skywalker trampoline models.
It is made from UV-resistant polyethylene material that is tightly woven. Skywalker safety enclosure net 15 ft fits with six enclosure poles and 96 v-rings. It includes a zipper enclosure door with 3 latch clips, pretend no-gap button-hole attachment, etc.
This safety net is ASTM certified and comes with a 1-year warranty. If you need a safety net for a 12 ft trampoline, you can also choose it.
3. Machrus Upper Bounce 7.5, 8, 9, 10, 12, 13, 14, 15, 16 Ft Trampoline Replacement Net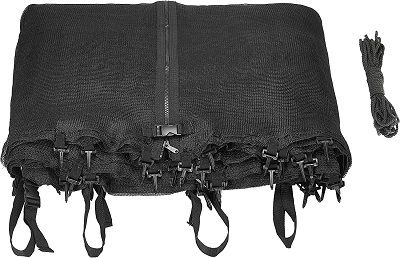 If you need a universal trampoline net, Marchrus Upper Bounce Trampoline Safety Enclosure will be a good option. This net fits with different models like Pure Fun, Zupapa, Bounce Pro, Jumpking, and several brands of trampolines.
It is a polyester-made net that is UV-resistant and can withstand harsh weather. The buckles and dual-closure zipper secure the net. And this net is sewn with a mat for better safety.
This trampoline net fits straight and arches poles sizes between 7.5 to 16 ft trampolines. Just choose the right size net which is suitable for your trampoline.
4. ULTRAPOWER SPORTS 12, 13, 14, 15 Ft Trampoline Replacement Safety Enclosure Net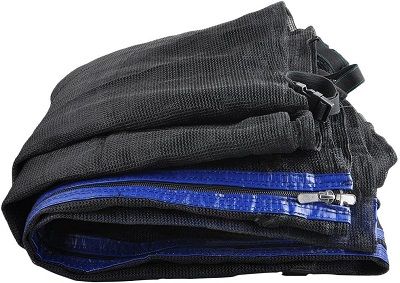 The next recommended trampoline net replacement is Ultrapower Sports Enclosure Net which fits 12, 13, 14, and 15 ft trampolines. Before ordering net, confirm your trampoline size, type, and total poles.
This enclosure net is made from polyethylene. The material is UV-resistant, anti-degradation, non-toxic, and anti-corrosive.
The net uses a high-density mesh that provides a durable, solid, soft, and fine weave. It is certified by TUV, CE, and GS.
5. Giantex Trampoline 8, 10, 12, 14, 15, 16 Ft Weather-Resistant Safety Net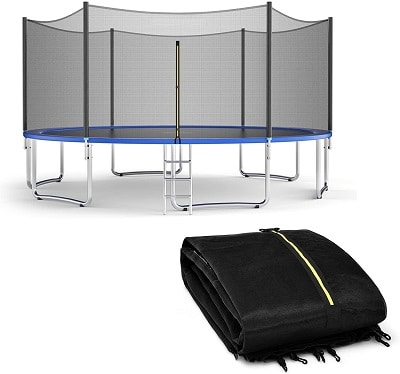 Giantex Trampoline Enclosure Net comes in versatile sizes of 8 to 16 ft round trampolines. It's constructed from tightly woven polypropylene material.
The net height is 6 ft which provides great safety. There are double-headed zippers and double buckles at the door entrance. The net package includes the necessary hooks to secure it with poles.
Giantex enclosure net matches with 4, 6, and 8 poles trampoline. Before ordering the replacement safety net, be sure of your trampoline size and total pole count.
Buying Guide of the Best Trampoline Net Enclosure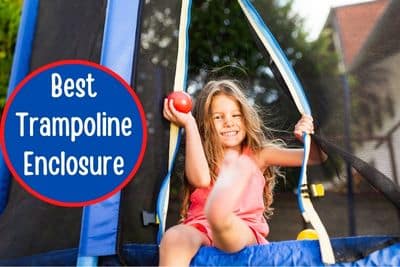 Size and Shape
The net should match the trampoline's shape and size. For a round trampoline, choose a round net, and for a rectangular trampoline, you have to get a net that is designed for that. Also, consider the trampoline size.
Material
Trampoline nets are mainly constructed from polyvinyl chloride (PVC), polyethylene (PE), polyester, and nylon. All of them have some pros and cons.
The enclosure net should be woven tightly with UV-resistant features for long-lasting use.
Door
The entrance door of the net should have a good zipper or buckle locking system. Some heavy-duty trampoline nets combine both zippers and buckles for double protection.
Poles
Another important feature of the trampoline net that you should consider is the pole styles, and total poles count. Several trampoline pole styles are straight, arch, top ring, straight plus curved poles, etc.
See Also: Tips to repair trampoline pole
V-Ring
Some trampoline enclosures are attached to the v-rings of the mat for safety. For this type of model, consider the net that fits with the v-rings.
How to Make Trampoline Nets (DIY)?
If you want to make a DIY trampoline safety net at home instead of buying one, you can do it by simply using your knitting skill. Here are all the steps to make a net for the trampoline.
Step 1: Measure the trampoline netting area.
Step 2: Buy durable thread like nylon yarn to weave the net.
Step 3: Gather 4 to 6 wooden stakes that are almost 10 ft long.
Step 4: Put the stakes into the ground. According to the measured net length, drive two stakes at the end of the net.
Step 5: Then weave the net using the thread. Make sure the height of the net is more than 6 ft. This is the most time-consuming and difficult task. You may hire a professional to weave the net.
So, your enclosure net is now ready to use on the trampoline.
See Also: DIY old trampoline hacks
Frequently Asked Questions
1. How much is a trampoline safety net?
Ans: Trampoline net's price varies with size, type, quality, and several other things. But, their average price is between $50 to $200.
See Also: Cost of trampoline and its accessories
2. What is a top ring trampoline net?
Ans: Trampolines net may sometimes sag due to air or external force. But, a trampoline net with a top ring holds the net firmly at the top of the poles like the bottom.
3. Do I need a safety net on an in-ground trampoline?
Ans: It's not mandatory to use an enclosure net on an in-ground trampoline as this trampoline is a low-ground model so the impact of falling on the ground is minor. However, you can add a net with a sunken trampoline for further safety.
4. Can I add a basketball hoop with any enclosure net?
Ans: Yes, you can attach a basketball goal to any trampoline net. But, if it has a pre-installed hoop, this will save time and effort.
Conclusion
So, from the above discussion, you might understand why 'are trampolines with nets safe'. Now, pick the best trampoline enclosure safety net for your tramp. Safe trampolining!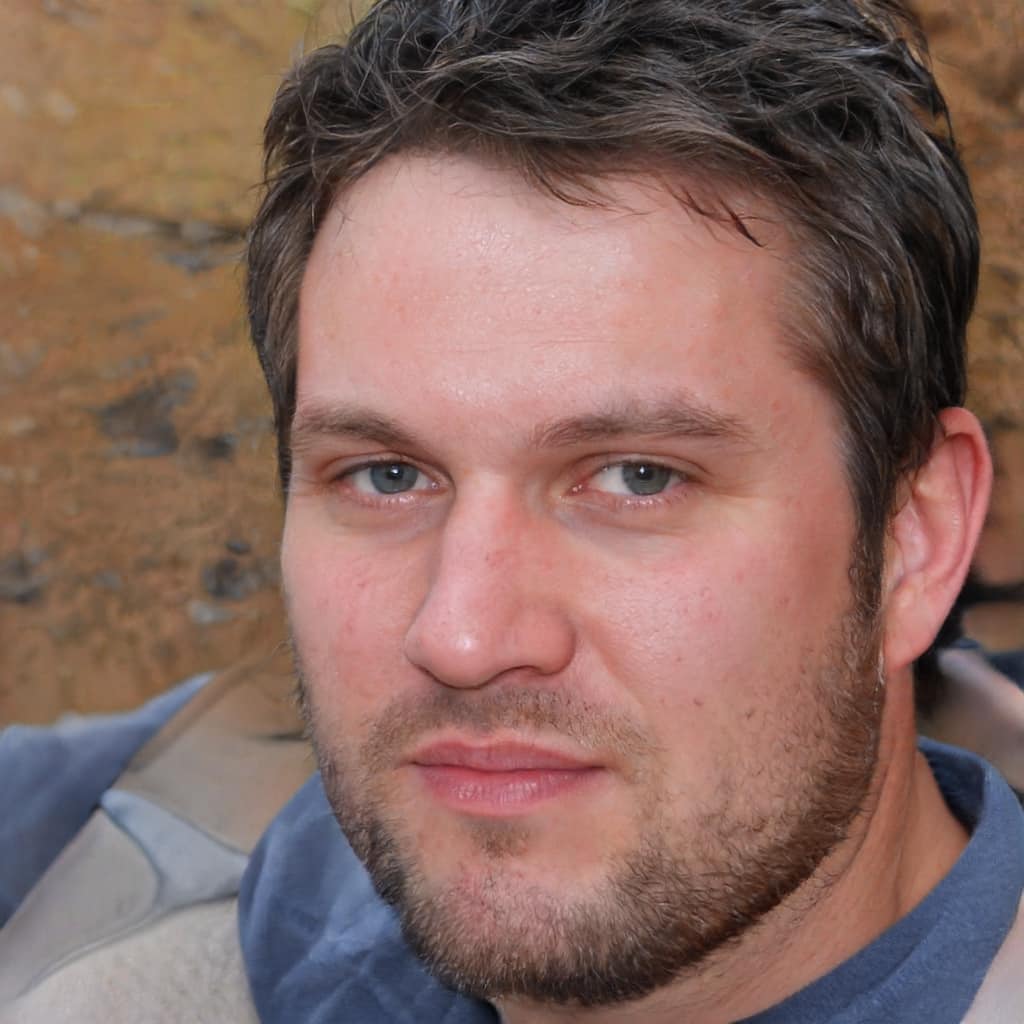 Robert is a trampoline and rebounder trainer with a passion for blogging. He discovered his love for trampolining at a young age, when his father gifted him his first trampoline at the age of 9. Over the years, Robert has honed his skills and knowledge in the field, and now uses his expertise to train others.
Besides, helping fitness enthusiasts in the gym, Robert is very eager to share his knowledge and experience regarding trampolines and rebounder exercises with the readers of picktrampoline.com. He will share all you need to know about trampolines and rebounders in this blog. Get his tips on trampoline and rebounder!