If you have a mini trampoline at home, you may look for ways to make it safer, right? It's obvious that a trampoline with handle enhances safety for those who need hand support during rebounding.
Does my trampoline need a handle? The straight answer is yes; the support bar is helpful for beginners for safety. But, the handle may limit the space. Thus if you are confident without a bar it is okay to do that. So, it depends on your personal preference actually.
This blog will explain some important points of how a support bar will help you during rebounding. I also give you some trampoline suggestions that come with a handle. Moreover, you'll get insights to make a DIY stabilizing bar for your trampoline.
Get 15% off Jumpsport 250 + handle combo
Why Do You Choose Trampolines with Handles?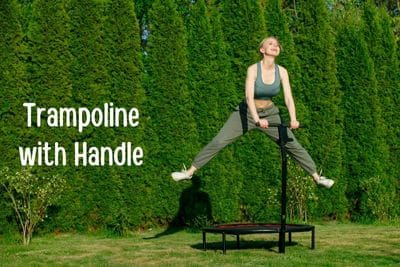 The handle support bar is necessary for trampolines for numerous reasons, such as
Safety
The stability bar provides safety during trampolining or rebounding in the limited jump bed. It makes jumping safer for kids, special needs, adults, and seniors. So, the handlebar on the trampoline helps prevent injuries.
Hand Support
If you are new, you aren't confident to jump on the trampoline. But handrails will make your job easier, especially for like kids and seniors.. So, it will give you confidence; thus, you will feel someone is holding your hand always.
If you are pregnant or facing back pain issues, a handle on a fitness trampoline will also be handy for you too.
Helps Obtain New Trick
Newbie athletes may need to watch new rebounding tricks on the smart device during their jumping session. If there is a handle, jumpers can do it more confidently without worrying about falling down from the trampoline. Similarly, it helps to acquire new tricks by fine-tuning on start and stop method.
Which is Better Trampoline with or without Handle?
It's true that trampoline with handle provides numerous benefits, still, there might have some disadvantages too. To understand the fact between trampolines with handles and no handles, consider the points below.
The trampoline handle is better for safety, but it may limit the space. So, if you are a safety concern, then a handle will be a good option, but for more space without a stability bar will be the right choice.
Installing the handrail on the mini trampoline requires some time. Similarly, you may disassemble the bar before storing the trampoline. So, someone may dislike handle. But if you are new, you shouldn't overlook the stability bar during rebounding.
The handle helps you learn tricks easily; still, when you rebound holding the stability bar it will somehow tend to small core and upper body movement. That's why gymnasts and athletes prefer rebounding without a bar most.
On overall consideration, the hand support bar is good for beginners, handicapped persons, or seniors. But professionals might go for rebounding without handles.
See Also: Trampoline with or without shoe
Do Mini Trampolines Come with Handles?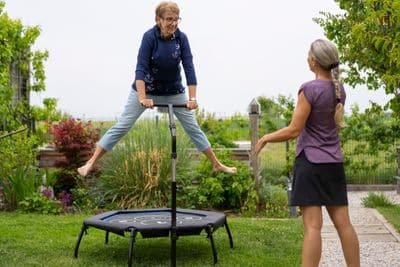 If you buy an indoor trampoline for kids or adults, it may either come with a handle or not. But you can always buy a trampoline handle separately or make it your own if you need it actually.
Some handles are adjustable to several heights that are good for different height people. So, before you purchase, make sure, it fits your height.
If you are looking for a mini trampoline for toddlers and kids that comes with a handle, Little Tikes Kids mini trampoline with a handle will be a good choice for you.
Types of Trampoline Handles
Usually, two types of handles are used in mini trampolines- T and U (actually looks like n) trampoline handles.
The T-type trampoline handle is simpler than the U-shape.
U-type trampoline handle provides better stability to the jumper.
See Also: Types of trampoline
DIY Stability Bar for Mini Trampoline
Making a handle for a rebounder or mini trampoline is an easy task.  You can do it by following the steps below.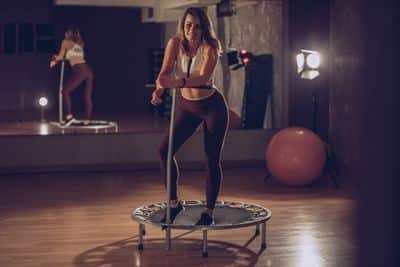 Step 1: Gather Essentials
First of all, you need the right stuff to make a handlebar for the trampoline. Things you require-
Metal rods, or PVC pipes
Hack saw blade
Measuring tape
Emery paper
Electric drill
Screws or metal wires
Pliers, screwdrivers
Step 2: Cut the Pieces
Now, cut the metal or PVC pipes to your required height. You need two vertical pipes and a horizontal pipe to make U shape handle, whereas one vertical and horizontal pipe for a shape handle.
The height of the vertical pipe for the kid's mini trampoline should be between 20 to 30 inches the from jump bed and 30 to 45 inches for the adult model.
Measure the pipes and cut the vertical handles by adding 5 extra inches as they need to be fastened with trampoline legs. Also, cut the horizontal section according to your trampoline size.
Step 3: Remove Sharp Edges
After cutting the sections, there might be sharp edges at the ends. Polish the sharp edges with emery paper and remove them for safety.
Step 4: Join the Sections
Now attach all three rods to form a U-shape or two rods to form T shape handle. You can drill each end and join them using screws. Alternatively, you can fasten them tightly using wires. You may require a pliers or screwdriver to do that.
Now the stability bar for the mini-trampoline is now completed. You can make a DIY handle for a rebounder or kids' mini trampoline by investing around 10 bucks or less. So, if you need a handrail for a trampoline, don't miss out on this cheap method.
How to Put Handle Bar on Trampoline?
Installing the stability bar on a trampoline is an easy task.  If you buy a ready-made handle, assemble the parts together first. Then attach it to the trampoline legs using screws. Similarly, secure the homemade handle in the mini trampoline using screws or wires.
The following video shows how to set up the handle on a trampoline.
See Also: Tips to assemble and disassemble the mini trampoline
Final Thoughts
The stability bar on the mini-trampoline is an essential accessory for safety. This is helpful for kids, seniors, and beginners. However, it might not be so important for experts.
So, if you need it actually don't delay adding it to the trampoline. Enjoy safe bouncing on the trampoline with the handlebar.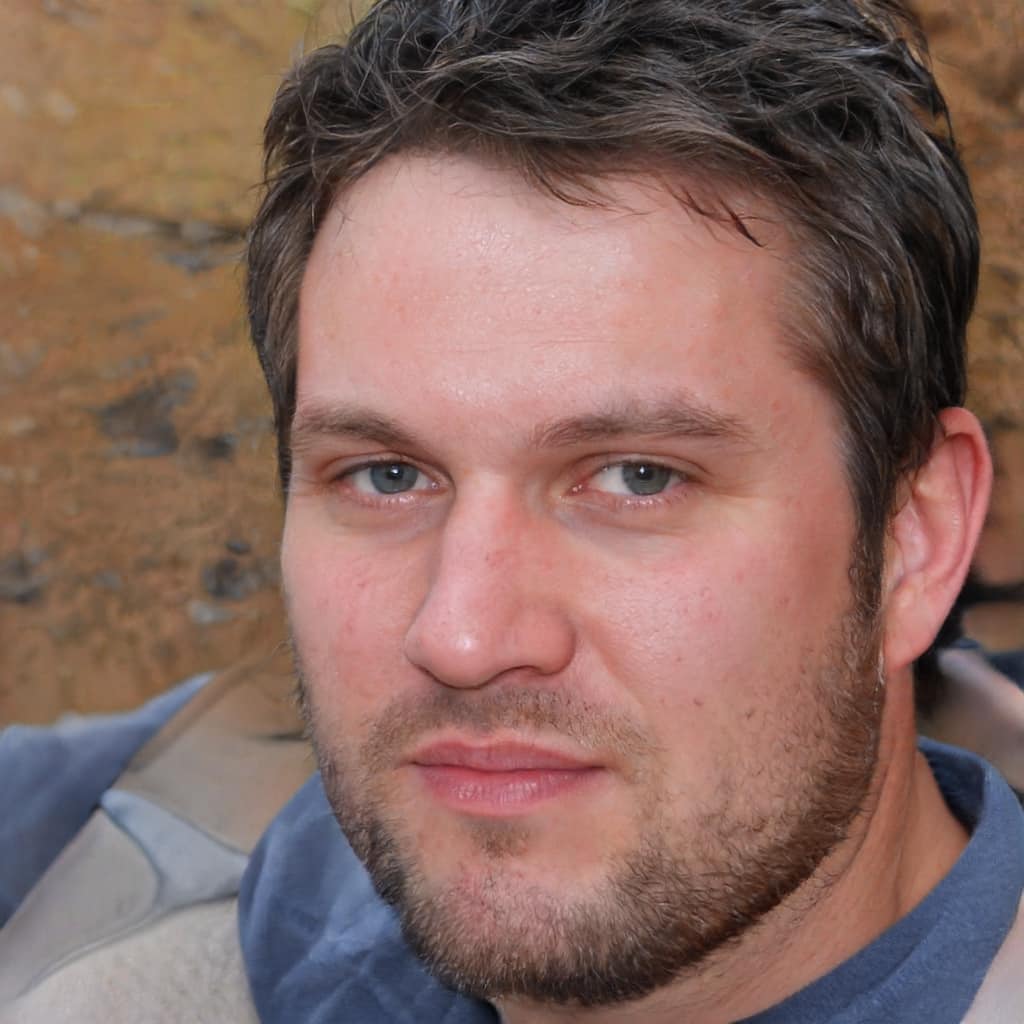 Robert is a trampoline and rebounder trainer with a passion for blogging. He discovered his love for trampolining at a young age, when his father gifted him his first trampoline at the age of 9. Over the years, Robert has honed his skills and knowledge in the field, and now uses his expertise to train others.
Besides, helping fitness enthusiasts in the gym, Robert is very eager to share his knowledge and experience regarding trampolines and rebounder exercises with the readers of picktrampoline.com. He will share all you need to know about trampolines and rebounders in this blog. Get his tips on trampoline and rebounder!