Have you been looking for great ideas to make kids' trampoline bouncing spicy and pizzazz? Well, there are lots of fun trampoline accessories to add amusement to the trampoline.
Some of the best trampoline fun accessories are trampoline lights, swings, basketball hoops, sprinklers, canopy, and you name it. Not only kids, but even adults will also have great fun with these trampoline fun game accessories. These cool trampoline kits will make trampoline time more enjoyable.
In this article, I'll share some of the top-notch gadgets that will add more fun to the trampoline.
15 Cool Fun Trampoline Accessories, Toys, and Games
1. Trampoline Pit Balls
Pit balls are fun for toddlers. If you are looking for play items for children ages 6 months and up, this is an ideal option. These small balls are great for improving children's motor skills, color recognition, counting, stimulating imagination, and so on.
Recommended Pick:
Click N' Play Pit Balls Set comes with 200 stunning colored balls. If your kids are younger enough and can't jump on the trampoline properly allow them to play with these pit balls for a wonderful childhood.
The pit balls pack is soft and affordable. Besides the trampoline, toddlers can play with these balls in versatile fields like playpens, bathtubs, sandboxes, playhouses, and more. So, let your kids have amazing fun with the trampoline and pit balls.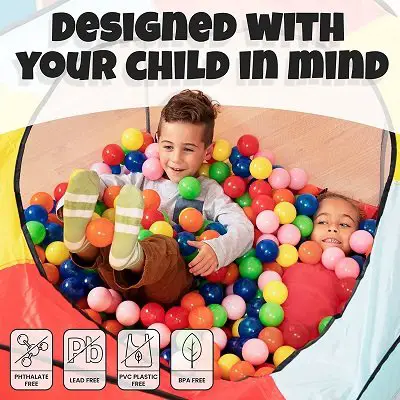 Read Also: Is trampoline safe for kids?
2. Trampoline Light
Trampoline light is a unique fun for kids. Lighting up the trampoline at night children get lots of fun. With the jump, illuminating lights create a festive look. Light with the trampoline is beneficial for sensory needs too.
During kids' parties, Christmas, and Birthday parties, this might be a great idea. Adults can also join there. Sometimes Flash LiteZone is also used to light up the trampoline.
Recommended Pick:
If you are looking for the best trampoline light to light up the trampoline we highly recommend the Waybelive trampoline light. The package includes lots of lights with 16 different colors to make kids entertained.
The LED rim light is waterproof which allows it to use throughout the year, that's amazing. You can easily operate it using remote control from up to 16 ft distance. There are four styles to swap the lights mode. Each strip required 3AA batteries
It is easy to install with the rim of the net enclosure. So, don't miss this for your children's dark-time jump fun.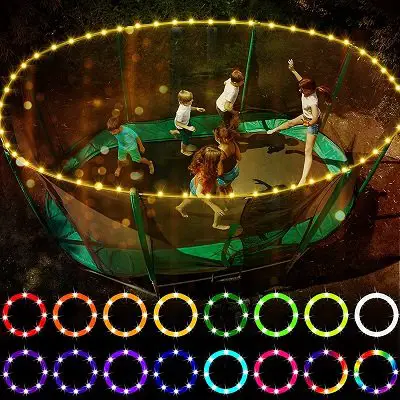 3. Trampoline Sprinkler
If you want to add fun in summer to your trampoline, just install a good water sprinkler with an outdoor trampoline. This makes kids happy and allows playing them outdoor comfortably. The installation is easy and the set is affordable.
Recommended Pick:
Bobor Backyard Water Park Sprinkler is one of the best trampoline sprinklers to add fun on hot summer days. It reduces the temperature by more than 25 degrees, and that's amazing to keep your children cool on sunny days.
This sprinkler allows easy installation within a minute. Just tie the band with the net and it's done. You can choose a versatile hose according to your need.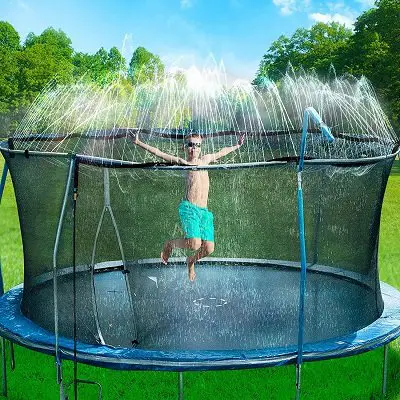 4. Trampoline Tent
A Trampoline tent or canopy is another stunning way to add fun to the trampoline jump. Adding a tent with a trampoline, you can create a safe playhouse for kids. Children can hide and play indoor trampoline games there, that's amazing.
A trampoline sleepover is one of the best ways of trampoline fun. You can also invite your colleagues and friends to join you there.
Cooking special recipes, jumping, parties, music, and sleeping at late night will be very entertaining. The Trampoline canopy can add more fun there.
Recommended Pick:
JumpSport brings an innovative 11 Ft Round Trampoline Tent for entertainment for the children. This tent is designed for 12 to 14 ft JumpSport and AlleyOOP trampolines. The forest-green color tent will add a stunning look that attracts children.
The canvas tent will provide good shelter against sun and rain. It is a quick setup tent that can be installed within 3 minutes. There are 3 windows and a door having zippers and screens. So, installing the tent in the trampoline will be really unique fun for kids.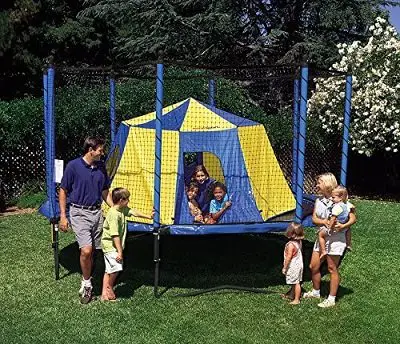 5. Trampoline Basketball Hoop
Active kids love to acquire new acrobatic skills. Basketball with the trampoline is an amazing idea for them. Attaching a basketball hoop with the enclosure net, you can level up their acrobatic skills.
Recommended Pick:
SkywalkerTrampolines 12 ft Jump N' Dunk is a perfect slam dunk basketball hoop for abundant fun and exercise. The hoop set is made from sturdy and soft material for safe play.
The breakaway rim detaches when one hits it beyond its limit. Thus kids play with this trampoline fun accessory safely. It also minimizes net and pole damage. So, don't miss this anyway.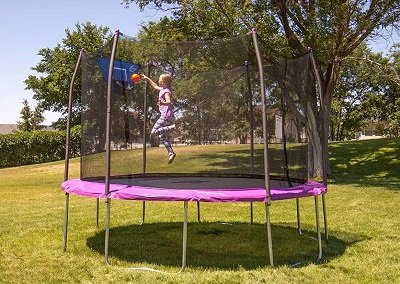 Read Also: Does trampoline grow your height?
6. Trampoline Swing
The trampoline swing is another innovative way to double kids' fun on the trampoline. Besides jumping on a trampoline children can swing for mode changing.
Some trampolines come with a swing. But you can also add this separately. Moreover, if you are a DIYer, then make a swing bed from an old trampoline.
Recommended Pick:
Little Tikes 72x 50 Ft Rectangle Trampoline with Swing is a recommended model for children.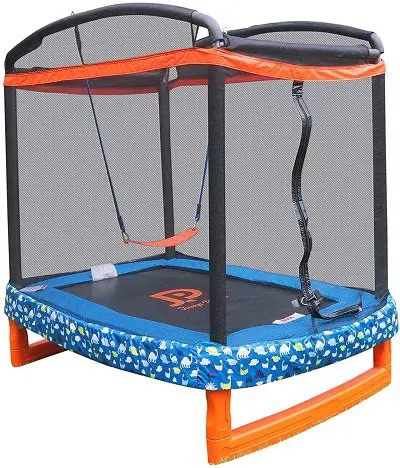 7. Trampoline Slide
Jumping on the trampoline for a long might be monotonous. But attaching a slide with a trampoline will be a good way to solve the problem. Some trampolines come with a slide set. If there is not, you can buy and install one separately.
Recommended Pick:
Merax 7 Ft trampoline with slide and ladder could be a good model if you look for a trampoline slide.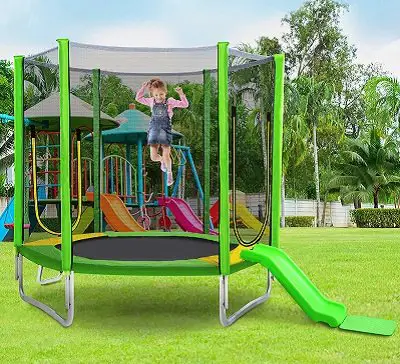 See Also: Trampoline including slide and swing
8. Trampoline Rock Wall Climber
Rock wall climber is a favorite play item for children. It allows kids to grow their skills like balancing and coordination.
Using this concept, some trampoline fun accessories manufacturers introduce trampoline rock wall climbers that can be used for versatile purposes such as sliding, climbing, rock walls, and ladder.
Recommended Pick:
Adding Trampoline Pro Rock Wall Climber will boost your kids' excitement, I bet! The climber allows climbing, sliding, and more. Steel constructed 54 inches climber trampoline gadget is designed for toddlers' entertainment.
You can quickly install the rock wall climber by attaching the safety clamp. After playing, you can keep it in folding condition. It maintains the ASTF quality standard and also provides a lifetime warranty. So, don't miss this anyway!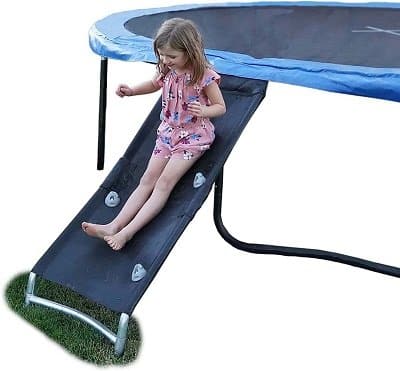 9. Trampoline Music & Lights
Jumping on a trampoline having lights and music is very exciting, right? During the party time, this will be impressive for kids.
Recommended Pick:
Want to add more fun to your kids' bounce party? ThrillZoo Bounce Party Set will be a perfect option to make the children entertained. The set includes lights, music, disco balls, and a Bluetooth speaker.
This trampoline music and light come with a 40 ft cord that fits any height trampoline net. ThrillZoo fun trampoline accessory kit fits all types of poles like straight, angled, curved, or arched. Just connect the light and speaker and make the party unforgettable.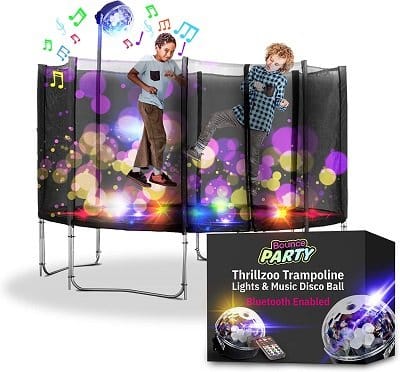 10. Electron Shooter Target Game
This is another stunning fun trampoline accessory. It is a laser game having targets and a shooter. Players grip the laser electron shooter at hand. A hand wrist strap is usually used to hold the electron shooter. And the targets are attached to the trampoline enclosure net.
When players jump, they try to hit the target of the electron shooter. This game is useful to test jumping and aiming accuracy. It also helps improve concentration with hand and eye coordination.
Recommended Pick:
Electron Shooter Game by Sportspower comes with a wrist strap and double electron shooter targets. You can easily attach and detach the targets with an enclosure net.
While bouncing on the trampoline, kids can hit the target that will improve their skills and make them active for a longer time.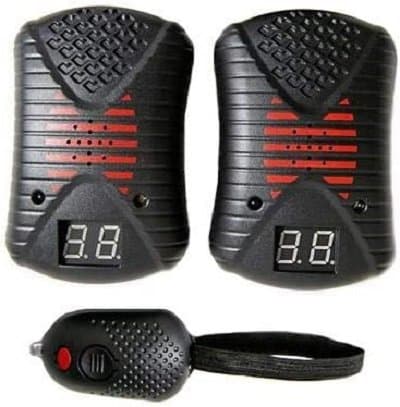 11. Trampoline Bounce Board
This fun item is designed to practice skiing, water sport, or skateboarding tricks. It is ideal for older kids and teenagers. The bottom of the bounce board is made from soft foam and it's slip-resistant. Kids will surely enjoy bounce board's fun.
Recommended Pick:
If your kids love to practice board tricks, NorthShore NSI BOUNCEBOARD will be an exciting accessory for you. The board is made of soft and flexible foam while the bottom is slip-resistant.
Adjustable foot straps make this usable for all. The stance is 17 inches long and it's lightweight. From beginners to skilled sportsmen, this board will be good to learn bouncing on a trampoline.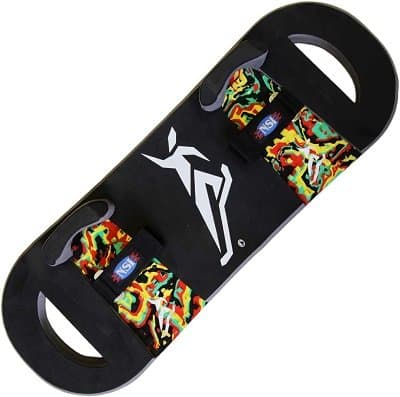 12. Tgoma
Tgoma is an innovative trampoline gadget of Springfree trampoline. This provides an interacting game to keep kids active more on the trampoline.
Recommended Pick:
You can check the Springfree Tgoma Game System.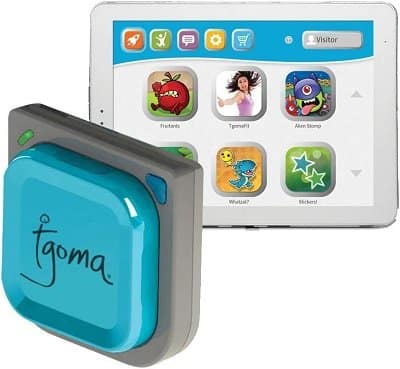 13. Trampoline Toss Game
The tossing game consists of a small ball and the target. Standing at a certain distance, kids throw the ball and hit the target. It develops their coordination skills. When kids are skilled enough, they can hit the target while jumping.
Recommended Pick:
If you want to gift a toss game accessory for your children, Triple Toss Game Accessory By Skywalker Trampolines will be a stunning idea. From the name, you can understand there are three targets. It also includes two score bags and six bean bags.
The accessory can be easily attached with the net poles using the strap. When you hit any target you will get points. So, this will develop kids' skills and add fun to them.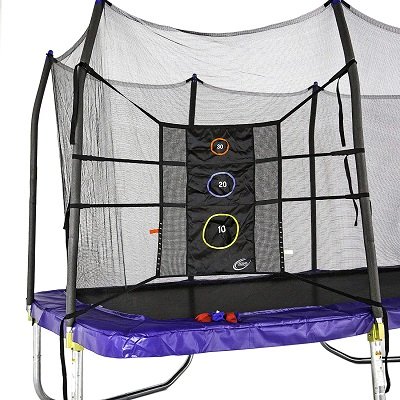 14. Trampoline Volleyball Net
This is another stunning fun trampoline accessory for fun-loving people. While one is jumping on the trampoline, others can play volleyball or badminton by placing it in the yard.
Recommended Pick:
Skywalker Trampoline Volleyball Net is a good trampoline accessory to entertain the whole family. The net is UV-resistant and durable. It's made from woven polyethylene.
One end of the net is attached to the trampoline. And you have to attach another end of the net with a pole and stake.
Powder-coated steel pole is included in the package to hold the volleyball net upright. The net fits any type of trampoline.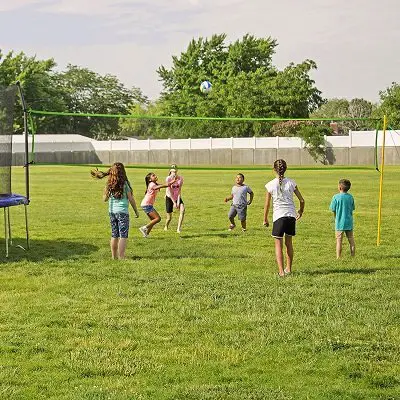 15. Trampolines Sure Shot Lower Net Accessory
If your kids love playing football or target throwing, then Sure Shot Lower Net Game Accessory will be a great option. It allows you to practice tossing, kicking, and throwing.
Recommended Pick:
Just attach this lower enclosure net with the legs under the jumping surface. Here is a recommended Skywalker Trampolines Sure Shot Lower Net Accessory.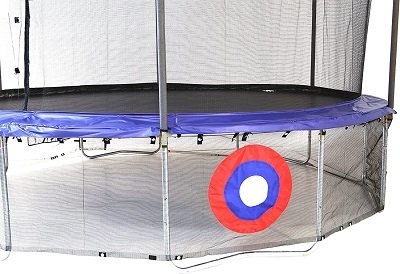 Final Words
Most of the fun trampoline accessories are affordable in price but provide unlimited excitement for kids. These trampoline fun kits will add great pleasure to trampoline jumping that will make the play more enjoyable. Now, let your kids play fun trampoline games and to get entertained!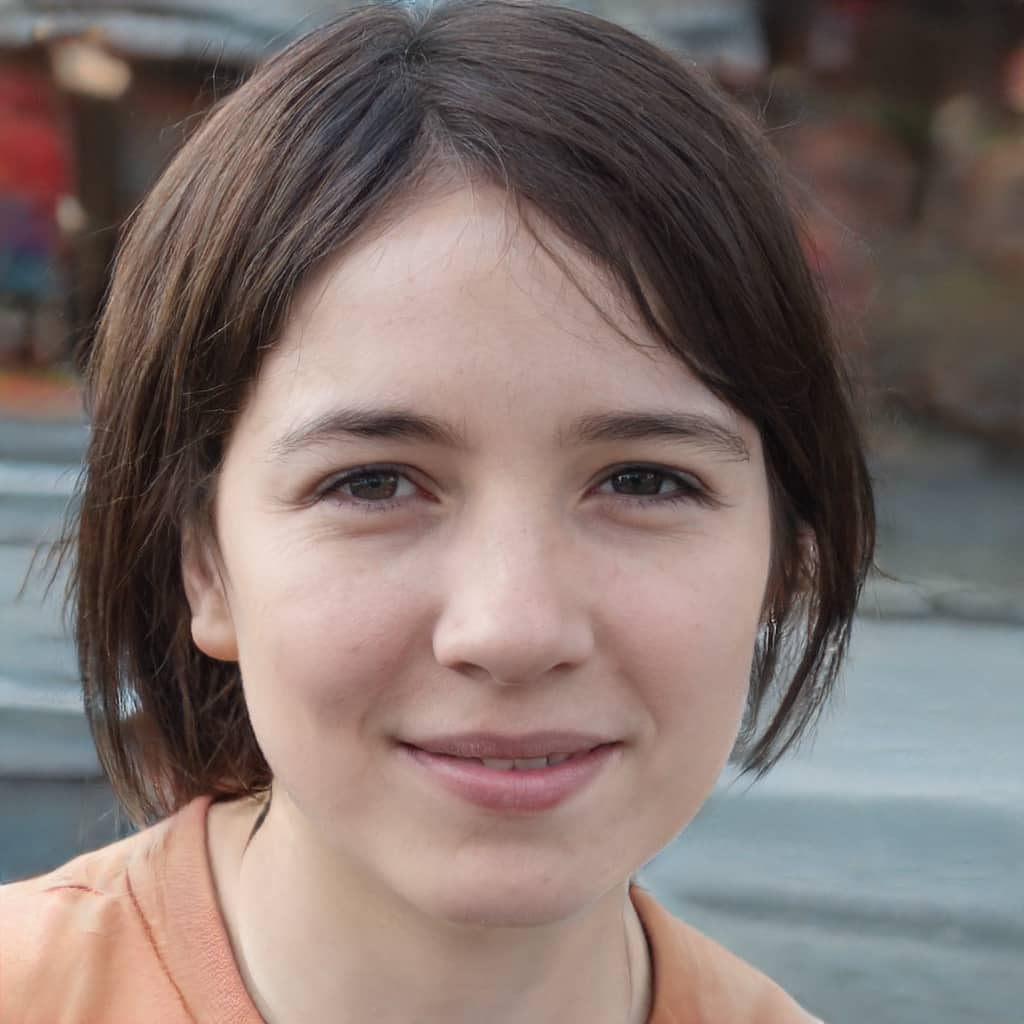 Rebecca is a fitness nerd and mother. She was inspired to get into the world of trampolining and rebounding by her husband Robert, who is a well-respected trainer and expert in the field. Now she instructs children, mothers, and teens the basic trampolining and rebounding tricks.
Rebecca is also a passionate blogger, sharing her knowledge and experiences with others in the hope of encouraging them to give trampolining and rebounding a try.