Trampoline is itself a source of great fun. Moreover, you can extend the excitement a lot by adding different fun accessories like a basketball hoop, flashlight, water sprinkler, slide, and much more. Trampoline basketball is one of the most popular trampoline fun activities that every kids love.
Some trampolines come with a basketball kit (Jump N Dunk) to increase kids' fun as well as make them active. But, if your trampoline hasn't any basketball hoop attachment, don't be worried, you can make a basketball hoop for trampoline easily at home.
Whether you make or buy a trampoline basketball hoop, you should know the right way on how to assemble a basketball hoop on a trampoline. Be relaxed, I'm here to share DIY trampoline basketball hoop installation process in detail.
How to Make Basketball Hoop for Trampoline Step by Step?
Starting with how to make a homemade basketball hoop for a trampoline easily. Honestly speaking, you can do it without much hassle. The steps of DIY trampoline basketball hoop include-
Read manufacturer guidebook
Lay down all things
Attach backboard
Secure brackets
Attach basketball hoop
Level basketball kit
Let's discuss these points in-detail.
Step 1: Gather Materials
Before you start making trampoline basketball hoop, it's important to gather all essentials first. Basic tools and accessories required to make a trampoline basketball hoop are-
Wire hanger
Flat and large cardboard or plywood
Nylon string
Duct tape
Super glue
Markers or paint
Scissors
And you can add more things for a customized basketball backboard. After gathering all these things plan properly what you're going to make.
The basic parts that you have to build for a trampoline basketball goal are rim, net, hoop connector, and backboard.
Read Also: Turn your old trampoline into cool projects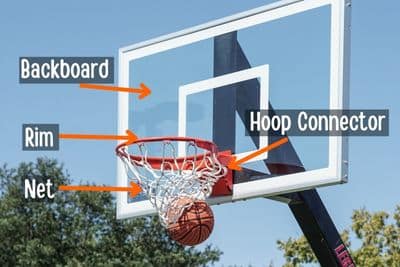 Step 2: Make the Basketball Hoop Rim
Bend the wire hanger or use the silicone o-ring to make the circular rim of the basketball goal.
Step 3: Make the Basketball Net
Either you can attach a purchased net or knit a net using the nylon thread. But, most houses have additional nets, thus knitting the net might be unnecessary.
Step 4: Attach a Net to The Basketball Rim
Now attach the net with the basketball goal rim using string or duct tape.
Step 5: Make the Hoop Connector
The hoop connector connects the basketball rim with the backboard. You can make it using a wire hanger or a piece of cardboard.
Step 6: Make the Backboard
Cut the cardboard or plywood into the desired shape and make the backboard. Usually, standard backboards like NBA backboards are rectangular and 6 ft wide, whereas basket opening is 1.5 ft. Also, paint the backboard your favorite color.
Step 7: Mount Basketball Hoop onto Backboard
Now, the basketball hoop rim and backboard are ready. It's time to attach them through the hoop connector. You can use glue to join them firmly.
Gorilla Super Glue Gel, 20 Gram, Clear, (Pack of 1)
GEL FORMULA: No run control gel formula that is great for use on vertical surfaces
ANTI CLOG CAP: Helps keep the glue from drying out. It's Gorilla tough use after use.
IMPACT TOUGH: Specially formulated for increased impact resistance and strength
So, the DIY basketball hoop making is done. Congratulations!
Still, have any confusion? The video tutorial will help you understand how to make DIY basketball hoop for your trampoline.
Read Also: DIY trampoline swing
Now let's learn how to put on a basketball hoop with a trampoline.
How to Attach a Basketball Hoop on a Trampoline?
The basketball hoop setup process may vary a bit from trampoline type and size variation. Here, I'll explain the simple way to put up a basketball hoop on-
Springfree trampoline
In-ground trampoline
Tools Required to Assemble Basketball Hoop on a Trampoline
The most important tools and accessories for trampoline basketball kit installation are-
Basketball kit
Allen Wrench
Screwdriver
Nuts and bolts
Bungee straps
Ladder (optional)
Shovel (when digging hole is necessary)
Drill machine (optional)
Let's have a look at how to put together a basketball hoop on the trampoline.
Installing Basketball Hoop to Regular Trampoline Step by Step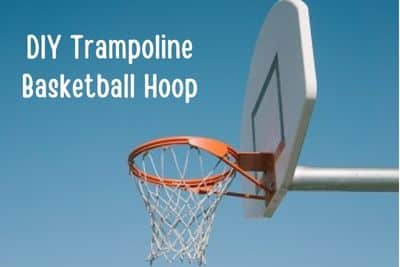 Step 1: Read Manufacturer Guidebook
At first, read the trampoline manufacturer's instructions to know what they have suggested assembling the basketball goal on a trampoline. Some models such as the Springfree trampoline come with a unique basketball hoop so their installation process will also be different from the usual process.
Read Also: Trampoline assembly errors
Step 2: Lay Down All Things
Now unbox the trampoline basketball hoop kit and lay down all parts on a flat surface. Check whether there is everything included or not. If there is any defective or broken part, contact the manufacturer for the replacement. Otherwise, start the installation process.
Step 3: Attach Backboard
Attach the ring with the knitted backboard. Then insert the supplied four poles at the backside of the backboard. Poles might be short or long. Short poles will go in the bottom and longer ones will be on the top of the backboard.
Step 4: Secure Brackets
At this stage, line up the L-shaped post with a square-shaped bracket that is already assembled in the last step. Then tighten the nuts and bolts to secure the square bracket. Put some hand pressure on the structure to tighten and stable it rightly.
Step 5: Attach Basketball Hoop
After completing the bracket setup, it's time to attach the basketball hoop. Select a post or pole that you want to hang the basketball hoop kit. Remove the eyebolt and bungee strap from the selected pole.
Now insert the Jump-N-Dunk hoop in the pole in such a way that your basketball hoop faces the trampoline center. Then reattach the eyebolt and strap to secure the hoop properly.
Sale
Note: If you buy a trampoline that includes basketball hoop, you can attach the basketball hoop with trampoline net easily using its glue.
Step 6: Level Basketball Kit
Now, check whether the trampoline basketball equipment is leveled well or not. If you need to level the hoop, just adjust the strap to do that. So, your trampoline basketball hoop is now ready to go. That's very simple, right?
Read Also: Trampoline leveling tips
The following trampoline basketball kit installation guidelines will help you understand the fact more precisely.
Assembling Basketball Hoop on a Springfree Trampoline
Springfree trampolines come with dissimilar basketball hoops (FlexrHoop) than the usual models. So, you may be wondering how to assemble a Springfree trampoline basketball hoop. This includes several steps.
Let's learn the step-by-step basketball hoop installation guide for Springfree trampoline.
Step 1: Detach all the poles and lay down the net and poles on the mat.
Step 2: Unbox the FlexrHoop and lay all pieces out. Untie all nuts from bolts and keep them aside carefully.
Step 3: Now, select two adjacent net posts where you are going to put in the basketball hoop set. In Springfree trampoline, FlexrHoop is attached between two net poles.
Step 4: Place the basketball hoop between two rods of the trampoline.
Step 5: Snap two rim straps at the bottom of and backside of the backboard.
Step 6: Clip one plastic clamp in the first pole of the gap situation under the net rod pocket. Another clamp will go below 5 inches of the first one. Similarly, do this for the second post.
Step 7: Get the brackets and stabilizing bar. Then bend the stabilizing rod as same as of backboard.
Step 8: Afterward, take the small rods and insert them into the sleeve on the stabilizing rod. Then attach the sleeve with the back of the hoop. Now tighten both sides with nuts and bolts using an Allen wrench.
Step 9: At this stage, attach the large brackets with the net rods using nuts and bolts.
Step 10: Stand upright all the net rods and place them into their designated C-clip pockets.
Step 11: So the basketball hoop assembly is now live with the net rods. If it is not leveled properly, adjust the stabilizing rod strap. Let's start jumping and playing basketball on the Springless trampoline.
For more precise information you can watch the following installer video.
See More: Several problems of Springfree trampoline
Putting up Basketball Hoop with an In-Ground Trampoline
Playing basketball in the in-ground trampolines is great excitement for all. If you want to put in the basketball hoop on your own the following installation tips will help you do it quickly.
Step 1: Choose a good spot (close to the trampoline) to set up the hoop post.
Step 2: Now dig a hole in the ground to place a hoop rod (pole).
Step 3: Then pour concrete on the created hole and place the pole inside it. Then let it dry for several hours to make it stable.
Step 4: Now attach the backboard with the pole in the desired height securely using nuts and bolts. Some models might need backboard assembly before raising the pole.
Step 5: After that set up the rim and net. Rim is bolted with the backboard and the net is attached to the rim using the loop.
Step 6: And finally, check whether everything is okay or not. If there is any adjustment needed, make it adjusted by either tightening or loosening the strap.
Video: In-ground basketball hoop installation 
Note: This technique is applicable if the in-ground trampoline hasn't any enclosure net and pole. If the trampoline is surrounded by an enclosure net, you can either attach the hoop with the net or with a post as like I've explained earlier.
Read Also: In-ground vs above-ground trampoline
How to Remove a Basketball Hoop from Trampoline?
Sometimes you might need to remove trampoline basketball hoop such as when disassembling, moving to long distance, or winteringing it. So how to do it actually?
Most basketball hoops that come with trampoline packages are breakaway designs that can be easily detached from trampoline nets by exerting some force as these use removable adhesives.
But if the basketball hoop is connected to trampoline net or posts using straps, mounting kits, etc, you have to loosen them to remove basketball kit from trampoline.
Conclusion
DIY basketball hoop for a trampoline making and assembly isn't a hard task. But knowing the basics is important to do it for the first time. I hope, you can now be able to make and install the trampoline basketball hoop in the trampoline by yourself.
So, let your kids play on the trampoline with basketball goals for great fun and better growth. Happy basketball on the trampoline!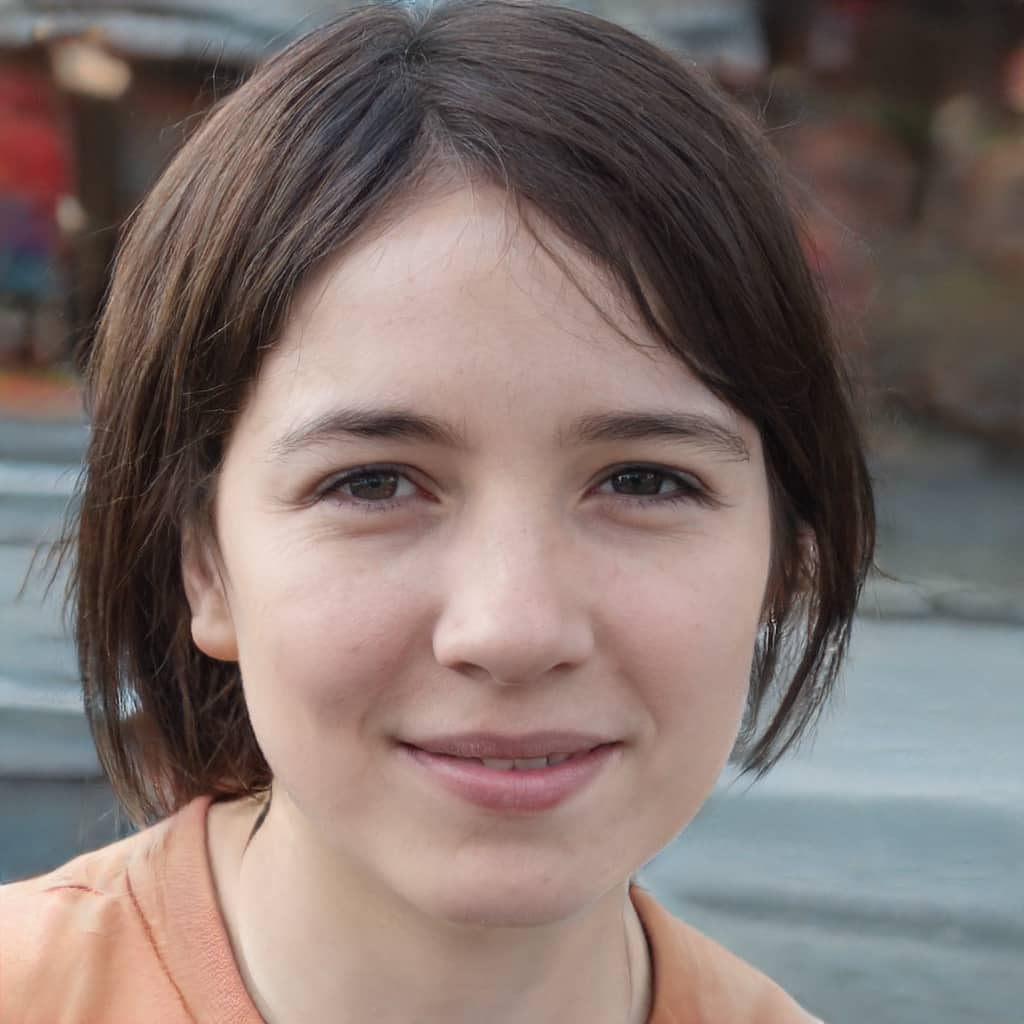 Rebecca is a fitness nerd and mother. She was inspired to get into the world of trampolining and rebounding by her husband Robert, who is a well-respected trainer and expert in the field. Now she instructs children, mothers, and teens the basic trampolining and rebounding tricks.
Rebecca is also a passionate blogger, sharing her knowledge and experiences with others in the hope of encouraging them to give trampolining and rebounding a try.