Whenever you plan to jump on the trampoline, the thing you must ensure is safety. Trampoline pad is a vital trampoline safety accessory that covers the springs to prevent injuries. It is placed between the trampoline frame and the mat.
Nowadays, most trampoline manufacturers include trampoline safety pads with the package. When it gets damaged, you can fix or replace it. However, you can also make it yourself. Sometimes, pool noodles are also used as an alternative to trampoline spring cover.
Today, I'll discuss in detail trampoline frame pads, repair, replacement, DIY making, alternatives, and many more. So, let's begin it.
Why Do I Need Trampoline Pad?
A trampoline spring pad is essential for many reasons, such as-
Safety
The trampoline protective pad covers the springs and frame, which enhances safety. Thus, it protects jumpers from spring-related injuries and frame bangs during jumping on the trampoline.
If there is no safety pad, the little feet of your kids will be caught in the spring, which is hazardous. Spring pads may reduce almost 50% of trampoline injuries. Even it makes your climb on and off the trampoline safer.
Aesthetics
Spring cover adds beautiful looks to your trampoline. If there is no frame pad, it seems something is missing. Adding a colorful pad there, you can extend trampoline beauty profoundly.
See Also: Trampoline landscaping
Things to Consider When Buying Trampoline Frame Pad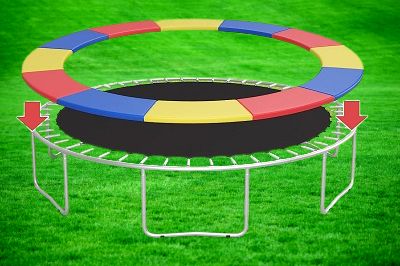 You should keep several factors in mind when choosing the spring cover for your trampoline.
Material
PE (polyethylene), polyester, and PVC (polyvinyl chloride) are several widely used materials in trampoline safety pads. But some spring pads use a blend of these materials to improve quality.
PVC is a better choice compared to PE or polyester pads. The PVC spring cover is completely waterproof and won't fade in sunlight, but PE isn't 100% waterproof and might fade easily. PVC also last longer than the PE pad, but you have to pay a little more to purchase the PVC one.
Size
The trampoline frame pad should match your trampoline well. Before replacing the pad, measure the earlier trampoline spring cover. If you know your trampoline size and model, you can also buy the right size easily.
Be sure the frame pad is wide enough to cover the frame and springs correctly. A good quality spring pad comes with extra width that overlaps several centimeters (more than 5 cm) of the mat.
Thickness
The trampoline spring pad should be thick enough for safety and cushioning. Manufacturers use foam on the inner side of the pad to make the trampoline safety pad thick.
Usually, trampoline spring covers come at least 15 mm or 0.6 inches, including EPE (expanded polyethylene) foam. But, if there is 25 mm EPE foam, it will be really nice and considered premium quality.
Color
The trampoline frame pad comes in several colors, like blue, green, black, yellow, pink, etc. So, choose the right color that matches your trampoline.
Stitching and Straps
The quality of the trampoline pad largely depends on its stitching. Make sure, throughout the pad; there is double stitching. And check there are enough straps to secure the pad with mat and frame.
Design
The frame pad should have tapered edges so water can drain out easily. This will prevent water pooling as well as makes the pad long-lasting.
See Also: Trampoline weather cover
Trampoline Replacement Pads Suggestions
Here are some trampoline spring protective pads recommendations that you can get for your trampoline.
1. SkyBound Universal Replacement Trampoline Safety Pad for 12/14/15Ft Frames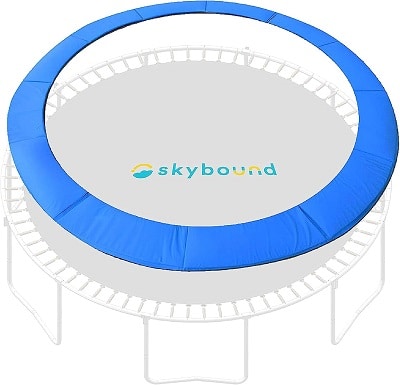 If you need a trampoline spring cover for your 12 ft, 14 ft, or 15 ft trampoline, SkyBound Trampoline Pad will be a good option. It's a universal trampoline spring safety pad that fits any circular trampoline having the same size.
This trampoline frame pad uses polypropylene on top and EPE on the bottom, which makes it thick, UV-resistant, soft, and long-lasting. The package includes bungee ropes to secure the pad with a frame and mat.
The pad is available in single-piece and double (for quick installation) pieces. So you can choose the right option from you.
In the following table, I've listed several features of the SkyBound trampoline replacement pad.
Available  for Trampoline Sizes
Fits Spring Size
Fits with Brands
Features
12 Ft
7 inch
* SkyBound
* Skywalker
* BouncePro
* JumpKing
* Blend of PVC and EPE material
* Single piece one has ½ inch padded foam and double pieces model has 3/4 inch padded foam
* Higher thread count and double stitching
* Drainage holes and tapered edges for water draining
* Different colors availability  
14 Ft
7 inch
15 Ft
8 inch
2. Giantex 8/10/12/14/15/16Ft Trampoline Springs Protection Pad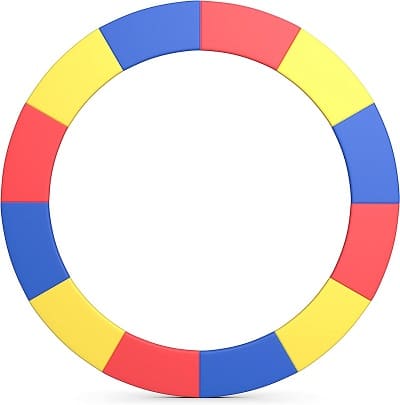 Giantex Trampoline Spring Pad is a highly-durable and eye-soothing safety cover. It uses PVC and PE material that makes the pad tear-resistant and long-lasting.
This pad is available for a variety of trampoline sizes like 8 ft, 10 ft, 12 ft, 14 ft, 15 ft, and 16 ft trampoline.
The trampoline pad replacement is 15 mm or 0.6 inches thick and 12 inches wide which ensures cushioning and safety on the trampoline.
You can easily attach it to the mat and frame. And its cleaning process is super-fast. The pad is available in blue and rainbow colors.
3. Kangaroo Hoppers 8/10/12/14/15FT Universal Replacement Spring Cover for Trampoline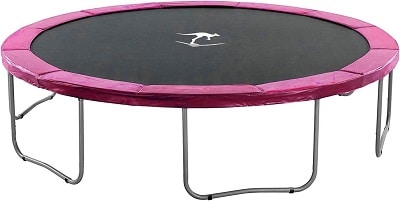 Another quality trampoline safety cover is Kangaroo Hoppers Trampoline Frame Pad. You will find it in 5 sizes like 8, 10, 12, 12, and 15 ft, whereas its colors could be either blue, pink, or green.
The pad uses  PVC, foam, and PE material that makes it very durable against harsh elements. The thickness of the pad varies with size. For instance, 8 and 1o ft models are 0.63 inches, and 12, 14, and 15 ft models are 0.80 inches.
This spring cover is waterproof and UV-resistant. There are durable straps to tie the pad with the frame and mat securely.
Trampoline Pad Alternatives (DIY Ideas)
If you want to make a trampoline spring pad at home, you can do it in several ways like using fabric, pool noodles, etc. So, these can be used as alternatives to trampoline frame pads. Now I'll explain how you can make these.
a) DIY Trampoline Spring Cover from Fabric
To make a spring cover from fabric do the following things.
Step 1: You need fabric and a sewing machine to complete the task.
Step 2: Cut the fabric into the accurate length and width of the old pad. You can also measure the springs (the gap between the mat and the frame) to be sure about the width of the spring cover. If the fabric is thin, take double layers. The width of the fabric pad should be in such a way that it overlaps the mat and frame.
Step 3: Now stitch all the edges of the fabric using a sewing machine.
Step 4: Then add some straps with the sewn trampoline fabric pad to fasten the pad with frame and mat hooks.
Congratulations on making the DIY trampoline safety pad. Now attach it to your trampoline and enjoy safe jumping.
b) Pool Noodles to Cover Trampoline Springs
Another alternative to a trampoline pad is pool noodles. This will add safety as well as make the trampoline eye soothing. To use it to cover the springs to the following things.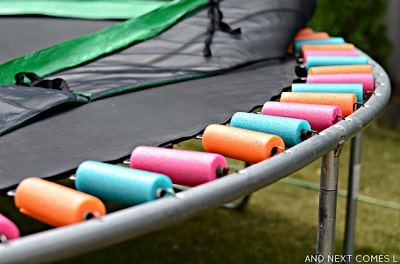 Step 1: Cut the pool noodles as equal to the trampoline spring length.
Step 2: Also slice one side of the pool noodles longitudinally.
Step 3: Now insert each pool noodle into the springs.
A question may pop into your mind many pool noodles do you need to cover all the trampoline springs? This depends on the trampoline size. Usually, ten pool noodles that cost around 20 bucks are quite enough for full-size trampoline springs covering.
See Also: Easy hacks to make a trampoline at home
How To Fix Trampoline Safety Pad?
The trampoline spring cover is quite hard to repair once it gets damaged severely. However, if the trampoline pad is frayed a bit, you can fix it using a patching kit. In case it's not serviceable, you have to replace it.
You can use GEAR AID Tenacious Tape to fix small holes or damages in the trampoline spring pad.
How to Replace Trampoline Spring Cover?
Replacing the trampoline spring cover involves two stages-
Step 1: Removing the Existing Spring Pad
You can easily remove the trampoline spring pad by untying the straps of the pad that are attached to the frame and mat ring.
Step 2: Installing the New Trampoline Frame Pad
Installing the trampoline pad is an easy task. The steps include the following-
Lay out the pad on the spring
Tie all the straps of the safety pad with the mat ring and frame
The following video shows how to attach a trampoline safety pad easily.
Final Thoughts
It's recommended to use a spring cover on the trampoline for safety. When it gets damaged, repair or replace it. Alternatively, you can also make it at home using fabric or pool noodles.
So, cover the trampoline springs and frame with the spring pad and enjoy safe trampolining.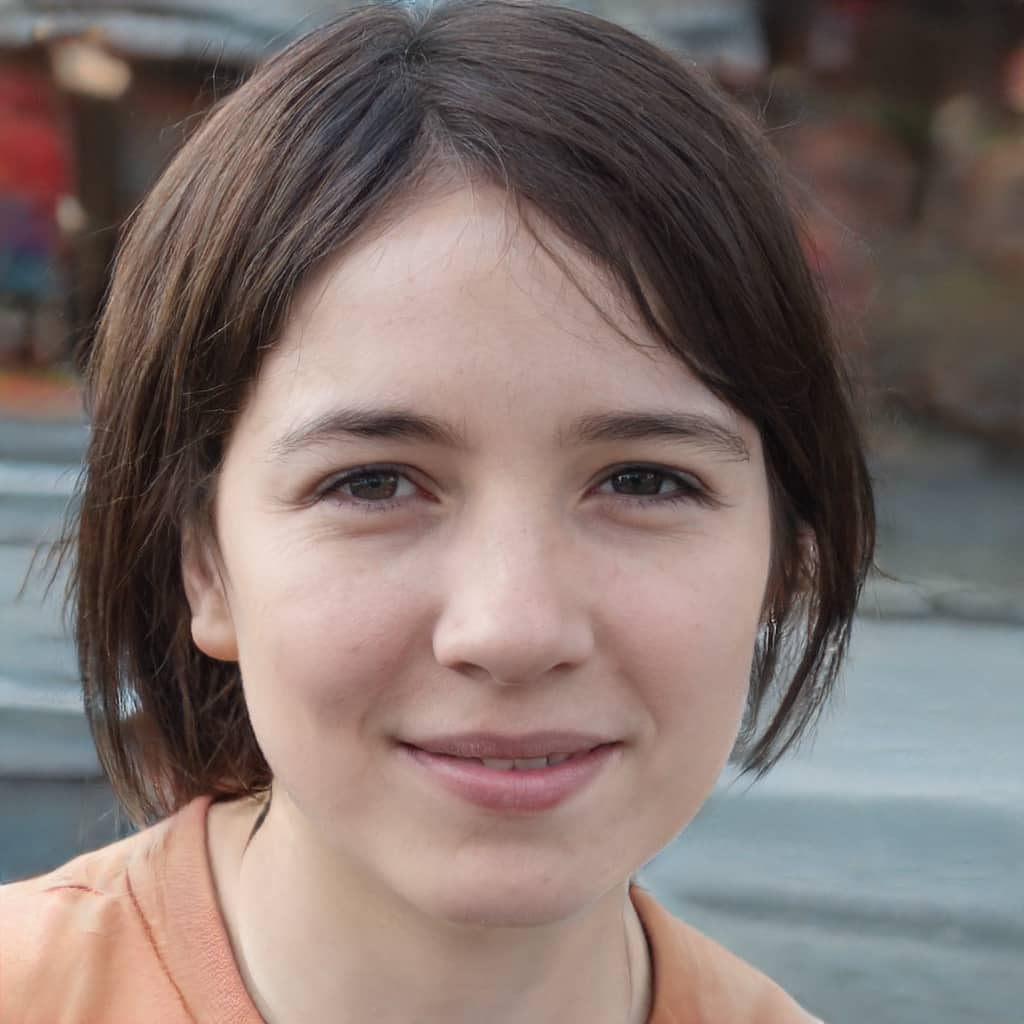 Rebecca is a fitness nerd and mother. She was inspired to get into the world of trampolining and rebounding by her husband Robert, who is a well-respected trainer and expert in the field. Now she instructs children, mothers, and teens the basic trampolining and rebounding tricks.
Rebecca is also a passionate blogger, sharing her knowledge and experiences with others in the hope of encouraging them to give trampolining and rebounding a try.