Trampoline size is an important factor to consider when choosing any trampoline. Both small and large-size trampolines are available for different ages people. Whether you are a novice or experienced, a trampoline-size guide will be handy.
What is the best size trampoline to buy? Standard sizes of trampolines are 8 ft to 15 ft. But smaller and larger models are also available. Which size is best for you depends on several factors, like why and where you use the trampoline, who uses it, how much space is in your yard, what's your budget, and many more facts.
To help you find the right dimension trampoline, I plan to give here an in-detail trampoline size chart. Let's dig it out!
Why Selecting the Right Size Trampoline is Necessary?
The best-size trampoline choice is essential for numerous reasons. Some of the important ones are-
Safety: Larger sizes might be dangerous for kids.
Weight limit: Smaller-size trampolines can't hold a heavy person's weight.
Balancing with garden space: The trampoline size must be smaller than the backyard space.
Bouncing style: Bigger size trampolines make higher bounces.
Cost: Smaller ones are cheaper than larger ones.
A Detailed Trampoline Size Guide for All Ages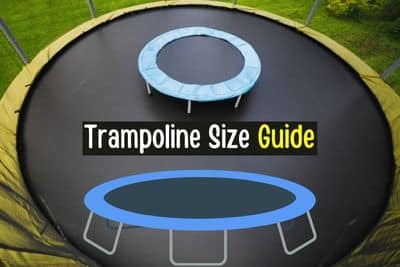 Here, I'll guide you from different angles so you get a clear trampoline sizing idea. So, begin with the available, standard, and average trampoline sizes.
Available Trampoline Sizes
Have you wondered, 'What sizes do trampolines come in'? Well, trampolines are available in various sizes such as 3 ft, 3.5 ft, 4 ft, 4.5 ft, 5 ft, 5.5 ft, 6 ft, 6.5 ft, 7 ft, 7.5 ft, 8 ft, 9 ft, 10 ft, 12, ft, 14 ft, 15 ft, 16 ft, 17 ft, 18 ft, 20 ft, 23 ft, 24 ft and many more.
But all sizes aren't available in all shapes and types. Some sizes are only found in a particular shape. For example, the 24 ft trampoline (16×24 ft Vikan Goliath Trampoline) is available in octagonal shape only.
See Also: How to assemble a trampoline?
Standard Size Trampoline
What is a standard trampoline size? In general, the most common trampoline size ranges between 8 feet to 15 feet are considered the regular size trampoline. Any smaller or bigger trampoline is out of the normal-size trampoline.
These typical trampoline sizes are ideal for backyard and outdoor uses. Thus, you can consider them as good size trampolines for garden family fun and exercise.
Average Trampoline Size
The 12 ft trampoline size is called the average size trampoline. It is the most popular trampoline size too. But you consider some other sizes as average dimensions trampolines depending upon your backyard's space.
If the backyard is small, then an 8 to 10 ft round model will be the ideal trampoline size for kids. For a medium backyard, the 12 ft round trampoline is the right fit for a small family.
Similarly, the 14 ft or larger size trampoline will be a great choice for a spacious backyard for gymnasts, adults, and large families. So, you have to consider the size according to your available space in the backyard.
Full, Medium, and Half Size Trampoline (Outdoor Trampoline)
Full Trampoline Size
How big is a full-size trampoline? Well, this ranges between 8 to 15 foot and the average size is a 12 ft trampoline. As they are large in size thus making them suitable for outdoor uses.
See Also: Comparison among 12 vs 14 vs 15 ft trampoline
Medium Size Trampoline
The round shape 8 to 10 ft trampolines are considered medium trampoline size. They are ideal for kids, especially if you have small backyards.
Half Size Trampoline
When the size of a trampoline reaches below 8 ft, it is considered as half of the full trampoline. More precisely the indoor kids' mini-trampoline or adults and seniors rebounders and some small outdoor trampolines are the half trampoline size.
Mini Size Trampolines (Indoor Trampolines)
Mini trampolines are divided into two types- adults size rebounders and kids size mini-trampoline. These small trampoline sizes range from 3 to 5 ft. Some of the common sizes are 36, 38, 39, 40, 42, 48, 52, 55, 60 inches mini-trampolines. They are ideal for indoor uses, but you can keep them outside too.
See Also: Rebounder vs trampoline
Olympic Trampoline Size
The ideal Olympic-size trampoline dimension is 10×17 feet. This rectangle-shaped large-size trampoline will allow gymnasts to practice versatile trampoline flips and jumps there.
Biggest Size Trampoline
At present, the 16×24 ft Goliath Trampoline by Vikan Trampoline is the largest trampoline size in the world. And it is also the most expensive trampoline until now.
Age-Wise Trampoline Size Guides
Toddlers and Kids Size Trampoline
If your children aren't grown enough and their age lies below 6 years, it is recommended to keep them out of the trampoline. However, if you allow them supervision is a must.
Also, the trampolines must be soft, well-padded, and come with a handle for balance. The best trampoline size for kids and toddlers are given below.
1-2 years old: 3 to 4 ft trampoline
3 years old: 3 to 5 ft trampoline
4 years old: 3 to 6 ft trampoline
5 years old: 6 to 8 ft trampoline
6-7 years old: 8 to 10 ft trampoline
8-9 years old: 10-14 ft trampoline
10-12 years old: 12 to 15 ft trampoline
Teenagers Size Trampoline
For teenage (13 to 19 years old) boys and girls, a 12 to 17 ft trampoline will be the best trampoline size. If they need a recreational one 12 or 14 ft will be the right fit. But the gymnastic youngers will prefer the 15 or 17 ft trampoline.
Adult Size Trampoline
Adults might choose the outdoor or trampoline. Usually, adults prefer 14 ft or larger models for outdoor exercise. And their personal-size fitness trampoline rebounder for indoors varies between 3 to 5 feet.
Family Size Trampoline
Which size of the trampoline is best for family or backyard fun? This depends on how many people you're going to have fun together. For a small family, such as a father and mother with one or two little kiddos 12 to 15 ft round model will be a perfect choice.
But when candidates are adults you should go for larger models like 9×15 ft oval, 9×16 ft, 10×14 ft, or 10×17 ft for better weight carrying capacity.
Gymnasts or Competition Trampoline Size
Some of the frequently used competition-size trampolines are 8×12 ft, 9×14 ft, 10×17 ft, etc. Typically gymnasts and competitive sportsmen prefer the rectangle-shaped bigger-size trampolines.
Shape-Wise Trampoline Size
Round and rectangle shapes trampolines are two widely-held trampolines. And they are available in versatile sizes. So, I'm covering some of their popular models here.
Round Trampoline Sizes
Circular trampolines are ideal for recreational jumping. Several good round-size trampolines are 8 ft, 10 ft, 12 ft, 14 ft, 15 ft, and 16 ft. The small ones are perfect for children and the plus-size trampolines are suitable for adults and older kids.
Rectangular Sizes of Trampoline
Rectangle trampolines are great for gymnasts and trampolinists. Several standard rectangle model dimensions are 7×10 ft, 8×12 ft, 9×14 ft, 10×14 ft, 10×17 ft, 13×23 ft, etc.
See Also: Comparison among different shapes of trampolines
Several Things Related to Trampoline Sizes
Mat Size of the Trampoline
What is the diameter of a trampoline mat? In general, the mat diameter is almost 1 to 1.5 ft smaller than the actual trampoline size. Here are the approximate average dimensions of several round models.
6 feet trampoline: 4.75 ft mat
8 feet trampoline: 6.75 ft mat
10 feet trampoline:  8.75 ft mat
12 feet trampoline: 10.75 ft mat
14 feet trampoline: 12.75 ft mat
15 feet trampoline: 13.75 ft mat
See Also: Tips to measure a trampoline
Trampoline Springs Size
Both springs number and springs size vary with trampoline dimension. Several mostly used springs' size of trampolines are 3.5, 4.75, 5.5, 6.5, 7, 7.5, 8, 8.5, 9, 9.5, 10 inch, etc. Here is a list of several springs sizes for various size trampolines.
8 ft trampoline: 4.5  to 6 inch
10 ft trampoline: 5.5  to 6.5 inch
12 ft trampoline: 6.5  to 7.5 inch
14 ft trampoline: 7 to 7.5 inch
15 ft trampoline:  6.5 to 8.5 inch
See Also: Spring or bungee mini trampoline
Trampoline Weight Capacity
The weight capacity of trampolines changes with the trampoline's size. A rule of thumb is that the bigger the trampoline size is the higher the weight capacity will be.
Below I've enlisted several ideal trampoline sizes with their weight capacity.
8 ft trampoline: 200 pounds
10 ft trampoline: 250 pounds
12 ft trampoline: 300 pounds
14 ft trampoline: 350 pounds
15 ft trampoline:  400 pounds
Trampolines' maximum weight-carrying capacity is also largely related to their shape. Generally, rectangle shape trampolines allow more weight than round models.
See Also: How heavy is a trampoline?
Trampoline Cost
Typically, the prices of trampolines rise with their sizes. Thus, larger trampolines are pricier than the smaller models. Average trampoline costs of dissimilar sizes of trampolines are given below.
3-5 foot kids trampoline: $75
6 foot trampoline: $150
8 foot trampoline: $200
10 foot trampoline: $250
12 foot trampoline: $350
14 foot trampoline: $400
15 foot trampoline:  $500
17 foot trampoline: $600
3-5 foot adults rebounder: $100
But the expensive trampoline price goes around 2000 to 3000 dollars. Some small trampolines also come with hefty price tags.
See Also: Cost of sunken trampoline
The Durability of the Trampoline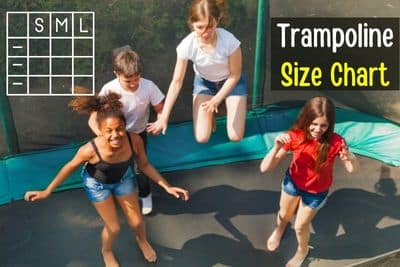 The robustness of the trampoline is also associated with trampoline size. Usually, larger trampolines are sturdier than the smaller models; thus, bigger ones last longer. But there are exceptions too.
Trampoline Net Height
The enclosure net of the trampoline is a very important feature for safety. Usually, the net height rises with the trampoline's size. The average trampoline's net height ranges from 5 feet to 10 feet.
See Also: How to attach safety net with a trampoline?
Trampoline Frame Height
How tall is a trampoline? Frame height varies with trampoline size. The standard trampolines frame height ranges from 2 to 3 feet. But mini-trampolines legs height are smaller than 1 foot.
Trampoline Box Size
Trampolines arrive at our door either in the same or dissimilar sizes of package. Small trampolines come in 1 to 2 boxes, medium ones arrive in 3 boxes and the larger trampolines reach in 3 to 5 boxes.
What is the box size of a trampoline is defined by the size of the part of a specific trampoline model. The main box dimension of several trampolines is given here.
Clevr kids 7 ft trampoline: 4.5x15x8.25 inch
Skywalker 8 ft trampoline: 43x23x10 inch
CalmMax 10 ft trampoline: 50x15x9 inch
SereneLife 12 ft round trampoline: 59x23x10 inch
JumpKing 14 ft rectangle trampoline: 58x25x9 inch
AMGYM 15 ft trampoline: 180x180x106.8 inch
Ultimate Trampoline Size Comparison and Trampoline Size Chart
Have you wondered which trampoline is right for me? Just check the following trampoline size comparison chart to find the most suitable one. You'll also get ideas on jumpers' ages, weight capacity, price, etc.
| | | | | | | | |
| --- | --- | --- | --- | --- | --- | --- | --- |
| Trampoline Size | Age Limit | Mat Size (ft) | Springs Size (inch) | Total Springs | Weight Limit (lbs) | Price | Where To Use |
| 3-5 ft for kids | 1 to 3 years | 2.5 to 4.5 | 3.5 to 4.75 | 30-35 | 100 | $75 | Indoor/outdoor |
| 5-6 ft | 4 to 5 years | 4.75 | 3.5 to 5.5 | 36-40 | 150 | $150 | Indoor/outdoor |
| 7-9 ft | 5 to 7 years | 6.65 to 7.7 | 4.5  to 6.5 | 40-54 | 200 | $200 | Outdoor |
| 10 ft | 8 to 10 years | 8.75 | 5.5 to 6.5 | 48- 64 | 250 | $250 | Outdoor |
| 12 ft | 10 to 12 years, small family | 10.75 | 6.5 to 7.5 | 72-88 | 300 | $350 | Outdoor |
| 14 ft | Teenagers and family | 12.75 | 7 to 7.5 | 72-96 | 350 | $400 | Outdoor |
| 15 ft | Teenagers, gymnasts, family | 13.75 | 6.5 to 8.5 | 88-108 | 400 | $500 | Outdoor |
| 16 ft | Gymnasts, teenagers, family | 14.5 | 7 to 7.5 | 96-120 | 450 | $550 | Outdoor |
| 17 ft and larger | Gymnasts, family, adults | 15.5 | 7.5 to 8.5 | 108-140 | 500 | $600 | Outdoor |
| 3-5 ft rebounder | Adults and seniors | 3.5 to 5.5 | 4.75 to 5.5 | 30-40 | 300 | $100 | Indoor/outdoor |
How to Choose a Correct Size Trampoline?
If you want to choose the right trampoline size for your kids or family, consider the following things.
Know who will use the trampoline. Depending upon the age limit, choose the right size trampoline from the full trampoline size chart.
Also, check the shape, weight limit, material, safety, and other things of the trampoline.
Measure the space in the garden. Then, the balance between the available space and your required size and pick the best-fitted trampoline for your yard.
See Also: Trampoline setup errors
People Also Ask
1. Does trampoline shape matter, while considering trampoline size?
Ans: Yes, trampoline size and shape are closely related. Same-size, but dissimilar shape trampolines might give different styles of bouncing as well as the weight limit.
For example, a 10-foot round trampoline is good for recreation and gives a center-focused bounce. But the 7×10 ft rectangle model is ideal for the gymnastic purpose and provides even bounce throughout the jumping surface.
See Also: Can you repurpose the old trampoline?
2. What is the trampoline park's size?
Ans: The average trampoline park sizes in the USA range between 25000 to 40000 square feet. But the largest trampoline park is around 63000 square feet.
Final Thoughts
I hope, after reading this article, you might get a clear idea of the trampoline size guide to pick the right size trampoline for indoor and outdoor uses. If you want to use it indoors, a 3 to 5 ft trampoline will be correct, and for outdoor uses, 8 to 15 ft and larger models will be perfect but consider the jumpers' age, safety, etc.
I believe, this masterpiece trampoline size chart and trampoline size comparison will also lessen your research time to find the best size trampoline. So, share this handy article with others, so they'll get benefitted too.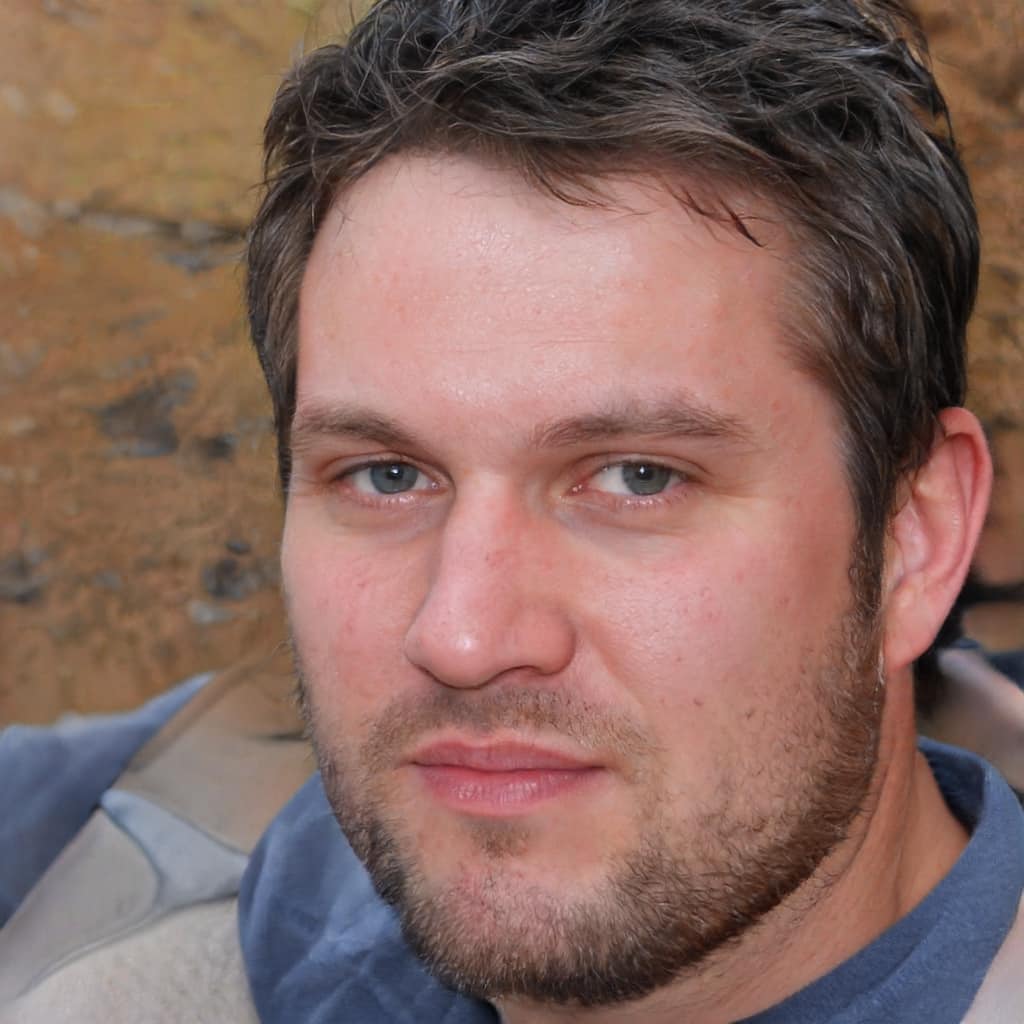 Robert is a trampoline and rebounder trainer with a passion for blogging. He discovered his love for trampolining at a young age, when his father gifted him his first trampoline at the age of 9. Over the years, Robert has honed his skills and knowledge in the field, and now uses his expertise to train others.
Besides, helping fitness enthusiasts in the gym, Robert is very eager to share his knowledge and experience regarding trampolines and rebounder exercises with the readers of picktrampoline.com. He will share all you need to know about trampolines and rebounders in this blog. Get his tips on trampoline and rebounder!