Mat is the jumping bed of a trampoline. A good trampoline mat may last several years without much maintenance. However, it might be damaged or out of use over the years.
If there are small holes or rips, you can easily repair them by spending a few pennies, but when it is old enough, you have to replace it with a new one. So, what is the best trampoline mat? Well, this might be a tad confusing to find out the right replacement trampoline mat. But don't worry; I make it easier by shortlisting 5 top-performing trampoline replacement mats.
Let's check the features of a good trampoline mat and pick the right one which fits your trampoline.
When Should You Get a New Trampoline Mat?
If the trampoline mat is damaged slightly, you can repair it by patching kits. But, when the mat is damaged severely or gets very older, you can't repair it further; rather, you have to replace the whole mat.
Typically, when the fabric starts fraying, stitches towards the edges start loosening, and multiple tears appear, especially towards the center; these indicate to replace your trampoline mat.
Read Also: Tips to care for your trampoline well
Best Trampoline Mat Replacement
1. SkyBound Replacement Trampoline Mat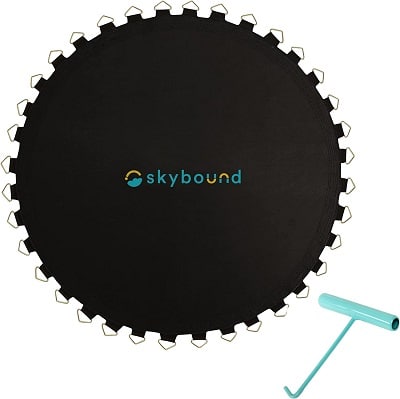 SkyBound supplies premium quality trampoline replacement mats for different sizes of trampolines. Here, I'm reviewing the 14 ft Trampoline Mat by SkyBound.
The mat is made from polypropylene and is an ideal one for bounce. It's compatible with prominent trampoline brands like JumpKing, SportsPower, BouncePro, Propel, etc.
SkyBound trampoline mat uses heavy stitching and thick v-rings that make it really durable. It is also waterproof and has UV and sun protection which makes it long-lasting. The mat provides a 1-year warranty.
Several sizes of this mat are-
144 inches mat, 96 rings that fit with 8.5-inch springs
147 inches mat, 72 rings that suit 6.5 to 7-inch springs
147 inches mat, 88 rings that fit 7-inch springs
150 inches mat, 72 rings that suit with 5.5-inch springs
So, choose the right one that fits your trampoline.
Pros:
Available in different sizes
Heavy rows of stitching for superior stability
Compatible with several trampoline brands
1-year warranty
Spring tool included
Cons:
Quality should be improved
2. Trampoline Pro Replacement Trampoline Jumping Mats
Trampoline Pro Mat comes in several sizes like circular 12, 14, and 15 ft trampolines and square 13 ft trampolines. The professional-grade trampoline mat is made from Permatron, the industry-leading material.
The available sizes of the mat are-
12 ft, 127-inch mat, 72 rings, 5.5-inch spring
14 ft, 150-inch mat, 72 rings, 5.5-inch spring
15 ft, 159-inch mat, 6 rings, 7-inch spring
13×13 ft square mat, 84 rings, 7.5-inch spring
It is UV-resistant and waterproof, which makes it durable and high-performing. The maximum weight recommendation of the mat is 220 lbs.
Pros:
Permatron mat
Highest industry stitching
1-year warranty
Comes with a spring tool
Cons:
Stitching on loops should be improved
3. Skywalker Trampolines Jump Mat Replacement

Have you been looking for a heavy-duty replacement mat for your trampoline? Well, Skywalker Trampoline Mat will be a perfect choice for you. It meets the ASTM safety standards.
The mat is built from polypropylene material. It is stitched heavily for making this slip-resistant and UV protected.
This one is compatible with different Skywalker trampolines. Before you purchase this, make sure, it matches your trampoline.
The replacement mat for the trampoline is available for 12 ft and 15 ft trampolines. FYI, the 12 ft mat will fit with 72 V-rings, and the 15 ft mat will suit 96 V-rings round trampolines.
Pros:
ASTM certified product
1-year warranty
Compatible with most Skywalker trampolines
Cons:
Doesn't include the spring tool
4.  Machrus Upper Bounce Pro Trampoline Replacement Jumping Bed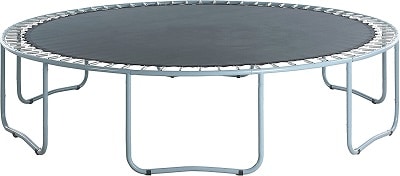 Upper Bounce Trampoline Mat comes in many sizes to fit with 7.5 ft to 16 ft trampolines. Just match it with your requirement and choose the right one.
The mat is polypropylene made and has 8 rows of heavy stitching so you'll get a sturdy and bouncy mat. It's UV and water-resistant. Moreover, the mat hooks are constructed of galvanized steel that won't be affected by harsh weather.
It's also compatible with several models of JumpKing trampolines. Your kids will love this springy mat, I bet.
Pros:
Available in numerous sizes
330 lbs weight capacity
1-year warranty
Cons:
No spring took in the package
5. Bounce Pro Trampoline Replacement Mat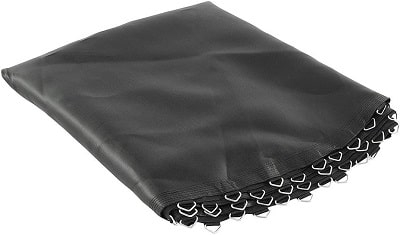 Another good trampoline mat replacement is the 14 ft Bounce Pro Trampoline Replacement Mat. The diameter of the round mat is 150 inches, and there are 72 rings. This mat fits with 5.5 inches of springs and a 14 ft trampoline frame.
The mat is made from Grade A polypropylene breathable fabric, making it ideal to work with less air resistance and hence better bounce. It has 8 rows of stitching for superior stability and bounce.
Moreover, the mat is UV and fade-resistant, so it can fight against harsh elements of outdoor environments. This also makes the mat long-lasting. The maximum weight capacity of the mat is 330 lbs. So, you can use it on a heavy-duty trampoline.
Pros:
330 lbs weight capacity
Made in the USA
Spring tool included
1-year warranty
Cons:
A little expensive trampoline mat
Suits only 5.5 inches of springs
Buying Guide of the Replacement Trampoline Mat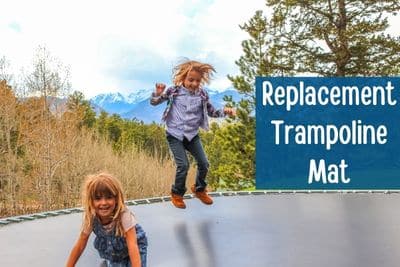 Mat Size
Before purchasing a new trampoline mat, measure the existing mat to get the right dimension. If you have the trampoline manual, there is no need to measure the dimensions as you will get it here.
To measure the trampoline mat, use a measuring tape and measure the diameter from one edge to another. But make sure you go straight and no curves are there in between.
Keep in mind mat size may vary for a specific size trampoline. For example, a 14 ft trampoline may come in 144, 147, and 150 inches mats.
It's also important to know the right size of the spring that matches your trampoline. For example, a 14 ft trampoline may fit with 6.5, 7, and 7.5 inches springs. So, you have to know what exactly the spring size is.
Read Also: Trampoline assembly common mistakes
Material
Good-quality trampoline mats are made from nylon and polypropylene. Some premium quality replacement trampoline mats use Permatron material.
As the mat is exposed to the environment so it should be waterproof, sun guard, and UV-resistant. Sun-guard and UV coating prevents fading out against sun rays and harsh weather and make the mat long-lasting. And waterproofness also extends its lifespan.
Stitching Quality
The trampoline mat should have heavy stitching. A rule of thumb is the higher the stitching the better the durability. It's recommended to choose a mat with more than 8 rows of stitching.
Another important thing is to consider the roughness of the thread. Make sure the upper side of the mat hasn't any visible sewing, and it's plain. This will help you jump comfortably.
V-rings for Springs
With mat size and shape, the total number of spring slots should be considered too. If the existing trampoline mat has 72 v-rings (or D-rings) for spring attachment, you should purchase a mat having 72 slots of v-rings.
And be sure the v-ring is galvanized and thick enough (more than 4.4 inches). This is important for the durability of the mat.
Brand Compatibility
The new trampoline mat should be compatible with your trampoline. So, prior to purchasing the mat, talk with the manufacturer or seller about whether it matches your trampoline model or not.
Extra Accessory
Some trampoline mats come with spring-pulling tools to install the spring and mat easily. It'll be handy for trampoline assembly and disassembly.
Price and Warranty
Most replacement trampoline mats are available between $50 to $100. But some large and high-quality mats' prices may go up to $150 or  $200.
When purchasing a trampoline mat, consider its warranty. Heavy-duty trampoline mats come with a 1 to 2 years warranty.
Read Also: Trampoline's price explained
Frequently Asked Questions
a) Are mini-trampoline replacement mats available?
Ans: Yes, it's available. You can check a good one here>>.
b) Can you replace the trampoline mat alone?
Ans: Yes, trampoline mat replacement isn't very hard to do. Measure the trampoline mat, then remove the existing mat and finally put on the new one. That's it!
But, if you don't have time or are not too confident, then you can hire professionals.
c) What is a performance trampoline mat?
Ans: A performance trampoline mat is used for professional use. It's comparatively superior to the normal trampoline mat (home trampolines).
The performance mats are sewn incredibly using thin nylon strings that make them stronger and bouncier compared to the regular trampoline mat. Competitive and bouncy trampolines use this mat.
d) Is a replacement rectangle trampoline mat available?
Ans: Yes, it's available. In case you don't find it in the local store or online, contact directly to the trampoline manufacturer; they will manage it.
See Also: Necesary tools to assemble and disassemble a trampoline
Conclusion
Jumping on a damaged trampoline mat might be dangerous. So, you should repair or replace it soon. But, mat repairing isn't always possible, especially when it's very old, or there are large holes or edge frying.
So, when you are going to get a replacement trampoline mat, be sure it fits your trampoline and it's a quality one. To make your purchase easier, I've reviewed here several industry-leading mats. Hopefully, you'll find your best trampoline mat from my recommendations.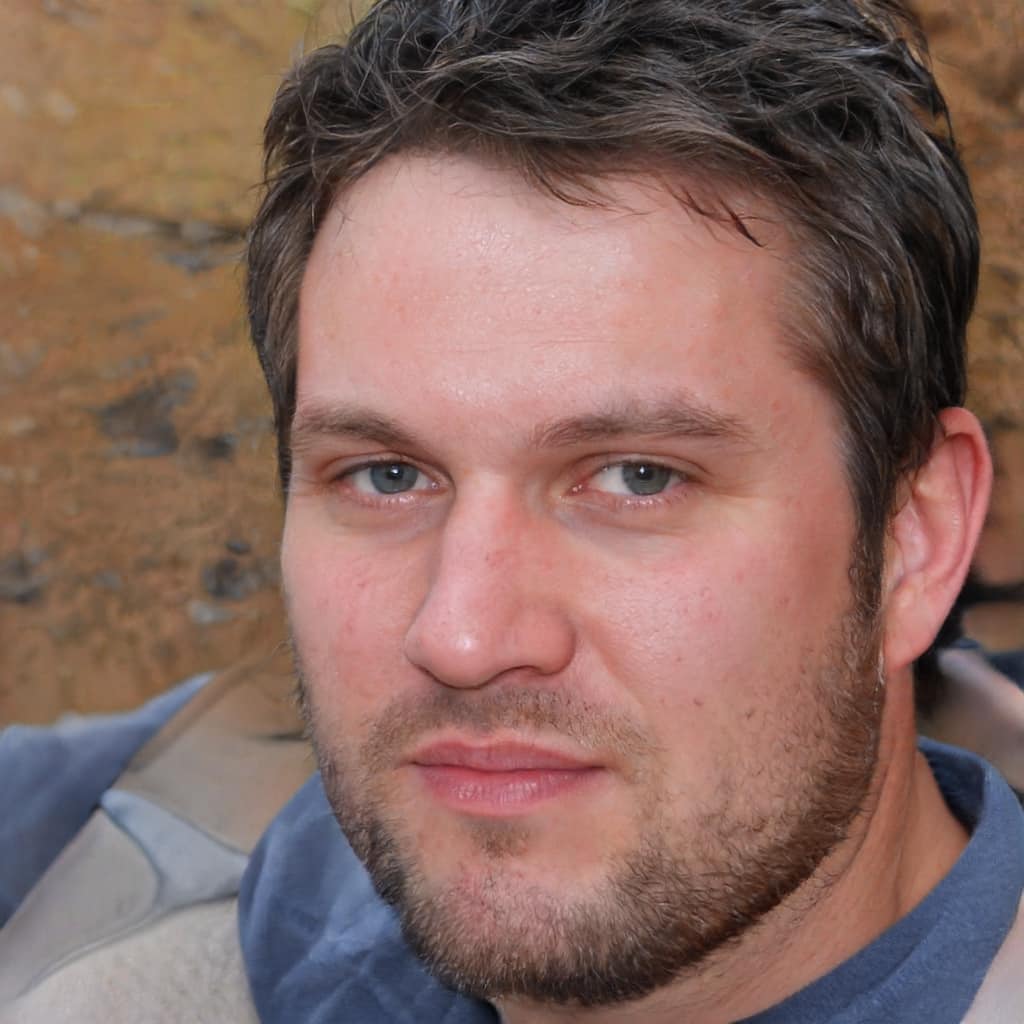 Robert is a trampoline and rebounder trainer with a passion for blogging. He discovered his love for trampolining at a young age, when his father gifted him his first trampoline at the age of 9. Over the years, Robert has honed his skills and knowledge in the field, and now uses his expertise to train others.
Besides, helping fitness enthusiasts in the gym, Robert is very eager to share his knowledge and experience regarding trampolines and rebounder exercises with the readers of picktrampoline.com. He will share all you need to know about trampolines and rebounders in this blog. Get his tips on trampoline and rebounder!