Ladder is an essential trampoline accessory for safe entry and exit to the trampoline. When purchasing a trampoline, a question may arise does a trampoline come with a ladder or not?
The answer is both yes and no, as some trampolines include ladders, whereas others do not. Trampoline manufacturers try to make more profit by selling trampoline and its accessories; thus, they sell ladders either with the trampoline or separately. If you plan to buy a trampoline ladder, you should know some facts to get the best trampoline ladder.
This article will give you an in-depth idea of different types of trampoline ladders and some top-pick suggestions.
Why Do You Need a Ladder for Your Trampoline?
The trampoline ladder is important for many reasons. Below are some key points.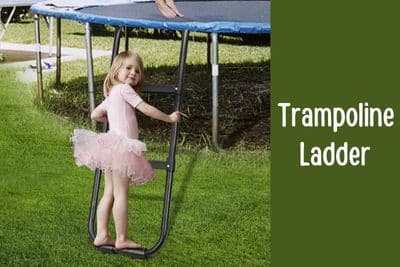 Easy Access to Trampoline
A trampoline ladder is necessary for safe climbing on and off the trampoline bed. This is most important for children to access the trampoline jump mat.
Without a ladder, it's quite difficult for children to get into the trampoline. But the ladder makes it easier for kids and toddlers to go to the trampoline bed without the help of adults.
Safety
If kids and toddlers try to get into the trampoline without a ladder, there are high risks of injuries. So, a trampoline ladder is important for safety. A two- or three-step ladder will help your kids access the several-foot-tall trampoline bed without any worries.
As the trampoline ladder is fixed with the trampoline, the chance of accidents occurring reduces profoundly. And, if you want to refrain kids from the trampoline, just detach the ladder and keep it away.
I highly recommend a trampoline ladder for safe use instead of using other temporary items to get into the trampolines, like the chair, wooden block, etc.
Does Trampoline Come with a Ladder?
There is no fixed answer to this question as some tramps come with ladders, whereas others don't include ladders in the packages. However, each trampoline manufacturers sell ladders separately as trampoline accessory.
Some trampoline manufacturers who sell trampolines with ladders are Zupapa, CalmMax, Merax, ORCC, Jumpflex, Springfree, Happy Trampoline, etc. Most of these outdoor models come with ladders for safe climbing on the trampoline.
If you are looking for a good trampoline that comes with a ladder, Zupapa trampoline will be an ideal choice. Whether you need a large or small trampoline for your backyard, you will find it here, as this model comes in 10 to 16-ft sizes.
5 Best Trampoline Ladders Suggestions
There are lots of trampoline ladders available in the market. Out there, I've shortlisted the 5 best ones for you so you can pick the perfect one for your trampoline.
1. Eurmax USA Non-Slip Wide Steps Universal Trampoline Ladder with Storage Bag
My first recommended trampoline ladder is the Eurmax USA Heavy Duty Universal Trampoline Ladder. It's constructed from galvanized steel with a black powder coating that prevents corrosion and makes it long-lasting. The ladder is 40 inches long and 13 inches wide.
It is a two-rung ladder, and the steps are made from plastic. The steps are non-slip and wide enough that ensures stability and balance while getting on and off the trampoline. The steps can withstand up to 220 lbs of weight.
The top hook of the ladder makes this easier to assemble on the trampoline frame. Moreover, the trampoline accessory package includes a shoe storage bag with a ladder that allows keeping your shoes and other stuff there during trampolining.
As this trampoline ladder is universal so it fits any trampoline. So, you can get this top-performing trampoline ladder to ease climbing on and off for kids.
2. N1Fit 3-Step Wide Universal Trampoline Ladder with Spring Loading Tool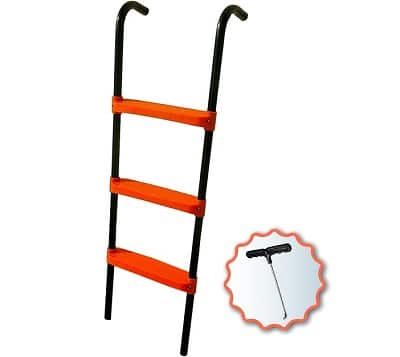 The next pick is the N1Fit Universal Trampoline Ladder. It's made from weather-resistant galvanized alloy steel, and the steps are constructed of plastic. The 3 step ladder makes it easier for kids to access the trampoline bed.
This trampoline ladder allows about 200 lbs weight capacity. Its length and width are 40 and 14 inches, respectively. This universal trampoline ladder is mainly designed for round and rectangular trampolines.
You will also get a spring puller with this trampoline ladder accessory kit. I'm sure, children will love the blend of black and red colors. It also gives 6 months' warranty.
3. Skywalker Trampolines Wide-Step Ladder Accessory Kit with Two Storage Bags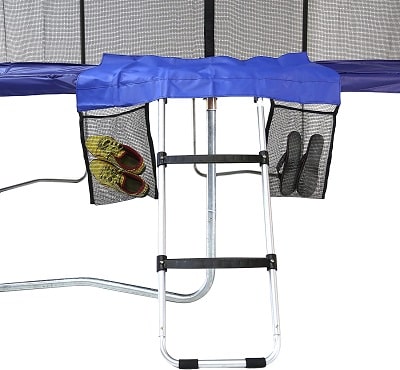 Another quality trampoline ladder is Skywalker Trampolines Ladder Accessory Kit. It's made of durable galvanized steel that will protect the ladder for a longer time.
This ladder is designed to hold up to 200 lbs weight capacity. It also meets the ASTM safety standards. The ladder will fit any trampoline up to 4 inches in rail diameter. Its top hook makes it easier to attach it to the trampoline.
The rungs are wide and textured which makes them slip-proof. This trampoline ladder accessory package also includes two storage bags to keep shoes and other stuff there.
If you need a 3-rung Skywalker trampoline ladder, you will find it here.
4. Gardenature 2 Steps Trampoline Ladder Black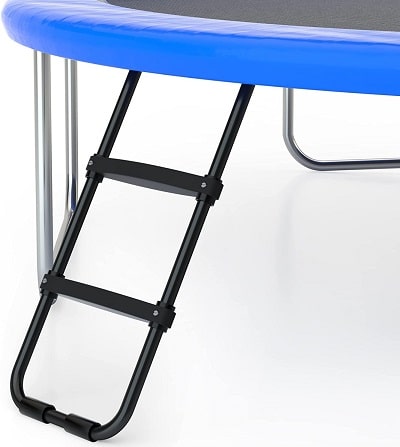 Need a longer ladder for your trampoline? Gardenature Trampoline Ladder will be an ideal choice as it's about 46 inches long that will fit any size of the trampoline.
The steps are wide and anti-slip which provides comfort during climbing on and off the trampoline. And you can easily attach and detach the hooks of the ladder.
Its weight capacity is 250 lbs, so kids and adults everyone can use it without any worry. This trampoline ladder provides 3 years warranty.
5. Trampoline Pro 3-Rung Trampoline Ladder with Safety Latch
Can you imagine, a trampoline ladder comes with 5 years warranty? Yes, Trampoline Pro 3 Step Trampoline Ladder provides this outstanding warranty which makes it superior to other models.
The ladder legs use zinc-plated alloy steel that makes them long-lasting. On the other hand, steps are constructed from sturdy plastic. Its width and length are 15.6 and 42.5 inches, respectively. It can hold up to 250 lbs weight.
This ladder comes with universal hooks that fit any trampoline frame tube size up to 3 inches. Moreover, there are safety latches in the hook; thus, the ladder won't detach from the frame accidentally.
What to Look for When Buying Trampoline Ladders?
There are several things that you should consider while purchasing a trampoline ladder. A few important ones are-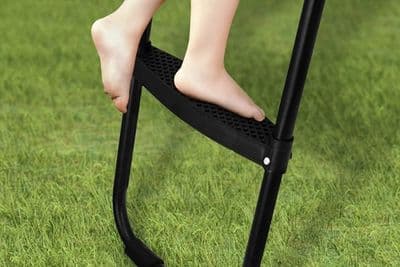 Adjustability
Be sure the trampoline ladder fits with your trampoline. It will be a waste of money if it doesn't fit the trampoline. Some trampoline ladders are universal that suit any trampoline.
Material
Trampoline ladders should be made from durable materials that last longer without rusting. The good-quality support legs of the trampoline ladders are constructed from aluminum or steel, whereas steps should be made of plastic or similar sturdy materials.
However, you can make a DIY wooden trampoline ladder if you are comfortable with it.
Hook
The ladder of the trampoline should have hooks on the top to fix it with the trampoline frame. Sometimes there might be a latch with hooks for more secure fastening with the trampoline frame.
Weight Capacity
The weight limit of the trampoline ladder is also important. Be sure the ladder can hold the weight of the climber. So, before you purchase know this from the manufacturer or the dealer.
Size and Height
Another important thing is to consider the size and height of the trampoline ladder. The height should be more than the height of the trampoline frame from the ground.
For example, if the frame height is 2 feet, choose a ladder that is more than 3 ft long, so it makes a small slope and children can use it comfortably. Usually, trampoline ladders come in 40 inches and more in length.
Width of the Steps
Each step should be wide enough so kids don't slip and fall there. The good trampoline steps are more than 5 inches wide. And be sure the trampoline ladder has more than two steps so kids can get into the trampoline safely.
Price
How much is a trampoline ladder? The trampoline ladder is an affordable trampoline accessory. Usually, it's available between 30 to 50 bucks. But, if it comes with other kits like storage kits, side handles, etc, the price may extend a bit.
See Also: Trampoline's cost explained
Warranty
Generally, trampoline ladders come with 6 months to 12 months warranty. However, some premium quality trampoline ladders provide a 3 to 5 years warranty and even more.
Extra Features
Some trampoline ladders include small platforms on top of the ladders so kids can sit or take a short break there before entering the trampoline. Several models have built-in handles with ladders so kids have better balance while getting onto the trampoline.
You may also find shoe bags with trampoline ladders sometimes that is awesome to store your shoe or other stuff.
Different Types of Trampolines Ladder/Stair
There are different kinds of trampoline ladders. These may be classified as-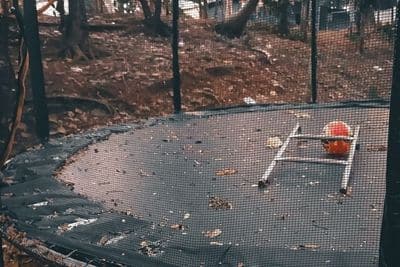 a) Trampoline Ladders Based on Adjustability
Some ladders are designed for specific models of trampolines, whereas another type fits any model. In this respect, trampoline ladders are named as-
Standard trampoline ladder – that fits some specific model
Universal trampoline ladder – that matches any trampoline, usually up to 4 inches frame ring diameter
b) Stepwise Ladder
Ladders of the trampoline can have 2, 3, or more steps or rungs. So, they can be categorized as-
2-step ladders
3-step ladders
See Also: Trampoline age recommendations
c) Trampoline Stair Based on Material
The ladder of the trampoline can also be categorized depending on the material. Some common trampoline ladders based on the material are-
Steel trampoline ladder
Aluminum trampoline ladder
Wooden trampoline ladder
Plastic trampoline ladder
d) DIY Trampoline Ladder
If you want to make a trampoline ladder at home without purchasing it, you can do it easily by following some simple tips.
Step 1: At first, collect the essential materials to make a DIY ladder for the trampoline. Some essential things are wooden plank, screws, drill, saw, hammer, etc.
Step 2: Now cut the wooden plank using a saw according to the required height of the ladder. Also, cut two or three small sections for steps.
Step 3: Then drill the legs and steps to nail pins or screws.
Step 4: After that, fix the steps with two vertical legs with screws using a hammer.
Step 5: So, the ladder or stair is now ready to use in the trampoline. Now attach it to the trampoline frame.
The following video shows how to make ladder for trampoline
See Also: DIY old trampoline hacks
How to Put a Ladder on Trampoline?
It's quite easy to attach a ladder to your trampoline. This includes-
Step 1: After buying or making the ladder, assemble it first. Trampoline ladder parts include two support metal legs, wide plastic steps (usually 2 or 3), plastic sockets, and bunk cotton.
In some models, legs may come in several parts. Sometimes there might be screws to join steps and ladder legs. Assemble these parts together to get the ladder.
Step 2: On the top side of the ladder, you will see hooks on both legs. Attach the hooks to the frame of the trampoline and keep the bottom of the ladder on the ground. So, the ladder is secured to the trampoline successfully. That's too easy, right?
The following video shows how to install a ladder on the trampoline.
See Also: Tools for trampoline assembly
People Also Ask
a) How to measure a trampoline ladder?
Ans: Measuring a trampoline is an easy task. Using a measuring tape measure its length and width.
See Also: Tips to measure trampoline frame, mat, net, pad
b) What is the right angle to install a trampoline ladder?
Trampoline ladders work best at a 70-to-75-degree angle like other ladders.
c) Should your trampoline ladder need to touch the ground?
Ans: Yes, the ladder should touch the ground when it's hooked to the trampoline. Otherwise, it'll swing during getting on, which will tend to be a safety hazard. So, make sure the ladder is long enough and touches the earth.
d) How often should you clean the trampoline ladder?
Ans: There is no hard rule about it. If you see dirt, mud, rain, or snow, clean it soon. On normal days, you can clean it at least once a month.
e) Is Springfree trampoline includes a ladder in its package?
Ans: No, Springfree trampoline doesn't come with a FlexrStep ladder. You have to purchase it separately.
Wrap Up
A trampoline ladder is an important accessory for any outdoor trampoline. Either you get it with your newly purchased trampoline or buy it separately. While choosing a ladder for your trampoline, consider its material, weight capacity, hook quality, etc, to get a perfect one.
Don't allow your kids to climb on the trampoline without a ladder. So, install a ladder on the trampoline and make getting on and off safer for your children.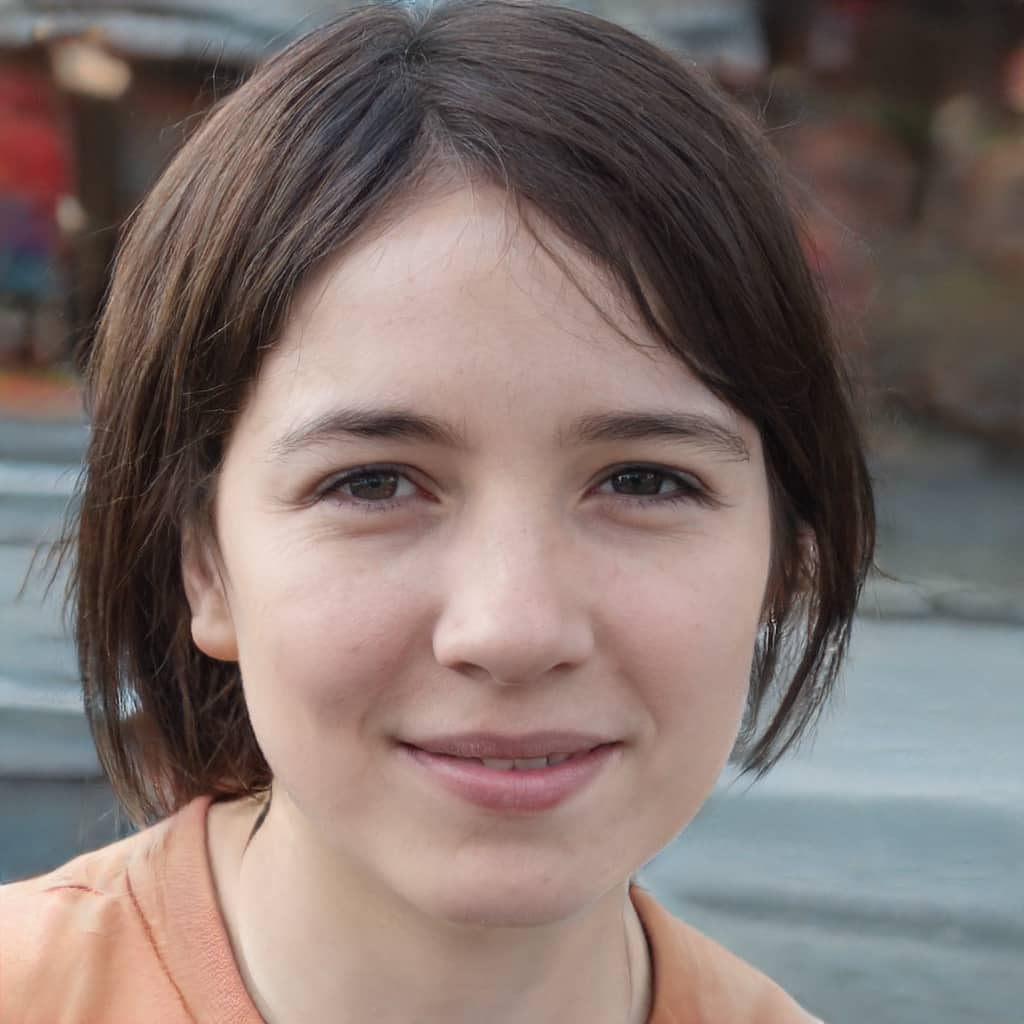 Rebecca is a fitness nerd and mother. She was inspired to get into the world of trampolining and rebounding by her husband Robert, who is a well-respected trainer and expert in the field. Now she instructs children, mothers, and teens the basic trampolining and rebounding tricks.
Rebecca is also a passionate blogger, sharing her knowledge and experiences with others in the hope of encouraging them to give trampolining and rebounding a try.