Outdoor trampolines are exposed to harsh weather. That's why the jumping bed, as well as the metal parts, could deteriorate soon. But if the trampoline is covered well by weather cover, it'll prevent such unforeseen decay.
When you're not using the trampoline, cover it with a protective cover, and it'll do the trick. Some trampoline packages include trampoline weather covers, but if there are not, you can purchase them separately. And if you want, you can also make it at home easily.
This blog will describe different uses of trampoline cover with some best-pick suggestions and DIY ideas.
Reasons for Using Trampoline Weather Cover
Trampoline protective cover is used for several reasons, such as-
Sun protection
Winter/snow cover
Rain cover
Protection against dust/bird poop/leaves
So, from the uses of weather cover, you may understand it's a year-round accessory for the trampoline. To protect your trampoline from harsh elements like sunrays, rain, snow, bird droppings, accumulated dirt, leaves, and many more, consider a quality all-weather trampoline cover.
If you use weather cover on the trampoline, it means you can keep the trampoline outside without any worry as it protects the trampoline from the most harmful elements of the environment.
See Also: Trampoline winter care tips
Things to Look for When Buying a Weather Cover for Trampoline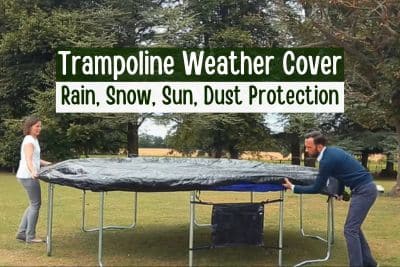 If you are interested to buy a trampoline cover for rain/snow/sun protection, you have to know first the important features of the trampoline weather cover. Let's talk about these.
Material
Polyethylene (PE), polypropylene (PP), and polyvinyl chloride (PVC) are some of the widely used materials in trampoline protective covers. However, PVC and PP have better weather protection compared to PE material.
Quality
While choosing a trampoline cover, make sure it's waterproof and UV-resistant. This will prevent rain, snow, and sunray, thus protecting your trampoline.
See Also: Trampoline care and maintenance tips
Water Drain Holes
Some top-notch trampoline weather covers have water drain holes that drain out the accumulated water super-fast.
Straps and Hooks
Usually, the trampoline cover has several straps or hooks to fasten the protective cover with the trampoline frame, legs, or v-rings of the mat. Make sure the straps and hooks are good in quality.
See Also: Trampoline wind protection tips
Trampoline Cover Suggestions for All-Weather Use
Now I offer you the 3 best trampoline weather cover replacements that you can use for any season of the year.
1. Skywalker Trampoline Weather Cover for Rain/Snow/Sun Protection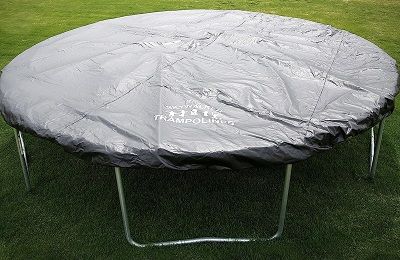 The first recommended trampoline weather cover is Skywalker Trampolines Cover. This is made from weatherproof and UV-resistant features vinyl-coated PVC material that lasts longer. You can use this cover for summer, winter, rain, and autumn seasons.
It incorporates a heavy-duty cord to fasten it with V-rings of the mat under the trampoline. Straps create tension in the whole trampoline cover. Thus, the piled rain or snow can't damage the trampoline.
This Skywalker trampolines weather cover is available in different sizes such as 12 ft, 15 ft, 17 ft, 8×14 ft, and 9×15 ft. The cover will be a handy accessory to secure your trampoline against inclement weather.
2. Exacme 10/12/14/15/16 Ft Round Trampoline Protective Cover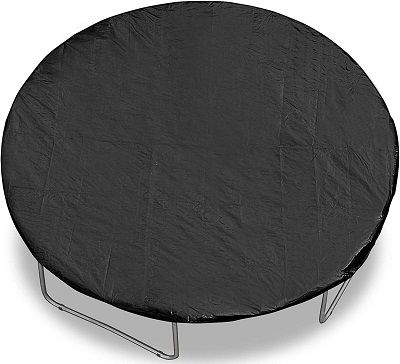 Our next pick is the Exacme Trampoline Cover. It's constructed from heavy-duty PE material that is waterproof, UV-resistant, and provides protection against any harmful elements throughout the year.
There are durable elastic straps with S-hooks to secure the protective cover with the trampoline mat's V-rings. The S-hooks make the installation superbly easy.
Exacme trampoline protection cover is available at 10, 12, 12, 15, and 16 ft round trampolines. And it provides 3 months limited warranty.
3. SIHAIAN Trampoline Cover for 8 to 15 Ft Trampoline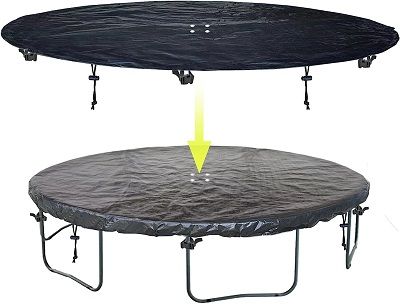 Another good-quality protective cover is SIHAIAN Trampoline Weather Cover. It's available for 8 to 15 ft trampolines, so you can get the right size as you require.
The polyethylene used here is waterproof and anti-UV that provides great protection against harsh weather. It uses strong elastic buckles and drawstrings to secure the cover with trampoline legs.
This trampoline weather cover has four drain holes that drain the piled water fast from the trampoline, which extends the trampoline's overall lifespan.
DIY Trampoline Weather Cover
You can easily make a trampoline cover using a polyethylene sheet. The steps are given below.
Step 1: Cut the polyethylene sheet according to your trampoline size using a scissor. When cutting the piece, be sure each side has at least 1 ft extra PE.
Step 2: Now attach several straps at the edges of the cutting sheet using a sewing machine.
So, the DIY trampoline cover is now ready. It's time to attach it to your trampoline.
See Also: DIY trampoline safety pad
How to Attach and Detach Trampoline Cover?
The attaching and detaching of the trampoline protective cover are easy tasks. Here are the basics.
To install a trampoline cover, position it on the trampoline bed rightly. Then, fasten the straps or hooks with the frame or hooks of the mat. You may need to detach the enclosure net and poles during attaching the cover.
If you want to disassemble the weather cover, just untie all the straps or hooks from the trampoline. That's easy.
The following video shows the trampoline protective cover installation process.
Takeaway
Trampoline weather cover protects the trampoline from inclement weather throughout the year, thus increasing the trampoline's lifespan. It's very affordable, but provides great protection for your trampoline.
Whether you need a trampoline cover for usual or in-ground trampolines, it's available. Be sure you pick the right size and quality one. Install a protective cover to protect your trampoline from the harsh elements of the environment.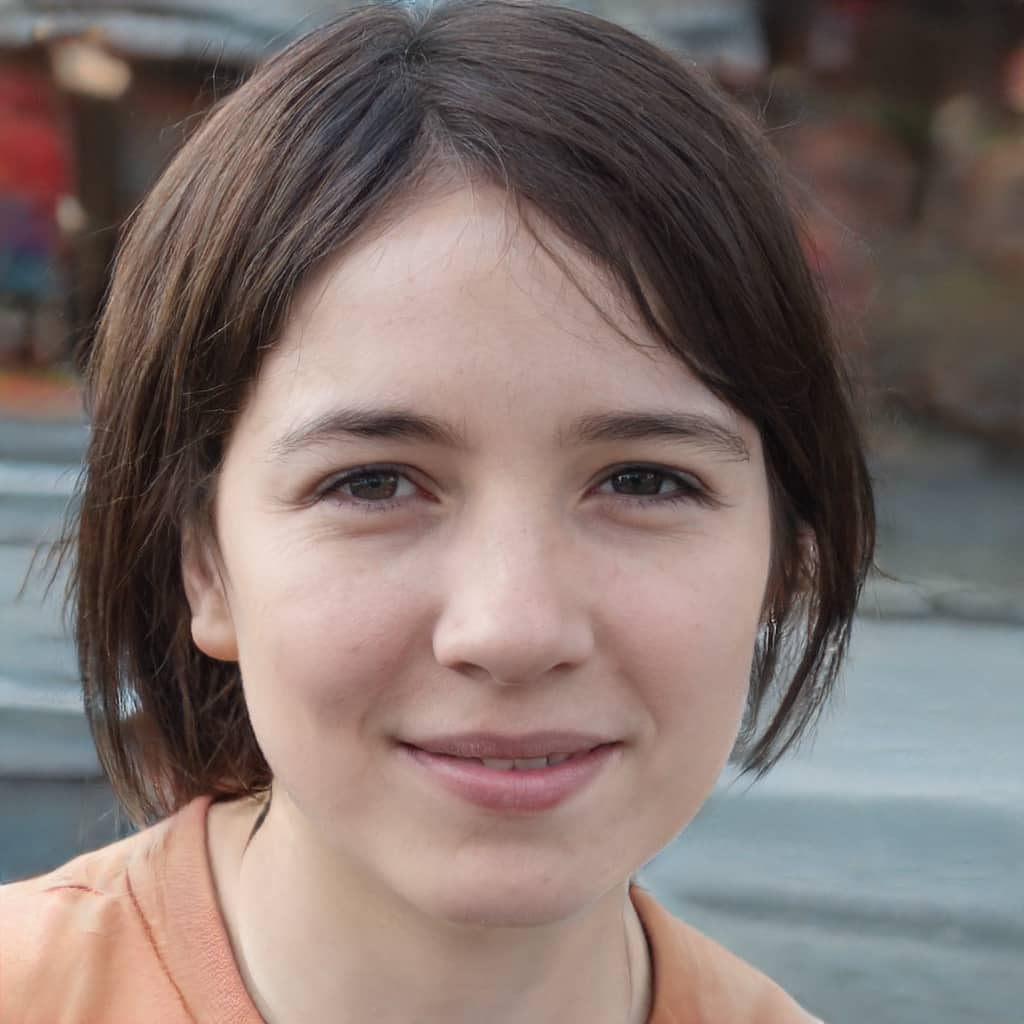 Rebecca is a fitness nerd and mother. She was inspired to get into the world of trampolining and rebounding by her husband Robert, who is a well-respected trainer and expert in the field. Now she instructs children, mothers, and teens the basic trampolining and rebounding tricks.
Rebecca is also a passionate blogger, sharing her knowledge and experiences with others in the hope of encouraging them to give trampolining and rebounding a try.