The frustration emerging from having spotted damage, no matter how small, in your trampoline mat is totally understandable. I receive tons of questions regarding trampoline mat hole fixings.
So, how to repair a trampoline mat? Well, different types of trampoline mat patching kits are available that you can use to fix the trampoline mat hole with glue, flex tape, sewing, and many more. All the methods are pocket-friendly, and anyone can do it easily.
This article will also give answers to many other questions like can I still use my trampoline if there is a hole in it, Is there any fix for trampoline mat damages, etc. Let's read on!
Different Kinds of Damages in Trampoline Mats
Before digging into the fixes, let us find out what type of damage are we exactly talking about. It is actually not unusual for trampoline mats to sustain holes or tears through years of use.
Let's discuss some of the most common types of trampoline mat damage.
1. Hole in the Middle
The first one, and the riskiest one, is a hole in the middle, no matter what size. If you continue jumping on a trampoline mat with even a small hole in the middle, chances are that the hole will widen in a jiffy, and you will fall through.
2. Holes Around the Edges
The second one is a hole around the mat edges. There are many reasons why your trampolines can get ripped around the edges, and the risk involved comes down to the size of the hole. Your trampoline can also get burn holes from cigarettes or nearby fires.
3. Unstitches the Mat Stitching
Stitches coming undone around the edges and fraying of the mat are other types of damage, which are common as the trampoline edges.
Causes of Trampoline Mats Ripping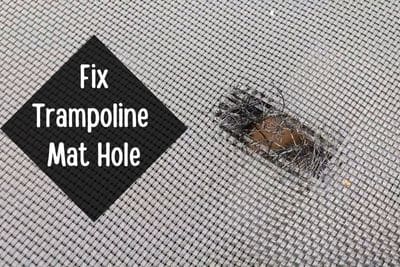 Trampoline mats are made of woven fibers or a fine mix of artificial fibers like polyethylene or nylon that are meant to ensure durability. Compromising for quality will, in fact, lower the longevity of your trampoline.
If you ask me, I would say you should pay heed to the quality of the trampoline, even if it costs you some extra pennies, and do not settle for anything having less than 5 years of warranty.
Despite all these, outdoor trampolines can be susceptible to damage for obvious reasons.
A. Exposure to Sun
Although most trampoline mats today come with a coating that provides some sort of protection from the heavy UV rays of the sun, continuous exposure to the sun can still cause damage.
If you notice a black dirt release from your trampoline mat, chances are that your trampoline has been damaged by the sun.
B. Excessive Heat
Along with fading and discoloring issues, excessive heat as such can also cause what we call drying out, which makes the mat brittle and, therefore, more prone to getting holes.
C. Exceeding the Weight Limit
Exceeding the weight limit constantly and having too many people jump on it at once is another reason for holes appearing in your trampoline mat, especially towards the edges.
D. Jumping with Missing Spring
Also, when you have missing spring(s), the tension created around the area can weaken the mat, eventually increasing the chances of getting ripped. 
E. Sharp Objects
Apart from that, your mat can also sustain tears, having come in contact with sharp objects. Jumping on the mat with boots or heels on or carrying edgy objects like keys, Swiss army knives, scissors, etc. in your pockets and having hit the mat with those can also create holes in your trampoline mats.  
See Also: Why should you avoid placing trampolines on concrete?
F. Cigarettes Burns
Your trampoline mat can also get small holes from burns from saying cigarettes or fireworks. Although burn-induced holes are not necessarily viewed as too dangerous, over time, they can tear as the area weakens.
How to Tell That My Mat Needs Repairing?
I am often asked, 'Can you jump on a trampoline with small a small hole?' And I question back; well how small a hole are we talking about?
Normally, for rips that are very small (less than 0.2 inches), your mat does not require repairing, and you can still jump on it. Although it is always advised to look out for the size of the hole, if it starts getting bigger, it should be fixed.
The unspoken rule is that if the size of the hole exceeds 0.2 inches, the mat definitely needs to be repaired right away before you pop right in and hurt yourself.
But when the hole of the mat is too big, like 4 inches, it's recommended to replace the trampoline mat soon.
How to Fix Trampoline Mat Hole?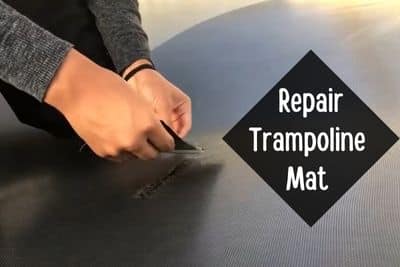 If you ask me when it comes to repairing your jumping mat, you should probably leave it to the professionals, after all, you do not want to leave any loopholes (literally!) that might cause injuries later, right?
However, that being said, there are actually some ways you can mend your trampoline mat by yourself, which are both easy and on the more pocket-friendly side.
A trampoline mat repair kit might come in handy in repairing holes conveniently. These kits typically contain all the materials and tools needed to patch up the holes and a set of instructions to help you with the process.
1. Patch with Glue
For smaller rips and holes in your mat, I am talking less than 1.5"; you can opt for adhesives. You will find repair kits containing all the necessary tools, like sturdy trampoline material patches and trampoline repair glue.
How to Patch a Trampoline by Glue?
The process is fairly simple. To begin with, you need to clean the surface around and below the hole properly with isopropyl alcohol. This ensures that grease and dirt are kept away, which might otherwise mess with the effectiveness of the adhesive.
Next, you will be required to cut out a patch (make sure the patch is larger than the size of the hole) and place it below the hole. After that, you will pour the glue on top, allowing the match underneath to absorb it. And then, you leave it to dry out for around 12 hours.
Video: How to seal a hole in a trampoline with Stormsure
Read Also: How to get rid of trampoline squeaking problem?
2. Use Flex Tapes
For relatively larger holes (say 1.5 to 2 inches), you can opt for flex tapes. So, what is flex tape again?
These are ultra-strong UV-resistant adhesives that are known to be totally temperature and waterproof. They usually adjust to any type of surface and shape, making them suitable for trampolines.
This method involves sticking the flex tape below and above the rip in your mat to keep it from tearing further. The process is simple too.
How to Use Flex Tape to Repair Hole in Trampoline Mat?
All you need to do is clean the surface below and around the hole with alcohol, cut the flex tape at least 2 inches wider than the size of the hole, and finally, stick the tape on top and under the hole.
Video: How to repair a trampoline mat with flex tape
3. Sewing Technique
Now let's talk about bigger trampoline holes – bigger than 2 inches. Do not worry, these can still be repaired, but you might need to pour in just a little more effort. In fact, I recommend two pairs of hands for this method.
How to Fix Trampoline Mat Hole by Sewing?
The technique involves sewing patches with UV-resistant threads and industrial-grade needles strong enough to pierce through the mat. You will begin by cutting the patch in preferably a circular shape that is at least 2 inches wider than the hole size and place it on top of the tear.
Next, you will run a lighter across the edge to prevent further fraying and to keep the patch well in position. Next, two people will position themselves below the trampoline and on top and then run the needle with the thread up and down in either cross-stitch or whip-stitch patterns.
At times pulling the needle through might be tough, provided the thickness of the mat, and in this case, you might want to use pliers.
Personally, I like sewing the best because it allows you to repair tears up to 4 inches wide and is also highly durable. And also, let's face it, this is the quickest method.  
Read Also: Trampoline mat attaching and detaching guidelines
4. Seal the Mat with Cloth
If you need a temporary mat patching kit, then you can use a good-quality cloth to patch the ripped spot.
Firstly, clean the hole and its surrounding. Then add some adhesive available nearby shop. After that, place the fabric cloth there.
5. Hire Professionals
When the trampoline mat hole is too large, and you are unable to patch it correctly, don't be late; hire professionals to patch the hole perfectly.
The average cost to patch a trampoline mat might be several types-
Hole patch ($20 to $35)
Basic resew ($50 to $70)
Full rebuild ($80 to $100)
But if the mat is damaged severely, it's wise to purchase a new trampoline mat instead of repairing it.
Best Trampoline Mat Repair Patch Kit Suggestions
Here I'll review several of the top-performing patching kits so you can DIY trampoline mat repair. Let's find the most suitable option.
1. GEAR AID Tenacious Trampoline Repair Tape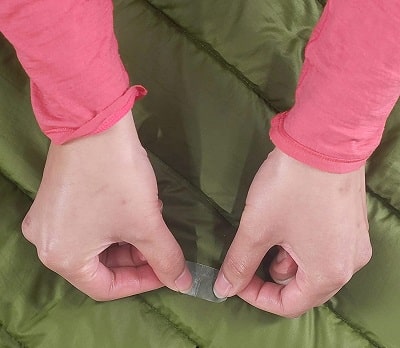 My personal favorite is the GEAR AID Tenacious Tape Fabric and Vinyl Repair Tape. The pack contains 3 inches by 20 inches strips of tenacious seal tape. The tape is of peel-and-stick style, meaning you can mend your mat mess-free.
In fact, you can use the tape on tents, bags, jackets, vinyl furniture, and other synthetic materials like nylon, mesh, rubber, and even plastic. Moreover, not only is the tape waterproof, but it is also washable.
Tapes are available in various materials. You have options between nylon (available in black, red, yellow, OD green, and coyote colors), ripstop or woven fabric (available in sage green and off-white colors), and clear vinyl for finesse.
Pros:
Hassle-free application
No heat or sewing required
Multi-purpose usage
Available in different colors and fabrics
Washable
Cons:
Patch needs a long time to stick
2. Stormsure Trampoline Patching Kit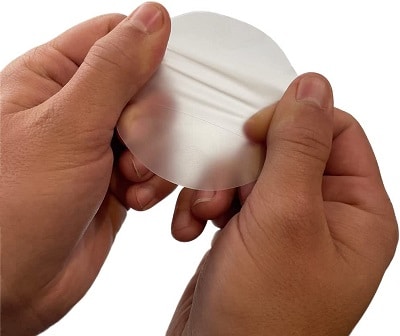 Stormsure Trampoline Repair Patch Kit is another good option to fix the trampoline mat hole. It contains a 15-gram tube of powerful glue, two 75 mm wide tuff tape patches, and protective gloves. 
The weather and waterproof, strong adhesive is exactly what the brand claims – flexible! You can use it to repair anything and everything. If you got leaks in your floaties, cracks in toys, or rips in your tent or mat, the glue will patch them.
To further strengthen the mat, you can place the tuff tape underneath the hole and apply the glue on top and around it. Tuff tapes are known for being highly resistant to abrasion, and it is almost impossible to tear through them.
Pros:
The adhesive is flexible and strong
Easy to apply
Cons:
The patches are small
Quantity is less
3. Bear Claw Trampoline Mat Repair Kit
You can also try the Bear Claw Trampoline Mat Repair Kit. This kit comes with a large 8" by 8" industrial-grade patch that you can use to cut multiple patches. You will also find a 2-ounce bottle of formula and glue. Plus, they also provide you with a brush for ease of application.
The best thing about the kit is undoubtedly the glue. The black marine waterproof glue is strong enough to hold the patch in place so that you can continue to jump on your trampoline.
The kit contains detailed step-by-step instructions with the kit, so even if you are a rookie, you can easily get a hold of the process.
Pros:
Easy to use
Clear directions
Works for even slightly larger holes (up to 4 inches)
Cons:
Patch needs a long time to stick
Some Tips to Avoid Trampoline Mat Hole
Having said that, proper maintenance will make your trampoline mat usable for slightly longer periods. It is advisable to place your trampoline in a shady place, for instance. That way, it can stay protected from the sun.
Also, clean off the dirt from your trampoline at least on a monthly basis. At times, the acid from bird poop and dead bugs and insects can weaken your mat. You can use mild detergents and water to keep the trampoline clean.
You should also avoid jumping on your trampoline with shoes and jewelry, and last but definitely not least, you can use trampoline covers to protect the trampoline mat.
Frequently Asked Questions
1. How to fix a burn hole in a trampoline?
Ans: Usually, the burn hole is small enough, so you can use flex tape in this case. So,
2. How to fix a hole in a water trampoline?
Ans: To repair a hole in a water trampoline, I would highly recommend the trampoline patching glue like the Bear Claw trampoline patching kit.
3. How to repair a small hole in a trampoline?
Ans: You can use either glue or flex tape to fix a small mat hole in the trampoline.
Last Words
Trampoline mat repair extends safety and saves replacing costs. I always encourage fixing the trampoline mat hole before it grows too large.
So, how to repair a trampoline mat? There are several ways to do it. Which method is most effective for you depends on the type of wear and tear of the mat and your personal preferences.
But don't delay fixing the trampoline hole, as this might be a safety issue. So, patch the trampoline mat and enjoy safe bouncing.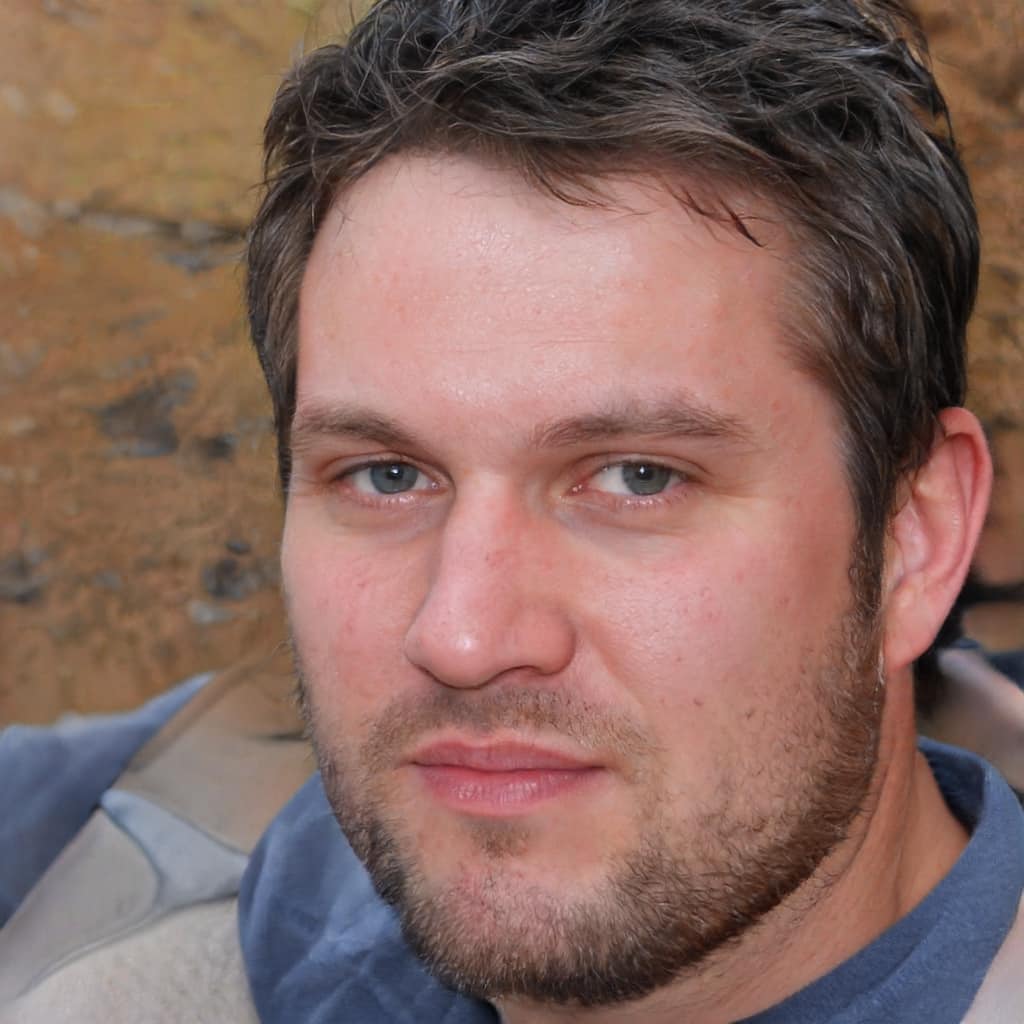 Robert is a trampoline and rebounder trainer with a passion for blogging. He discovered his love for trampolining at a young age, when his father gifted him his first trampoline at the age of 9. Over the years, Robert has honed his skills and knowledge in the field, and now uses his expertise to train others.
Besides, helping fitness enthusiasts in the gym, Robert is very eager to share his knowledge and experience regarding trampolines and rebounder exercises with the readers of picktrampoline.com. He will share all you need to know about trampolines and rebounders in this blog. Get his tips on trampoline and rebounder!