Trampoline is a popular jumping equipment where everyone can exercise and have fun. When the time comes to buy a trampoline, there are several facts that you should keep in mind to get the best trampoline.
So, how to buy a trampoline? Trampoline size, shape, weight limit, price, brand, safety, and who will jump are some of the important trampoline buying factors. And there are a few more major or minor considerations to shopping for the right trampoline. You should look at these factors to purchase the right one for you and your family.
This article will take you through all the possible hacks to purchase the best options for you. Let's read the trampoline buying guidelines!
What to Look for When Buying a Trampoline?
To get the most effective benefits from the trampoline, you should have the right trampoline. So, what things to consider when buying a trampoline? Below I'll explain all the important considerations.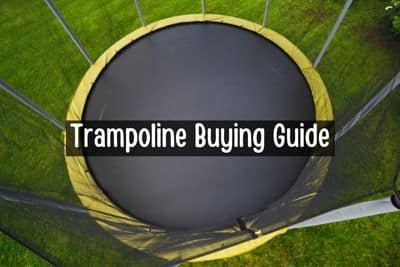 1. Purpose of Getting a Trampoline
Prior to hopping on purchasing the trampoline consider first why you need the trampoline. If want to get it for fun choose the round or oval trampoline. You can also get the in-ground trampoline for that.
For higher bouncing and doing trampoline tricks, large rectangle outdoor trampolines will suit you best. But if you need a trampoline for year-round fitness, get the rebounders or small trampolines.
2. Who Will Use It?
The trampoline should be chosen according to who will jump there. For example, kids' trampolines should be small in size compared to adults' trampolines.
Adults and family-size trampolines usually come in better quality and strength compared to children's trampolines. You should consider that.
See Also: Trampoline for autism
3. Available Space
You may want to buy a large trampoline, but the available backyard space mightn't allow that. So, consider how much space do you have in the garden and then pick your trampoline accordingly. The same rule applies to indoor models too.
And it's important to consider the clearance space of the yard. If you want to use an enclosure net in the trampoline, you should keep a minimum of 1.5 ft clearance on all sides of the trampoline but a trampoline without safety nets requires an 8.2 ft clearance.
See Also: Best time of the year to buy a trampoline
4. Size
Trampoline size is one of the most vital considerations when buying a trampoline. Usually, 5 to 10 ft outdoor trampolines are ideal for children, whereas 10 to 14 ft tramps are good for teenagers and 14 ft and larger models are ideal for adults.
Indoor trampolines and rebounders usually come in 3 to 5 ft. So, choose one that suits your indoor space.
5. Shape
The trampoline comes in different shapes like round, rectangle, square, oval, hexagon, octagon, etc. Each trampoline shape has its own pros and cons.
Round trampolines provide center-focused bounce, but rectangular trampolines give even bounce throughout the trampoline surface. Other trampolines act between them. If you are concerned about safety, round trampolines will be the best option.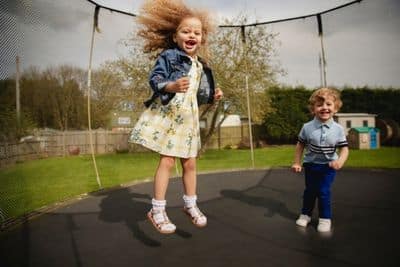 6. Type
Trampolines are available in versatile types. For safety concerns, people, in-ground and, Springfree trampolines will be the perfect choice. If you want to avoid spring squeak and injury, get the bungee trampoline instead of the spring one.
If you have a dedicated backyard, choose the outdoor trampoline otherwise get the indoor trampoline for home use. For joint-friendly exercise, choose bungee rebounders.
7. Weight Limit
Weight capacity is an important thing to consider during a trampoline purchase. How many people will be using it at a time? So, according to their total weight choose the trampoline.
For instance, if the weight of the jumper is 250 pounds, you should buy a trampoline with more than 250 pounds for safety purposes. Exceeding the weight limit could damage the trampoline frame, mat, spring, and other parts.
Adults trampoline should be more than 200 lbs weight limit, whereas kids trampolines should have a minimum of 100 lbs weight carrying capacity.
8. Quality and Durability
The quality of the trampoline is one of the most important facts to buy a trampoline. A good trampoline comes with an anti-UV coating that can fight against sunrays and harsh weather.
The frame, springs, and other metal parts should have galvanized coating. Heavy-gauged metal ensures their quality and durability.
Trampoline mat, spring pads, and nets should be made from quality materials like PVC, polyethylene, etc. These materials will last longer and make your jumping session safer.
9. Brand
Do you have any trampoline brand fascination? If yes, then you can make the purchase from these. However, I have some good trampoline brands recommendation for you.
If you need a budget-friendly brand, go with the Skywalker, SereneLife, and Merax trampolines. For safety concerned people, Springfree and in-ground trampolines will be okay. Acon, Vuly, ORCC, and Zupapa trampolines are some of the prominent brands famous for their quality.
Little Tikes, Skywalker, and JumpKing have some safe trampolines for kids. For fitness enthusiasts, JumpSport, Leaps and Rebound, Bellicon, BCAN, Stamina, etc are some of the reliable rebounder brands.
See Also: Skywalker or Propel trampoline
10. Available Replacement Parts
It's important to be sure the replacement parts of your chosen model trampoline are available. If they aren't, you can't replace the faulty or damaged parts. But now most trampolines provide replacement parts like springs, mat, net, etc so you can change the faulty parts when necessary.
11. Price and Budget
Trampolines come in different price tags from $50 to $5000 and even more. For example, sunken trampolines are very expensive. Typically, the price of trampolines rises with quality. But there are exceptions. Sometimes, you may find some poor-quality products with a hefty price.
Most of the buyers have a tight budget when they purchase any product. This is true for trampolines too. So, I recommend you balance your budget and the trampoline price. Keep in mind, by researching the products, you can get top-quality trampoline at a low cost.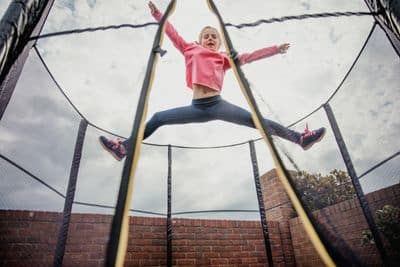 12. Warranty
Different trampolines come with a dissimilar warranty period. Some of them come with a lifetime warranty. While others may come with 10 years, 5 years, 2 years warranty for the frame.
Usually, good quality trampolines provide a better warranty. But a higher warranty doesn't always ensure better quality. So, you have to research here too for a better trampoline.
13. Tools and Accessories
The trampoline package includes different types of tools accessories. If you need any specific accessory, purchase the trampoline according to this. Trampoline assembly and disassembly tools include spring loading tools, screwdrivers, Allen wrenches, hand gloves, etc.
Some of the common trampoline accessories are the ladder, spring puller, enclosure net, wind stakes, weather cover, basketball hoop, etc. You can also buy extra fun trampoline accessories like trampoline tents, lights, sprinklers, etc for more fun.
14. Assembly and Disassembly Time
Not all trampolines require the same time to install and take them apart. If you want to put together and dismantle the trampoline by yourself, you may be concerned about this time. So, ask the manufacturer or the retailer about the time and purchase accordingly.
15. Dangers and Safety
I never claim that a trampoline is completely safe. There are some risks involved. So, while buying the trampoline, try to purchase the items that will add safety to your trampoline like an enclosure net, spring pad, wind stakes, etc.
It's also important to teach your kids the basic trampoline safety lessons so they can follow these and enjoy safe jumping. You can also include your trampoline in your insurance policy so that you get compensation, if any injuries occur on the trampoline.
The following video explains some of the key points on what to look for when buying a trampoline.
People Also Ask
a) How to understand your old trampoline need to be replaced?
Ans: Nothing lasts forever and honestly, at times, you just need to get a new trampoline because they are damaged to the extent that using them can cause injuries. And when it is our children who are going to use it, we are just a little more cautious.
So, how to know if your trampoline is severely damaged? A frayed mat, stitching around the edges of your trampoline coming undone, multiple holes in your mat, a big hole in the middle of the trampoline, springs damaged, a frame bent, etc might indicate that it is time to get a new trampoline.
b) Are old or conditioned trampolines available?
Ans: Yes, it's available. Craigslist is a good platform for that. But if the trampoline is too much old, it's better to reuse it rather than resell it.
Wrap Up
Choosing a trampoline isn't very difficult, but you should consider the aforementioned things to get the best trampoline. Some important things are trampoline size, weight limit, shape, type, quality, etc.
Hopefully, you now know the ins and out on how to buy a trampoline. So, it's your time to get the right one for you. Also share this article with your friends so they can pick the best model easily.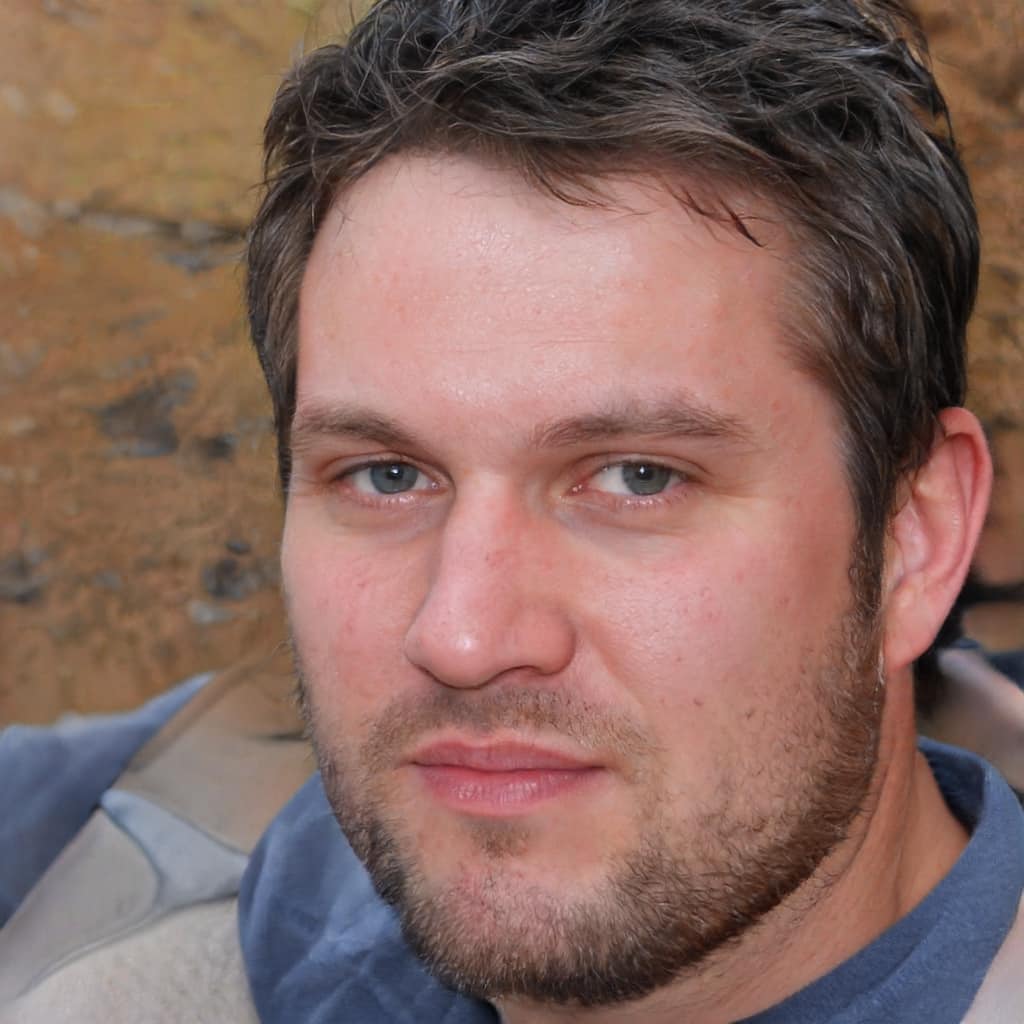 Robert is a trampoline and rebounder trainer with a passion for blogging. He discovered his love for trampolining at a young age, when his father gifted him his first trampoline at the age of 9. Over the years, Robert has honed his skills and knowledge in the field, and now uses his expertise to train others.
Besides, helping fitness enthusiasts in the gym, Robert is very eager to share his knowledge and experience regarding trampolines and rebounder exercises with the readers of picktrampoline.com. He will share all you need to know about trampolines and rebounders in this blog. Get his tips on trampoline and rebounder!