Heavy-duty trampoline is a term that refers to sturdier, higher-weight capacity, and bouncier trampolines compared to standard ones. Usually, these models are stronger and more long-lasting than regular trampolines. They are the ideal choice for gymnasts, heavy adults, and several children.
So, what are the best high-weight limit trampolines for adults in the market? The heavy-duty trampolines come with hefty weight capacities like 350, 375, 400, 450, 500, 800, and 1000 lbs weight limits. Some of the heavyweight capacity trampoline brands are Zupapa, Acon, Happy Trampolines, Upper Bounce, Exacme, JumpSport, Merax, etc.
To find out the perfect one from there is quite challenging. But, we make it easier for you as we've picked the 7 best ones for you today. Let's read this article to get the most suitable high-weight limit trampoline for you!
Top 7 Best Heavy-Duty Trampolines Suggestions
If you trust me, you can choose Jumpsport 10×17 Ft Trampoline without any Hesitation!
1. Zupapa 425 Lbs Weight Capacity Heavy Duty Trampoline With Enclosure Net
Specs:
Weight limit: 425 pounds
Available sizes: 8 to 16 ft
Springs: 108, 7 inches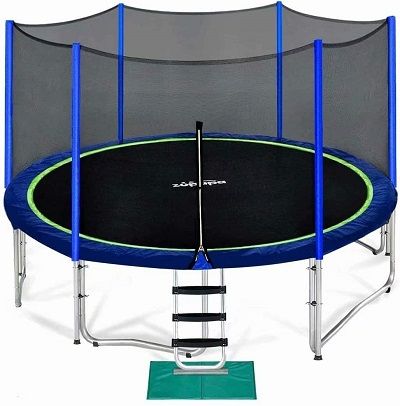 Our first pick of the heavy-duty trampoline is the 15 Ft Zupapa Trampoline. The weight capacity of the trampoline is 425 pounds. The reason we put this trampoline in the first position is its safety features, versatile accessories, and great performance.
Zupapa 425 lbs weight limit trampoline uses the best materials for superb durability. For instance, the frame and legs have thicker steel which made them superior to the usual trampolines. And 6W legs provide maximum base stability while jumping.
Besides this, the steel is Hot-Dip galvanized, which is superior (almost 5 times) to galvanized steel, so you get better weather protection from the metal parts. Thus, the trampoline fights well against rust and corrosion well.
The UV-resistant polypropylene mat and 7 inches long spring (total 108) are great for generating a higher bounce than you expect. Also, poles touch the ground, which adds further firmness. And the trampoline is a self-locking structure that allows locking without screws.
The high-weight-capacity trampoline comes with the highest safety features. The springs are covered by the spring pad. Moreover, the mat and safety cover is sewn together, which eliminates safety hazards to great content.
Zupapa trampoline comes with versatile accessories like a non-slip ladder, spring pad, safety net, rain cover, wind stakes, etc. Thus you don't need to buy anything extra. And the trampoline is ready to install.
The warranty on this trampoline is also unbeatable. Its frame provides ten years warranty, whereas the mat, springs, safety pad, and net cover two years warranty with free replacement.
If you need more sizes, don't worry, it's available from 8 to 16 ft. The upgraded model has more features for you. So,this safe and affordable heavyweight capacity trampoline will be a great pick for adults or multiple kids.
Pros:
Hot-Dip galvanization ensures a superior structure
Mat and spring pad are sewn together for safety
Comes with versatile accessories
Outstanding warranty
Cons:
Net attaching is quite time-consuming
2. ORCC 450 Lbs Weight Capacity Heavy Duty Outdoor Trampoline with Versatile Accessories
Specs:
Weight limit: 450 lbs
Available sizes: 8 to 16 ft
Springs: 108, 7 inch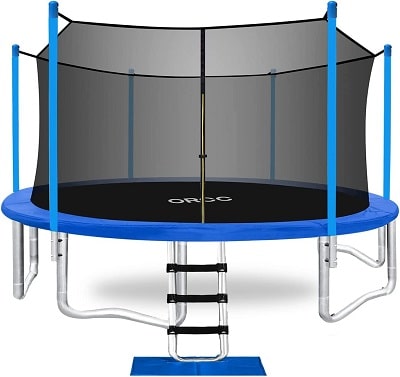 Getting a high load-carrying capacity trampoline is itself a matter of relief, but if the trampoline package includes numerous accessories, it's really pleasing. ORCC 15 Ft Trampoline is such a mighty trampoline.
The trampoline can bear 450 lbs of jumpers' weight; that's impressive. Considering safety and space, it introduces two models of the trampoline, 'In Net' and 'Out Net', respectively.
Frame of the trampoline uses latest technology hot-dip galvanization that makes it very strong and long-lasting. The tubes are 43 mm x 1.5 mm, that means it's very durable.
To ensure highest bouncing, it uses 108 pieces 7 inch long spring. The mat is made from polypropylene, whereas spring pad uses thick PE and PVC foam pad.
Most vital trampoline accessories are added to the trampoline package like rain cover, wind stakes, ladder, etc. So, I highly recommend this powerful trampoline.
Pros:
Versatile accessories included
Two options net inside or outside the springs
Budget-friendly options
Meets safety standards
Cons:
Spring cover should be improved
3. Upper Bounce 500 lbs Weight Limit Trampoline For Adults
Specs:
Weight capacity: 500 pounds
Size: 10×17 ft
Springs: 108, 7 inches
Color options: Blue/black, beige/black, blue/yellow, black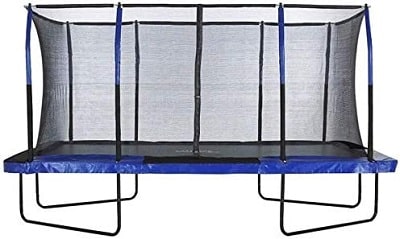 Runners up, 10×17 Ft Upper Bounce Rectangle Trampoline is a gymnastics trampoline for the high bouncing experience. It can hold up to 500 lbs single jumper's weight.
The frame of this trampoline uses heavy-gauged steel which makes it sturdy and durable. Five U-legs extend the trampoline's stability and prevent wobbling during jumping.
Long galvanized 108 springs and premium-quality polypropylene mat give jumpers maximum bouncing experience. For safety, the long enclosure is installed here that is supported by ten curved poles.
Moreover, the mat and net are stitched together to eliminate pinching hazards. The enclosure net is inside the springs, which also extends trampoline safety to a great extent. Spring pads also add further safety by covering the springs.
The net of the trampoline is very much stable due to curved poles and TopFlex rails. Dual closure in the safety net is also a bonus thing to love.
The trampoline meets the ASTM safety standard, thus you won't be worried about safety. For gymnasts and adults who need vigorous workouts, this trampoline will be a perfect solution.
Pros:
Heavy-gauged steel for superb firmness
Net is inside the spring for better safety
Maximum bounce is ensured
ASTM certified trampoline
Cons:
4. Acon Air 4.6 With 800 Lbs Weight Capacity Trampoline With Premium Enclosure
Specs:
Weight capacity: 800 pounds
Springs: 110, 8.5 inch
Net: Polyethylene
Number of legs: 4
Color: Green and black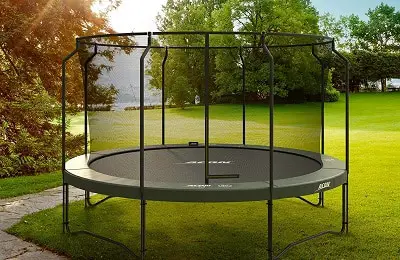 If you need a premium quality trampoline with high weight capacity, then we highly recommend the 15 Ft Acon Air 4.6 Trampoline. The trampoline eliminates single jumper weight restriction, and its maximum weight limit is 800 lbs which is one of the biggest weight capacity trampolines on the market.
The frame is built from galvanized steel which makes this rustproof and durable. The frame pipe is 2 inches in diameter, ensuring its sturdiness. Thus, this turns into a no-weight capacity trampoline.
Acon Air 800 lbs weight limit trampoline uses 110 springs of 8.5 inches each. And each spring has 15.5 lbs pre-load force. Thus, they provide great tension, hence bouncing. Besides this, the ten cross-sewn, UV-resistant polypropylene mat ensures maximum jumper bounce.
For safety, the trampoline includes a long enclosure and a thick safety pad. The springs are outside the safety net, that's a great safety for jumpers. And it meets ASTM and CE safety standards.
Another outstanding feature of this trampoline is that you can use it as an in-ground trampoline due to its heavy-duty structure. So, don't miss this high-bouncing trampoline.
Pros:
Weight capacity is a boom
Maximum structural resilient
Can be used as a sunken trampoline
Bouncy jumping platform
Cons:
No ladder included
Net put on and off is tricky
5. Exacme 400 Lbs Weight Limit Trampoline With Enclosure, Basketball Hoop
Specs:
Weight limit: 400 pounds
Size: 15 ft
Mat diameter: 13.5 ft
Springs: 108, 7 inches
Color options: Blue with yellow hoop
Up next, Exacme 15 Ft Heavy Duty Trampoline with 400 lbs weight capacity. This could be a good outdoor model for the whole family.
The alloy steel frame provides maximum structural superiority and a longer lifespan. Frame has fixed metal T-joint instead of welded T-joints that making them sturdier. Six W-legs also stable the trampoline.
A polypropylene mat and 108 pieces of long springs are great for high bounce. Also, a thick spring pad adds safety from spring and frame bumps. Besides this, the long polyethylene net will protect jumpers from falling injuries.
The enclosure of the trampoline is secured by 12 carbon fiber rails. Thus, the net doesn't sag during the wind. There is also a rectangular backboard basketball hoop for additional fun. The trampoline package also includes an easy climbing ladder.
In addition to these, the trampoline includes a handsome warranty of 3 years for the frame and one year for other parts. So, if you need an affordable and high-weight capacity trampoline that allows both kids and adults, Exacme 400 lbs outdoor trampoline will be the right pick.
Pros:
Durable and upgraded frame
Top rail for better enclosure support
Additional basketball hoop
Cons:
6. Galactic Xtreme Commercial Grade 550 Lbs Heavy Weight Capacity Trampoline
Specs:
Weight rating: 550 pounds
Size: 10×17 ft
Mat material: Permatron
Frame tube thickness: 3 mm
Number of springs: 124, 9 inches
Color: Green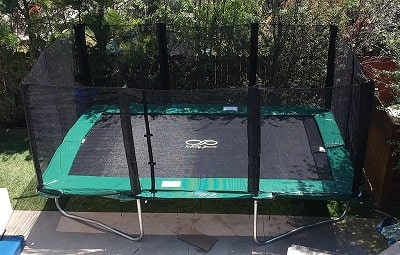 Have you been looking for a professional-grade trampoline with a heavyweight limit? Well, 10×17 Ft Galactic Xtreme Rectangular Happy Trampoline will be your best choice.
The trampoline uses premium quality materials that make it heavy-duty. The single jumper's weight capacity of the trampoline is 550 lbs, and its structural load capacity is more than 1500 lbs.
Happy Trampoline uses 3 mm double-dipped galvanized steel tubes whereas usual trampolines have galvanized steel that makes it very much stronger and more durable compared to other models. Four sturdy legs also extend base stability.
There are 9 inches long 124 springs that ensure higher bounce. The premium-quality Permatron polypropylene mat has ten rows of stitching, thus making it super bouncy as well as long-lasting. Furthermore, the thick pad protects jumpers from spring and frame impact.
To prevent falling on the ground, there is also a high enclosure. You can also use this trampoline as a buried trampoline. This commercial-grade, highest-weight limit trampoline comes with all other tools and accessories like a ladder, spring pull tool, safety pad, etc.
The product meets the safety standards of ASTM, GS, TUV, CE, and EN71. Thanks, Galactic Xtreme trampoline for the lifetime warranty. So, buy this and enjoy lifelong trampoline exercise and fun.
Pros:
Most durable and best load-carrying trampoline
Premium quality materials used
Certified by TUV, GS, ASTM, CE, EN 71
Allow us as a sunken model
Lifetime warranty
Cons:
This double bounce trampoline allows more than 800 lbs weight limit; that's impressive.
Things to Consider When Buying the Best Heavy-Weight Capacity Trampolines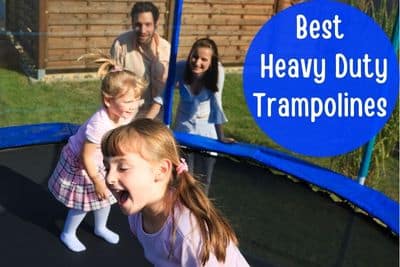 High Weight Limit
First of all, heavy-duty trampolines for adults should have a high weight capacity. However, know the weight limit of the trampoline before you purchase it. The highest weight limit of a trampoline is defined by the maximum load capacity of its frame, spring, and mat.
That being said, while choosing a high-weight capacity trampoline, be sure it can withstand more weight than the heaviest person who's going to jump there.
The best trampolines for adults with high weight limits come with hefty weight capacities like 350, 375, 400, 425, 450, 500, 550, 600, 800, and 1000 lbs. So, consider the weight of the jumper and choose your trampoline accordingly. The same rule applies when you are picking a rebounder for heavy adults.
See More: What to look for when buying a trampoline?
Massive Jumping Space
Whenever you plan to buy a heavyweight limit trampoline, it's obvious that you're going to get a trampoline with plenty of jump space. Usually, the large-size trampolines will support a hefty weight than the small trampolines.
Jumping space is also related to the trampoline's shape. The rectangular trampolines are the best heavy-duty trampolines for gymnasts. They provide maximum bounce as well as allow to set them in narrow spaces. But they are expensive.
Round trampolines are a good choice for their affordability. If it's large enough, you can also choose it for safe bounce as round trampolines provide center-focused bounce hence keeping jumpers away from frame and spring.
Read Also: Double bounce trampoline
Heavy Duty Construction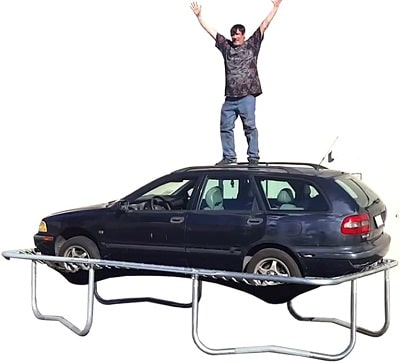 The biggest-weight-capacity trampolines use top-quality materials to build a structure that is very strong, durable, and capable of carrying a heavy load. The frame and legs of the high-weight limit adults' trampolines have heavy gauged steel like 14, 16 gauge, or superior quality.
Galvanized steel frame and leg tubes make them strong and long-lasting. Thus, they can survive well outdoors against sun, rain, and other harsh weather.
Mat of the high-weight capacity trampolines is made from polypropylene or Permatron for high bounce as well as capable of handling the hefty weight of the jumpers. Besides, high-quality trampoline mats should have heavy stitching at least six times. It's wise to choose a waterproof and UV-resistant mat.
Springs are another important part of making trampoline heavy-performing. Consider long as well as plenty of springs to get high-bounce from the trampoline. Springs must be galvanized to protect them against harsh weather.
See Also: How much do trampolines weigh?
Accessories
Some high-weight limit trampolines come with versatile accessories like a ladder for easy climbing, rain cover to protect the trampoline from harsh weather, wind stakes to secure the trampoline in heavy winds, etc.
You can also add fun trampoline accessories like sprinklers, a tent, a slide, and many more to extend the trampoline's jumping fun a lot.
Safety Features
As heavy load carrying trampolines generate high bounce thus there is a risk if you fall directly on the frame and spring or on the ground. Thus, the spring pad and enclosure net provide you with safety to avoid such a scenario.
So, we highly recommend you attach a safety net and pad with trampolines. If there is no enclosure or frame pad with a trampoline, buy them separately and add them soon for safe bouncing.
Price and Warranty
Trampolines price largely depends on their quality, shape, size, and a few more things. Some trampolines with heavy-weight capacity come with a lifetime warranty others have a limited warranty.
Usually, the highest warranty trampolines are pricier than the limited warranty tramps. However, balance trampolines quality with price and choose the best one that fits you well.
Frequently Asked Questions
1. What is the highest-weight capacity trampoline in the world?
Ans: Too much weight capacity is unnecessary in most cases. Trampolines with a 500 lbs load-carrying capacity are quite okay for heavy adults and gymnasts. But, some top-quality trampolines are available at 800 to 1000 lbs weight capacity.
2. What is the weight limit of the Vikan Goliath16x24 ft trampoline?
Ans: 16×24 ft Vikan Goliath octagonal trampoline is the biggest trampoline in the world, and its single jumper's load-bearing capacity is 800 lbs.
3. Can I use high-weight capacity trampolines for trampoline sleepovers?
Ans: Yes, the heavyweight limit trampolines are ideal for backyard camping and trampoline sleepover party as they are capable of keeping high weights.
Summary
The best heavy-duty trampolines provide outstanding durability, bounce, and high load-carrying capacity. So, it will be a long-term investment for you to keep the whole family happy and entertained. Although the high-weight capacity trampolines for adults are expensive still, they are worth the price.
We've reviewed here the topmost trampolines with higher weight limits. Hopefully, you can now easily choose the best one from there. Happy trampolining!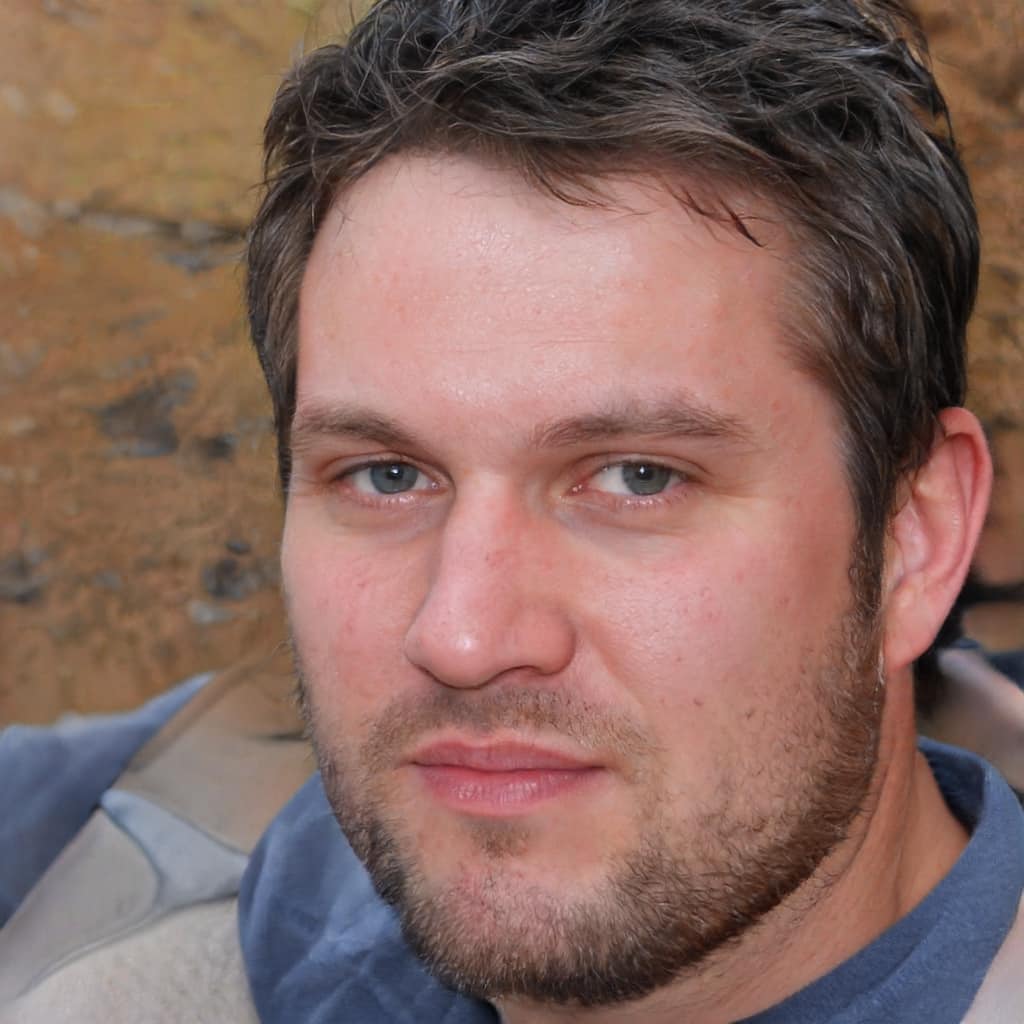 Robert is a trampoline and rebounder trainer with a passion for blogging. He discovered his love for trampolining at a young age, when his father gifted him his first trampoline at the age of 9. Over the years, Robert has honed his skills and knowledge in the field, and now uses his expertise to train others.
Besides, helping fitness enthusiasts in the gym, Robert is very eager to share his knowledge and experience regarding trampolines and rebounder exercises with the readers of picktrampoline.com. He will share all you need to know about trampolines and rebounders in this blog. Get his tips on trampoline and rebounder!