Indoor mini trampolines and rebounders come either in folding or unfolding types. But folding models have some perks over unfolded versions. Foldable mini trampolines are usually easy to carry and store. Having a folding trampoline will make it easier to exercise throughout the year.
This article will give you a clear idea of why you need a folded mini trampoline. Stay tuned!
Reasons for Getting Foldable Mini Trampoline and Rebounder
There are different reasons why buying a folding trampoline will be a worthy investment. Some of them are-
a) Easy Carrying
Foldable trampolines can be folded so you can easily carry them to your office, exercise class, outdoors, and anywhere you want.
See Also: Rebounder vs trampoline
b) Storing in Compact Space
Mini trampolines are already small in size. Moreover, when it's folded it becomes smaller. So, you can easily hide and store it in a car trunk, sofa, closet, under the bed, and other tight spaces.
c) Always Ready to Use
The folding trampoline doesn't need to disassemble during carrying to the exercise class or anywhere else. It'll always be ready for you to use. Just fold and unfold it to use.
Types of Folding Trampoline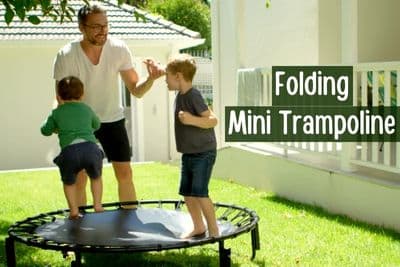 Foldable trampolines can be classified into different types such as-
i. Based on Springs and Bungees
Folding bungee rebounder (that uses bungee cords)
Folding spring mini-trampoline (that uses springs)
ii. Based on Folding Capacity
Single folded trampoline (that allows folding it a single time)
Double folded trampoline (that can be folded twice hence the folded trampoline will be 1/4th of the original size)
iii. Based on Purposes
iv. Based on Sizes
Some of the available folding mini trampoline sizes are 36,38, 40, 42, 46, 48 inches, and so on.
Best Foldable Mini Trampoline Recommendations
Here are some of the best folding trampoline suggestions that can be used in any tight space.
1. Ativafit 36 Inch Kids Foldable Mini Trampoline with Handle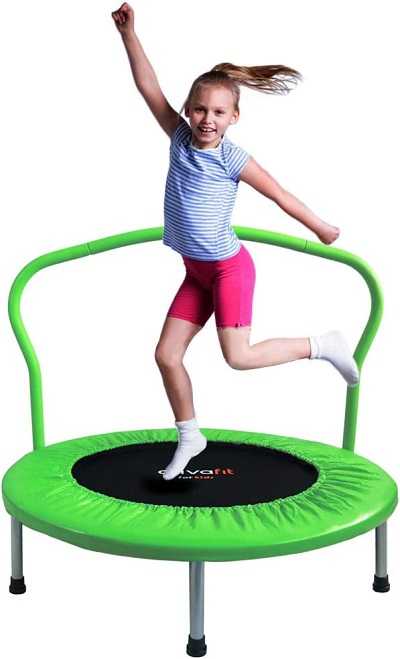 If you need a folding trampoline for your children Ativafit Mini Trampoline will be a good choice. It's a double-folded model so you can hide it in a tight space if required.
There is a foam-padded handlebar for hand support. It also uses rubber-tipped legs for slip-resistant jumping. Don't miss out on this handy kids' trampoline.
The following table shows some of the important features of this trampoline.
Features
Parameters
Size
36 inches
Folding capacity
Double
Weight limit
180 lbs
Total springs
28
Available colors
Black, green, pink
Recommended age
3 to 10 years
Material
Frame and springs
Stainless steel
Mat
PP
Pad
PVC
2. BCAN 48 Inch Foldable Fitness Rebounder for Adults with Adjustable Handle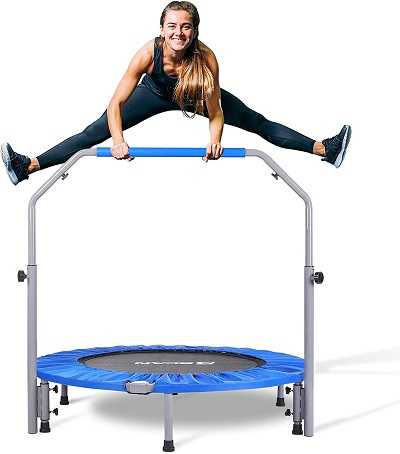 For adults, BCAN Foldable Mini Trampoline will be a perfect choice. It has 440 lbs hefty weight capacity. It has an adjustable handle and slip-resistant rubber feet.
This is an effective workout tool for adults and seniors. If you need more size variations, you can choose from 38 and 40 inches models.
The following table shows the key features of this BCAN rebounder.
Features
Parameters
Size
48 inches
Folding capacity
Double
Weight limit
440 lbs
Total springs
40
Available colors
Black, blue
Adjustable handle height
32 to 42 inches
Material
Frame and springs
Stainless steel
Mat
PP
Pad
Oxford
How to Fold a Trampoline?
Folding a trampoline is an easy task. The steps are discussed below.
In most cases, you might detach the handle and legs of the mini-trampoline before folding it.
Then fold the trampoline in the right direction once or twice.
It's recommended to read the manual for getting specific ideas about folding your mini trampoline model.
Final Words
A foldable mini trampoline is a handy exercise tool, especially for those who need to carry it or have limited space at home. So, get the right folding trampoline for you and enjoy rebounding throughout the year.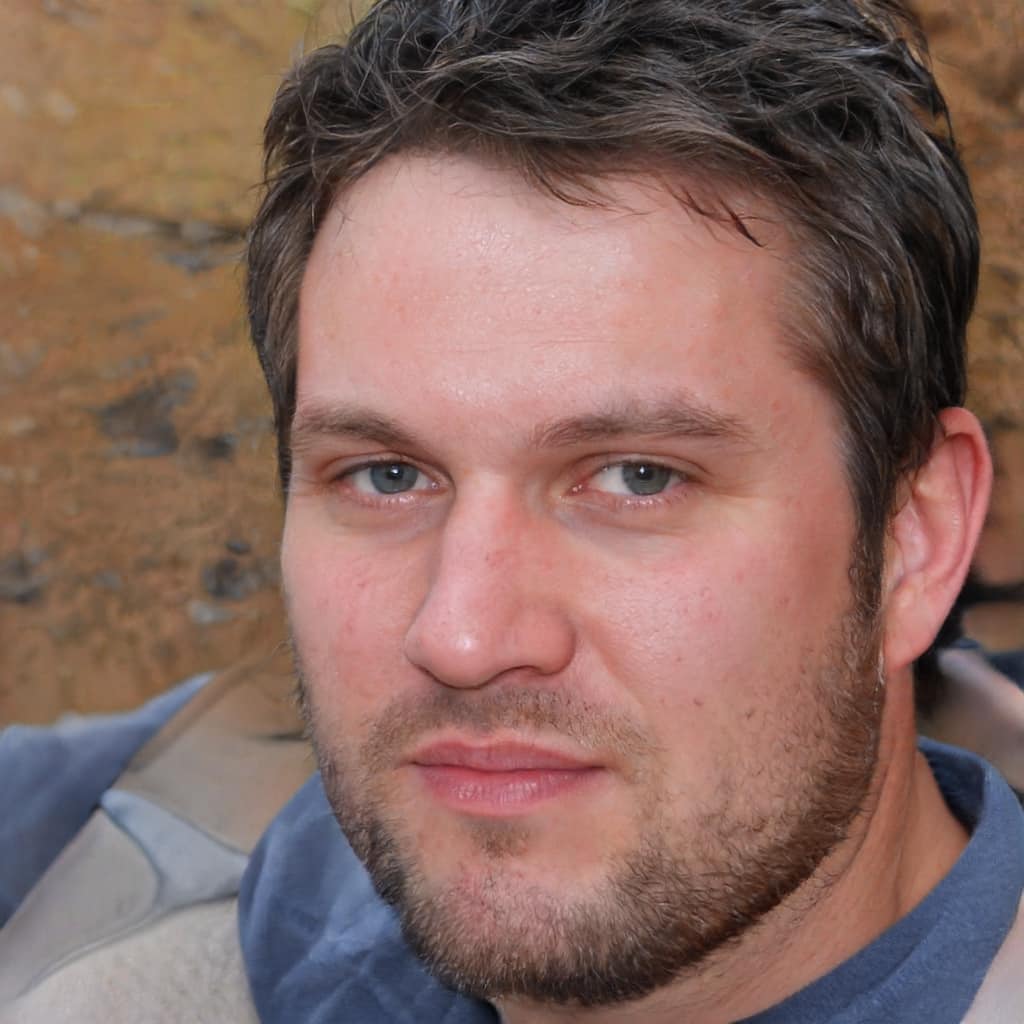 Robert is a trampoline and rebounder trainer with a passion for blogging. He discovered his love for trampolining at a young age, when his father gifted him his first trampoline at the age of 9. Over the years, Robert has honed his skills and knowledge in the field, and now uses his expertise to train others.
Besides, helping fitness enthusiasts in the gym, Robert is very eager to share his knowledge and experience regarding trampolines and rebounder exercises with the readers of picktrampoline.com. He will share all you need to know about trampolines and rebounders in this blog. Get his tips on trampoline and rebounder!