Trampolining is not only fun, but it's also a perfect exercise tool. Mini-trampolines or rebounders are widely used as a good form of burning calories and getting fit.
Rebounding is the new age of cardio. So, adults and fitness enthusiasts find indoor trampolines handy for year-round exercise. Have you been looking for the best indoor trampoline for adults? Some of the best options are the BCAN trampoline, Maximus rebounder, Darchen 450 lbs rebounder, Stamina fitness mini trampoline, etc.
Here, I'll give you some of the top-performing exercise mini trampolines. So, get on the bandwagon and bounce into shape with the best rebounder trampoline for adults I have listed for you! 
Are Rebounders Good for Exercise for Adults?
Undoubtedly, rebounding is a great form of exercise for adults. Jumping on a trampoline produces a g-force which adds muscular growth and fat loss. This dawns down your body and improves your body balance and agility.
It is low impact so it doesn't put stress on the joints, and it can be done at any fitness level. Rebounding also burns calories quickly, making it a great way to lose weight or maintain your current weight.
Bouncing on rebounder improves heart health by increasing blood flow and reducing inflammation. In addition to that, it's fun and energizing, which makes it a great way to get in shape without feeling like you're working out.
If you want to know the benefits of rebounding, please read this article, where I've discussed lots of trampolining benefits for kids, adults, seniors, special needs children, and more.
Best Rebounder for Adults for Home Exercise Suggestions
If you trust me, you can choose Jumpsport 250 Fitness Rebounder without any Hesitation!
1. BCAN 40 Inch Foldable Mini Trampoline for Adults Including Handrail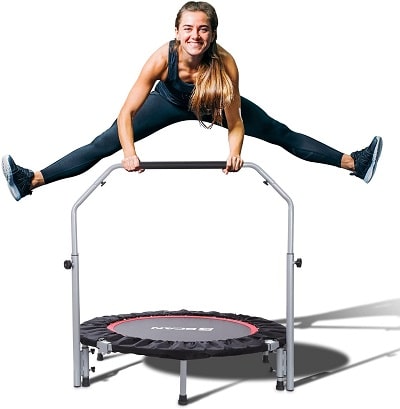 The first pick on the list is the BCAN Foldable Exercise Mini Trampoline for indoor use. It comes in two sizes, 40 inches, and 48 inches. If you're on the lookout for a trampoline that's not bulky and super easy to store, then the BCAN 40 inches foldable exercise mini trampoline is the right pick for you.
The trampoline has 32 closed 3 mm thick springs that offer a nice jump. Furthermore, the springs are covered with safety pads to prevent foot slips, toe rubs, or injuries. 
What's more, it has a foam-padded adjustable handlebar that you can hold for support while jumping to ensure a uniform balance. According to your height, you can adjust it as it offers four levels of size ranging from 32 inches to 42 inches.
This 40-inch trampoline has a minimum weight capacity of 330 lbs to accommodate any people from home. That's not it; the model comes with an anti-scratch, waterproof polypropylene mat that is highly durable and easy to clean. 
Pros:
Foldable and portable
Supportive handlebar maintains balance while jumping  
Safety pad covers the springs for safety
Different sizes and colors are available
Cons: 
Springs may squeak and wear off at times with extended use
2. MaXimus PRO 40 Inch Folding Fitness Rebounder with Handle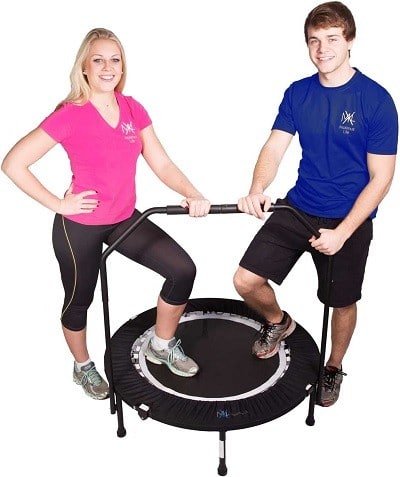 Working out at the gym hits differently, but getting a gym experience in the comfort of our home is the vibe you all want. MaXimus PRO Folding Fitness Rebounder will give you this feeling because it is considered a rebounder with the 'complete home gym package'.
The trampoline has a 40-inches MaXimus Pro Rebounder, removable supportive handlebar, two resistance bands, and sand weights. You get seven workout DVDs and a three-month free subscription for online exercise videos of international trainers.
Apart from these amazing features, this one is still worth the price because of its build. It comprises 32 heavy-duty steel springs that help to produce a low-impact bounce but a high performance.
This mini rebounder stands on six legs made of steel which offers stability and holds up to 300 lbs of weight. It also meets ASTM and CE safety standards.
The jumping surface is a nonslip double cross-sewn mat that offers a sturdy base. Additionally, it has non-marking rubber feet, which means it won't ruin the hardwood floors if placed on them.
You can also fold the rebounder end storage in a bag. The carry bag is also included in the package. It's simply like getting everything in just one model! 
Pros:
All-in-one model
Easy to assemble 
Stability bar for better balance and exercise
Includes resistance bands, sand weights, Exercise DVDs
Cons: 
Difficult to carry all the accessories 
3. Stamina 36 Inch Fitness Small Trampoline with Smart Workout App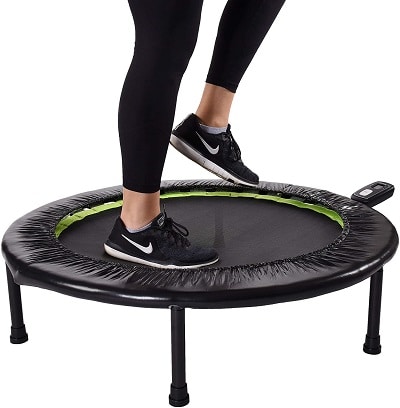 Users love the Stamina Mini Fitness Folding Trampoline because of the ease of storage. It only weighs 10 to 14 pounds and is super compact, making it a perfect rebounder indoors. There are four different sizes of the trampoline from which you can choose – 36 inches, 38 inches, 45 inches, and 49.5 inches.
Unlike most other trampolines, it doesn't have springs. Instead, the 36-inches wide trampoline uses 30 bungee cords to provide a smooth and safer bounce. You don't have to worry about your foot touching the springs accidentally and hurting yourself.
The steel frame and the six detachable legs allow a weight of 250 lbs the legs are rubber-tipped at the bottom, providing stability to the structure. Since the legs are detachable, you can remove the legs when you're not working out and save space.
Although it has no additional accessories like the handlebars, it has a smart workout app MUUV. This app is like personal coaching that will guide you on how to use the fitness trampoline, and you can even set your fitness objectives in the app.
Pros:
Affordable adult rebounder
Compact and requires less space
Lightweight fitness trampoline
Includes resistance band, fitness monitor
Cons:
The bungee cords should be improved
Little hard to fold
Read Also: Trampoline attire guide for rebounding
4. Darchen 450 lbs Indoor Exercise Mini Trampoline for Heavy Adults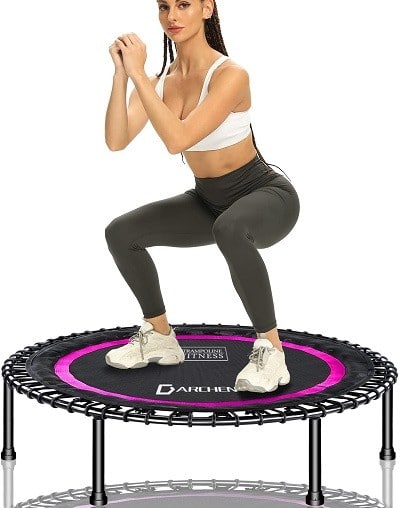 Darchen Workout Rebounder Mini Trampoline for adults is best for a higher weight limit. It uses bungee cords for a noiseless and low-impact workout. If you need a good trampoline for weight loss, this might be a perfect choice.
Darchen rebounder with a 40-inch diameter sits 10 inches off the ground and can fit up to 450 lbs of weight. This is almost twice as much as the typical mini-trampolines. 
A heavy-duty steel frame with six legs ensures the rebounder is stable to accommodate the high weight. The thermoplastic jumping mat provides a comfortable and low-bounce impact.
It uses 30 third-generation bungee cords of 0.32 inches in diameter each. It not only produces a strong bounce-back but also minimizes noise. So, don't miss this best rebounder trampoline for adults.
Pros:
High weight capacity allows anyone to exercise
Doesn't make squeaky noises while jumping
Heavy-duty legs and bungee cords provide stability
Cons:
Not foldable, so it takes up space
5. JumpSport 250 Home Cardio Fitness Rebounder for Low-Impact Workout 
If you are new to the world of fitness with rebounders, you might want to get a hold of the JumpSport 39-Inch Exercise Trampoline Rebounder. It has free 60-day extended access to customized programs with different exercises.
Its 39-inch heavy-duty steel frames can hold up to 250 lbs weight. And unlike the other trampolines on the list, it features arched legs. This means you don't have to worry about the rebounder tipping over or collapsing while you jump.
It is designed with a large 35.5 Permatron jumping mat with a 5.5-inch padded mat surrounding it, thereby reducing the jumping impact by 40%. It further eases your jumping experience, all thanks to the FLexBounce System.
It uses EnduroLast 2 elastic cords that guarantee a less harsh and silent bounce. If you buy this rebounder for cardio workouts, you will get a lifelong indoor trampoline at hand.
Pros:
Professional grade mat for soft bounce
Arched legs add stability
Good for beginners
Thick padding for extra safety
Lifetime warranty for legs and frame
Cons: 
6. Sportplus+ Hexagonal Fitness Bungee Trampoline with Handlebar
Sportsplus+ Indoor Fitness Rebounder stands out from the rest of the trampoline in the least because of its hexagonal shape. The larger space allows you to do lots of exercises comfortably.
It is a 24 lbs trampoline that can take up to 286 lbs of weight. A nylon woven jumping mat sits on a six-legged trampoline that provides a secure and non-slip base.
The bungee cords further render a polished and even landing, so you will get a joint-friendly bounce here. Moreover, you can jump with shoes and work out on your trampoline.
Its support handlebar allows adjusting the height in five different positions for better grip and stability. And you will get a carry or storage bag with the best mini trampoline for adults.
Pros:
Less impact on joints
Highly affordable
Adjustable handle height
Bigger surface area for jumping
Cons: 
Thin bungee cords with higher scope off wearing out
7. Bellicon Classic 44 Inch Ultra Strong Bungee Cord Exercise Trampoline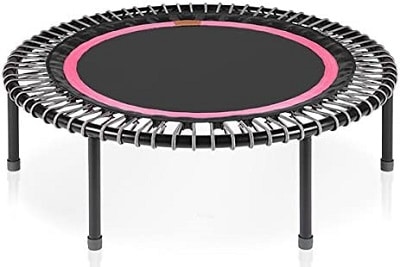 Bellicon Classic Exercise Trampoline comes in three sizes 39-inches, 44-inches, and 49-inches. Bellicon Classic 44-inch rebounder trampoline is suitable for an exceptionally high bounce.
Thanks to the bungee cords with five levels of strength. The manufacturer claims to be the world's premier rebounder due to the best material, quality, and performance.
The best part about this trampoline is that you can customize the whole trampoline according to your choice. For instance, you can choose the color, the types of mats and legs, the diameter of the bounce area, and even the bungee strength.
The round-shaped steel-made trampoline can hold up to 440 lbs; whatever the type of leg you choose, you can fold it and store it easily. You will also be happy to know that it won't bother the people near you as it is relatively silent.
Pros:
Best for a high bounce 
Weight limit is a boom
Easy to assemble
Customize rebounder
Cons: 
Very expensive
Quite heavy to carry
Buying Guide of the Best Indoor Trampoline for Adults
You may still be unsure about the specific features you need to seek in your search for the best exercise trampoline for adults. Here are the most important features that you should consider while buying an adult's indoor trampoline.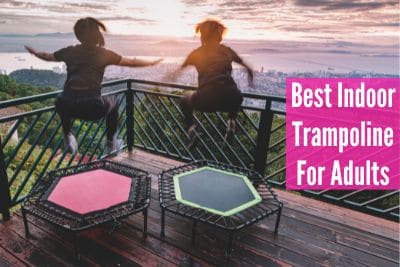 Size and Bounce Space
Mini trampolines or rebounders' size is usually 40-inches in diameter. Smaller models like 36 inches or larger models like 48 inches and even bigger are also available.
But since you are opting for an indoor trampoline, ensure you take proper measurements. Or else it will make your place look congested. 
Remember, the width is the diameter of the entire trampoline, including the jumping mat, steel frames, and all other trampoline accessories. The bounce area will be a few inches smaller than the total diameter.
Rebounder Shape
The round-shaped mini-trampolines are best for indoor use because the balance is uniformly distributed within the trampoline mat.
Some other popular shapes of mini-trampolines are oval and hexagonal. They come with a larger space than the circular models.
Read Also: Various kinds of trampolines
Framework Construction
While purchasing a fitness mini-trampoline, make sure the construction of the framework is robust. The rebounder must be able to withstand repeated use. For this, it needs a sturdy framework to maintain long durability. 
A thick galvanized rust-preventive steel frame with a tightly woven polyethylene and nylon jumping mat are the most common framework that will give your trampoline its robustness. So, do ask your retailer before purchasing.
Weight Capacity
Weight capacity is a structural and safety measure of a trampoline. Rebounders with a higher weight limit are often more durable and stronger than rebounders with a lower weight limit. 
Usually, mini trampolines for adults have a weight capacity of 250 to 300 pounds. But, some rebounders are designed for heavy adults that can withstand 450 or 500 lbs of jumpers' weight. So, do not opt for anything less than 250 pounds. 
Spring and Bungee Cord
Galvanized spring is durable and provides better resistance and, in turn, a better bounce. The springs pull the mat together tightly, giving a high-impact bounce. That indeed is great for an outdoor trampoline.
However, the springs can sometimes cause a 'squishy' bounce noise that may be a bit frustrating, especially when you are indoors. So, what is the solution if you don't want to hear springs squeak from the exercise trampoline?
In such cases, you should look for bungee cords in your trampolines instead of springs. It would be helpful to have a trampoline with a low-impact nature for indoor use with a much quieter bounce noise.
Bungee cords are not as durable as springs, but they generate a soft and more manageable bounce because the bungee cords are elasticated. 
This makes landing smooth and puts less pressure on your knees and joints. Also, it creates a pretty silent bounce.
Also Read: Bungee cord rebounder for lymph flow
Supportive Handlebar
Many rebounders have inbuilt arch-shaped supportive handlebars. This helps to retain balance and provides a steady bounce. And most of them allow adjusting the height according to your need.
However, if not handled properly, it might lead to an incorrect posture. So, use it under proper guidance. But, in case you don't need it, you can easily remove the handle as it's removable.
See Also: Rebounder install & take off methods
Safety Pads and Rubber Base
The exercise trampoline usually includes a ring-shaped safety pad covering the springs. This acts as a barrier between your feet and spring, making your workout more comfortable and safer.
Also, check the rubber base of the feet as they make the rebounder stable and scratch-resistant.
Read Also: Is trampoline safe for pregnant?
Storage and Portability 
If storage is a concern, then opt for foldable adult mini-trampolines. The foldable indoor trampolines allow you to force the legs and fold the frame into a compact size, making them easier to store and carry wherever you want. 
Other Accessories
Trampolines for adults come with a few other extra features, like sand weights, resistance bands, monitors, workout DVDs, etc. If the fitness rebounders haven't such accessories, buy them separately for lots of rebounding workouts.
The resistant band allows a smooth workout by reducing the risk of any muscle injury. When you jump on the trampoline, resistance bands help activate the stabilizer muscles, thereby providing support to muscles and joints.
On the other hand, the monitors ensured the time, the numbers were balanced, and the number of calories expended. This way, you can know how much you have utilized your workout.
Sand weights are used for strength training. And workout DVDs are great for making you a pro gymnast.
Read Also: Rebounding has some negative effects too
Frequently Asked Questions
1. What is the difference between a mini trampoline and a rebounder?
Ans: Mini trampolines and rebounders are almost similar, except they serve different purposes. Mini trampolines are usually used for recreational purposes, whereas rebounders are used for fitness and exercise.
Rebounders are a bit smaller than mini trampolines but are portable. Unlike mini-trampolines, which are set at a specific place, the rebounders are mobile and can be positioned anywhere in space. 
Since the rebounders are specifically designed for exercise, the jumping mats are made with high-quality materials to ensure better support stability and prevent injuries.
2. Which are better springs, or bungee cords exercise trampolines?
Ans: For a higher jump, springs are perfect. Their galvanized rust-free coatings make them stronger and give them a longer lifespan. But here is the catch, it causes more impact on the joints. Also, you might need safety pads to protect your feet from getting hurt.
Since bungee cords are elasticated, you do not need safety pads. Also, it doesn't have a higher impact on your joints and knees like those with springs, thereby reducing the risk of injuries.
However, trampolines with springs are easier to store as they are more compact than trampolines with bungee cords and are less costly. 
If you are looking for rebounders for exercise, you may want to get your hands on the ones with bungee cords to ensure more safety. 
3. How much is an adult's mini trampoline rebounder?
Ans: Usually, rebounder trampolines price may vary between $50 to $200. But some best quality models come with higher price like $500 and even more.
Read Also: Cost of trampoline and rebounder explained
4. Can I use the indoor mini-trampoline in the garden?
Ans: Yes, you can place your home trampoline in the backyard. But make sure you keep it inside after each rebounding session.
5. Is resistance bands good while rebounding?
Ans: Resistance bands allow for performing highly extensive exercises by stabilizing the muscles. So, if you want to develop your muscles, resistance bands are highly recommended.
Read Also: Should you rebound before bed?
Conclusion 
Working out means I have to shed a lot of blood, sweat, and tears, so why not make it enjoyable? The exercise trampoline for adults makes your workout more fun and bouncier. 
I know going from one shop to another to purchase a trampoline can be tiring and tedious, so I have done our research and jotted down the best indoor trampolines for adults available in the market. 
At the end of this guide, I believe you will thank us later for saving your time by combining all the tiniest details about the best fitness rebounder for adults on one page. Let's rebound happily and get fit!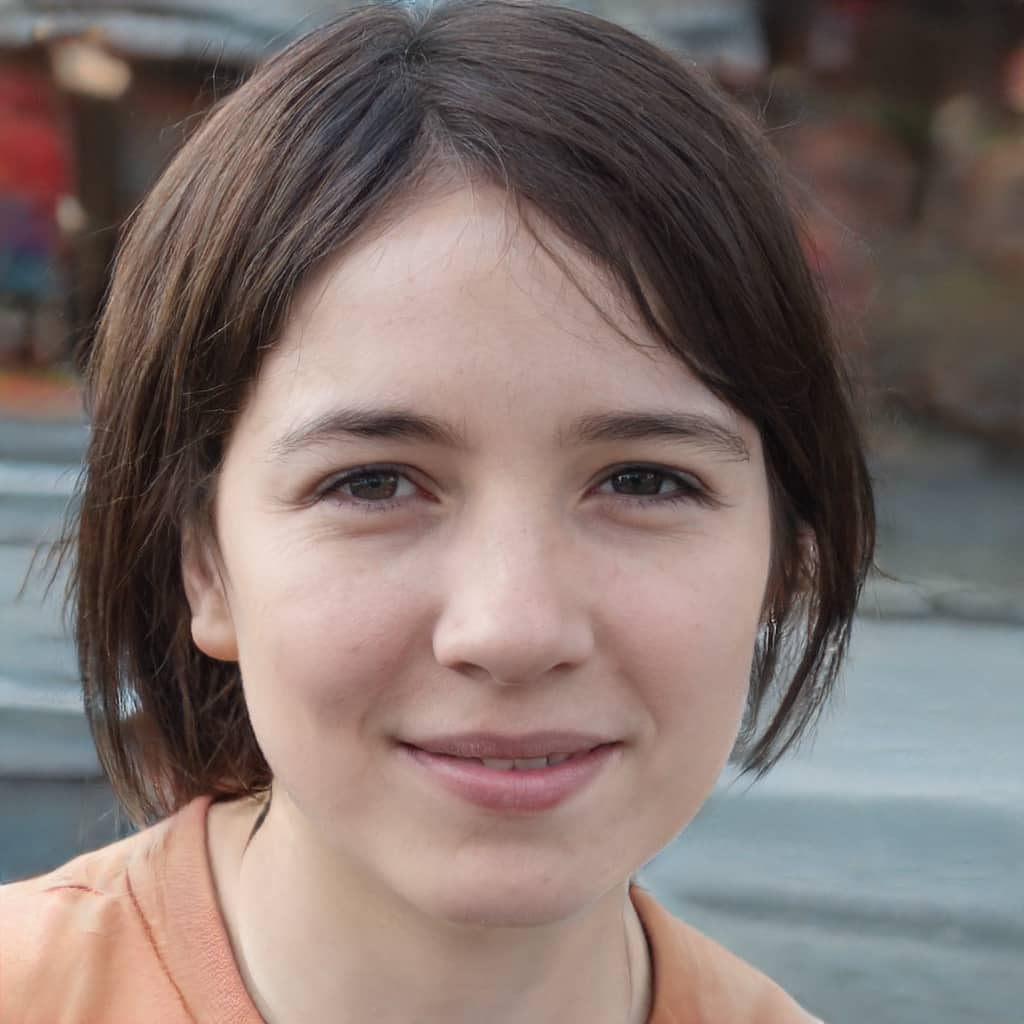 Rebecca is a fitness nerd and mother. She was inspired to get into the world of trampolining and rebounding by her husband Robert, who is a well-respected trainer and expert in the field. Now she instructs children, mothers, and teens the basic trampolining and rebounding tricks.
Rebecca is also a passionate blogger, sharing her knowledge and experiences with others in the hope of encouraging them to give trampolining and rebounding a try.