Price is an important factor to consider while purchasing a trampoline. The cost of a trampoline depends on different factors like size, shape, quality, and many more.
How much does a trampoline cost? The average price of a trampoline ranges between $200 to $500. But there are tons of cheap and expensive models too. Most small trampolines are available below $100 whereas the price of top-quality ones may go up from $3000 to $5000 and even more. So, you will get the trampoline, no matter what your budget is.
Today, I'll give you a clear idea of the price of numerous trampolines with an exclusive trampoline price chart. Let's find out your trampoline within your budget.
What Factors Affect Trampoline Price?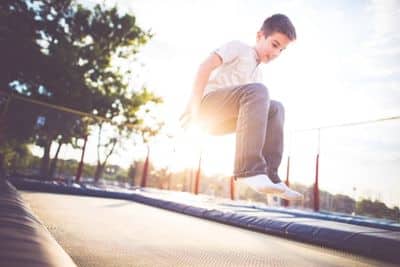 Trampolines come in both cheap and expensive models, you have to choose your trampoline from there. Have you wondered; what is the average price of a trampoline?
The average cost of standard-size trampolines (8 ft to 16 ft) is $200 to $750, whereas the approximate price of mini-trampolines is $75 to $300.
But the trampoline's actual price ranges from $50 to $6000. Where the cost of the outdoor trampoline varies between $200 to $3000 and the price of the indoor trampoline varies from $50 to $1500.
There are different factors that determine the price of trampolines such as-
Size
Shape
Type
Brand
Quality
Safety
Condition
Accessory
How Much Do Trampolines Cost?
After knowing the factors that affect trampolines, let's break down the average cost of a trampoline. Here I'll also show you how trampolines price changes with sizes, brands, styles, and so on.
Cost of Trampolines by Size
How much is a trampoline? Trampoline sizes and prices are closely related. Trampolines' sizes and prices are proportional to each other which means one rises with another and vice versa.
As trampoline comes in versatile sizes like small, medium, and large sizes, thus trampoline price varies with them.
See Also: How to measure trampoline size?
Trampoline Price Chart by Size
Below, I'm giving a quick trampoline price chart with its size for your easy understanding how much do trampolines cost.
| | |
| --- | --- |
| Trampoline Size | Trampoline Average Price |
| 3 to 5 ft kids mini trampoline | $75 |
| Adults' fitness rebounder | $100 |
| 8 ft round trampoline | $200 |
| 10 ft round trampoline | $250 |
| 12 ft round trampoline | $350 |
| 14 ft round trampoline | $400 |
| 15 ft round trampoline | $450 |
| 16 ft round trampoline | $550 |
| 8×14 ft rectangular trampoline | $650 |
| 9×15 ft rectangle trampoline | $700 |
| 10×17 ft rectangular trampoline | $1400 |
| 14 ft square trampoline | $1450 |
| 10×15 ft oval trampoline | $550 |
| Large trampolines | $1500 to $3000 |
| In-ground trampoline | $1500 to $2500 |
| Water trampoline | $300 to $2000 |
| Springless trampoline | $700 to $3000 |
| Used or second-hand trampoline | Under 300 dollars and even free |
See Also: How much money does it require to build a trampoline park?
Trampoline Price According to Shape
The cost of a trampoline is greatly related to its shape. Typically, rectangle trampolines are more expensive than round, square, and oval trampolines. Round trampolines are very cheap. The price of square and oval trampolines lies between a rectangle and round models.
Now I'll show you the cost of trampolines according to their shapes.
Round Trampolines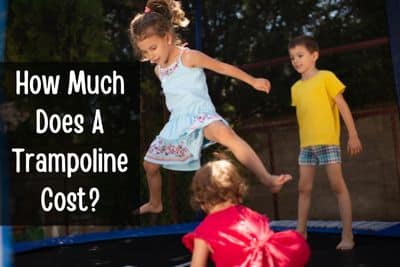 How much money does it cost to buy a round trampoline? Circular or round trampolines are the lowest price models among different shapes of trampolines. Several round models' approximate costs are as follows-
8 feet round trampoline: $200
10 feet round trampoline: $250
12 feet circular trampoline: $350
14 feet round trampoline: $450
15 feet round trampoline: $500
16 feet circular trampoline: $550
Rectangle Trampolines
How much is a rectangle trampoline? Rectangular trampolines are designed for the higher bounce. These models are pricier than round trampolines. The reason behind the high cost of rectangle trampolines is the larger space and high-quality materials and performance.
Here are some common models with their average prices-
7×10 feet rectangle trampoline: $550
8×14 feet rectangular trampoline: $650
9×15 feet rectangle trampoline: $700
10×17 feet rectangular trampoline: $1400
Square Trampolines
How much is a square trampoline? The average price of several square trampolines is listed below.
7.5 feet square trampoline: $550
14 feet square trampoline:  $1450
Oval Trampolines
Here are some of the common models of oval trampolines with their approximate prices.
Oval mini-trampoline: $100
10×15 feet oval trampoline: $550
13×15 feet oval trampoline:  $600
Trampoline Price by Type
In-ground, springless, and water trampolines are some special trampolines models. They are quite expensive than the traditional models.
The trampoline comes in versatile styles like above-ground, in-ground, and water trampolines. Trampolines can also be classified depending on spring and spring-less design.
In-ground trampolines price differs from traditional models. Usually, in-ground models have a hefty price tag. But there are also some expensive traditional trampolines. Water trampolines are expensive too, but a little bit cheaper than in-ground models.
Also, the cost of spring-based trampolines varies from the spring-less trampolines and rebounders. For instance, the medium-size of Springfree trampoline is around $1500, but the traditional spring models are available for below $500 and even at a lower price.
Cost of Trampoline by Brand
The brand is another vital thing for which a trampoline's price may differ. This happens due to structural and technological differences among trampoline brands. Some trampoline manufacturers emphasize durability whereas others might give importance to safety.
For instance, Zupapa 15 ft trampoline is around $600 whereas 12 ft Skywalker is available for below $300.
I'll show you several well-known trampoline brands' prices.
Skywalker Trampolines Prices
How much does a Skywalker trampoline cost? You will find Skywalker trampolines from $104 to $1900. According to their website, some of the popular Skywalker trampolines prices are-
40 inches kids' mini-trampoline: $104
60 inches kids mini-trampoline: $124
8ft round trampoline: $229
10 ft round trampoline: $299
12 ft round trampoline: $349
15 ft round trampoline: $429
15×13 ft oval trampoline: $449
17 ft oval trampoline: $599
9×15 ft rectangle trampoline: $679
17×10 ft Olympic size premium trampoline: $1599
14 ft square trampoline: $654
16 ft square premium trampoline: $1569
See Also: Skywalker trampoline vs Propel trampoline
Zupapa Trampolines Prices
Zupapa trampoline is another popular trampoline model. The cost of several models is-
Small kids trampoline 54 inches: $129.99
40-inch fitness trampoline: $99.99
8 ft trampoline: $399.99
12 ft trampoline: $629.99
15 ft trampoline: $679.99
Springfree Trampolines Prices
How much does a Springfree trampoline cost? Springfree trampoline's starting price is $799 and ends at $2499.
6 ft round mini-trampoline: $799
8 ft compact round: $1199
13ft jumbo round: $2199
6ft x 9ft compact oval: $999
8ft x 13ft Large oval: $1799
13ft x 13ft jumbo square: $2499
See Also: Springfree trampoline problems
Several Popular Trampoline and Rebounder Brands Average Prices
Little Tikes 3 ft kids trampoline: $69.99
Sportspower 7 ft My First Trampoline: $139
CalmMax 12 ft trampoline: $269.99
Merax 12 ft trampoline: $399
Tatub 16 ft trampoline: $599.99
JumpKing 10×14 ft rectangular trampoline: $724.99
Machrus Upper Bounce 14 ft trampoline: $549
Happy Trampoline 13×23 ft rectangular trampoline: $2999
Exacme 15 ft trampoline: $520
JumpSport AlleyOOP PowerBounce trampoline 14 ft: $2099
ORCC 14 ft trampoline: $489.99
ACON Air 4.6 15 ft trampoline: $1199
Vuly Thunder Pro XL trampoline: $3699
Avyna 15 ft in-ground trampoline: $1995
Berg 11 ft sunken trampoline: $1790
Island Hopper 13 ft water bouncer: $1149.99
Rave Bongo 15 ft water bouncer: $1699.99
BCAN 40 inch fitness rebounded: $149.99
JumpSport 250 fitness rebounder: $269
FitPulse mini trampoline with handle: $99.99
Needak mini trampolines: $389
Bellicon Classic 44 Inch exercise mini-trampoline: $719
Leaps And ReBounds 40 inches rebounder: $209.99
DARCHEN 450 lbs adult's rebounder: $119.99
Stamina 36-inch mini trampoline: $69.99
See Also: Trampoline insurance cost
Trampoline Price with Quality
The quality of the trampoline plays an important role to make it either cheap or expensive. The high-end trampolines are made durably like they use strong mats and springs for the high bounce.
Good quality trampolines have also durable and weather-resistant materials like galvanized or hot-dip galvanized steel to fight against harsh weather. They use thick materials in frame tubing to make them capable of carrying hefty weight.
Usually, top-quality trampolines come with a better warranty. So, if you want to purchase a hefty warranty trampoline, be ready to spend more.
The average warranty of a trampoline is between 5 to 10 years for the frame. But, some of the best ones have a lifetime warranty.
Trampoline Cost with Safety Features
The safety features of the trampolines may elevate their price. Enclosure net, safety pad, and padding in poles are some of the safety aspects. The enclosure net provides maximum safety from dropping to the ground.
The spring pad prevents jumpers from bumping in springs and frames. Safe trampolines use padding in enclosure poles for further safety.
Indoor mini trampolines have handlebars for better balance and safety. This extends kids' safety a lot. Rebounders for adults and seniors with handles allow doing versatile exercises.
Cost of New and Old Trampolines
You can either buy a brand-new trampoline or a used one. Usually, the cost of a new trampoline is higher than the price of a used trampoline. But, you can use old trampolines to make wonderful projects like homemade trampoline swing.
If you plan to purchase an old trampoline, make sure there is no sign of structural damage or safety hazard. Some reliable places to buy used trampolinesv include Craiglist and eBay provide second-hand trampolines at a low cost. Even you can get one without spending a penny.
Price of Trampoline Accessories
In general, additional accessories rise the trampoline's price. Some important trampoline accessories are the ladder, wind stakes, spring pull hook, basketball hoop, weather cover for winter care and sun protection, sprinkler, shade cover, etc.
Most of them are available for under $100 aned even less. There are also several fun accessories too. On the other hand, if you need replacement parts like mat, net, springs, poles, etc, you can also purchase them when necessary.
So, how much are trampoline accessories? Here are different accessories for the trampoline with their approximate cost.
People Also Ask
1. How much does an Olympic trampoline cost?
Ans: The average cost of an Olympic size (10×17 ft) trampoline is $1500 to $3000.
2. How much is the most expensive trampoline in the world?
Ans: The expensive trampolines come with a high price tag like $4000 to $6000.
3. How much does it cost to install a trampoline?
Ans: This depends on the trampoline and your skills. If you are confident to do it by yourself, then you can install the trampoline without any cost.
But if you hire professionals, it would cost around $100 to $500. And in the case of the in-ground trampoline, the cost will be higher than that.
4. How much is the used trampoline?
Ans: Used trampolines are found under $500 even $100. And, in some cases, you might get one without any cost.
5. Does trampolines cost vary with retailers?
Ans: Yes, trampolines price may vary from retailer to retailer.
6. When is the best time to purchase trampoline at discounted price?
Ans: Fall is the best time to buy trampolines at low cost, as retailers offer impressive discounts then to sell their stock products.
Final Words
'How much does a trampoline cost' is always a key factor, no matter what kind of trampoline you are going to buy? I hope, this article helped you greatly to get a clear idea of the price of the trampolines.
Here I include all kinds of trampoline costs like indoor, outdoor, in-ground trampoline, water models, etc. Depending upon trampoline quality and performance their price may vary from $50 to $3000.
However, I always recommend you to choose a good quality trampoline even though you pay a little more. But, if you research a bit, you can easily own a top-quality trampoline at a reasonable cost.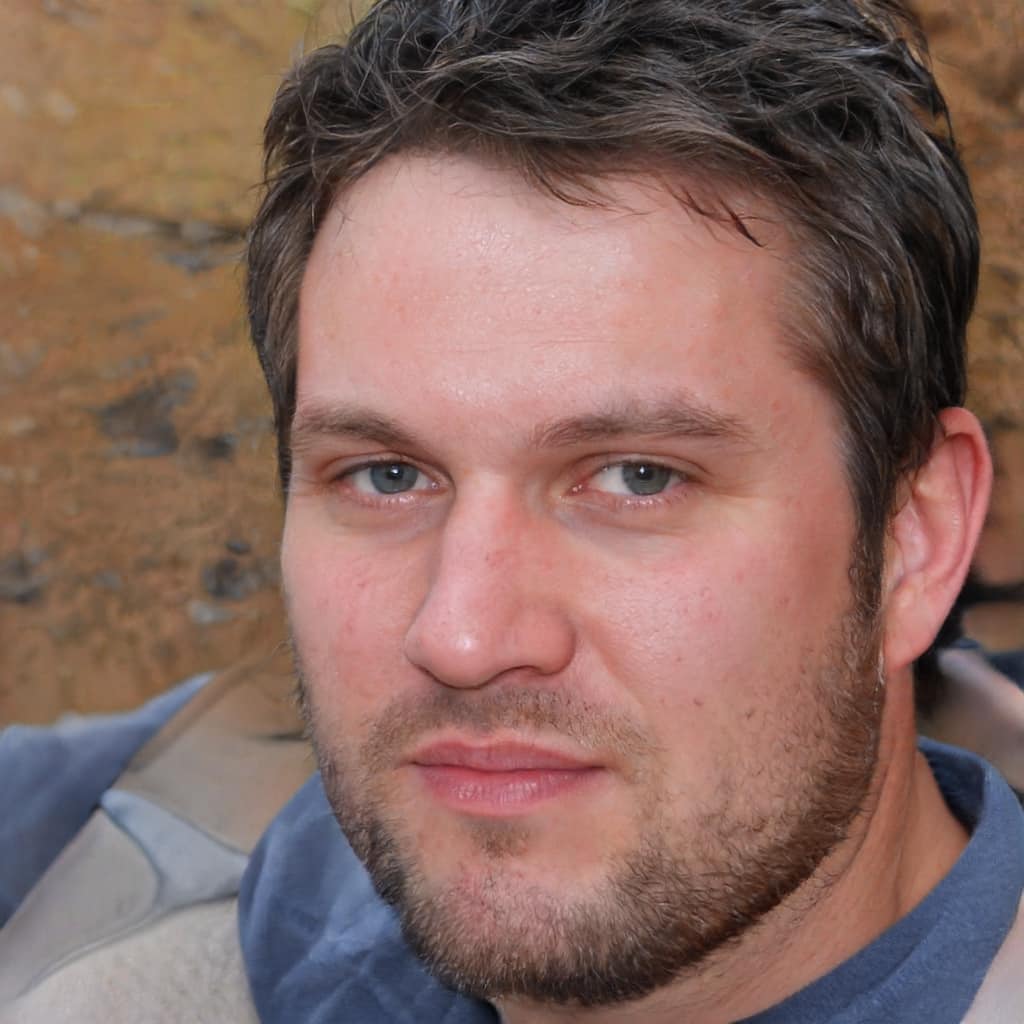 Robert is a trampoline and rebounder trainer with a passion for blogging. He discovered his love for trampolining at a young age, when his father gifted him his first trampoline at the age of 9. Over the years, Robert has honed his skills and knowledge in the field, and now uses his expertise to train others.
Besides, helping fitness enthusiasts in the gym, Robert is very eager to share his knowledge and experience regarding trampolines and rebounder exercises with the readers of picktrampoline.com. He will share all you need to know about trampolines and rebounders in this blog. Get his tips on trampoline and rebounder!