Do you live in a windy area and are a little confused about installing the trampoline there? Don't worry; you can secure the trampoline in heavy winds by properly anchoring it to the ground.
So, you may be wondering, 'Do trampolines come with anchors'? Well, trampolines either come with or without anchor kits. But you can buy trampoline anchoring kits or tie-downs separately from brick-and-mortar shops or from online. You'll be happy to hear that they are available at an affordable price.
Heavy-duty trampoline anchor kits are a handy option to hold down your trampoline on the ground against strong gusts. This article will explain different trampoline tie-down methods and several best trampoline anchors. So, let's begin!
Why Do Trampolines Need to Be Anchored?
Trampoline anchoring is necessary for several reasons. Here are the important ones.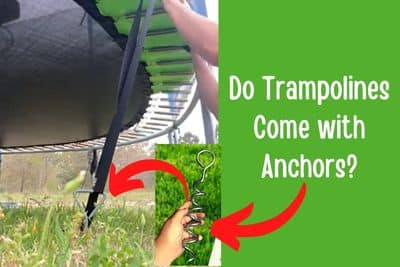 a) Prevent the Trampoline from Blowing Away
Although the trampoline is heavy enough still, heavy winds might fly it away. In the high wind location, the trampoline mat works as a kite there, it is prone to be blown away easily.
But adequate anchoring kits hold down the trampoline firmly, keeping it from blowing away.
b) Extend Trampoline's Stability and Lifespan
Jumping on a trampoline will tend to shift or slide the trampoline over time, especially when multiple jumpers bounce there. But trampoline anchors prevent such sliding and put the trampoline in place. It extends the trampoline's lifespan too.
c) Save Replacement Cost
If the trampoline flies away, this will damage the trampoline severely, like its frame, net, poles, etc. Thus, you have to spend a lot to repair the broken or damaged trampoline parts. But you can lessen the cost significantly by anchoring the trampoline.
d) Prevent Property Loss
When a trampoline is blown away due to a strong gust or hurricane, it may damage your neighbors' property, power lines, etc.
Do Trampolines Come with Anchors?
Trampolines might either come with or without anchors; there is not any fixed rule. Considering trampoline's price and company rules, manufacturers decide on this.
Some trampoline brands include anchor kits with the trampoline package, whereas several models come without tie-down kits.
Here is a recommended trampoline that comes with anchors.
See Also: Trampoline assembly and disassembly tools list
Types of Trampoline Anchor Kits
There are different types of trampoline anchors, like augers, wind stakes, sandbags, homemade trampoline anchors, etc. But augers and wind stakes (aka U-shaped anchors) are the two best ways to anchor your trampoline. So, here I'll discuss these two types.
Wind Stakes
Wind stakes are U-shaped trampoline anchoring kits. But, at present, several other shapes of wind stakes are available, like T shape, J-shape, etc. They are easier to stake down into the ground.
These are effective for small-size trampolines. You don't need any strap to tie the wind stakes with the frame; just stake them down over the trampoline legs.
Augers
Augers are metal-constructed corkscrews that need to be drilled to be put in the ground. After driving the augers into the ground, they are fastened to the frame via straps.
Due to their shape, augers provide great stability to the trampoline and won't loosen over time. The helix or spiral of augers may come in several styles. This type of anchor is best for holding down both small and large trampolines on the ground.
After knowing about wind stakes and augers, let's talk about their differences.
Which is Better Between U-Shaped Anchors and Augers?
Augers vs wind stakes is a big dilemma when choosing the best tie-down for a trampoline. Both of them have pros and cons. Here is a summary of their strength and weakness.
Structural Differences
There are some visible distinctions between wind stakes and augers. Wind stakes are generally U-shaped, whereas augers are corkscrew shape. Augers need straps to tie the anchors with the frame, but wind stakes don't need such additional straps.
Read Also: Trampoline setup mistakes
Installation
Trampoline wind stakes are easier to install due to the U-shape. Alternately, auger anchor kits come in corkscrew shape thus, they are quite difficult to drive into the ground.
Read Also: How to prepare the ground for a trampoline?
Anchoring Strength
Each of the anchors is constructed from galvanized steel that provides great durability. But considering tie-down strength, augers win over wind stakes for their complex helical shape.
Read Also: Trampoline on concrete?
Loosen or Not
Augers can deal with heavy winds and don't loosen over regular jumping. But wind stakes aren't ideal for hard surfaces and may loosen on regular use of the trampoline. So, it's necessary to check wind stakes regularly.
Tipping Hazard
Trampoline auger anchor pegs have extra straps. Thus, they pose to tipping hazard, but wind stakes don't have such an issue. And it's recommended to mow under the trampoline to lessen the tipping hazard.
Price
Wind stakes are cheaper compared to auger anchoring kits. But trampoline augers are a little pricier but worth it.
Read Also: Why is in-ground trampoline very expensive?
Heavy Duty Trampoline Anchors Suggestions
I've reviewed several best trampoline stakes. You can pick these recommended heavy-duty trampoline anchor kits to properly secure your trampoline on the ground.
1. Eurmax USA Trampoline Augers Anchor Kit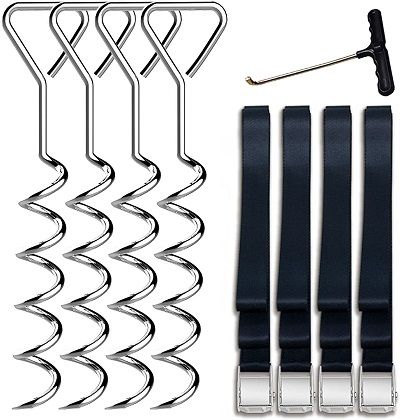 Eurmax USA Trampoline Stakes Corkscrew Anchor Kit is an auger-style trampoline anchor to lock down the trampoline in the ground firmly. The pack includes 4 anchor kits, 4 strong belts, and a T-pull hook.
This durable trampoline anchor is made from galvanized steel. There is also a silver coating that prolongs its lifespan. Strong belt straps also ensure firm anchoring.
Each anchor kit is almost 16 inches long. The larger stakes provide better stability. Eurmax augers set fits any trampoline.
Besides using the trampoline, you can also use the trampoline anchor-down kit to secure swings, canopies, carports, tents, sheds, animals, and much more.
2. Skywalker Trampolines U-Shaped Wind Stake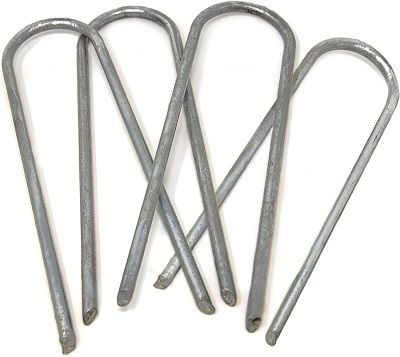 Skywalker Trampolines 4 Pack Wind Stakes Set is a U-shape trampoline tie-down. So, you can install it on the earth without much effort. The pegs are galvanized steel made that is weather-resistant and lasts longer.
All the stakes are 12.5 inches long and durable enough. These are actually universal pegs that fit any trampoline up to 2-inch diameter legs.
But tighten the stakes on a regular basis as they get loosened after jumping or due to wind. If you need an affordable and quick installing anchor, don't miss the Skywalker trampoline stakes.
3. N1Fit Universal Trampoline Heavy Duty Tie Down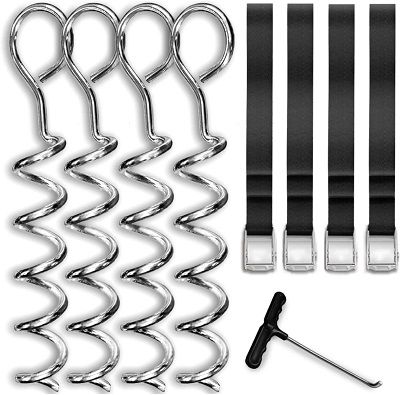 Another trampoline anchor kit to secure the trampoline in high wind is N1Fit Spiral Ground Anchor Kit. This cork-screw auger provides great anchoring. It is made from galvanized steel and thus lasts longer.
The set includes 4 heavy-duty trampoline anchoring pegs and 4 durable belts to tie the augers with the trampoline frame. These long trampoline ground anchors really hold your trampoline well against strong gusts. You'll also get a T-hook tool with the package for quick removal of the stake.
4. GrayBunny Helix Trampoline Ground Anchor Kit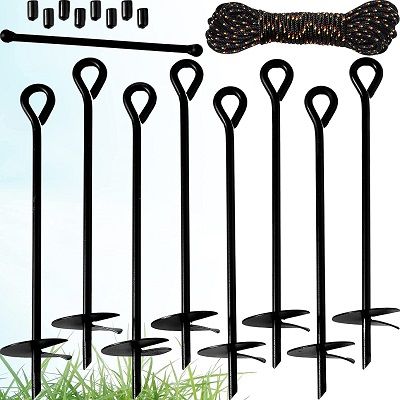 GrayBunny Helix Set of 8 Earth Augers is an innovative trampoline tie-down to make the trampoline stable against heavy winds. Each auger is 15 inches long, and the helix is 3 inches wide that holds the trampoline firmly in the earth.
The package comes with a torque bar and 25 ft nylon ropes, and a carrying sack. Sharp-edged tips penetrate the soil easily. Thus, you don't need to exert lots of force to drive the augers. Having this, you will get great anchoring to your trampoline.
5. NHZ J-Shaped Trampoline Ground Pegs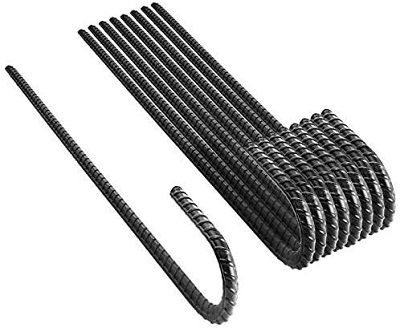 NHZ 8 Pieces J Hook Ground Stakes Set is a reliable trampoline anchor to secure the trampoline during strong gusts. The steel rebar makes the pegs strong and long-lasting. Each stake is 16 inches long and 3/8 inches in diameter.
Black powder coating makes these rustproof. The 1.5 inches hook eases installing and removing the stakes. Chisel point end makes easy prodding through hard soil.
How to Choose the Best Trampoline Anchors?
If you want to purchase a good-quality trampoline anchor kit, you should consider several things.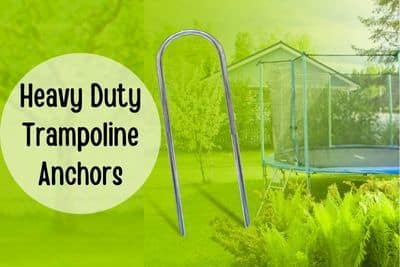 Material
Trampoline anchors should be made from galvanized alloy steel so they last longer against harsh weather. And they need to be strong enough to hold the trampoline on the ground.
Shape and Type
U-shaped anchors are good enough for mild, windy locations, but corkscrew models are a must for heavy wind areas.
See Also: Trampoline installation tips
Length
Usually, the higher the length of the trampoline tie-down pegs, the better the stability you'll get. So, the anchor kit's length should be more than 15 inches.
Strap
If you choose augers, make sure the package includes durable belts or straps to tie the augers with the trampoline frame.
Final Thoughts
I hope, you've got your answer- do trampolines come with anchors and what are the best trampolines anchors for high wind. You can either choose U-shaped ground anchors or augers but check them regularly to be sure they're working well.
But I recommend you corkscrew heavy-duty trampoline anchors if you live in a windy area. So, anchor your trampoline properly, and don't let the trampoline fly away.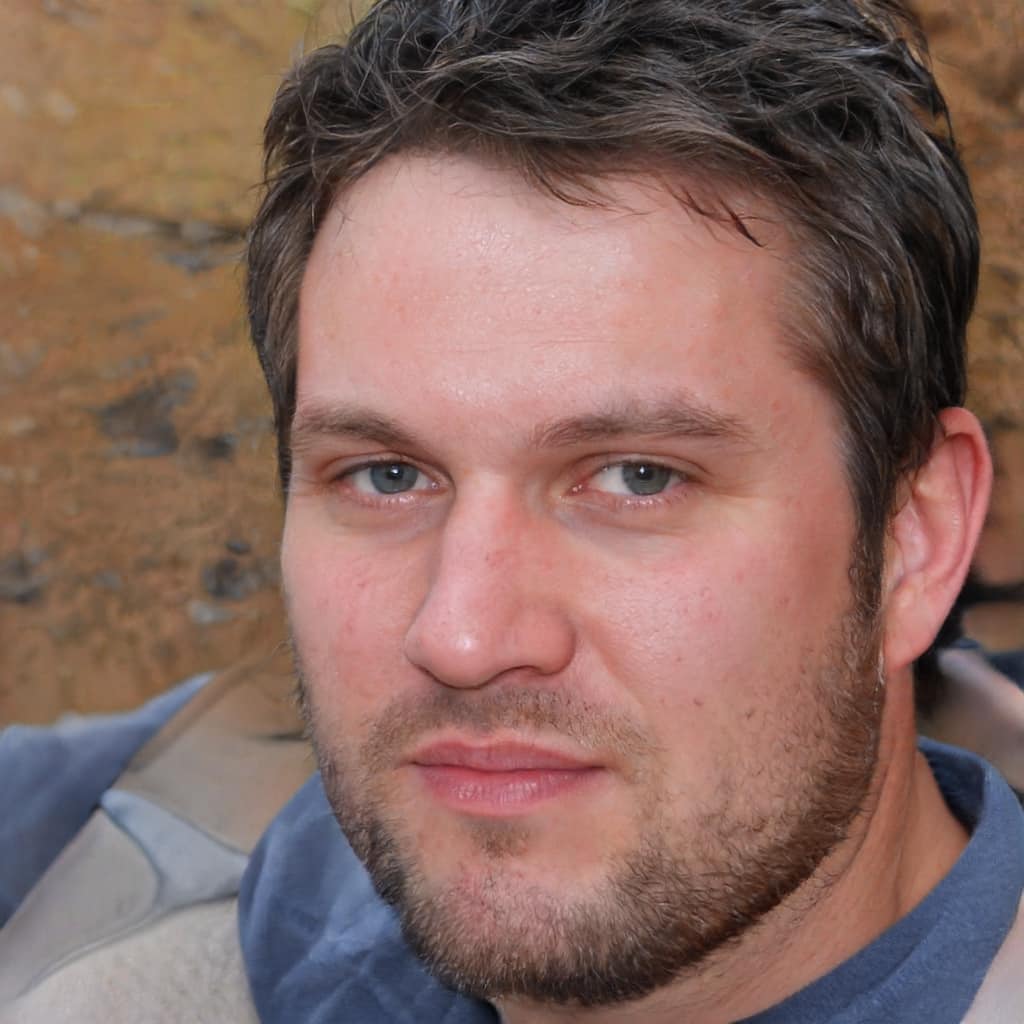 Robert is a trampoline and rebounder trainer with a passion for blogging. He discovered his love for trampolining at a young age, when his father gifted him his first trampoline at the age of 9. Over the years, Robert has honed his skills and knowledge in the field, and now uses his expertise to train others.
Besides, helping fitness enthusiasts in the gym, Robert is very eager to share his knowledge and experience regarding trampolines and rebounder exercises with the readers of picktrampoline.com. He will share all you need to know about trampolines and rebounders in this blog. Get his tips on trampoline and rebounder!