The best sunken trampoline promises fabulous landscapes to your backyard. It ensures a safe jumping experience and features a non-obstructive base. Once you have installed the in-ground trampoline, you can use it year after year without much maintenance; sounds good!
Have you wondered what are the best in-ground trampolines on the market? Well, there are numerous options in the market, but round and rectangle in-ground trampolines are the most popular and widespread ones. Some of the industry-leading sunken trampoline brands are Berg, Avyna, Capital Play, JumpPower, In-ground Trampolines, etc.
Here I've compiled here several top-performing ground-level trampolines both for small and large yards. Let's read reviews and find your most suitable one!
What is In-Ground Trampoline?   
Generally, trampolines are put above the ground. But they can be installed on the ground too. When the trampoline is buried in the ground instead of taking it above the ground, this is called an in-ground trampoline.
Only the mat is visible, while other parts go under the earth in this special trampoline. Some other names of in-ground trampolines are sunken trampolines, ground-level trampolines, buried trampolines, below-ground trampolines, low-to-the-ground trampolines, trampolines down under, underground trampolines, etc.
Due to design, sunken trampolines are safer compared to traditional models. They are aesthetically pleasing and provide gentle bounce so you can choose this as a safe model for endless fun and exercise.
Best In-Ground Trampolines Suggestions
1. In-Ground Trampolines Standard 15 Ft Round In-Ground Trampoline Kit
Specs:
Frame material: Alloy steel
Weight limit: 450 Pounds
Number of springs: 120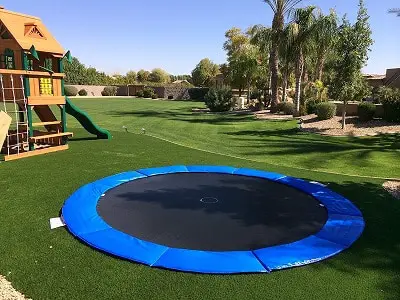 In-ground trampoline is a trending model nowadays. The 15-Ft In-ground Trampolines Standard is one of the best quality in-ground trampolines on the market. You can choose this USA-made sunken trampoline for a happy bouncing experience for the whole family.
Strong Construction & Large Weight Capacity
This 15 ft spacious in-ground trampoline is designed sturdily from stainless alloy steel material. Also, the model comes with a maximum number of heavy performance and corrosion-resistant springs.
The heavy-duty structure uses 14 gauge steel tubing and the wall panels have 18 gauge galvanized steel that provides optimal corrosion resistance and great durability.
It can withstand a maximum weight of 450 pounds, that's impressive for any sunken model. Such a hefty weight capacity will allow kids and adults to jump happily.
High & Comfortable Bounce
There are 120 springs 8.5 inches long to provide the highest bounce ever than any other competitor's model trampoline. IGT technology mat and pad also provide 20 times more airflow than other jump surfaces, thus, you'll get better bounce and comfort.
A professional-grade jumping mat is used here that is made of anti-UV polypropylene that also ensures high bounce and a better lifespan.
Better Safety
Due to the seamless knitting, the gap between the mat and the spring pad is eliminated, making it safer and more convenient. The spring padding prevents jumpers from the thrust of the spring.
Easy Installation
In-ground trampoline allows simple and quick installation. It requires less excavation as well as dirt haul-away than other large models. You can prepare the pit by excavating 16 feet diameter hole with 24 inches outside tapered depth and a 34-inch center depth.
Impressive Warranty
The IGT model provides a comprehensive warranty for each component. The frame, wall panels, and hardware cover ten years warranty, whereas 3 years for springs and 2 years for the mat.
Verdict
The In-ground Trampolines Standard provides jumpers with the greatest trampolining experience. For smooth and high bounce, you can buy this sunken trampoline. The stunning features of this model will be worth the investment undoubtedly.
Pros:
Lots of springs for superb bounce
Provides maximum durability of the frame
Great weight-carrying capacity
Provides great landscape
Minimal digging and haul-away of land
Stunning air circulation for better bounce
Cons: 
No safety net included
Costly replacement parts
2. Avyna Pro-Line 14 Ft In-Ground Round Trampoline
Specs:
Weight limit: 352 lbs

Hole depth: 34 inch
Springs: 96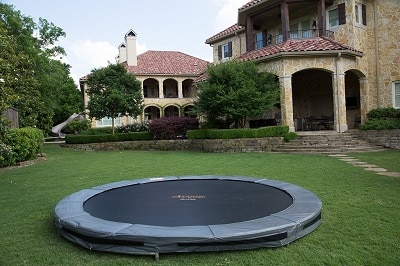 If you're looking for a top-performing in-ground trampoline, the 14 ft Avyna Pro-Line In-Ground Trampoline won't disappoint you.
No Need For Retaining Wall
Amazingly, this buried trampoline doesn't need any retaining wall to set up the trampoline. The installation process is easier than the other in-ground models. You can simply set up the trampoline without massive excavation.
So, the process eliminates expensive equipment for excavation. Just dig 34 inches deep pit and install the trampoline easily. 8 inches of the trampoline will be above the ground which will make good airflow under the trampoline hence good bouncing.
Better Bouncing
You need a bouncy trampoline, right? This model uses 96 springs that are 8.5 inches long, that's amazing for creating a good bounce. The trampoline is strong enough thus, it can hold up to 352 pounds weight.
So, no matter what your weight is, this 14 ft trampoline will be a suitable platform for you.
Unique Design
This round-titanium trampoline is a low-profile design like most other in-ground trampolines. It enhances safety as well as provides a great appearance in the backyard. The trampoline includes sitting space, thus jumpers can take a rest after bouncing.
Lifetime Warranty
You might love the lifetime warranty on in-ground trampolines as they are very expensive. Luckily, the Avyna Pro-Line 14 ft in-ground trampoline manufacturer will give you lifetime support.
Verdict
Having this Avyna in-ground trampoline, you will get the best value trampoline in America. The lucrative design and easy installation will attract you undoubtedly. And kids will also enjoy the safe bounce.
Pros:
Easy and fast installation
Minimum soil excavation
Allows setup without retaining wall
Attractive low profile design
Sitting area for the jumpers
Cons:
3. Berg Trampoline Champion 17 Ft In-Ground Oval Trampoline With Safety Net
Specs:
Weight capacity: 265 lbs

Frame material: Alloy steel

Total springs: 96 TwinSpring Gold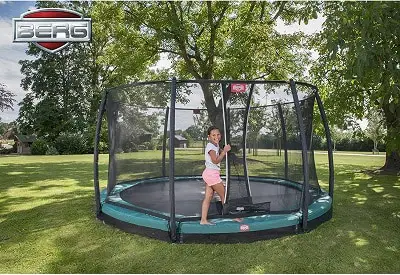 Up next, 17 ft Berg In-Ground Trampoline is one of the most appealing ones for backyard fun for the whole family. A larger space will allow several kids to play together there. And if you need small in-ground trampoline, there are 11 and 14 ft models available.
TwinSprings For Higher Bounce
This trampoline is designed for safe jumping. It uses 96 TwinSpring Gold springs that are mounted in a "V" shape with the mat. Thus, you will get a high bounce from the trampoline bed. The weight limit of the best ground-level trampoline is 265 lbs.
Airflow Jumping Mat
The large in-ground trampoline features AirFlow jumping technique. It allows more air to pass through the mat for more comfort. So, jumpers will enjoy the high jump as well as have more fun.
Combines Good Features
BERG oval sunken trampoline is a good model that blends the large jumping surface of the rectangle trampoline and provides a center-focused jump like the round model.
PVC Padding & Net For Safety
With this trampoline, you will get a soft padded spring cover that will protect you from spring impact. It includes an enclosure net for ground impact too.
Longer Warranty
Thanks, BERG in-ground trampoline for its life support. The frame provides 10 years warranty whereas springs and mat include 3 and 2 years warranty respectively. So users will feel relaxed to using the trampoline in any harsh condition.
Verdict
Berg Champion in-ground trampoline is a large model that allows the whole family to have fun together. It will also turn your backyard a great look. So don't miss this affordable in-ground trampoline.
Pros:
TwinSpring for bouncing higher
Safety net and pad included
Ensures more space and fun
Comfortable airflow
Cons:
4. JumpPower 10×7.5 Ft Small In-Ground Rectangle Trampoline With Enclosure Net
Specs:
Mat: Polypropylene

Weight limit: 220 lbs
Springs: 58, 6.5 inches
Hole depth: 36 inch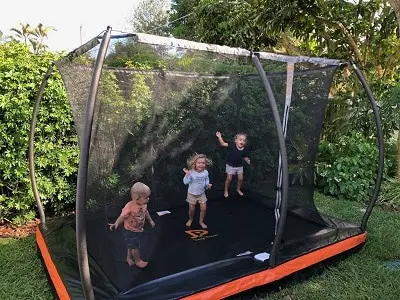 Are you looking for an in-ground rectangle trampoline for the small yard? Well, 10×7.5 Ft JumpPower Rectangle Sunken Trampoline will be an ideal choice for you.
Weight Limit & Bounce
The small in-ground trampoline can hold up to 220 lbs weight, which makes it a good pick for kids. It incorporates 58 springs, 6.5 inches each. So you will get a decent bounce from the small trampoline.
Sturdy Construction
JumpPower doesn't compromise in quality. The frame is made from 1.75 inches 16 gauge galvanized steel which makes the trampoline very durable. The full structure is rust-resistant thus you won't worry about rust forming.
Polypropelene mat will ensure cushion touch as well as give standard bounce to the children. The manufacturer recommends a 36-inch pit depth for the optimum jumping experience.
Safety
The rectangular in-ground trampoline comes with a cable wire enclosure net thus you can ensure better safety for your children. It will also resist the unnecessary entering of the animals in the trampoline.
A longer enclosure net is attached inside. Thus, there is no safety hazard as the frame, poles, and springs are outside the jumping space. Spring cover will add further safety from getting hurt.
10 by 7.5 ft JumpPower sunken trampoline meets different safety and production standards like ISO 9001, TUV, and SUV.
Verdict
In terms of size and cost, this rectangle 10 ft buried trampoline will be an ideal gift for your little toddlers as it ensures maximum safety. So, get the compact in-ground trampoline for your small yard.
Pros:
Ideal for small backyard
Included enclosure net
Safe model as springs are outside net
Cons:
5. Capital Play 14×10 Ft Rectangle In-Ground Trampoline Kit
Specs:
Frame material: Alloy steel
Weight limit: 264 Pound
Total springs: 104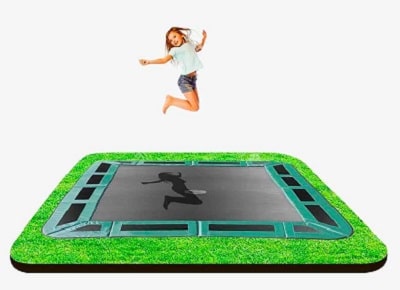 Another good rectangle ground-level trampoline is the 14×10 Ft Capital Play Trampoline. If you are looking for a large rectangular sunken trampoline to show lots of tricks, this will be an ideal one. Let's talk about its features.
Highest Durability
The manufacturer uses double frame technology. This exceptionally sturdy frame is made of 2 mm thick steel alloy. Moreover, the steel is manufactured from the double-dip galvanization process which means it endures in the ground for many years without any damage.
Capital Play includes a built-in strong retaining wall. Thus it allows easy installation. The manufacturer provides a 10-years frame warranty for unbeatable durability. The model can endure up to 264 lbs weight.
High Bounce
There are pre-tensioned, high-performing canonical 104 springs 8.5 inches long. They are galvanized and rustproof, thus providing a profound, smooth, and good jumping experience for longer periods.
Also, the jumping mat is made of professional-grade anti-UV polypropylene material for enhanced bounce and longevity.
It also has a thick and bouncy safety TDU vented pad that lets more air pass easily through the padding. It allows you to jump higher and ensures better safety.
Includes Safety Items
The rectangular sunken trampoline package includes a thick spring pad to protect jumpers from the spring's impact. It also eliminates noise for a sound jumping exercise. If you need an enclosure net, you can purchase it to add more safety.
Quick Setup
Capital low to the ground trampoline bundle provides a step-by-step sunken trampoline installing guide with the trampoline kit. Also, you can see videos from their website for more convenience. Making a 90 cm depth hole you can easily install the 14×10 ft buried trampoline.
Verdict
Capital Play in-ground trampoline kit is a heavy-duty and bouncy in-ground trampoline. So it will be going the best ever fun trampoline for a small family.
Pros:
Superb durable frame
Safe and excellent bounce
Gives optimum frame lifetime
Comes with the complete kit
Safety net available
Cons: 
Lower weight capacity doesn't allow heavy adults
6. Happy Trampoline Gymnastic 14 Ft Below Ground Sunken Trampoline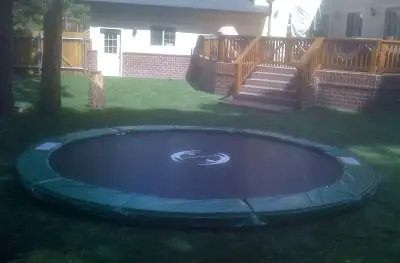 Most large outdoor models of Happy Trampolines can be used simultaneously as in-ground and above-ground trampolines. But Happy Trampoline brands have some specially designed in-ground trampolines like 14 ft round and 14×16 ft rectangle sunken trampolines.
14 Ft Below Ground Trampoline Happy Trampoline comes with a durable structure. It includes all the necessary things in the package. The frame is made from commercial-grade steel, and each tube's thickness is 3 mm.
The weight limit of the trampoline is 550 lbs. It uses 9 inch long 108 springs that provide high bounce. Permatron mat and wide spring pad provide maximum jumping fun. Its frame and springs provide a lifetime warranty.
7. Acon Air 4.6 Trampoline 15 Ft with Premium Enclosure Ground-Level Trampoline
Although Acon Air 4.6 is an above-ground trampoline, still due to its superior quality, you can use it as a ground-level trampoline.
Things To Consider While Buying The Best Sunken Trampolines
While you're planning to get a sunken trampoline for your kids, you should consider some important things to choose a safe and good in-ground trampoline. So, let's discover the hacks on how to choose the right trampoline for your family!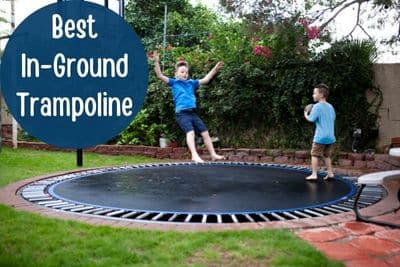 In-Ground Trampoline Size
The first thing is the size of the in-ground trampolines. Sunken trampolines are available in both small and large sizes. Which size is best for you depends on the backyard space and the purpose of use.
If your backyard has a limited area or wants to buy an in-ground trampoline for kids, then the smaller sizes will be the right fit. On the other hand, if your garden is spacious and plan to get the trampoline for the whole family, choose the larger models.
Don't shop the big in-ground trampoline unnecessarily, as this will raise the overall cost of buying, installing, etc. So, make a balance between available backyard space with your requirement.
The Shape of the Ground Level Trampoline
Like usual trampolines, in-ground trampolines are available in round, square, oval, and rectangle shape. For higher bounce, a sunken rectangle model should be chosen. But an oval and round shape trampoline will be great for safe and center-focused jumping.
Read Also: Different Types of trampolines
Durable Construction and Material
The structure of in-ground trampolines must be strong enough so they won't wobble while jumping or don't get damaged fast. Also, the materials of sunken trampolines should be safe enough to endure heavy bounces.
The best in-ground trampoline frames are built from heavy-gauge galvanized steel to ensure structural superiority and durability. Springs should be made of rustproof galvanized steel to prevent corrosion and rust.
You need a bouncy as well as a safe jumping mat. Heavy-stitched mats make them good in quality. The best ones are waterproof and UV-resistant. As your buried trampolines will be outside for years after years, so waterproof jump bed will extend the mat's lifespan.
While choosing the spring pad, make sure it's thick enough, UV-resistant, and waterproof. It will enhance safety and extend the trampoline's life.
Weight Capacity
The in-ground trampolines must be a higher weight limit than the jumper's weight. If you plan to make the jumping platform for the whole family, it should come with a higher load capacity of more than 300 pounds. Alternatively, a 200 to 300 pounds weight limit is good enough for smaller kids.
Bounce
The main purpose of using a trampoline is to get a good bounce from the trampoline. This is also true in the case of in-ground models. While choosing the sunken trampoline, make sure the mat and springs are good enough to make gentle bounce.
It's important to dig recommended depth hole for better airflow hence good bounce. If the manufacturer suggests putting the jump bed a few inches above the ground, keep it so as to get a comfortable bounce. Also, use good spring padding to get proper airflow.
Read Also: Tips to increase trampoline's bounce
Safety
The mat of sunken trampolines is just a few inches above the ground which makes them safer compared to the usual ones. However, you can put cushioning material in the ground for further safety.
Due to being a low-height model, they don't need an enclosure net. But you can add it for additional safety.
It's also important to check the spring pad quality. The thick, wide, and foam-padded spring padding will be great for protecting jumpers from spring-related injuries. Even some models have directly sewn between the mat and pad to extend safety a lot.
Easy Installation
You should choose the right trampolines that require less hole digging. So, pick the best sunken trampolines instead of the usual trampolines, as sinking the traditional models is quite tiresome.
Most sunken trampolines need 3 to 4 feet deep soil removal to install trampoline which is costly. But some models allow you to set up the in-ground trampoline after a small amount of soil removal, you can choose this type. But there is an issue of low-bounce due to low pit depth.
Read Also: Tips on leveling a trampoline
Warranty
In-ground trampolines are quite expensive than traditional models. But most of them will give you the maximum warranty. Some of the best sunken trampolines even come with a lifetime warranty; that's impressive.
With good after-sales support, most manufacturers also provide in-ground trampoline assembling and disassembling services. And you will get the replacement parts from them too.
Read Also: How much is a trampoline?
In-Ground Vs Flat Ground Trampoline
In-ground trampolines usually come in two styles. When the trampoline is placed under the earth, and the mat is leveled to the earth, this type is called level-ground or flat-ground trampoline. Whereas if a few inches of the trampoline is kept above the ground, this trampoline is named an in-ground trampoline.
Let's see some differences between in-ground and level-ground trampolines.
| | | |
| --- | --- | --- |
| Comparing Features | In-Ground Trampoline | Flat Ground Trampoline |
| Raised of the earth | Several (4 to 6) inches | Only the mat is seen |
| Hole Depth | Shallow hole | Deeper hole |
| Enclosure Net | Mandatory | Not mandatory |
Read Also: In-ground vs above-ground trampolines
Frequently Asked Questions
1. How deep should a trampoline be in the ground?
Ans: The depth of the trampoline should be a couple of inches lower than the lip of the trampoline. This allows the air to flow beneath the trampoline, which makes for a better trampolining experience. So the size of the hole will only depend on the individual trampoline you buy.
Read Also: Sunken trampoline problems
2. Is in-ground trampoline safe?
Ans: Yes, sunken trampolines are safe due to the low-height design. Thus, from kids to adults, everyone can use it. If you are pregnant and want to do some light exercise trampoline in the fresh air, a sunken trampoline might be a great way to jump safely.
3. Can I attach a basketball hoop with a sunken trampoline?
Ans: Yes, you can install a basketball goal with an in-ground trampoline. You can also add other fun trampoline accessories with the ground-level trampoline.
Final Words
A sunken trampoline is the right platform to bring everyone in the family from toddlers to adults and even the elderly. This is safe as well as long-lasting and gentle bouncing.
So, consider your backyard space and shape then choose either the round or rectangle in-ground trampolne. Now, jump happily in the best in-ground trampoline and breathe fresh air!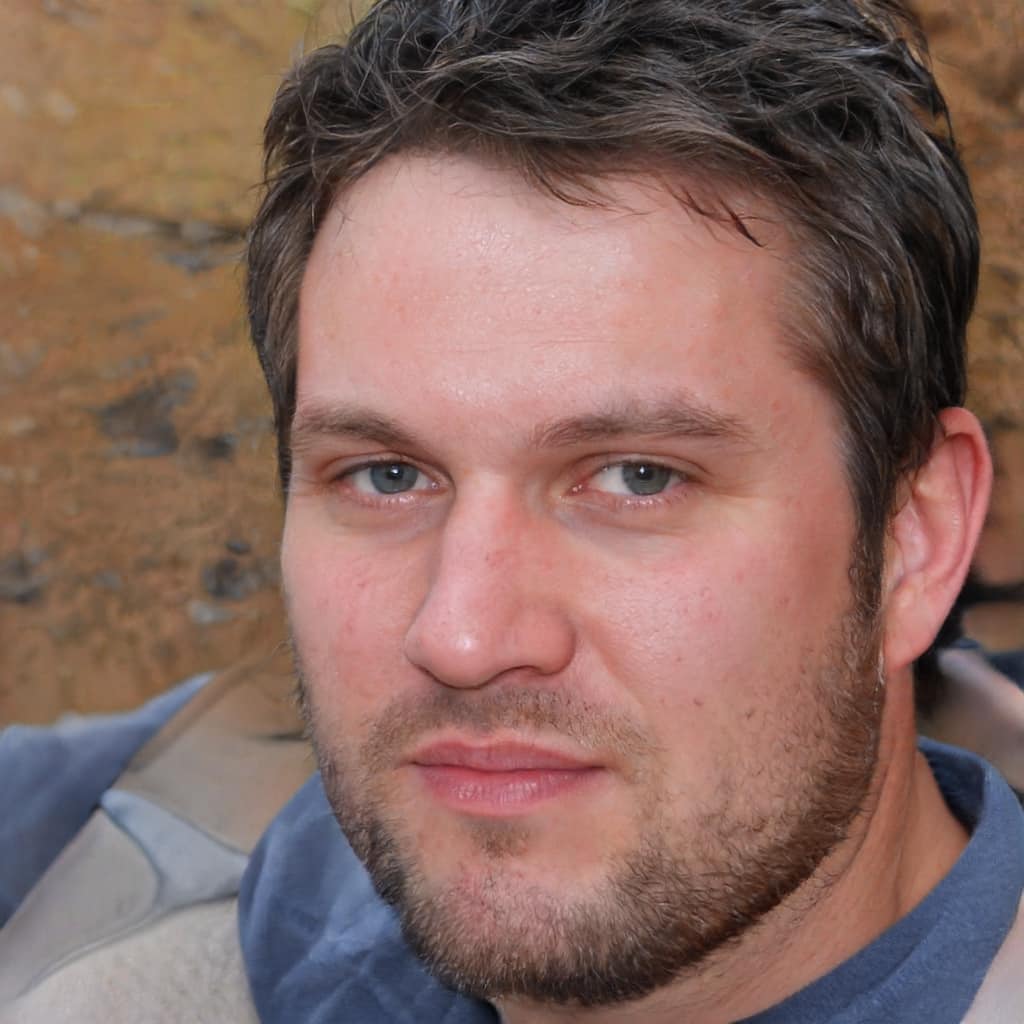 Robert is a trampoline and rebounder trainer with a passion for blogging. He discovered his love for trampolining at a young age, when his father gifted him his first trampoline at the age of 9. Over the years, Robert has honed his skills and knowledge in the field, and now uses his expertise to train others.
Besides, helping fitness enthusiasts in the gym, Robert is very eager to share his knowledge and experience regarding trampolines and rebounder exercises with the readers of picktrampoline.com. He will share all you need to know about trampolines and rebounders in this blog. Get his tips on trampoline and rebounder!