Trampolines need special care in the winter to protect it from cold. Trampoline users either disassemble and store the trampoline inside in the winter or leave it out and jump there as usual. But you may be wondering, which is the right way between two.
If you want to leave the trampoline outside you have to prepare your trampoline i.e. winterizing it for the upcoming winter to protect it from the chill. So, how to winterize a trampoline to protect it from chilly weather. Trampoline winterizing includes cleaning the trampoline, removing net, spring pad, and other vulnerable parts.
Trampoline winter care is a must to keep your trampoline protected in winter. Before I hop on the ways of winterizing a trampoline, let's discuss some things that might come to your mind.
Can I Leave My Trampoline Outside During Winter?
Should you leave your trampoline out during the winter? This depends on the situation.
If there is heavy rainfall and you don't want to jump in the trampoline outside, then winterize the trampoline and keep it inside.
But when you want to use the trampoline even in the winter, then it is okay for you to leave the trampoline outside. In this case, you have to cover the trampoline with a winter cover.
Snow covers protect the trampoline's most vulnerable parts like springs, safety cover, and mat as snow can't go in direct contact with these parts due to weatherproof cover.
Will Snow Ruin or Break a Trampoline?
In general, snow doesn't break or ruin your trampoline. But when the weight of piled snow exceeds the structural weight limit of the trampoline this could damage the trampoline more or less.
If there is too much accumulated snow for long there is a high chance of ripping the trampoline mat, losing elasticity of the springs, etc. So, don't allow heavy snow on the trampoline.
To avoid such unexpected damage of the trampoline remove snow from trampoline regularly using soft brush.
Should I Disassemble My Trampoline in Winter?
Trampolines are a strong and long-lasting structure. They can endure UV rays, heavy winds, rains, snows, and harsh weather. So, you can use the trampoline for year-round fun. But, in winter you can disassemble it for several reasons.
If your area has heavy rainfall and there is no way to use the trampoline, then it's recommended to disassemble the trampoline in this condition. Mild or low rainfall will allow you to use the trampoline.
Before disassembling the trampoline, consider the storage space too, as it needs quite a big space. If you have a garage or separate space, then disassemble the whole trampoline and store all parts inside. Otherwise, take apart only the exposed parts like mat, net, and springs.
Vendors recommend taking down the trampoline in the fall, just before the winter so snow can't do any harm to your trampoline. You can hire any local trampoline assembly and disassembly professional or do it yourself.
What Is the Winterization of Trampoline?
Trampoline winterization refers to preparing your trampoline to keep the trampoline safe and clean during cold weather. This is a special trampoline winter maintenance to protect your trampoline in the chill.
Winterizing the trampoline is necessary as harsh weather might harm the trampoline if it is exposed outside. It protects the trampoline from heavy winds, snow, rain, and other weather-changing elements.
Either you leave the trampoline out or take the parts apart and keep them inside, you should care for the trampoline in both conditions. Don't worry, I'll guide you on how do you care for your trampoline in winter.
Why Trampoline Winterizing is Necessary?
Do you need to winterize a trampoline? Yes, the best practice to protect your trampoline from snow is to winterize your trampoline. Here are several benefits of trampoline winterization.
Save Replacement Cost
If the trampoline gets exposed outdoor in frozen weather, it will prone to damage fast, especially, springs, mat, and frame pad. Thus, you have to invest further to purchase these parts.
But trampoline winterizing saves such trampoline parts replacement costs as it covers the parts against harsh weather.
Read Also: Cost of a trampoline explained
Increase Trampoline Lifespan
When you keep the trampoline outside without necessary protection, it will lessen the trampoline's life. However, you can extend the trampoline longevity through winterization.
Extend Safety
If the trampoline is kept outside in cold weather, rusts may form in springs or mat gets damaged soon. This is a terrible safety hazard. But winterization can help you protect the trampoline from such danger.
Now, It's time to know the best ways to keep your trampoline healthy during winter. Let's move on!
How to Winterize a Trampoline Step by Step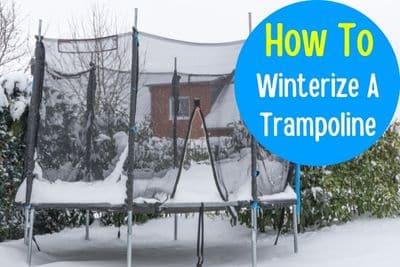 Trampoline winterization methods can be divided into several main sections such as cleaning the trampoline, removing necessary parts, taking care of the outside parts, adding a snow cover, etc.
Let's read the cool trampoline winterizing tips!.
Step 1: Cleaning the Trampoline
At first clean the whole trampoline. There might be accumulated dust, debris, birds poop, leaves, or other things. Clean them well using a long handle broom like the SANGFOR Broom Set.
If needed rub with mild warm water and a soft cloth to remove all dirt. Sometimes snow could build up, clean them too using the broom.
Experts don't recommend snow blowers or shovels to remove snow from the trampoline as they might scratch or damage the mat.
No products found.
After cleaning is completed it's time to take apart necessary parts.
Step 2: Removing Poles and Net
Removal starts from the slack parts like the enclosure net. Some trampolines have additional accessories such as basketball goal, clubhouse, sprinkler, tgoma, and so on, remove them first.
If the enclosure has top-rails on top of the poles, detach them. Now untie the straps of the net from poles. Then remove the enclosure net and poles.
When detaching the net, be sure the zipper is unzipped. If you want, you can wash the net and make it clean. Afterward, fold it several times and tie it with straps.
Step 3: Detaching Spring Pads
Remove the spring safety pad by loosening the straps. If there is any tree sap, birds poop, or other residue clean them using any detergent solution.
The safety pad may get damaged if it comes in contact with water so don't soak it in water. Then keep it in sun to make it dry. Now fold it and tie it with a strap.
Step 4: Taking Care of the Remaining Parts
Now only the frame, springs, and mat of the trampoline are left outside. So, it is necessary to take care of these parts on a regular basis.
Clean the accumulated snow regularly with a long handle broom instead of a shovel or snow blower. Shovel might create scratches or holes in the mat. And the heat of the snow blower can damage the mat severely.
Besides cleaning, check the mat and springs' condition. If you find any faulty or rusty springs, replace them soon. But consider galvanized springs as they prevent rusting against the snow. Also, repair the mat hole as soon as you can.
Step 5: Putting on Winter Cover
While leaving the trampoline outside in the chill trampoline winter cover is a must. It will prevent piling up snow, dirt, leaves, or debris and protect the trampoline from harsh weather.
According to your trampoline size, you have to pick the right size trampoline cover for winter. Here is a top-notch trampoline snow cover recommendation for you.
Sale
Skywalker Trampolines Accessory Weather Cover - 15' Round
FITS: 15' round trampolines
MATERIALS: Made of weatherproof vinyl-coated UV-resistant PVC material.
SAFE DESIGN: Heavy-duty cord creates tension around trampoline to secure cover in place. Straps with clips hook onto V-rings for extra security
Step 6: Anchoring the Trampoline
You can anchor the frame to prevent blowing off the trampoline if there are gale force winds or snowstorm. Sandbags or anchoring kits might help you to do that. Use corkscrew or auger anchors for better results.
Trampoline anchor is not special for winter, it should be done even before winter. But it is very helpful for the winter season. Here is a good trampoline anchoring kit recommendation for you!
Editor's Choice: Eurmax Heavy Duty Corkscrew Trampoline Stakes
Eurmax Trampoline Stakes set includes 4 stakes, a spring puller, and 4 bonus belts. Corkscrew stakes are 16-inch that provide maximum stability to the trampoline. Galvanized steel prevents corrosion and extends stakes life.
The belts are made from strong car seat belts that can bear heavy impact. And T-hook helps you pull the sakes. Don't miss this heavy-duty wind stakes set to protect the trampoline from heavy wind.
Step 7: Taking Apart Springs and Mat (In Worst Situation)
Heavy piles of snow can damage the mat or break the springs. In this situation, detach the springs and jumping bed to protect the trampoline.
Spring removal is quite tricky. When you remove the springs, the mat automatically gets detached. You can use a spring puller or pliers to detach the springs.
If you hold the frame side end of the spring by spring puller or its alternatives, pull it towards you until spring detaches from the frame. Alternately, when you hold the V-rings end of the spring pulls it towards the trampoline center.
After removing all springs and mat clean the mat using soap or detergent solution. Also, clean the springs especially if there is any rust. You can use lemon solution or rust removal spray to remove rust from springs.
Then fold the mat several times. And keep all the springs together.
Trampoline Storage Ideas in Winter
You may wonder, how to store a trampoline in winter. Well, this is not a big deal when you've already taken apart the trampoline parts. Now, gather all the disassembled parts together.
If you have trampoline storage boxes, bring them out. Lay down all trampoline parts and store them in different boxes. Keep the similar parts together like all springs in a box, mat and enclosure net in another box, etc.
Don't worry, if you don't have boxes. Make several boxes of clothes or any other dry things and put the similar parts there. After packing all the parts keep them indoors such as your garage or store room. That's it!
Bonus Tips on Trampoline Winter Care and Maintenance
Regular Inspection and Cleaning  is Important
During the winter season, inspect the outside trampoline parts regularly and brush off the accumulated snow. If you find any damaged or broken part, replace it with a new one soon.
Weather Cover is a Must
On the chilly days, never keep the trampoline exposed without snow cover. It'll damage the trampoline that you never expect.
Don't Forget the Frame
If the weather is too bad and forecasts say heavy snowfall is coming for a couple of the next months. This means the trampoline frame is going to stay under snow as it might damage the frame. In this case, disassemble the frame too, and store it inside.
Frequently Asked Questions
1. How to winterize an in-ground trampoline?
Ans: Snow might damage the in-ground trampoline's mat and safety pad. So, experts recommend taking down the spring cover, springs, and mat from the structure. The retaining wall isn't affected by the chill. So, you can keep this outside.
Clean the removed parts after removal. Then store them inside until you use them for the next. 
2. How much snow can a trampoline hold?
Ans: This depends on trampoline size and structural rigidity. Theoretically, a trampoline can hold up to the equivalent weight of snow to the trampoline weight rating.
3. Do you need to cover a trampoline in the winter?
Ans: Yes, if you want to keep the trampoline outside during winter, a trampoline winter cover is a must. You make homemade trampoline snow cover from polyethylene or plastic. But if you need a professional one, you can buy a trampoline snow cover.
Read Also: Can you jump on a chilly trampoline?
4. How to remove heavy snow from a trampoline?
Ans: If heavy snow is piled on your trampoline, you should remove it soon. It's recommended to use soft bristle brush instead of shovel or blower to clean snow from the trampoline.
Begin cleaning the snow from the center and go towards the edge of the trampoline. Then drop off the piled snow in the ground. After that wipe the mat with a dry cloth and for further drying keep the trampoline on air for a while.
Final Verdict
Trampoline winter care is a must to protect your trampoline from extreme cold weather. Piled snow can ruin the trampoline so cleaning the trampoline regularly is most important. Besides this, remove the necessary parts like springs, mat, safety pad, and enclosure net.
By now, you know the best things on how to winterize a trampoline in the right way. And don't overlook the aforementioned safety tips if you want to use the trampoline in winter. Hopefully, these trampoline winterization ideas will help you to protect and prepare your trampoline for the winter!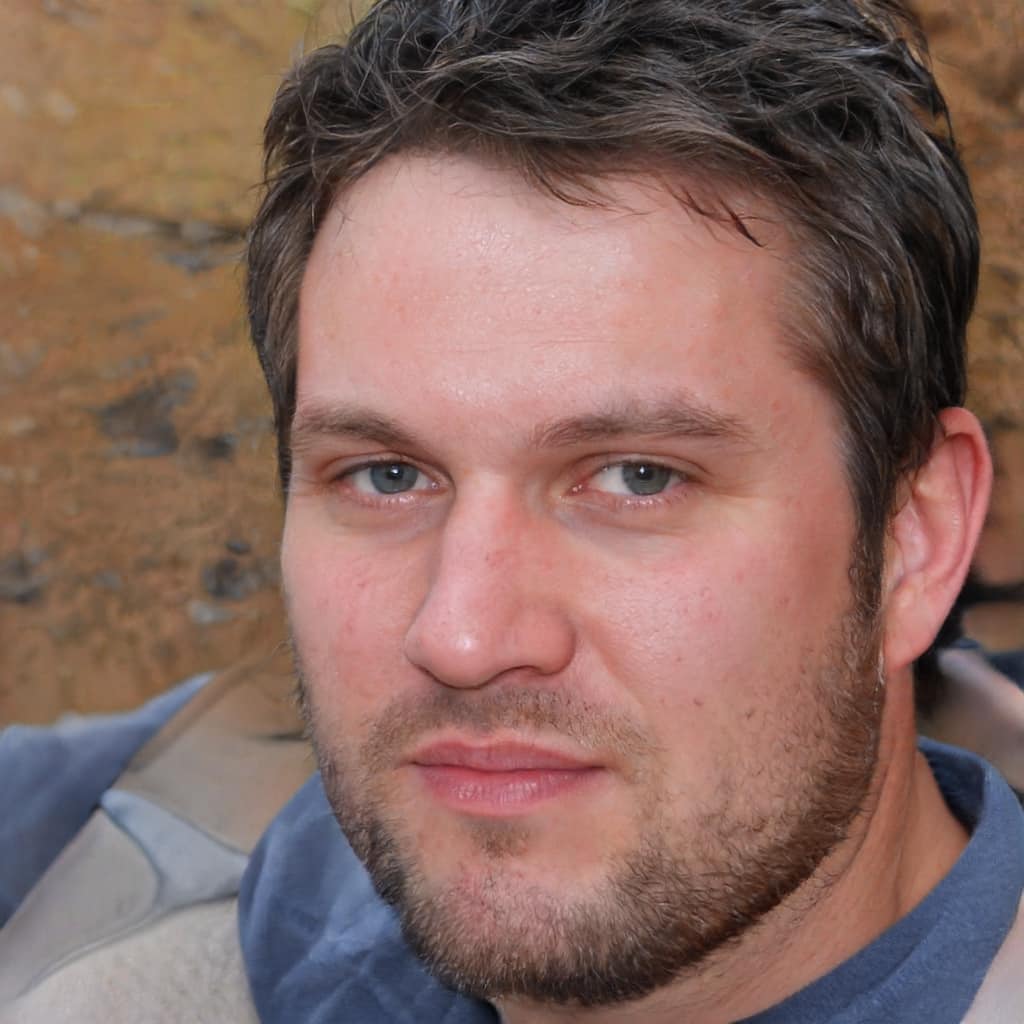 Robert is a trampoline and rebounder trainer with a passion for blogging. He discovered his love for trampolining at a young age, when his father gifted him his first trampoline at the age of 9. Over the years, Robert has honed his skills and knowledge in the field, and now uses his expertise to train others.
Besides, helping fitness enthusiasts in the gym, Robert is very eager to share his knowledge and experience regarding trampolines and rebounder exercises with the readers of picktrampoline.com. He will share all you need to know about trampolines and rebounders in this blog. Get his tips on trampoline and rebounder!