A DIY trampoline swing bed is a lovely trampoline recycling project. You can make a homemade trampoline swing at an affordable cost within a short time.
So, how to make a DIY trampoline swing? The key things to build a swing bed from a trampoline include removing the legs, covering the outer edge with pool noodles, adding papasan cushions and pillows, etc. However, you may need some tools and accessories to complete the project.
This article will explain the step-by-step guide on how to transform your old trampoline into a trampoline swing.
How to Make Trampoline Swing Bed at Home? (Step-by-Step Guide)
Have you wondered how to make a DIY mini trampoline swing from the mini trampoline or rebounder? Here I'll share the detailed method to build a floating bed/swing bed/saucer swing/hanging bed/teepee swing recycling out of an old trampoline.
The 7 steps to DIY trampoline swing bed are as follows-
Gather essential things
Remove the legs
Cover the outer edge with pool noodles
Stick the pool noodles using spray glue and fabric
Wrap rope in frame
Hang the trampoline swing
Add papasan cushion and pillows
Below, I'll explain all the steps.
Step 1: Gather Essential Things
To make a trampoline bed swing from the small trampoline, you need several things, such as-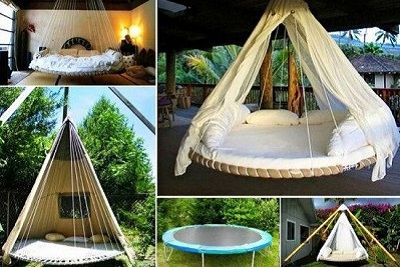 Pool noodles
Colorful fabric
Durable rope
Spray glue
Papasan cushion
Pillows for decor
So, most of the items are available at home. You might need to purchase only a few items. Thus, the trampoline DIY project is very much budget-friendly.
Before you hop on the recycling of the used trampoline to convert it to a hanging swing bed, I recommend checking the mini-trampoline thoroughly. If you find any defect in the springs, mat, and frame, replace them before you start making the trampoline swings.
Step 2: Remove the Legs
First, remove the legs from the small trampoline to transform the trampoline into a swing bed. If there is a handle, detach it too.  For an outdoor large trampoline, remove the net, and poles, too. Only the frame and trampoline bed will be needed to make the trampoline swing.
See Also: DIY trampoline installation on a slope
Step 3: Cover the Outer Edge with Pool Noodles
This time, you have to cover the edge of the frame to make it safe and cozy. To do that, slice down the pool noodles in half longitudinally and use them on the entire trampoline's outer edge. Here is a good set of recommended Pool noodles.
Step 4: Stick the Pool Noodles Using Spray Glue and Fabric
The added pool noodles to the trampoline metal frame aren't fixed tightly yet. So, you have to affix them well with the trampoline frame.
To do that, you can wrap the pool noodles' edges with fabric. Then spray glue to stick the fabric with pool noodles. Alternatively, you can also use white noodles. Here is a recommended super glue spray.
Step 5: Wrap Rope in Frame
At this time, wrap the high-tensile rope in a trampoline frame. Also, tie knots in the frame using the rope. Make sure the rope is capable of holding the hefty weight of the users who're going to swing.
Usually, adding rope in the legs position is quite well. If you want, you can use more rope for secure hanging. But make sure there is space to climb on and off the trampoline swing seat.
See Also: Tips to make a homemade trampoline
Step 6: Hang the Trampoline Swing
Now hang the newly made trampoline swing indoors or outdoors. You can use the ceiling, or A-frame to hang the swing inside. Tree branch, swing set stand, and Pergola, are some good options to hang the swing that is upcycled from the trampoline.
After hanging the trampoline swing bed, be sure it is completely horizontal. And the stand or ceiling where you're hanging the DIY trampoline swing platform should be strong too.
See Also: Trampoline with slide and swing
Step 7: Add Papasan Cushion and Pillows
Add a Papasan cushion and matching pillows to the swing bed for making the swing seat comfortable. You can also use some additional items like lights, colorful flags, and more for an aesthetically appealing floating trampoline swing bed.
Keep in mind, depending upon trampoline shape and size, your swing's shape will be formed.
So, the DIY bed swing is ready. Now, swing in the homemade hanging trampoline swing and have endless fun!
The following video will be helpful for visual learners on how to make a swing from the old trampoline.
See Also: DIY trampoline basketball hoop
Trampoline Swing Recommendations
If you don't have enough time to make a trampoline, swing out of a trampoline. Don't fret; you can buy a trampoline swing without any hassle. Here is a top-pick trampoline swing suggestion for fun.
See Also: Trampoline fun accessories
Frequently Asked Questions
1. Can I turn the trampoline swing into a hanging tent or teepee?
Ans: Yes, you can convert the trampoline swing into a floating swing tent or teepee. Just cover the surrounding of the rope from the ceiling to the swing bed except for the doorways. It's simple! If you want to purchase, please check this one.
2. How to make a trampoline swing with a stand?
Ans: Using metal rods, or wooden posts, you can easily build a trampoline swing stand. Alternatively, you may use the poles of large trampolines to build a hanging swing stand. And the swing-building method will be the same as discussed above.
3. Can I use a big trampoline to make a large swing bed?
Ans: Absolutely, you can use a large trampoline to get a bigger DIY saucer swing bed. This allows swinging all the family members together and even you can sleep there too.
4. What are some of the other ways to recycle old trampolines?
Ans: An old trampoline can be used to make lots of projects like a chicken coop, raised garden, garden arbor, outdoor bed, greenhouse to grow plants, plyometric rebounder, movie screen, and so on.
Final Verdict
A DIY trampoline swing is a great idea to repurpose your old trampoline without tossing it away. This will keep the parts and memories alive. You can do it at a cheap price and without much effort.
Whether you use it indoors or outdoor, it will add beauty as well as makes everyone healthy and happy. Let's swing in the best trampoline swings for blissful leisure time!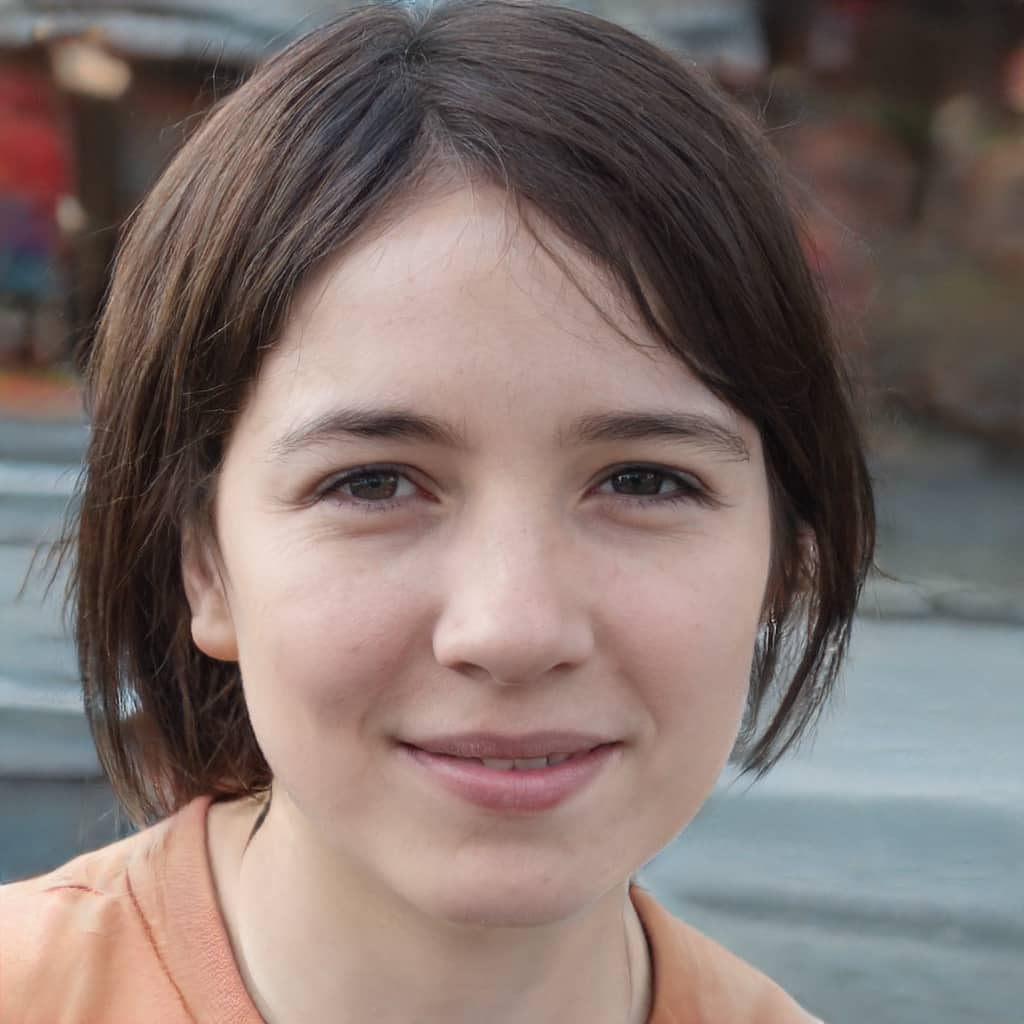 Rebecca is a fitness nerd and mother. She was inspired to get into the world of trampolining and rebounding by her husband Robert, who is a well-respected trainer and expert in the field. Now she instructs children, mothers, and teens the basic trampolining and rebounding tricks.
Rebecca is also a passionate blogger, sharing her knowledge and experiences with others in the hope of encouraging them to give trampolining and rebounding a try.