Trampoline, swing, and slide; each Playset is great fun on its own. Can you imagine how the excitement level will be when these three combine together?
Usually, slide, swing, and trampoline come alone, but they are available as combo sets too. You can also purchase them separately and assemble together to use as a single Playset. But I recommend buying trampolines with slide and Swing combo packages to minimize hassle.
Here I'll guide you on how to choose the trampoline, slide, and swing combo set rightly with top-pick suggestions.
Benefits of Trampoline, Slide, and Swing Set
Trampoline with swing and slide combo sets have numerous perks over using these Playsets separately. Some of the benefits are-
Kids can play in numerous play stations having a combo set of swings, trampoline, and slide. It will enhance their fun a lot. Thus, they get active for longer hours, which will help grow them in a better way.
Several children can play together in the multi-PlayStation trampoline, swing, and slide set. This will develop their communication skill, sharing mindset, and bonding. Even it's good for sensory and special needs children.
The combo trampoline, slide, and swing set is a space saver. If you install them separately, you need more space than the combo model.
See Also: Trampoline benefits
Trampoline with Swing and Slide Combo Package Suggestions
Have you been looking for a trampoline, including a slide and swing set? Here are a few recommended options for you-
1. FITNESS REALITY KIDS 8 Stations Swing Set with Slide, Trampoline
Specs:
Trampoline size: 42 inch
Frame material: Alloy steel
Swing set frame diameter: 2 inch
Saucer lowest height: 20 inch
Each station's weight capacity: 80 lbs
Age limit: 3 to 8 years
FITNESS REALITY KIDS 'The Ultimate' 8 Station Sports Series Swing Set is one of the best swing sets with a trampoline, slide, and several other play stations. There are altogether 8 play stations for kids.
Several Kids Can Play Once
The 8 stations combo set includes a round trampoline, flying saucer, belt swing, slide, 2-person glider, monkey bar with handles, soccer goal with net, and a basketball hoop with backboard. It allows playing 9 kids at a time.
Durable Playset
The frame of this metal swing is made of durable 2-inch alloy steel. Each play station can hold a maximum of 80 lbs weight. It's a weatherproof design and lasts long.
Numerous Swings Together
This outdoor playset includes one strap swing and a saucer swing. That's a great option both for smaller kids and older ones. Besides, you can also consider the monkey bar as a hanging swing too!
The contoured plastic seat provides a good sitting position, and the plastic chain covers add hand protection.
Safety Certified
Different play stations, including trampoline and saucer swing sets, are designed for 3 to 8 years kids. All the parts meet the ASTM and CPSIA safety standards.
Pros:
Allows 9 kids to play together
Plastic covers on chains to protect hands
Meets ASTM and CPSIA safety standards
The handle of the trampoline extends safety
Cons:
A large size set needs more space
2. IRONKIDS Premier 100 Fitness Playground Including Trampoline, Swing and Slide
Specs:
Frame material: Alloy steel
Trampoline size: 42 inch (square)
Trampoline weight rating: 80 lbs
Assembly time: 1 to 2 hours
Age limit: 3 to 8 years old
IRONKIDS Premier Multi-Functional Playground Set is designed to make children healthy, positive, and active. You can use this either in the indoor or backyard. Its price makes it a hand-picked choice.
Allows Five Kids Once
The steel-constructed playground provides great durability. It incorporates four activity centers, such as a trampoline, two swings, a slide with a ladder, and a monkey bar. Thus, it allows five kids to play there at a time.
Trampoline With Handle Bar
For the little athletes, this IRONKIDS set incorporates a 42-inch small square trampoline. The lucrative design will impress your kids, I bet! There is also a handle on the trampoline to support children while jumping on it.
The durable trampoline comes with heavy-gauged steel, galvanized springs, and a premium quality jumping mat. It can support up to 80 pounds of weight.
Stable Swings & Monkey Bar
Each swing has a contoured plastic seat. For hand protection, swing chains are covered by plastic. A money bar is hung from the middle of the swing frame. Thus, children can play and exercise there for better growth.
Posts are U-shaped, which prevents moving the Playset. The 2 inches diameter V-frame of the swing set provides great strength to the structure. You can make the set more stable using the included four corkscrew ground anchors.
Safe Slide with Ladder
The polypropylene plastic slider is wavy for extra fun. Moreover, the side guard of the slide prevents rollover falling. The ladder is attached to the slide for easy climbing.
Extra Protection
IRONKIDS Fitness Playground eliminates all safety hazards. It is ASTMF 2776 and a CPSIA-certified product. To protect children from sun exposure, there is a sun cover (canopy) over the swing frame.
This Playset introduces a net between the ladder and the swing frame and also between the ladder and swing frame so kids don't go from one play station to another straight, preventing accidents and making the Playset safe.
Pros:
Eliminates safety hazards
Sunshade for sun protection
Arch shape frame prevents movement
Included ground anchors for frame stability
Handle with trampoline for safety
Cons:
Monkey bar is quite high for small children
3. LANGXUN 4 In 1 Indoor Outdoor Trampoline With Slide, Swing, & Climb
Specs:
Trampoline size: 6×4 ft
Trampoline weight limit: 120 lbs
Trampoline mat: Polypropelene
Trampoline frame material: Steel
Age limit: 1 to 8 years
LANGXUN Indoor Outdoor Mini Trampoline is a multi-functional Playset for children. The combo set includes four play options such as toddler trampoline, swing, slide, and climbing steps.
Sturdy Trampoline
This combo trampoline with slide and swing set is a 2021 upgrade model. It has a durable 6×4 ft rectangle trampoline made from heavy-duty rust-resistant steel. Spring is zinc plated that provides long-lasting and corrosion-resistant performance.
Non-metal parts are UV resistant, like its mat and spring pad. The 4 in 1 LANGXUN small kids trampoline supports up to 120 pounds of jumper's weight.
Safe Trampoline
Besides quality, the trampoline is safe for children. A thick and premium-quality pad protects kids from spring injury. Mat is polypropylene constructed for a high and comfortable jumping experience. The mat and safety pad are stitched to prevent hand and foot injury.
Its 6 ft height enclosure net protects jumpers from falling outside and also extends the jumping space. The poles of the kids' trampoline are padded well to eliminate hit impact. The legs are covered with plastic to make this toy safer.
Easily Detachable Swing
The trampoline with a swing set comes with a unique design. Its swing is attached to the top of the extended enclosure pole. The ropes are strong enough for the kids, and the plastic seat is soft too. You can easily install or detach the small hook design swing within a short time.
Interchangeable Slide & Climber
Both climb and slide are small in size. They can be attached and detached quickly. Also, you can swap their position if necessary. But, before using the slide and climb, keep in mind to unzip the trampoline enclosure net from the associated spots.
Pros:
Durable trampoline
Swappable slide and climber
Indoor and outdoor use
Budget choice model
Cons:
Swing and trampoline can't use once
The slide is very small for fun
4. Jump Power 72×50 Inch Rectangle Trampoline with Swing for Toddlers
Specs:
Weight rating: 110 lbs
Springs: 42
Total legs: 2
Recommended ages: 3 to 6 years
Have you been looking for the best trampoline with swing, then consider the 72×50 Inch Jump Power Small Trampoline With Swing for your toddlers. The trampoline with swing doubles your kids' fun.
Durable Construction
This kids' trampoline swing set uses 16 gauge heavy-duty galvanized steel in frame tubes and legs that make it strong and rustproof. There is also orange color blow-molded plastic on the outside frame and legs to make the Playset more durable.
The weight capacity of the trampoline is 110 pounds. Springs are made from zinc-coated galvanized steel to resist rust. There are 42 springs, and each of them is 3.5 inches long for a standard bounce. The mat of the trampoline uses black trampoline fabric for a soft and good jump.
Indoor & Outdoor Use
The size of the trampoline and swing combo makes it an ideal choice for indoor and outdoor simultaneously. The plastic base allows using the trampoline even on concrete.
Besides bouncing on the trampoline, children can swing here for great fun. Its blue and green dinosaur design will impress your toddlers undoubtedly.
Maximum Safety
Most parents keep concerned about their children's safety when choosing Playsets. Don't be worried; Jump Power toddlers trampoline and swing set incorporate all safety features for ensuring the highest safety for your kids.
Springs are covered by a thick safety pad that adds safety to a great extent. A UV-resistant PE safety enclosure encloses the surrounding of the trampoline to prevent falling off.
Its enclosure net has a safety zipper for easy entrance. Poles have padded foam to reduce impact. And it's an ASTM safety-approved product.
Pros:
Heavy gauged steel for a strong structure
Safety net with large zipper door
Attractive colors for kids
Meets ASTM safety standard
Don't wobble or squeak on the flat surface
Cons:
Don't allow to use of the swing and trampoline simultaneously
The zipper should be improved
5. Little Tikes 7 Ft Climb 'N Slide with Trampoline for Kids
Specs:
Weight limit: 105 lbs
Frame: Steel, plastic
Total legs: 3
If you are looking for a good model trampoline with a slide, 7 Ft Little Tikes Trampoline Slide & Climb will be an ideal option for you.
Rustproof Strong Trampoline
The trampoline is hexagonal, which makes it spacious enough. Its recommended weight capacity of the model is 105 lbs; that's quite enough for kids.
The frame of the trampoline uses heavy-duty rustproof metal, thus allowing it to set off the trampoline either inside or outside. There is also blow-molded plastic on the frame and legs that make the trampoline base slip resistant and allows use on concrete.
Safety for Kids
A safety pad covers its metal frame and springs for safe play. Poles have thick padding to increase protection. And there is a high-safety enclosure net to surround the trampoline that ensures great safety of the trampoline.
Bonus Slide & Climb
This indoor/outdoor Little Tikes trampoline comes with a slide and climber that multiplies kids' fun a lot. Both of them are made durably from blow-molded plastic.
The trampoline net has a zipper enclosure to access the slide and climb. Allow kids to play with this toy for memorable childhood.
Pros:
It can be set on indoor and outdoor
The plastic base allows setting on concrete
Allows 2 to 3 kids to play together
Durable and safe trampoline
Simple and quick assembly
Cons:
Slide and climb is very short for older kids
Buying Guide on Trampoline with Slide & Swing Set
Do you need more information before purchasing the trampoline, swing, and slide set? Don't worry, read the following buyer's guide to know the important things to consider for buying the Playset.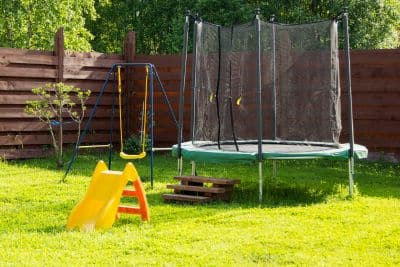 Durability
Structural strength is a major concern for any product, and it isn't exceptional for this playset too. Your chosen Playground set should be made of strong material.
Frame structures have to be built from steel. Moreover, if it is galvanized, that is a bonus point.
Trampoline springs should come with galvanized steel. If it is spring-less, that is better, actually.
A soft mat will provide a comfy and safe bounce.  For the larger model, an enclosure net is a must to avoid injury.
Both slide and swing have to be built from safe material. The chains of the swing should also be strong and soft to grip. And a ladder is a must for a slider.
Weight Limit
Considering the weight limit of each play station is important. Most playground sets come with a handsome weight rating. Still, you have to check before purchasing.
For example, a trampoline should be capable of carrying 80 pounds of weight for safe jumping to your toddlers. Similarly, slides and swings should be a heavy load capacity too much as 80 lbs or more.
Size & Space
Balancing between the Playset size and your available backyard or indoor space is very important. If you have several kids at home and also have a spacious backyard or indoor, then you can choose a large Playset including a trampoline, swing, slide, and others. But for a smaller space, go for a small Playset.
Anchoring The Base
You might need to anchor the trampoline, swing, and slide on the ground to make them secure. It will make the playset stable and allow you to play safely. Some playground sets come with ground anchors to make the structure secure. Otherwise, purchase them separately.
Safety
Be sure the combo trampoline, swing, and slide set meet all the safety features. A side guard in the slide can protect kids from rollover falling. The trampoline net and spring cover will extend its safety.
Similarly, swing chains should come with a soft cover to protect little hands. And if the set has safety certifications like ASTM, CPSIA, etc, that will be great!
Other Play Options
Usually, the more the play stations will be, the more your kids will get fun. If you purchase a trampoline swing attachment and slide set, most packages offer several other play options like a monkey bar, basketball hoop, glider, climber, etc.
Price and Warranty
Slide, trampoline, and swing sets are available from low to hefty price tags. I recommend you balance between price and quality. Also, check the warranty of the product.
If you are unable to do that, then trust me and pick the right one from the above list of products, as I've enlisted the top-performing Playground here.
Frequently Asked Questions
a) Can I use the swing set with the trampoline and slide set indoors?
Ans: Several models can be used simultaneously indoors and outdoors.
b) How many kids can play in swing, slide, and trampoline sets?
Ans: This depends on how many play stations are there on the Playset. Usually, the combo swing, slide, and trampoline sets allow 3 or more kids to play at once.
c) Can I use the trampoline, swing, and slide separately?
Ans: Yes, several models will allow us to use them separately. But some of them don't let you do that.
d) Can you carry the slide, swing, and trampoline set?
Ans: No, most of them are heavy; thus, you can't move them easily.
Conclusion
So, after reading the article, you may understand how splendid the trampoline with swing and slide can provide your kids. Whether you want to add this set for the backyard or indoors, just get that one from our suggested picks.
Hopefully, your children will now play in these versatile playsets for a longer period; thus, they will grow better with fun! If you are keen on more kids' playsets, you can check our other playgrounds' articles too.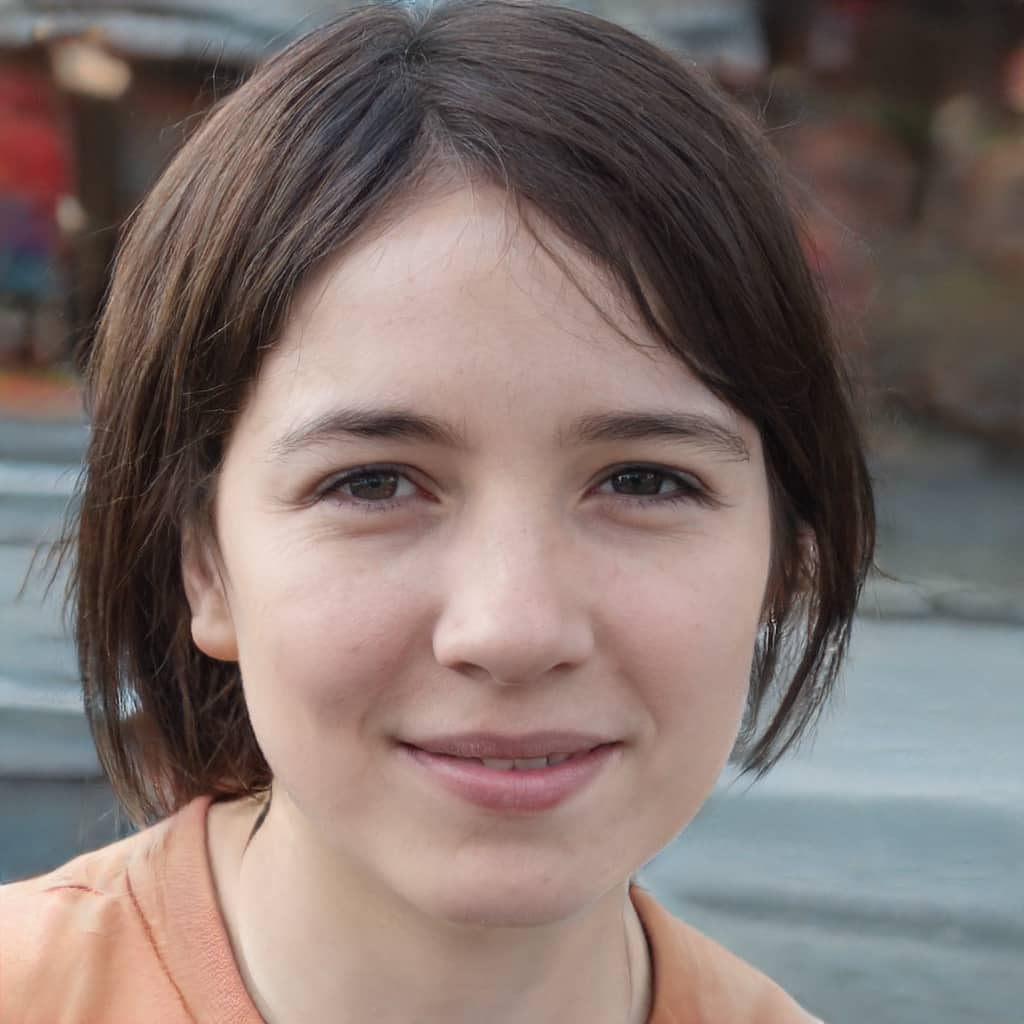 Rebecca is a fitness nerd and mother. She was inspired to get into the world of trampolining and rebounding by her husband Robert, who is a well-respected trainer and expert in the field. Now she instructs children, mothers, and teens the basic trampolining and rebounding tricks.
Rebecca is also a passionate blogger, sharing her knowledge and experiences with others in the hope of encouraging them to give trampolining and rebounding a try.