If you want to add fun in the backyard on summer days for your family, installing a trampoline can be a great way. But consider a big-size trampoline as it allows multiple kids and adults to jump together. This will also allow us to use the trampoline for sleepovers.
There are actually lots of large and extra-large trampolines. It's quite tricky to find out the biggest trampoline in the world to buy. To make things easier, I've scrutinized some of the market-leading largest trampolines in the world with an in-depth buying guide.
So, read the article and find out the best extra-large trampoline for your family.
Why You Need a Large-Size Trampoline?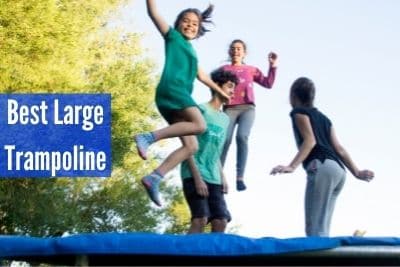 1. A big trampoline is spacious hence allowing you to practice versatile trampoline tricks.  But the smaller ones don't allow you to do all these. You can also add more accessories there too.
2. More space will allow several kids with adults to play together. And there is little chance of collision, which will extend safety a lot. This whole family gets the benefits of trampolining.
3. Usually, large trampolines provide a higher bounce than smaller trampolines. They can also hold heavy weights. So adults and gymnasts prefer the large models.
4. When the time come for backyard camping or trampoline sleepovers, the large trampolines allow several people to sleep on a single trampoline together which will be very enjoyable for all.
Biggest Trampoline in the World for Sale Recommendations
We agree that picking the largest trampoline can be a daunting task as different brands, shapes, and sizes are available.
Are you planning to get one, you have landed in the right place, be relaxed!   We've compiled several best ones for you. Read our reviews to choose the most appropriate one which suits you well.
01. ExacMe 16 Ft Round Large Trampoline For Family
Starting off the review of the best large trampoline with a 16 Ft ExacMe Outdoor Large Trampoline. This round trampoline will provide the great recreation for your kids that you are looking for. And the spacious one allows adults too.
The rust-resistant alloy steel frame makes the structure extremely strong. With this, each leg and pole are fixed together using a double-quick clamp that also extends its stability. And there are 6 W-legs for a strong base.
It uses 7 inches, 108 long pieces of springs, and a polypropylene mat that provide a high bounce. And a thick safety pad protects jumpers from metal parts bumps. The overall weight capacity of the trampoline is 335 pounds.
There is a high polyethylene net to prevent jumpers from falling to the ground. The trampoline also includes a basketball hoop with a backboard, so kids play actively for a long. And the package includes a ladder for safe climbing on and off.
So, don't miss this large size outer trampoline for the whole family's fun. And it provides some warranty; for instance, the frame comes with 3 years and meets, net and spring cover confirm a 1-year warranty.
Pros:
Durable and safe structure
Fixed legs and poles for better stability
Included basketball hoop for extra fun
Cons:
The ladder steps seem quite far apart
02. Skywalker 17 Ft Oval Large Size Trampoline For Multiple Kids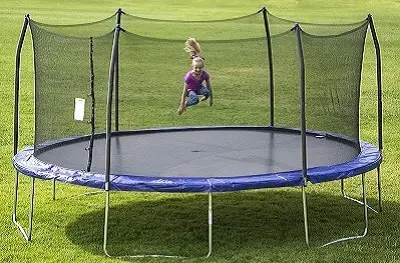 Skywalker Trampolines is a prominent trampoline brand for delivering safe trampolines, and the 17 Ft Oval Trampoline by Skywalker is no different. If safety is your top priority, this is the right trampoline for you.
The trampoline is built with highly durable, certified materials that are weather and rust-resistant galvanized steel, which provides excellent stability. Each enclosure joint and leg feature sturdy T-sockets that also increase the trampoline's stability a lot.
Due to the oval shape, this trampoline has a double center of gravity that makes it an ideal choice for several kids and families. There are tightly coiled 96 superior springs to create a high bounce. The trampoline can support weights of 200 lbs.
17 ft Skywalker trampoline has a fully padded outer surface for greater safety and what's more, is that it also flexes a patented no-gap enclosure that protects you from falling through the gap and from the pinching of the springs.
The trampoline does come with 12.5-inch long wind stakes to secure the trampoline to the ground. It is an ASTM-certified product and confirms a 1-year warranty. And for the price, this big trampoline for sale will be the best companion for multiple kids, like 3 children at home.
Pros:
Wind stakes are included
Uncompromised safety
Budget-friendly pick
No-gap enclosure extends safety
Cons:
See Also: Comparison between Skywalker and JumpKing trampoline
03. Machrus Upper Bounce 10×17 Ft Mega Rectangular Trampoline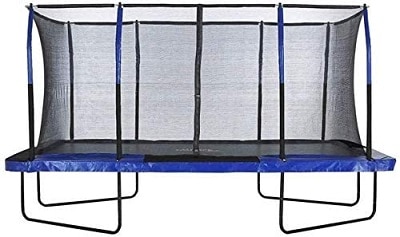 Mega 10 by 17 Ft Upper Bounce Trampoline is made with user-friendliness in mind. It provides the most spacious jumping surface, and with its varying sizes, it can also easily fit right into a narrow to large backyard.
Upper Bounce Olympic size trampoline features 96 heavy-duty 7-inch long springs, an 8-row stitching premium quality polypropylene mat, and galvanized frame and legs. All these make it durable.
The trampoline can withstand  550 lbs weight. Due to being rectangular shape, it provides a gymnastic-style bounce. So, if you need a high-bouncing trampoline, this will be a perfect choice.
With this best large outdoor trampoline, I would totally encourage you to send your children outside without worrying at all, for with its soft foam padding encircling the poles and no-gap enclosure system, safety is very well assured. Moreover, it meets ASTM safety standards.
It also features a top flex enclosure system which allows for tightly securing the nets together. Overall, if you are looking for a decent gymnastics trampoline at a great price, this is the one for you.
Pros:
Provide high jumping
Large weight capacity
Top-flex poles with net for better safety
Available in 4 different colors
Cons:
04. Berg Champion 17 Ft Oval Big In-Ground Trampoline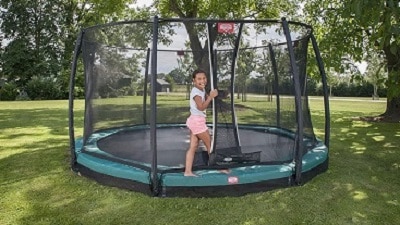 Airflows are essential for ensuring great bounce for trampolines, and this can turn out to be a concern for in-ground trampolines. However, the 17-Ft BERG Champion In-Ground Trampoline boasts an airflow jumping mat that ensures proper ventilation, which in turn ensures a high and comfortable bounce.
The trampoline also has Twinspring springs that are attached to the mat at one end and frame on the other end, allowing larger bounce capabilities. These two features also help eliminate the 'pad-slap' noises that come hand-in-hand with in-ground trampolines!
This large oval trampoline uses 96 springs and can only take up to 265 pounds at a time. Its frame is very strong that will sustain for a long period.  
In-ground trampoline is safe already. Still, the enclosure net adds safety a lot. And it is a lifetime warranty product so that you can rely on it.
Pros:
Aesthetically pleasing trampoline
Noise-free and safe jumping platform
Safety net enclosure for added safety
Premium warranty
Cons:
Time-consuming installation
05. Happy Trampoline 10×20 Ft Extra Large Trampoline For Gymnasts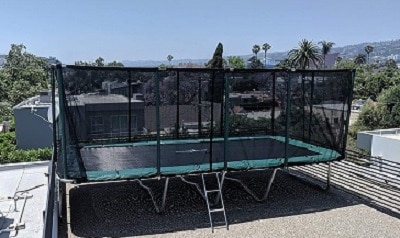 If you are looking for an extra-large trampoline that can ensure some happy times for the entire family, this 10×20 Ft Rectangle Happy Trampoline won't disappoint you. I have inspected every inch of this giant trampoline, and I can totally speak for its quality.
The Happy trampoline is equipped with 9.5 inches long, fully galvanized, and rust-resistant 140 springs that provide an extremely high bounce. Its load-bearing capacity is 750 pounds in this case!
This paired with 3 mm thick anti-rust frame tubing makes it perfect for heavy-duty usage. In addition to that, the trampoline frame uses double-dipped galvanized steel that makes it super durable. Its premium quality Permatron polypropylene mat helps you jump higher.
Galactic Xtreme rectangular trampoline meets different safety standards like ASTM, TUV, GS, CE, EN71, etc. It also comes with high safety nets, so you can do all the bouncing without having to worry about flying right into the ground.
The enclosure net and mat are attached snugly, thus reducing space between them and making the trampoline safer. A thick and long safety pad also prevents springs and frame bangs.
This 20 ft big trampoline has a commercial-grade built and therefore is best for your entire family to use together as well for aspiring gymnasts and athletes.
Don't worry about the warranty! This best large trampoline for adults is a lifetime warranty product. Thus, you can use it reliably. If you need a larger size, you can also pick the 13×23 ft over-size trampoline.
Pros:
Professional grade trampoline
Spacious and high-bouncing platform
Comes with complete parts and accessories
Maximum durability and safety
High weight capacity
Lifetime warranty
Cons:
06. Vikan Goliath 16×24 Ft Octagonal Giant Trampoline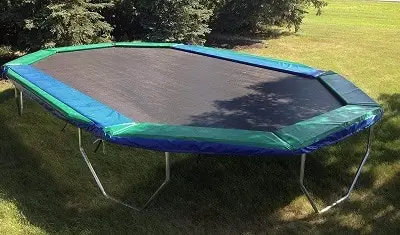 What is the biggest trampoline in the world for sale? Vikan Goliath's 16×24 Ft Octagonal Trampoline is the world's biggest size trampoline.
It uses 6 U legs and 224 long springs, and a premium quality polypropylene mat. The jumping area of the monster trampoline is 257 square ft.
07. Island Hopper 25 Ft Big Water Trampoline
What is the biggest water trampoline? The big water trampolines are available more than 20 ft. Island Hopper 25 ft water trampoline is a good choice in this regard.
Buying Guide of the Best Large Trampolines
It is true that trampolines are a big investment and could be a bad one as well if it does not meet your requirements. Here are some points you might want to consider before purchasing the trampoline.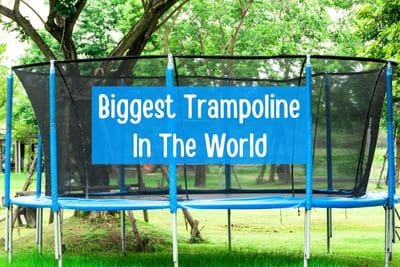 Size
If you intend to buy a big trampoline, the first thing is to consider its size.  What is a large trampoline? Usually, 14 to 16-ft trampolines are considered large trampolines.
And when trampolines' size exceeds 16 ft they are called the extra-large trampolines. These giant trampolines are available in 17, 18, 20, 23, 24 ft, and more.
See Also: Where to purchase a trampoline?
Shape
You might have noticed that trampolines come in different shapes, be they circular or oval, square or rectangular, and even hexagonal and octagonal in some cases. While one might think that shape is just an eye-pleaser, there is actually so much more to it.
The use, user, quality, and stability of trampolines usually differ across the varying shapes. For instance, round trampolines, although the most common, are typically not suitable for heavy use.
These trampolines have their spring focus in the middle, meaning the bounce is distributed towards the center of the trampoline, making it difficult to accommodate many users at a time.
Of course, there could be many users depending on the size but even so, there are chances of collision. Besides, the overall weight capacity of these trampolines tends to be lower. Round trampolines can be great for beginners for recreational purpose.
Square trampolines are usually sturdier and have greater weight capacity, which also means that they are typically more expensive. If you have space limitations, square trampolines might not be your first choice but then again, they have a more evenly spread bounce throughout.
If you want multiple users at the same time with everyone having the same bounce, rectangular trampolines are your go-to. These trampolines provide the highest and most consistent bounce. But then again, space limitation might be an issue.
Oval trampolines, on the other hand, are what a baby trampoline of round and rectangular trampolines would be – more space, yet safe jumps!
Read Also: Various types of trampolines
Safety
If you are planning to buy a trampoline for your children, you might want to place special consideration on safety. Many trampolines today come equipped with different features, and it is recommended to have a good idea about them.
The frames, poles, and springs of trampolines are made of hard materials, and landing on them while jumping can be well…pretty painful and often injurious.
To protect users from this, your trampolines come with safety pads, which are typically made of fiber-reinforced PVC materials that are water, weather, UV ray, and tear-resistant. You will also find safety pads made from polyethylene and polypropylene, although reinforced PVC is probably the safest of all.
You might also want to settle for safety pads that are generously foamed, especially if your children are too small. In such cases, you might also consider adding an enclosure around the trampoline. And it's also important to make a safe base while installing a trampoline.
Durability
If you want your trampoline to last years, you need to emphasize the quality of the trampoline parts, especially that of the frame, mat, and springs. The frame provides the foundation of the trampoline, and the sturdier they are, the more durable the trampoline.
Similarly, the springs hold the mat to the frame, and low-quality springs will not only impact durability, but can also cause injuries too in extreme cases. As for trampoline mats, settling for low-quality materials can make them prone to fade and weaken over time and even tear.
Look out for anti-rust, UV, water, and weather-resistant materials to make sure you can use your trampoline for years without worrying about any harm.
Read Also: Do you know about the world's biggest trampoline park?
Weight Capacity
Simply put, weight capacity refers to the maximum weight the trampoline can hold. This depends on the trampoline's materials, size, and shape. As discussed already, higher quality materials ensure higher durability, but they also ensure a higher weight capacity.
Quality frame, spring, and mat of trampolines can increase their weight capacity. In the case of trampoline shape, square or rectangular trampolines tend to have higher weight tolerance. And for size, normally, the bigger the size, the higher the weight capacity.
Usually, larger trampolines' weight capacity goes above 300 lbs. And some of them have a 500 to 800 lbs weight limit. But round and oval models might come with lower capacity, like 200 to 300 lbs.
Frequently Asked Questions
1. Is it safe to set up a big trampoline outdoors if I live in a windy area?
Ans: If you live in a windy area, you might want to use wind anchor kits to secure them to the ground. While most trampolines use weather-resistant materials for different parts to withstand light wind.
Good trampoline anchors can take care of keeping them in place in case of mild winds. That being said, of course, the damage caused by big storms is hard to avoid. Thus, it's recommended to dismantle the trampoline and store it inside in extreme situations.
2. Why are the large trampolines so expensive?
Ans: Large trampolines use higher-quality materials than the usual trampolines. To support larger space, these big trampoline prices become very expensive, on average more than $500. You might know the largest trampoline in the world (16 by 24 ft Vikan Goliath) costs more than $5000.
3. How much time does it require to assemble a large trampoline?
Ans: With proper instructions, assembling a trampoline is not all that difficult. You can assemble it perfectly in only 3 to 6 hours. But, if the yard isn't smooth, you might do some extra work to prepare it for the trampoline.
4. What is Springfree's largest square trampoline?
Ans: 13×13 ft Springfree Jumbo square trampoline is the biggest size at this moment.
See More: Common problems of Springfree trampolines
5. Are large Springless trampolines better than ones with springs?
Ans: Some brands are recently providing spring-less trampolines, which are considered to be safer than the ones with springs. They have rods surrounding the sides of the trampoline so you can have a pinch-free jumping experience and do not have to fear getting hurt by the springs or frame.
Conclusion
We really do hope that your purchase choice has been made easier now with our best large trampolines recommendation. If you can figure out your requirements well, choosing the right trampoline will be many times easier.
However, keep in mind that the durability and longevity of your trampoline – a huge trampoline or not, do not solely depend on the materials used but also on how you maintain it.
I always advise three things – abide by the weight limit, use wind stakes, and cover the trampoline when not in use, and you should be good to go. Now, jump happily on the biggest trampoline!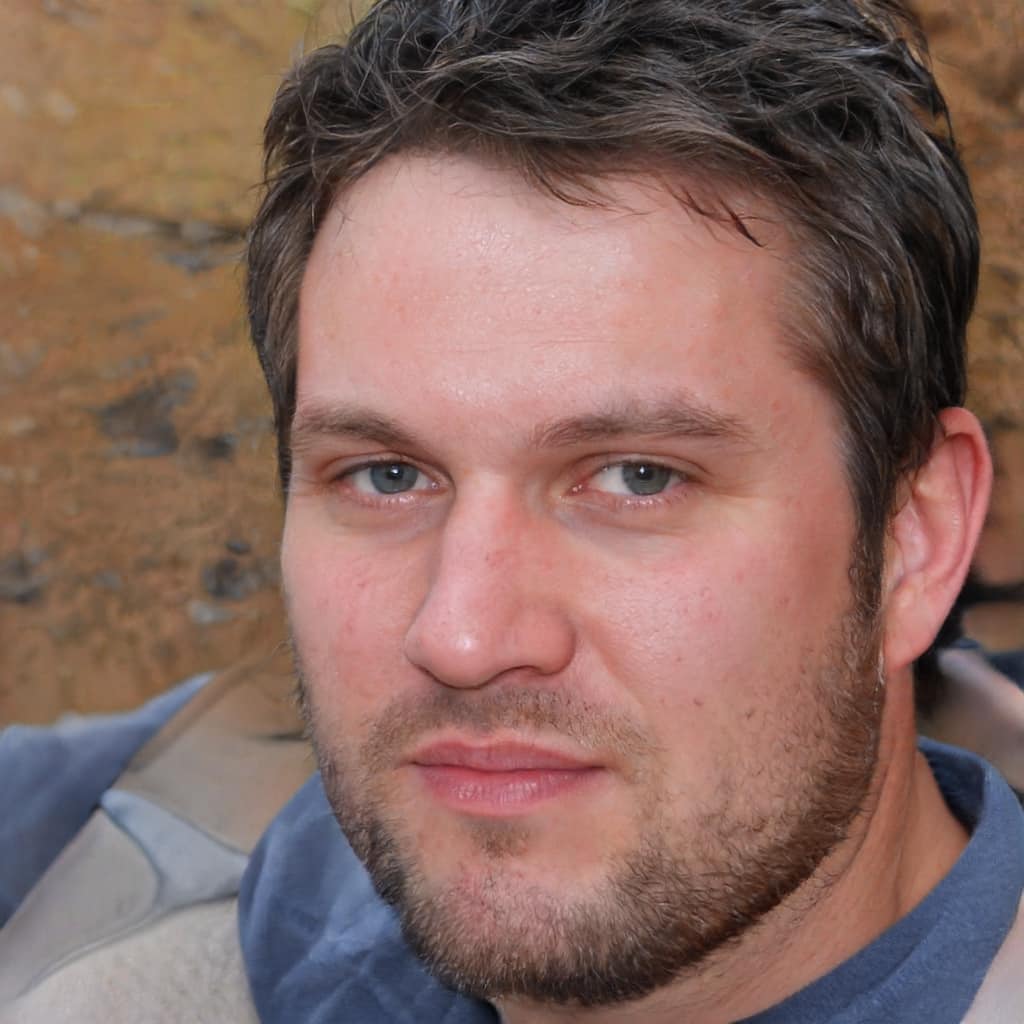 Robert is a trampoline and rebounder trainer with a passion for blogging. He discovered his love for trampolining at a young age, when his father gifted him his first trampoline at the age of 9. Over the years, Robert has honed his skills and knowledge in the field, and now uses his expertise to train others.
Besides, helping fitness enthusiasts in the gym, Robert is very eager to share his knowledge and experience regarding trampolines and rebounder exercises with the readers of picktrampoline.com. He will share all you need to know about trampolines and rebounders in this blog. Get his tips on trampoline and rebounder!