The mini-trampoline rebounder is proven exercise equipment to be fit, healthy, and happy. If you're bulky and looking for the perfect way to weight loss, a heavy-duty rebounder mini-trampoline will be a perfect solution to burn off fat.
So, what is the best mini-trampoline for heavy adults? This is true that finding a heavyweight fitness trampoline is quite difficult. However, to make things easier for you, I've shortlisted 7 top-quality rebounders with 300 to 450 lbs weight limits that are suitable for any heavy adult.
Let's read the reviews with buying factors and choose the best rebounder with heavyweight capacity easily.
Best Mini Trampoline for Heavy Adults Suggestions
1. DARCHEN 450 Lbs Mini Trampoline For Heavy Adults
Specs:
Weight limit: 450 lbs
Size: 40 inch
Number of bungees: 30
Mat: Polypropylene
Available colors: Green/Red/RoseRed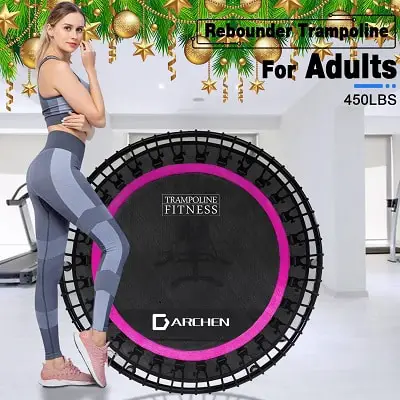 Beginning the review with our top choice 40 Inch Rebounder By DARCHEN. It comes with an incredible weight capacity of 450 lbs which makes it an ideal pick for fat people.
Heavy Duty Structure
The rebounder is nowadays a market-leading adults' mini-trampoline. Its frame is constructed from alloy steel that makes the rebounder strong and long-lasting.
There are six equally distanced legs that provide great stability to the trampoline. Besides these, the rubber feet make the equipment skid-free.
Safe Bouncing Platform
DARCHEN heavy-duty 450 lbs mini trampoline uses a polypropylene mat that provides joint-friendly, safe bounce. The rebounder has bungees instead of springs that will be great for cushion bounce.
The 3rd generations cord reduces noise and ensures a low-impact cardio workout. So, this is a better option than the spring model.
Noise Free Rebounding
Due to a bungee strap, this durable adults' mini trampoline provides silent and no-noise jumping. Thus, you can rebound on it without disturbing others.
Right Choice for Heavy Adults
The indoor mini-trampoline for the overweight is capable of carrying heavy weights up to 450 pounds. So, for fat people, this will be the right rebounder for year-round exercise.
Whether you're looking for a hefty weight capacity rebounder for body shaping, weight loss, or any other exercise, this will be an all-rounder choice. We highly recommend this high-weight capacity rebounder.
Pros:
Highest weight rating
Strong construction
Soft and decent bounce
Noiseless jumping
Anti-skid feet
Cons:
Not foldable, but the legs can be unscrewed
Little hard to assemble
See Also: Trampoline weight explained
2. BCAN 440 Lbs Foldable Rebounder With Handle For Heavy Person
Specs:
Weight capacity: 440 lbs
Size: 48 Inch
Mat: Polypropylene
Handle height: 39 to 49 inch
Total springs: 40
Available color: Black and blue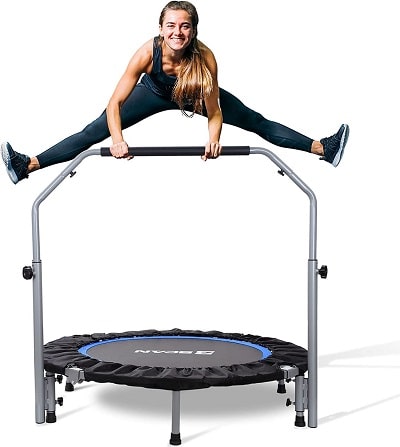 If you are looking for a 400 lbs weight-limit mini-trampoline for heavy adults, BCAN 48 Inch Rebounder will be the right option for you.
Durably Made
The small trampoline uses stainless steel in the frame and legs which makes it very sturdy. There are 8 legs of 9.5 inches in height for a firm base. Moreover, the rubber feet protect sliding on the ground.
All of these make the trampoline very much resilient to hold around 440 lbs weight. Thus, the hefty weight limit rebounder will be your right fitness partner.
Foldable Design
The overweight rebounder allows folding the trampoline twice, which means 1/4th of the actual size. Thus, you can carry and store it easily.
Higher Bounce
This 48-inch exercise trampoline has a waterproof polypropylene mat and 40 galvanized steel-made springs that provide comparatively higher bounce than other rebounders.
Adjustable Handrail
Another great feature of this rebounding platform is the adjustable handle. You can change the handle height to four different levels from 39 to 49 inches. So, this handle will help keep the balance well while bouncing, which extends safety a lot.
Ensures Safety
The BCAN heavy-duty rebounder has an Oxford spring pad that reduces the gap between the springs and the mat, which is also great for safety. Moreover, the rubber feet provide a firm base. So don't miss this lovely one for heavy rebounding.
Pros:
Double folded rebounder
Adjustment handrail
High-quality mat for better bounce
Spring pad for safety
Cons:
Spring might squeak sometimes
3. Pelpo 330 Lbs Folding Fitness Mini Trampoline With Handle For Bulky Person
Specs:
Weight capacity: 330
Size: 40 Inch
Mat: Polypropylene
Handle height: 32 to 42 inch
Total springs: 32
Color options: Black, blue, red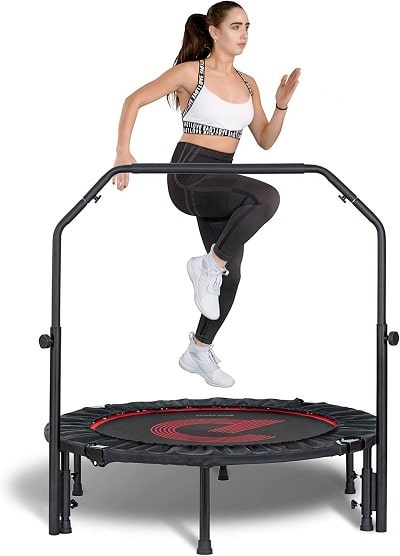 Pelpo 40 Inch Indoor Mini Trampoline brings a lightweight, silent, and safe exercise rebounder. This is a good rebounding tool for professional fitness. And this heavy-duty adult mini-trampoline is a good choice for the budget.
Superior Structure
The frame of the rebounder is made of stainless steel, which forms a solid structure. Besides this, six legs with soft rubber feet make the mini-trampoline very durable.
There are a total of 32 springs that are corrosion-resistant stainless steel that extends the spring's elasticity as well as lifespan. These make the trampoline a hefty weight capacity of 330 pounds and it's actually one of the best indoor trampolines for heavy adults.
Ideal Bouncing Platform
Mat of the rebounder uses polypropylene material turning the jumping bed very bouncy. Thus, you can use it for versatile purposes like Jogging, Jumping, Twisting, Stretching, Cross, Yoga, Rotating, and you name it.
Oxford fabric pad protects jumpers from spring stuck. In addition to that, the outer rim has a protective cover to prevent jumpers from framing impact.
Foldable Rebounder
This heavy adult mini trampoline is foldable that allows you to hide and carry it easily. This double-folded model will be 1/4th of the original size, which will fit your closet and car easily.
Adjustable Handrail
Pelpo Frigg rebounder comes with 4 levels of adjustable handles from 32 to 45 inches for better hand support. The C-shape handle with foam gripping provides extra benefit while jumping. And when not in need, you can remove the handle easily.
Pros:
Foldable design for convenient
Adjustable handle for hand grip
Spring pad and rim cover for safety
A great choice for the money
Cons:
The handle isn't very sturdy
4. MaXimus PRO 310 Lbs Rebounder With Bar For Fat People
Specs:
Weight capacity: 310 lbs
Size: 40 inch
Total springs: 32
Included: Bar, bands, weights, storage bag
Color: Black
MXL MaXimus Life 40 Inch Rebounder is a good exercise tool to burn almost 1000 calories and lose weight just by rebounding 20 minutes daily.
Build to Last
The rebounder uses precision machined component parts and a high-grade steel frame, thus the equipment becomes very robust. Six strong legs make the base strong.
There are also 32 giant springs and six thick rubberized feet legs. All these make the fitness mini-trampoline very sturdy and long-lasting. The rebounder can withstand 310 lbs of jumper's weight.
Safe and Excellent Bounce
Thanks to MaXimus PRO rebounder for slip-resistant, double crisscrossed mat for providing ankle support, low-impact, and safe workouts. The spring pad and handle provide extra support while rebounding.
This mini-trampoline is tested and certified by CE and ASTM, so you can use it safely.
Foldable Design
This heavyweight capacity rebounder allows you to fold it twice. Thus, you can carry this with you in the office, on an outdoor trip, or anywhere you want. Also, foldability makes your storage easier.
Includes Versatile Accessories
This fitness rebounder package comes with two workout DVDs and online workout videos, a stability bar, sand weights, and resistance bands. These accessories will keep you active and hence help burn calories and lose extra fat.
Pros:
Heavy energy-burning rebounder
Handle for better balance
ASTM and CE certified
Foldable mini-trampoline
Free resistance bands, DVDs, sandbags
Cons:
The bar is not adjustable
Quite expensive model
5. JumpSport 370 PRO 300 Lbs Weight Capacity Heavy-Duty Rebounder
Specs:
Weight limit: 300 pounds
Size: 39 inch
Number of elastic bands: 30
Number of legs: 36
Color: Black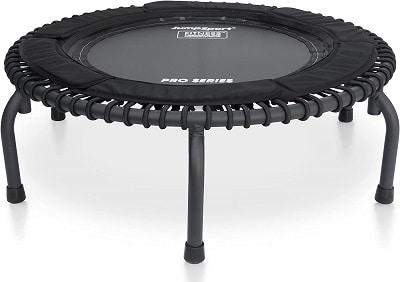 JumpSport 39 Inch 370 PRO Fitness Rebounder is a top-class fitness rebounder that provides a joint-friendly bouncing experience. This is one of the best heavy-duty professional rebounders.
Excellent Durability
At a first look, the JumpSport rebounder seems very durable and premium quality, right? Yes, this family-owned, USA-based fitness trampoline is the market-leading product. The firmness level of this equipment is 7, that's impressive!
The 16-gauge alloy steel frame provides maximum durability for the product. Also, the powder-coated black finish provides maximum weather protection. The stated weight limit of the rebounder is 300 pounds, but it can actually hold more than that!
Great Stability
Six arched legs provide great stability than flat legs. Thus, the exercise equipment doesn't wobble while you rebound. Also, the rubber feet offer a firm base.
Safe and Smooth Bouncing
The rebounder uses 35.5-inch padded petal mat for a dreamy jumping experience. It uses 36 Patented EnduroLast-4 bungees for the best bounce.
The cords are tested at around 1.2 million smooth bounces. Patented padded Patels extend safety and provide more than 50% jumping space.
Due to the top-quality materials, the professional-grade rebounder gives good cardio and low-impact exercise. For silent bounce, this rebounder is an unmatched choice.
Highest Warranty
If you buy JumpSport 300 lbs rebounder for heavy adults, you will get an astounding warranty for all components. Frame and legs have a lifetime warranty, and mat and cords provide 4 years warranty.
Pros:
Professional rebounder
Safe and smooth bounce
Arched legs for better stability
Includes exercise DVD
Great warranty
Cons:
Not foldable
Pricey but worth it
Things to Consider When Buying The Best Rebounder for Heavy Adults
Weight Capacity
Trampoline or rebounder's weight capacity is the most important consideration for heavy adults or obese. What is the ideal weight limit for a heavy-duty mini trampoline?
Rebounders or mini-trampolines are available in different weight capacities usually ranging between 200 to 350 pounds. The rebounders that come with less than 300 pounds are okay for the average-weight persons. But for heavy adults, mini-trampolines should be a hefty weight limit, right?
Rebounders that have more than 300 pounds of weight capacity will be right for heavier persons. Some adults' mini trampolines can hold 400 and 450 lbs weight, which will be impressive for the bulky person.
Read Also: Trampoline with heavyweight capacity
Rebounder Size
The size of the rebounder might be an essential consideration if you don't have enough space indoors. Rebounder size may vary from 3 ft to 5 ft. Usually, the larger models can hold higher weight. But, some small mini-trampolines might come with a hefty weight limit than the bigger ones.
Frame
Mini trampolines for obese should come with the highest durability and capacity to hold hefty weight without structural damage or bend. The best models use thick steel tubing for high-weight capacity.
The thickness of the frame of a trampoline is denoted by the gauge. The thicker the gauge, the higher the stability and weight capacity will be.
When choosing a high-weight limit mini-trampoline, always pick heavy-gauged, galvanized steel. It will last longer and prevent corrosion. Some models use black coating for further durability.
Springs or Bungees
Springs or bungees are an essential element of the mini-trampoline. If you want soft and silent rebounding, bungee models will be ideal. On the other hand, the springs' rebounder provides vigorous bounce. Usually, bungee rebounders are pricier than the spring models but worth it for cushion bounce.
Whether you choose a spring-based or bungee rebounder, both bungees and springs should be made durably for a better bouncing experience. For spring models, consider long springs for a better bounce.
Legs
Like the frame, the legs of the heavy-adults mini-trampolines should be made from thick galvanized steel. Several best models introduce curved legs that provide a firm base. Furthermore, most of them have anti-skidding rubber feet for better safety.
Read Also: Can you rebound before bed?
Mat
Mat is an important component of any trampoline to produce bounces. Usually, cheap-quality trampoline mats use plastic, nylon, or canvas material that might be stretched over time. So, these mats won't give you the quality bounce that you expect.
On the other hand, the top-class trampoline mats are made of polypropylene or Permatron, which will be great for soft and higher jumping. So, when choosing a mini trampoline mat, polypropylene or Permatron mat is recommended. But they are quite expensive than plastic, nylon, or canvas mat.
Handlebar
You will find mini-trampolines for heavy adults with handles and without bars. If you need hand support for better balance, then choose the rebounder with the handle. Also, it assists in preventing falling. An adjustable-height handrail is a better choice as you can adjust the height according to your need.
Moreover, the handlebar of the rebounder is removable, so we suggest getting a heavy-adults rebounder with a handlebar. But, if you want, you can pick the heavy person's mini trampoline without a handle to save some pennies.
Safety Pad
When talking about a safe bounce surface, a trampoline safety pad on springs or bungee straps will be a great option. This will prevent injury, especially for the spring models. But if you're confident that you won't get stuck with springs, then you can avoid spring pads.
Read Also: Trampoline safety rules and age recommendations
Foldability
Rebounder might be either foldable or not. The foldable mini-trampoline allows easy carrying especially if you want to keep the rebounder outdoors. A foldable rebounder is also convenient to hide and store in tight spaces or closets.
Some top-quality rebounders don't have foldable features due to their strong structure. They are a good choice if you don't need to shift them frequently.
Cost
How much is a mini trampoline for heavy adults? The majority of the rebounder that is designed for heavy people costs around $50 to $150. But, some superior quality rebounder mini-trampolines price goes up to $200 and $400, and even more.
Read Also: Cost of different trampolines
Frequently Asked Questions
1. Is 500 lbs weight capacity rebounder available?
Ans: Yes, 500 lbs weight limit mini-trampoline for adults is available. For example, Trampoline Lxn 50 Inch rebounder features 500 pounds weight capacity.
2. How long a day should heavy adults rebound?
Ans: This depends on your physical condition and how much you want to burn energy, and a few more things. In general, 15 to 30 minutes of rebounding is quite well for overweight adults.
3. Is wearing shoes on a rebounder okay for fat adults?
Ans: Usually, barefooted rebounding is more beneficial than wearing shoes. However, if you want to rebound with shoes, choose soft and trampoline mat-friendly shoes.
4. Can heavy adults jump on trampoline parks?
Ans: Yes, the adults' trampoline parks allow hefty-weight adults. But be sure the park allows adults to bounce there.
Read Also: Is it okay to rebound before bed?
Final Thoughts
So, we've come to the end of this article. Hopefully, you can now decide easily which of the best mini trampoline for heavy adults suits you best from the above heavy-duty rebounders list.
They all are great in quality, safe, and provide high bounce, as you are expected. Whether you need a rebounder for fitness or weight loss, you can choose any indoor trampoline from the list.
And, these rebounders will give you year-round fun no matter it's cold or summer. So, pick the most-suitable rebounder for home exercise and enjoy rebounding!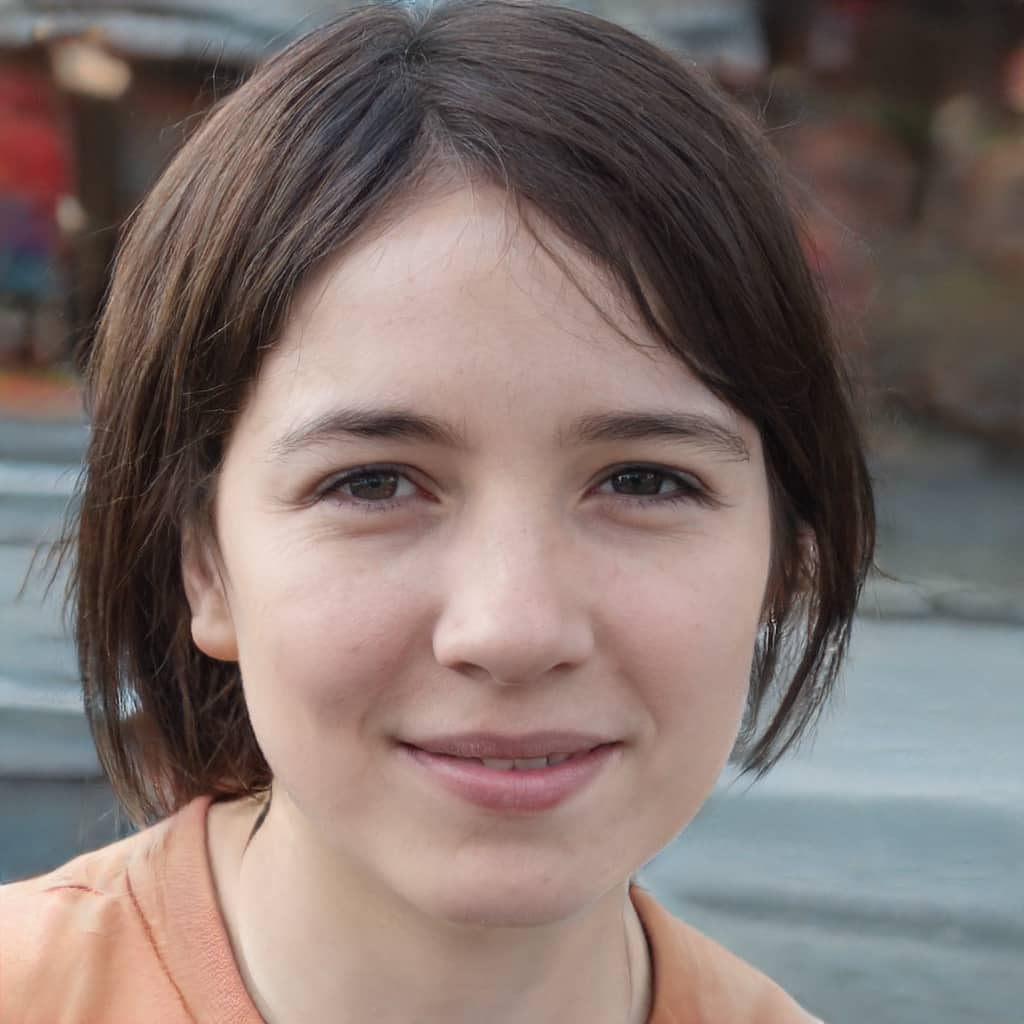 Rebecca is a fitness nerd and mother. She was inspired to get into the world of trampolining and rebounding by her husband Robert, who is a well-respected trainer and expert in the field. Now she instructs children, mothers, and teens the basic trampolining and rebounding tricks.
Rebecca is also a passionate blogger, sharing her knowledge and experiences with others in the hope of encouraging them to give trampolining and rebounding a try.