The invention of an in-ground trampoline makes trampolining more entertaining and safer. But the safety of the sunken trampolines mostly depends on the retaining wall that the trampolines stand on. If the wall is strong enough to hold the pressure, there is definitely less amount of risk hopping on.
There are different types of ready-made in-ground trampoline retaining wall kits. Moreover, you can make DIY tips to make sunken trampoline walls that will cut the cost of your in-ground trampoline. Some of them are corrugated steel, railroad ties, aluminum, concrete, concrete block, and so on.
This article will cover the in-ground trampoline retaining wall in detail. Read on!
What Is an In-ground Trampoline Retaining Wall?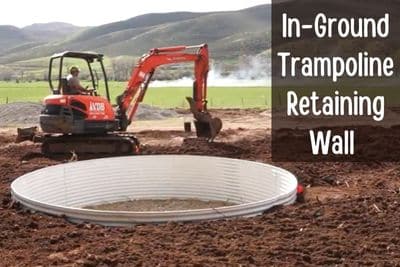 The retaining wall of the in-ground trampolines is used to support the trampoline frame to hold the jumping pressure and weight. The wall is set at the edge of the sunken trampoline perimeter, and it holds the trampoline being its legs.
But to define more specifically, in-ground trampoline retaining walls are made for landscaping purposes and to hold the nearby soils of the trampoline in the right place. Also, it provides a solid base for the trampoline to prevent dirt and the trampoline from sliding during an action.
So, it's important to create a strong wall to prevent any kind of sliding or risky issues. In DIY you can easily pile up that wall, but still, some special ones may need some professional attention.
The soil and dirt excavated from the trampoline hole can be used as raw materials to install the sunken trampoline on the ground with a frame. Either you can build the sunken trampoline retaining wall by yourself or hire a professional to do it.
Read Also: In-ground vs above ground trampoline
Why Do I Need Retaining Walls for In-Ground Trampoline?
Well, there are many reasons to create a retaining wall for the buried trampolines. Some of them are-
Keep the Soil in Place Firmly
The first and foremost one will always be to hold the trampoline and its nearby soil in place. When the trampoline is in action, there is a high possibility of the nearby soil breaking in parts and sliding the trampoline down.
This could be hazardous, right? But if you have a firm retaining wall on the edge, it will keep the surrounding soil in place tightly.
Save Cost
If the trampoline goes out of service, the retaining wall will still be there for years, and you can install a new trampoline in the same place. So, it will save both your cost and time for future trampoline installation and will be easy to maintain too.
Buried Trampoline Retaining Wall Kits Material
Now, it's obvious that you have to dig your hands into the soil to install the in-ground trampoline, so let's take a look at the material you will need. There are several types of retaining wall materials that are used in sunken trampolines. From them, metal and plastics are the most important ones. 
Plastic Panels
Plastics are lightweight and cheap sunken trampoline wall kit materials. They are flexible and provide easier wall installation than steel ones. Sometimes, synthetic and polyethylene materials are also used as alternatives to plastics.
Steel Panels
Undoubtedly, steel is very durable and long-lasting than other retaining walls for the in-ground trampoline. Considering the cost, steel retaining walls are very expensive, but the most reliable ones available in the market.
Do Sunken Trampolines Come with Retaining Wall Kits?
Most prominent in-ground trampolines come with all necessary things, including retaining wall kits, so you don't need to buy anything extra. But you can also make DIY sunken trampoline retaining wall kits.
In-ground trampolines with retaining wall kits are quite expensive but worth it, actually.
In-Ground Trampoline Retaining Wall DIY Ideas (10 Options)
As said, there are many types and ways to build a trampoline retaining wall. Some of them might be superior to others, though each of them has its own pros and cons.
Now, depending on your needs and budget, choose one that fits you most. So, let's know the most popular and commonly used DIY in-ground trampoline retaining wall kit ideas.
01. Corrugated Steel
If you are looking for a long-lasting trampoline retaining wall kit, then this is a highly recommended one. It is a strong retaining wall that stands against corrosion and rust.
They are heavy enough to keep the soil in place and also expensive to purchase. Also, the heavy weight of this wall is quite hard to move, so it is going to be in the same place forever.
Adding to that, the installation of corrugated steel needs some premium quality bolts or screws with heavy metal posts for attaching the wall together.
02. TDU Retaining Wall System
TDU is lightweight wall-like plastic and allows you to put on the whole concept easily. It is made of non-metal materials, as there is no need to cut sharp edges. Plus, the rounded edges can be handled easily.
Also, the interlocking system makes the whole process very durable. And the self-driving screws can also snap them together very well.
03. Railroad Ties, Including Wood
Being mostly used for landscaping projects and gardens, these retaining walls can be a good option for trampolines. This retaining wall kit has special bug prevention treatment.
But, this wall is quite heavy and difficult to cut in the right size. Plus, continuous interaction with water can weaken the wall or even ruin it. Still, it is easier to pile together, and you may need steel rods and a sledgehammer to do that.
04. All-in-One Systems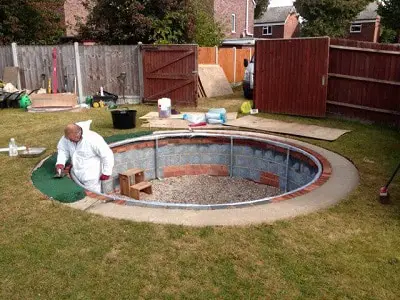 Well, these walls are not very easy to find in the market. But the best part of them is they come with the necessary materials in one package. So you don't need to go for extra purchases and pull everything together quickly.
They look very nice and also provide a very great bounce where there is no frame needed. But the only drawback here is they are quite expensive to get.
05. Aluminum and Roof Metals
They are not so strong as plastic and other options, thus they can't hold the dirt in place in the right way. But they are cheaper sunken trampoline retaining wall systems.
06. Concrete
The concrete wall is one of the most sustainable retention walls for an in-ground trampoline. This can put the dirt blocks on one side and the concrete ones on the other.
But there isn't heavy pressure to form the wall. Thus, you can choose either 2-by-2 stakes or 2-by-4 ones to secure the boards in the right place.
With that, you can attach the 1/2 or 3/4 shiplap as an alternative to wood boards. However, the rectangular ones are going to be easier to build than the circular models. But if you can cut the correct shape, it will be easy to build too.
Now get the boards into the right size and place, then use some two-by-four braces to hold them in the right place. With that, you can add some rebar to grab it, and also, don't choose too dry or too wet concrete for this mission.
Read Also: Can you put a trampoline on concrete?
07. Concrete Block
Compared to concrete, it is easier to use. First, you have to determine how many blocks you may need and then collect some raw materials like rebar to get all the strength of concrete.
To construct this wall, first place some concrete on the outside of the dirt wall and keep a concrete wall on top of it. Keep another block on the side and put the mixture in between. 
It will be the first row of building the wall, and on it repeat the process of putting concrete mixture and blocks one by one. It will strengthen the wall and create a solid base for the in-ground trampoline.
Or you can also add some mortar in replacement of concrete to create a solid wall for it. You can even pour the concrete inside the blocks to make it stronger and continue the process till you reach the peak of the wall.
Read Also: Anchoring Kit for trampoline
08. Brick And Mortar
Brick and mortar are the most classic way to create a retaining wall. Same as concrete blocks, first count how many bricks and mortar you may need to create the whole wall.
They are easily available everywhere, so you may not face problems managing them. Now, if you want to make the brick wall stronger, you can go for double-row bricks.
Use the mortar to hold those bricks together, and don't use too dry or wet mortar in between. Though the process is a bit time-consuming, it provides great durability.
Read Also: What are sunken trampolines problems?
09. No Retaining Wall System
Well, if you don't want the extra burden of creating a retaining wall, you can go for it. But this is not recommended for high risk of landscaping and injuries. Also, you won't get the desired bounce and ventilation under the trampoline.
So, in short, this is a disaster. But still, if you want to do it, then just dig into the trampoline pit and lay down the trampoline above, removing the legs. This is much money saving and time too, but in the long run, you will end up with soil collapse.
Read Also: Can you sink a regular trampoline on the ground?
10. Trampoline Frame Sheet Metal Retaining Wall
It's another way to make a retaining wall for trampoline support. This needs some drilling in the tramp legs, which is not too easy. Also, you have to insert 2 by 4s long leg screws in the drilled holes that you have to buy.
After that, secure the bolts with the washer tightly and hold the frame metal wall in the hole. Attach the trampoline mat with the frame when there is proper ventilation, drainage, etc. Also, be sure the trampoline is leveled properly, for which you can use the carpenter's level to check.
How to Make a DIY Retaining Wall for an In-ground Trampoline?
The main steps for building a buried trampoline retaining wall (concrete wall) are-
Dig the trampoline pit/hole at the right trampoline dimension and the right depth.
Put the proper weed barrier and drainage system before building the retaining wall.
Smooth out the dirt floor and walls on all sides. Remove the hard and sharp objects from the edges to eliminate injuries.
Layout the stone/concrete blocks to the desired hole edging.
Add adequate rebar and concrete mix to the hole of the concrete block, but make sure they fit perfectly in the hole.
Level the wall well and stop pouring concrete and let it dry.
Make sure there is proper air vent space.
Do some final work before installing the trampoline.
Here is a video to make a budget in-ground trampoline retaining wall:
People Also Questions
1. Is it safe to use a corrugated wall for a trampoline?
Ans: Corrugated walls have a sharp edge which can cause injury. So it should be handled pretty well with gloves. Moreover, the grasses can grow from the metal retaining wall, which may cover the metal edges.
So you should keep some space between them for airflow and a good bouncing experience.
2. How well does a corrugated trampoline retaining wall hold up?
Ans: A corrugated retaining wall is one of the strongest designs to prevent erosion by soil and water. As they have a heavy load capacity, they don't get affected by surrounding soil pressure. So this is a good one to go.
3. Can I use wooden retaining wall kits for the sunken trampoline?
Ans: Yes, you can use wooden retaining wall systems, but they're quite expensive and some of them mightn't be strong like other options.
4. Where to hire in-ground trampoline retaining wall installers?
Ans: Well, there are different ground-level trampoline retaining wall installers, but you have to find them based on your location. You can use the web to search for one for your trampoline installation.
Wrap Up
Now a whole story short, in-ground trampolines are safe options to hop and enjoy the trampolining experience. But the In-ground trampoline retaining wall plays an important role here. If the retaining wall is not strong enough to hold the pressure, then you will end up getting injured.
So, if you have made up your mind to create a retaining wall on your own, you can choose between many available options. For me, brick-and-mortar walls or any concrete or concrete block wall will do great.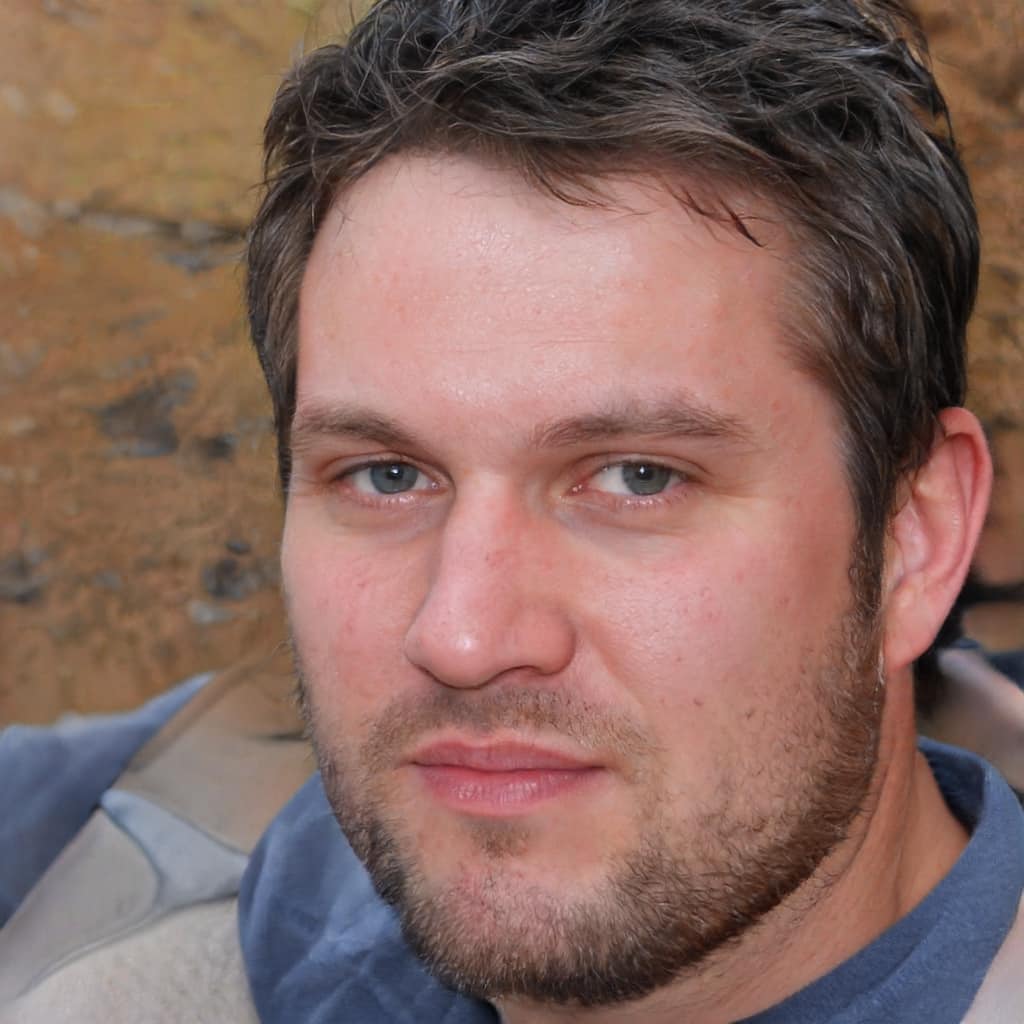 Robert is a trampoline and rebounder trainer with a passion for blogging. He discovered his love for trampolining at a young age, when his father gifted him his first trampoline at the age of 9. Over the years, Robert has honed his skills and knowledge in the field, and now uses his expertise to train others.
Besides, helping fitness enthusiasts in the gym, Robert is very eager to share his knowledge and experience regarding trampolines and rebounder exercises with the readers of picktrampoline.com. He will share all you need to know about trampolines and rebounders in this blog. Get his tips on trampoline and rebounder!