Who does not like a good bounce? Jumping on a trampoline can be a great way to kill stress and enjoy a good time with family or friends.
I'm not saying this, but science definitely is! It is revealed that jumping on a trampoline, a more fun alternative to exercising can help our body release serotonin and endorphins, also known as the 'happy' hormones, which can lift our moods. Double bounce trampoline, on the other hand, is not only fun, but also has a thrill to it.
So, if you have landed here, it surely means that you are probably willing to spice up your trampoline experience or are an aspiring athlete. Without further ado, let's go through the main discussion.
What is Double Bouncing on a Trampoline and How It Works?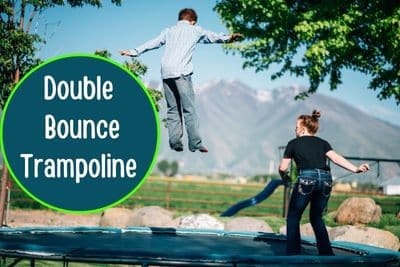 Before we get going, let us just quickly make sure that we are on the same page. So, what is a double trampoline bounce? To get to the answer, I will have to go through a series of technical understanding.
Trampoline double bouncing is actually an event when more than two users work in unison to maximize the force of bounce. To understand exactly how does double-bounce trampoline works, you need to first understand how a trampoline works, and for that, we need to delve (only slightly) into the world of science.
Trampolines are nothing but a game of forces. In the language of physics, "for every action, there's an equal and opposite reaction." So, when you exert our force (read weight) onto the trampoline's springs and push it downwards, gravity pushes back, which ultimately launches us into the air.
As you can tell from this, the stronger the force (or weight), the higher the jump will be. That is exactly why double bounce comes into action. Having two people jump simultaneously transfers more energy to the spring, resulting in double the regular jump.
Now that all this science talk is over, let's get to the simple stuff. Simply put, a double bounce on the trampoline is when two people make cause a greater bounce.
Note: It is advised not to try trampoline double bounce without proper skills and supervision for safety reasons.
How to Double Bounce on a Trampoline?
Double bouncing typically involves two people and, on rare occasions, even more than that. In order to double bounce, the first participant will jump, creating stress on the springs, and then once the trampoline mat has been pulled downwards, the second participant will start jumping.
So, how do you position yourselves for a double bounce? Regardless of the shape of the trampoline, one participant will be positioned towards the edge while the other will be right in the center.
The main double bounce rule is to properly maintain the timing. The second participant should start bouncing right when the first has landed on the mat to get the best impact.
The following video explains double bouncing on the trampoline.
Read Also: How to stop trampoline squeaking problem?
Best Double Bounce Trampoline Suggestion
JumpSport 14 Ft Round AlleyOOP Double Bounce Trampoline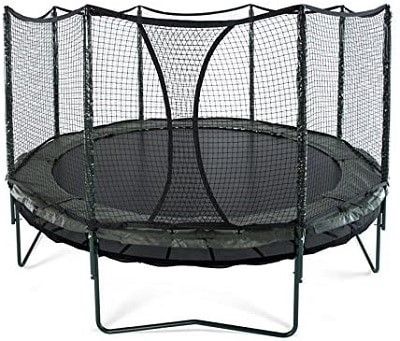 JumpSport 14 Ft AlleyOOP Double Bounce Trampoline is a premium quality trampoline that is a good choice for multiple jumpers. As its name suggests, it has double bounce, double safety, and double fun!
The Airshock Technology and triple safe-fail casing make this trampoline exceptionally safe by ensuring jumpers won't topple over the trampoline, even if they accidentally tumble over the edge.
The Permatron jumping mat provides market-leading performance and bounce. It's also water and UV protection. Double Bounce AlleyOOP 14 ft JumpSport trampoline has ten rows of mat sewn, providing its great quality over traditional models.
Eight inches below the Permatron mat is another secondary mat that acts as a shock absorber by forming an air pillow. This minimizes any potential injury and gives a super smooth bounce.
Moreover, JumpSport double bounce trampoline has DD Surelok System that helps to retain the trampoline's shape by making sure it doesn't distort.
There are 128 double springs, and it supports 250 lbs single jumpers weight, but it allows two jumpers once (making this a double bouncing trampoline) as the real weight limit is almost 800 lbs.
This heavy-duty trampoline comes with a safe jump pad and an overlapping unforgettable doorway enclosure net. While one jumps there, others can wait in the unique rest zone on the trampoline edges.
Warranty is a boom here! Frame and poles have a lifetime warranty, whereas ten years for mar and net, 5 years for springs, two years for the pad, and other components have a 1-year warranty. So, don't miss this double jumping trampoline for a lovely jumping experience.
Pros:
High and balanced bounce
Solid construction
Double spring trampoline
Basketball hoop included
Meets ASTM safety standard
Lifetime warranty 
Cons:
Quite expensive
Additional ladder required
Double Bounce Trampoline Tricks
Just a word of caution, and as I have already mentioned before, tricks and stunts are riskier when it comes to double bouncing. But if you are really willing to try, and trust your practice, here are some tricks that you can try:
a) Front Flips
Front flips are generally easy to perform, which involve spinning yourself while you drop on the trampoline surface with your hands hitting first.
See Also: How to flip on a trampoline?
b) Backdrop
Simple but fun, a backdrop involves, as the name suggests, falling onto your back after a double jump.
c) Knee Drop
Involves landing on your knees after jumping.
d) Tuck Jump
Another fun trick, this one involves bringing your legs close to your chest when you jump and releasing them to land on your feet when you fall.
Read Also: Mini-trampoline exercise ideas
Highest Double Bounce on Trampoline
The Kennedy brothers hold the Guinness World record for the highest double bounce on the trampoline, and it was as high as roughly 22 feet. Crazy, right? What is crazier is that professionals are actually trained to reach even higher heights on trampolines.
As a novice, though, you can expect to easily reach 15 to 17 feet on average. But then again, hang in there; practice does make it better!
Read Also: Tips to make trampoline bouncier
Double Bounce Trampoline Injuries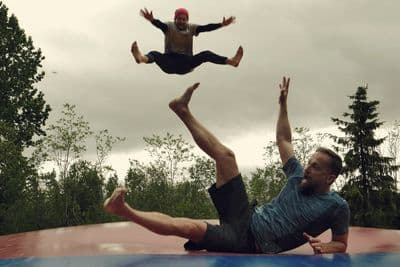 According to statistics, almost 75% of trampoline injuries happen when there is more than one user at the same time. And it does make sense; when many people use the trampoline together, there are always chances of collision.
That apart, when you are tossed several meters above the ground, there are, of course, risks of muscle strains, sprains, cuts and bruises, concussions, and fractures involved. Safe to say that double bouncing on trampolines does account for more injuries than regular bouncing.
Read Also: Does homeowners insurance cover trampoline injuries?
Tips to Reduce Trampoline Double Jumping Accidents
Some factors that tend to increase the risks of injuries include:
Attempting risky stunts and tricks like somersaults and flips without proper training.
Smaller-sized trampolines increase the chances of collisions.
Thinner trampoline beds (like 4×4 mm and 4×6 mm beds) provide an unstable landing surface.
Attempting front landings or belly drops.
It's recommended to avoid these aforesaid moves and tips while double bouncing on the trampoline and be cautious about reducing the risks of injuries overall.
Read Also: Trampolining negative effects
Frequently Asked Questions
1. How to double bounce someone on a trampoline?
Ans: To double-bounce someone else on a trampoline, the first thing you are required to do is to position yourself towards the edge of the trampoline. The person you will double bounce will therefore be in the center.
Next, the other person should start jumping. Once they do it, you will observe the jumps carefully because getting the timing right is crucial here. Right when the jumper hits the trampoline, you should start jumping so that they can fly up as high as possible.
Read Also: Trampoline enclosure nets for better safety
2. What is a double spring trampoline?
Ans: Double spring trampoline uses two layers of springs instead of single-layer springs. This helps you jump higher than the traditional models.
But, keep in mind double springs trampoline and double bounce trampoline are not the same. Double bounce trampoline is actually a trampoline trick, whereas double spring trampoline is a special kind of trampoline having double layers of springs.
3. Which trampoline size is better for more than two users at the same time?
Ans: If two or more users will use the trampoline at the same time, so larger the trampoline, the better. You should consider trampoline size over 12 feet will be ideal for you.
Read Also: 12, 14, and 15 ft trampolines
4. What shape of the trampoline is ideal for double bouncing?
Ans: While it is true that you can try double jumping on trampolines of all shapes, each has its pros and cons. Round trampolines are the cheapest, but they have all their pull focused in the middle, making them not so ideal for multiple users.
Oval trampolines, on the other hand, have their pull in both corners, making them suitable for dual users.  However, square or rectangular trampolines are generally sturdier and provide ample space for many users, so my vote goes for the latter.
Read Also: Different kinds of trampolines
5. What is a double mini trampoline?
Ans: Although not completely relevant to double bouncing on trampolines, Double Mini Trampoline or DMT is the perfect blend between gymnastics and trampolines. This involves athletes performing acrobatic moves on a smaller and angular sort of trampoline.
Read Also: Heavy-duty mini trampolines recommendations
Conclusion
If you think beyond the sheer delight of being able to fly up high and the excitement of falling back from that height, which comes with double bouncing on a trampoline, this also leaves us with something more – the lesson of teamwork.
A good team is one that can achieve utter synchronization in this thrilling game and reach great athletic heights, literally! However, as you can tell already, it is advisable for children not to try these tricks unsupervised and for athletes to maintain special caution.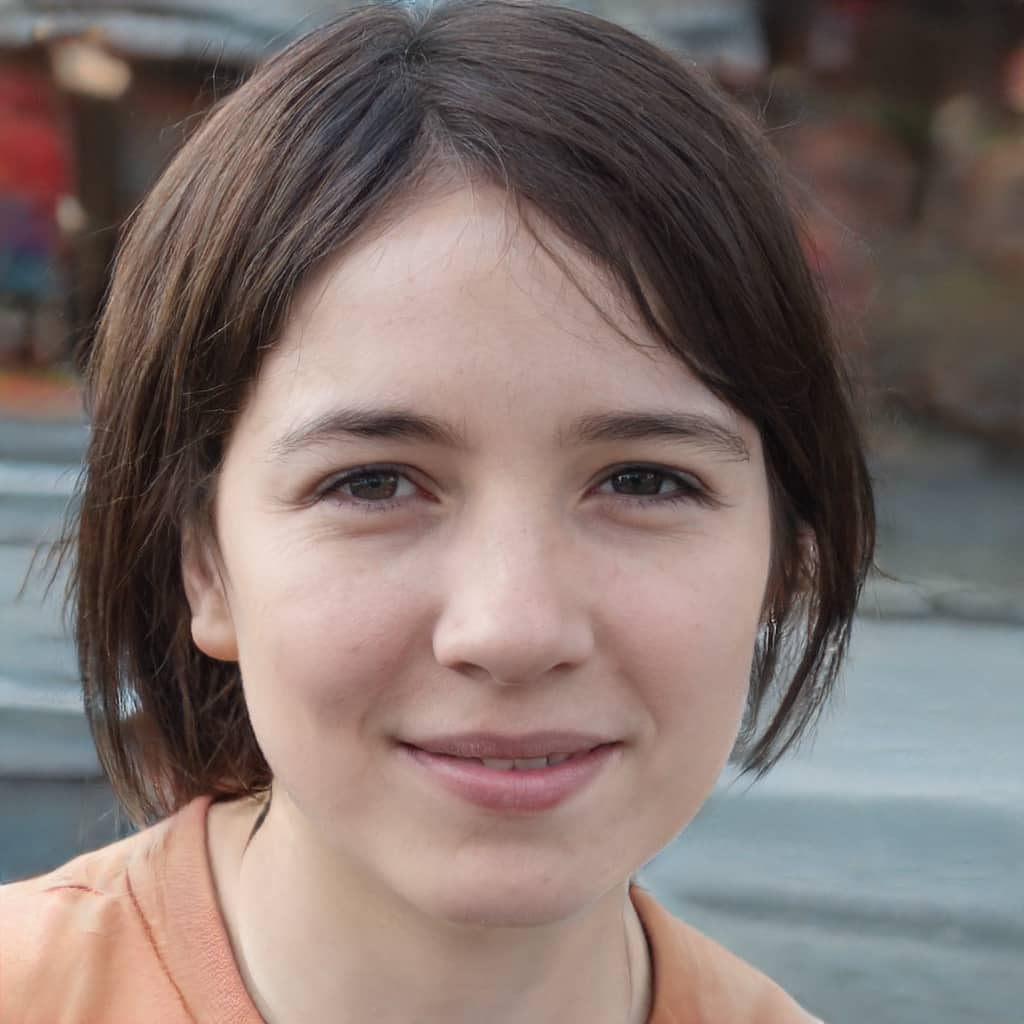 Rebecca is a fitness nerd and mother. She was inspired to get into the world of trampolining and rebounding by her husband Robert, who is a well-respected trainer and expert in the field. Now she instructs children, mothers, and teens the basic trampolining and rebounding tricks.
Rebecca is also a passionate blogger, sharing her knowledge and experiences with others in the hope of encouraging them to give trampolining and rebounding a try.