'What is the best base material for trampolines and boarders' is a big dilemma that I get asked frequently. The soft trampoline base can effectively deal with the hard legs, which ensure safe accidental falling. And, a good under-trampoline floor has aesthetic appeal too.
So, what to put under a trampoline? Rubber mulch, artificial turf, bark, fine sand, soft mat, etc, are some of the best base materials for trampolines. These things will make under trampoline cushioning and provide a lovely landscape. But you can put some natural things like grass, rugs and many more for a certain period.
This article will guide you on ideal floor material for trampoline. Also, I'll cover here under trampoline skirt ideas so kids and pets' safety. So, let's find out which trampoline floor material suits you best!
What to Put Under a Trampoline?
Here I'm going to discuss 13 different trampoline base materials that you can put on your trampoline for safe flooring. Let's know, what is best to put under a trampoline.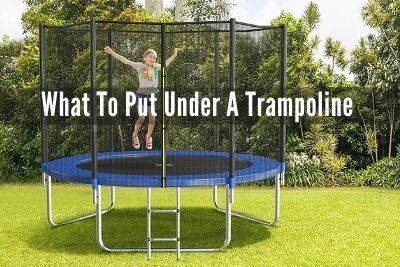 01. Trampoline on Grass Itself
As a first-timer, you may wonder, can I place my trampoline on the grass?  Yes, the grass is the most widely held natural thing to put beneath the trampoline. But choose a flat lawn for safety purposes.
It provides good aesthetics as well as great safety than setting the trampoline on bare ground, deck, brick patio, or concrete. But I'm not claiming that grass is the safest option, as there are other cushioning base materials like rubber mats, artificial turfs, rubber mulches, barks, etc.
Pros
Cons
Grass needs extra care
Dirt may form on trampoline legs
See Also: Tips to cut grasses under a trampoline
02. Trampoline on Play Sand
Sand is another good option to use as trampoline floor material, especially when there is not enough grass around the trampoline. Adding sand to the trampoline floor will give you a desert landscape as well as some protection if kids fall off the trampoline.
But sand is not the safest option as there are some drawbacks. Sand can be tracked easily, which is not safe during bouncing. Prolonged exposure to sand might cause lung damage in some cases. Also, animals could use sand as a bathroom.
If you want to add sand after purchasing, it costs around $5 per bag. For your information, one sandbag can cover a 1/2 cubic feet area. So, for a 14 ft trampoline, you need almost 80 sandbags, equal to $400, to fill the area with sand; that's not too cheap, right?
Pros
Lasts longer
Easy to apply
Cons
Not very bouncy
Quite expensive
03. Trampoline on Dirt
The next place to put a trampoline in the garden is dirt. This is a natural way and not so cushioning as rubber mulch, mat, or turf. Due to being natural, it is a low-cost method.
Without grass, dirt may move with the air. In this case, you also have to move the trampoline to a new place having enough dirt.
If your yard has numerous trees and scrubs, the fallen leaves will also give you a good cushion, especially in the autumn. You can also pile up tree leaves for natural cushioning.
But dirt might be too hard when they get cold or dry. Falling off such a tough surface might be hazardous. So, you can use an extra soft layer there.
Pros
No cost-base idea
Good cushion
Cons
Dirt or leaves may move with the air
04. Trampoline on Artificial Grass
For people who are looking for trampoline base safety as well as a good landscape, the grass mat or turf will be the best option. You will get rolls of artificial turf of any size you need.
The fake grass mat under the trampoline can absorb shock well, and you can go for a thick mat for better cushioning. Artificial turf allows to grow small plants under it, but they can't come out.
Grass mat is also a long-lasting floor material. You can cover a 12 ft round trampoline base area below $350, that's a little expensive but not too high as rubber mulch.
Some trampoline owners use rubber padding beneath the artificial turf; thus, they get the best result for the combo materials on the trampoline floor. To anchor the trampoline on artificial grass, use anchor kits instead of sandbags.
Pros
Provides great aesthetics
Easy to install and maintain
Cons
Our recommended Ottomanson turf grass–
05. Trampoline on Wood Chips
Wood chips or bark is an ideal cheap material to use on the trampoline floor. If you live in a wooded area this will add good aesthetics, just choose the right shade mulch.
Wood mulch also absorbs some shock that will add safety if jumpers drop to the ground. To get the best outcome, apply at least 12 inches of depth wood chips. Some playgrounds use bark to cover the base area.
Usually, one bag of wood mulch covers around 2 cubic feet, which costs almost $3 to $5. So, you can cover the 14 ft trampoline base area at $100 easily. But some wood mulch needs $150 and even more.
Keep in mind, that wood mulch might attract bugs and pests. There are also risks of breeding mold and bacteria in the ground.
Pros
Very affordable
Found everywhere
Cons
Not as bouncy as rubber
Risk of attracting insects
See Also: Know different styles of trampolines
06. Trampoline on Rubber Mulch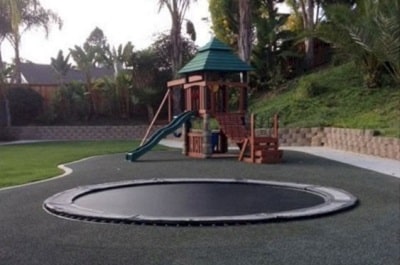 If you want to ensure a soft and safe landing on the trampoline, I highly recommend you opt for rubber mulch. It provides great shock resistance. You might know, nowadays most playgrounds and football fields are filled with rubber mulch.
Rubber mulch lasts longer as it deteriorates slowly and prevents from mold forming. This soft and bouncy trampoline base material provides an ideal floor under the trampoline and borders. The rubber mulch comes in a dark color that seems to mimic the dark wood mulch.
Before putting a soft rubber base for a trampoline, you have to dig a circular hole at least 3 inches in depth and then apply the mulch there. But wood or rubber mulch works best for 12 to 14 inches in depth. For further safety, increase the depth of the hole as well as extend the circle diameter.
But rubber mulch isn't too cheap as wood mulch. You have to spend around $350 for each cubic foot to apply rubber mulch. For example, a 14-ft round trampoline needs 156 square feet which is equivalent to 43 cubic feet of mulch.
So, if anyone asks you, what is the best surface to put a trampoline on? Undoubtedly, you can recommend him/her use rubber mulch as the base material on the trampoline to get the best experience.
Pros
Cons
Expensive
Digging necessary
See Also: Make trampoline super bouncing
07. Trampoline on Rubber Mat
Have you ever seen rubber mats under trampolines? You can place rubber mats around your trampoline for a soft and bouncy floor. There are versatile rubber mats available.
The interlocking mats are very popular. They are thick enough, and you can increase their length and height easily by attaching one mat to another.
They are also very affordable and don't require much ground preparation, just do some quick level of the yard. They are also a good option for sloped or uneven ground.
Most rubber mats are also very strong to use exterior. However, before you purchase make sure they are rated for outdoor purposes.
Pros
Easy to attach the mat
Moderate price material
Cons
Color mightn't be outstanding
Here is our suggested rubber mat for the trampoline–
08. Trampoline on Gymnastic Mats
You can use gymnastics mats on the trampoline floor and its surroundings. These exercise mats are usually used for cushioning over hard surfaces.
If your trampoline base is grass growing, but you need extra protection in case of falling, these mats will suit you well. They won't damage the lawn. You can easily fold them for carrying and storage.
Gymnastics mats are a little pricy trampoline base idea than grass, bark, or sand. They are brightly colored which mightn't stand out well with the existing beauty, but they provide cushioning enough.
Most of them aren't designed to be used outdoor for long as they are prone to damage due to sunlight or harsh environmental elements. So, you can bring mats inside after each jumping session.
Pros
Don't damage the grass
Very cushioning
Cons
Little pricy
Not very good looking
See our recommended ProsourceFit Puzzle Exercise Mat–
See Also: Different mini trampoline exercises
09. Bury the Trampoline
Burying the trampoline would be a crazy idea for those who look for a unique idea of what to put on your trampoline. The ground-level trampolines provide a great outlook as well as safety.
This needs digging a large hole, according to your trampoline, and then putting the trampoline there. But it might be quite expensive for some homeowners due to hole preparation and retaining wall building but worth the money.
After installing the trampoline, the legs will go under the ground, thus providing a wonderful look to the backyard. You can add a side net for further safety.
There are some drawbacks too. If springs come off pets or kids can go under the trampoline easily and jumping in such a situation can injure the underneath kid or animal seriously.
Installing an in-ground trampoline is quite a hassle too. But you can hire professionals to do the job without much trouble.
Now, the question arises, what to put under an in-ground trampoline? Well, you can place pea gravel or weed barrier under the sunken trampoline.
Pros
Impressive outlook
Safe for all
Cons
See Also: In-ground vs above-ground trampolines
10. Rugs
Rugs are another great option to use on the trampoline floor. They can absorb impact well. Many trampoline users prefer rugs to their indoor trampolines on it.
However, you can also use rugs under the outdoor trampoline as base material. Rugs are affordable and provide a nice looking to the ground.
Pros
Different colors and sizes are available
Quite affordable
Cons
It takes time to dry if gets wet
11. Foam Pads
If you are looking for very affordable padding to place on the ground under the trampoline, foam pads would be an ideal option. They are soft and available in various colors. But they mightn't hold too much weight as the other options.
Pros         
Very much affordable and soft
Available in numerous colors
Cons
Can't hold the heavy load
12. Landscape Fabric
This is good padding under the trampoline. Landscape fabric is very durable, so it will last longer. It can also absorb impact well; thus, don't worry about getting injured on accidental falling. Another good thing is that you can easily clean landscape fabric using soapy water.
Pros
Soft and durable
Easy to clean
Cons
13. Trampoline on Pea Gravel
Pea gravel is another low-cost under-trampoline landscaping idea. It is a natural way; that's why many homeowners already started using it in their playgrounds.
The little pea-size rocks provide better shock resistance than sand or grass. It can also drain water easily, which is also a positive side. Moreover, it doesn't attract insects like sand or bark; thus, the risk of mold and bacteria forming reduces greatly.
If you want to ensure a good cushion, put 12 inches or more depth of pea gravel. But falling over gravel might cause injury. So, you can use soft padding to reduce the falling impact, which will increase the cost.
Pros
Minimum cost
Low maintenance
Cons
An additional layer is needed for the cushion
Gravel impact might be dangerous
Under Trampoline Skirt Ideas
Is It Necessary to Close off the Area under Trampoline?
You might need to close off the border below the trampoline for several reasons including-
Kids and Pets' Safety
Sometimes toddlers or your pet animals might go beneath the trampoline, and if you jump into this situation, it could injure them. But if it's surrounded well, they can't enter there.
Restrict Wild Animals
Another reason is wild animals might arrive under the trampoline and could damage it. So, by closing the skirt below the trampoline, you can easily limit wild beasts to enter there hence protecting the trampoline.
How to Close off the Area Below a Trampoline?
You can block the border beneath the trampoline in different ways such as-
Build Wall
Build a wooden wall and surround the below space of the trampoline. Instead of wooden material, you can use concrete or plywood board. But consider the jumping effect and keep proper clearance.
Enclosure Net
An enclosure net is another great way to close off the trampoline under space, especially if you want to use the space for gardening, chicken coop, or other purposes.
Storage Box
You can store different items like piled wood under the trampolines. But keep enough clearance so jumpers don't get direct impact while bouncing on the jumping bed.
Under Trampoline Safety Ideas
It's important to make a safe trampoline base. That's why you can do some things that will make under the trampoline safe and cushioning.
Make flat the base as much as you can.
Remove sharp and hard elements from the base and surround the trampoline.
Install a full enclosure net to prevent falling to the ground.
You can surround the trampoline below the space to prevent entering kids, pets, or wild beasts.
Frequently Asked Questions
1. Do you mention some other things to use as trampoline floor materials?
Ans: Yes, there are many other materials to set under the trampoline. Some of them are hay, sandbags, pillows, etc.
2. Is it safe to put a sprinkler under my trampoline?
Ans: No, it's not recommended to put a sprinkler below your trampoline as when jumpers go deep during jumping, they might get injured or the sprinkler might be broken.
3. Is it necessary to put a soft pad underneath the mini-trampoline or rebounder?
Ans: No, it's not mandatory to put any extra layer under your mini trampoline or rebounder, as their legs have rubber padded feet to make them stable and anti-skidding. However, if you want, you can add extra padding beneath the rebounder or mini-trampoline.
Final Thoughts
I hope after reading the article, it's now clear to you what to put under a trampoline and which is the best material for that. But I highly recommend placing your trampoline on either bark, wood mulch, artificial turf, rubber mat, gymnastics mats, or burying the trampoline.
The other options like bare ground, grass, gravel, sand, dirt, etc, can also be used as trampoline base material. Now, choose a soft and safe trampoline floor material that you can afford and make a good trampoline base and enjoy safe trampolining!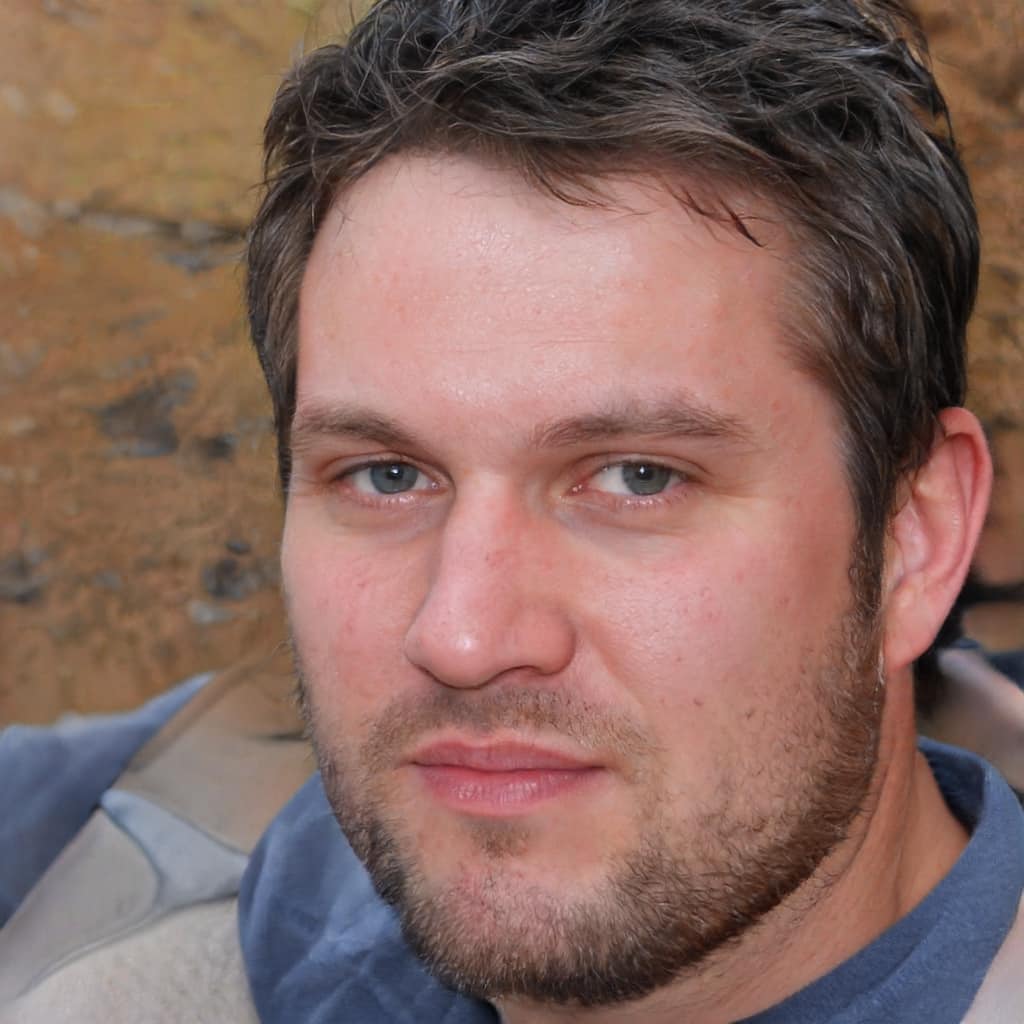 Robert is a trampoline and rebounder trainer with a passion for blogging. He discovered his love for trampolining at a young age, when his father gifted him his first trampoline at the age of 9. Over the years, Robert has honed his skills and knowledge in the field, and now uses his expertise to train others.
Besides, helping fitness enthusiasts in the gym, Robert is very eager to share his knowledge and experience regarding trampolines and rebounder exercises with the readers of picktrampoline.com. He will share all you need to know about trampolines and rebounders in this blog. Get his tips on trampoline and rebounder!